Armed Ground Robots to Fight in the Ukrainian Conflict, Ushering in a New Age of Warfare
Ukrainian military shows off a new robot that can see action against Russian-backed forces next year.
15 October, 2017
---
It may be time to face the reality that some of our favorite dystopian tropes are becoming reality. Skynet has not yet taken over, but automatic war machines are here and about to get busy fighting. Ukrainian officials indicate they are planning to use armed ground robots in their conflict against Russian-backed forces next year. 
On October 9th, Ukrainian military and defense leaders demonstrated the robot that could see action first, the experimental Phantom, at the Association of the U.S. Army's annual meeting in Washington, D.C. It can have treads like a tank or six wheels and be armed with anti-tank weapons, grenade launchers or machine guns, reports Patrick Tucker for Defense One.
While armed unmanned aerial vehicles, drones, have been used for some time, fighting with armed ground robots has not been a common feature of warfare. 
The Phantom, developed by the Ukrainian defense contractor Ukroboronprom, can hit speeds of up to 37 mph and can go 81 miles on one engine charge. It even has a backup microwave-communication link which will work even if connection with its operator is hacked or jammed - a problem Ukrainian troops already encountered in their fight against Russian-backed troops. 
The Phantom can also be useful in evacuating wounded soldiers from the field.
"What's interesting about the Ukrainian conflict is that it's the Ukrainian side that is developing unmanned systems it thinks will help it fight. Phantom is one such machine," said Samuel Bendett, a research analyst with the Center for Naval Analyses' International Affairs Group.
Here's the Phantom in action:
Russia has its own robots, like Uran-6, which have been removing mines and unexploded bombs in Syria. Uran-9, on the other hand, has been developed for combat and can see action in Syria. It weighs in at 10 tons and is armed with a 30 mm cannon, a 7.62mm machine gun, and and anti-tank rockets.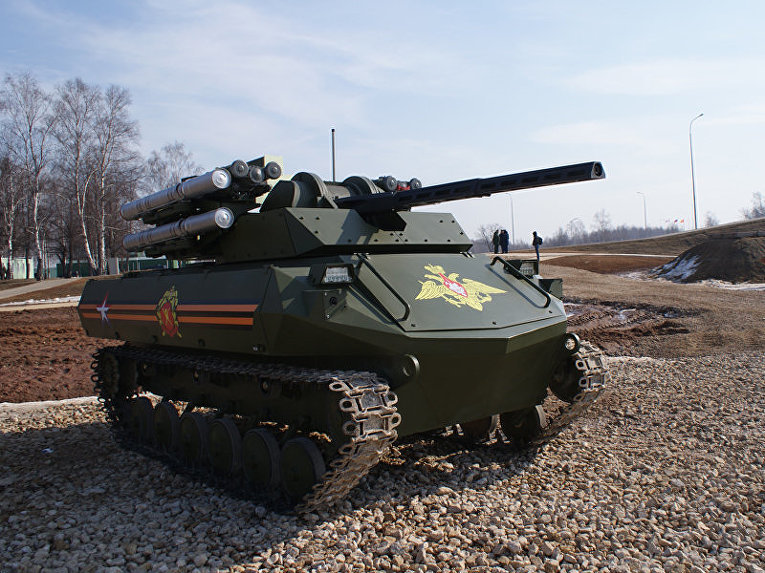 Uran 9. Image credit: "Rosoboronexport" press agency.
According to Sputnik, the Syrian Arab Army has used ten Russian combat robots in battle, leading to 70 rebel casualties. 
And who can forget Fedor, the gun-toting robot: 
Not to be outdone, the U.S. is also working on its own robotic fighters like the MAARS (Modular Advanced Armed Robotic System) robot, now in testing by the marines. It can be outfitted with an M240 machine gun that can be used to zone in on targets.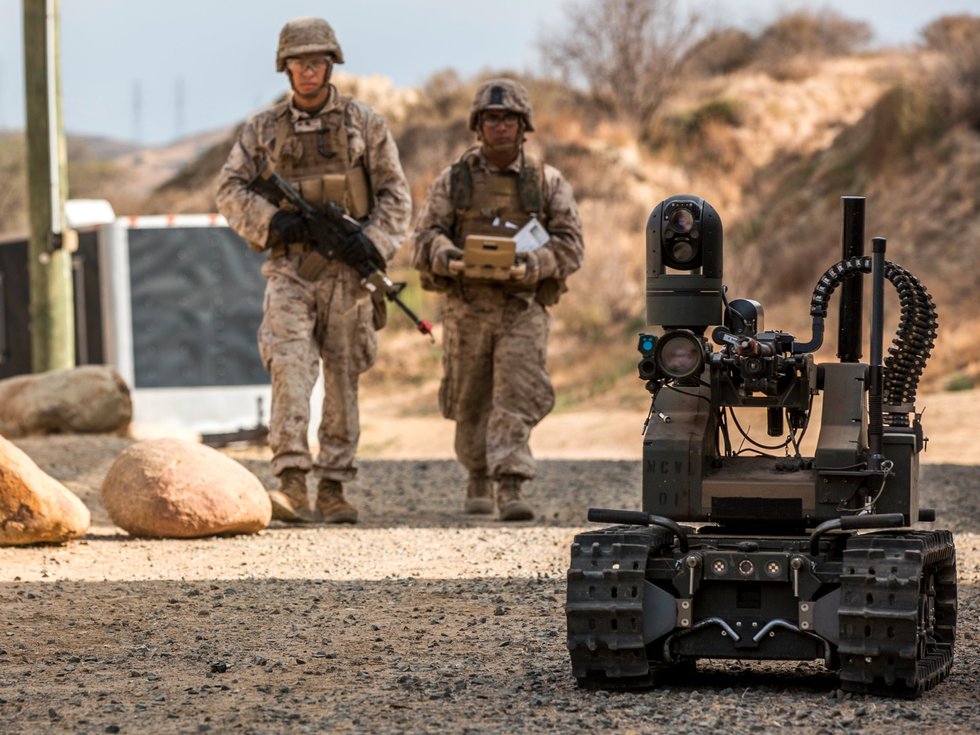 Lance Cpl. Frank Cordoba/US Marine Corps
MAARS can also be reconfigured to sport a 40mm grenade launcher. Its top speed is 7mph. The machine is not fully autonomous, requiring an operator to reload it by hand. Fully autonomous robots are also in development.
Lumina Foundation is partnering with Big Think to unearth the next large-scale, rapid innovation in post-high school education. Enter the competition here!
Evolutionarily speaking, being gay is still something of an enigma
Videos
Heterosexual people have been less interesting to scientists than gay people, in terms of where they come from, because, evolutionarily speaking, being gay doesn't lead to a higher "higher reproductive fitness" — meaning, it doesn't lead to more babies.
Across cultures, gay boys tend to be more interested in spending time with their mothers.
We still don't really know why gay people are attracted to each other.
The part of your brain responsible for ASMR catalogs music, and appears to be a stronghold against Alzheimer's and dementia.
The parts of the brain highlighted in red and yellow are thought to control your sense of attention and memory. (image c/o Brain Network Lab)
popular
Some music inspires you to move your feet, some inspires you to get out there and change the world. In any case, and to move hurriedly on to the point of this article, it's fair to say that music moves people in special ways. 
Creativity can bring about unchecked harm, but it's up to us how we wield it.
Mind & Brain
Suppose you forgot it was your partner's birthday, but you know that they would appreciate the smallest of gestures, say a bouquet. It's late at night and no florists are open. The cemetery on your way home has recently had a funeral, and you walk across the site and pick up a good-looking bouquet of roses from someone's grave. You then head home, and the flowers are happily received by your partner.
Would you say that you hurt anyone?
Big think's weekly newsletter.
Get smarter faster from the comfort of your inbox.
See our newsletter privacy policy
here
Most Popular
Most Recent
Big think's weekly newsletter.
Get smarter faster from the comfort of your inbox.
See our newsletter privacy policy
here
© Copyright 2007-2018 & BIG THINK, BIG THINK EDGE,
SMARTER FASTER trademarks owned by The Big Think, Inc. All rights reserved.