Researchers Discover How Animals First Appeared on Earth
Australian scientists discover how complex life first appeared on Earth - one of the "greatest mysteries of science".
29 August, 2017
---
Australian researchers say they solved "one of the greatest mysteries of science" - how large complex animals first appeared on Earth. It was a key milestone that led to humans. The scientists found that the rise of algae was instrumental in triggering one of the most transformative ecological revolutions in the planet's history.
The new study comes from the Australian National University and was based on examining ancient sedimentary rocks, gathered in central Australia. The lead researcher Associate Professor Jochen Brocks explained that the scientists crushed the rocks to extract molecules of ancient organisms.
"These molecules tell us that it really became interesting 650 million years ago. It was a revolution of ecosystems, it was the rise of algae," said Brocks.
He set the stage for how algae had such an impact by describing an event called Snowball Earth which took place 700 million years ago. It resulted in Earth being completely frozen over for 50 million years. But once the ice started to melt, a tremendous amount of nutrients was released:
"The Earth was frozen over for 50 million years. Huge glaciers ground entire mountain ranges to powder that released nutrients, and when the snow melted during an extreme global heating event rivers washed torrents of nutrients into the ocean," elaborated Brocks.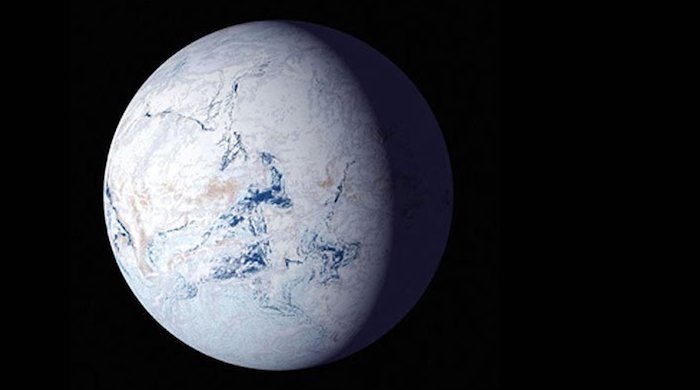 Snowball Earth. Credit: Harvard University.
The rush of nutrients and the cooling of global temperatures created the right conditions for the growth and rapid propagation of algae. The ocean was no longer just full of bacteria, moving towards hosting more complex life forms. This set of an evolutionary chain reaction that resulted in you and me.
"These large and nutritious organisms at the base of the food web provided the burst of energy required for the evolution of complex ecosystems, where increasingly large and complex animals, including humans, could thrive on Earth," proposed Brocks.
The research team's co-lead Dr. Amber Jarrett, who found the ancient rocks that were dated to just after the Snowball Earth period, called their discovery "ground-breaking" --
"In these rocks we discovered striking signals of molecular fossils," said Dr Jarrett. "We immediately knew that we had made a ground-breaking discovery that snowball Earth was directly involved in the evolution of large and complex life." 
You can read the published research in Nature magazine.
Check out also a video with the researchers describing their work here:
International poker champion Liv Boeree teaches decision-making for Big Think Edge.
Big Think Edge
Learn to make decisions with the clarity of a World Series Poker Champion.

Liv Boeree teaches analytical thinking for Big Think Edge.

Subscribe to Big Think Edge before we launch on March 30 to get 20% off monthly and annual memberships.
"I was so moved when I saw the cells stir," said 90-year-old study co-author Akira Iritani. "I'd been hoping for this for 20 years."
Yamagata et al.
Surprising Science
The team managed to stimulate nucleus-like structures to perform some biological processes, but not cell division.
Unless better technology and DNA samples emerge in the future, it's unlikely that scientists will be able to clone a woolly mammoth.
Still, studying the DNA of woolly mammoths provides valuable insights into the genetic adaptations that allowed them to survive in unique environments.
An MIT study predicts when artificial intelligence will take over for humans in different occupations.
Photo credit: YOSHIKAZU TSUNO / AFP / Getty Images
Surprising Science
While technology develops at exponential speed, transforming how we go about our everyday tasks and extending our lives, it also offers much to worry about. In particular, many top minds think that automation will cost humans their employment, with up to 47% of all jobs gone in the next 25 years. And chances are, this number could be even higher and the massive job loss will come earlier.
The blood of horseshoe crabs is harvested on a massive scale in order to retrieve a cell critical to medical research. However, recent innovations might make this practice obsolete.
An Atlantic horseshoe crab in an aquarium. Photo: Domdomegg via Wikimedia Commons.
Surprising Science
Horseshoe crabs' blue blood is so valuable that a quart of it can be sold for $15,000.
This is because it contains a molecule that is crucial to the medical research community.
Today, however, new innovations have resulted in a synthetic substitute that may end the practice of farming horseshoe crabs for their blood.
Big think's weekly newsletter.
Get smarter faster from the comfort of your inbox.
See our newsletter privacy policy
here
Most Popular
Most Recent
Big think's weekly newsletter.
Get smarter faster from the comfort of your inbox.
See our newsletter privacy policy
here
© Copyright 2007-2018 & BIG THINK, BIG THINK EDGE,
SMARTER FASTER trademarks owned by The Big Think, Inc. All rights reserved.