Researchers Discover How Animals First Appeared on Earth
Australian scientists discover how complex life first appeared on Earth - one of the "greatest mysteries of science".
29 August, 2017
---
Australian researchers say they solved "one of the greatest mysteries of science" - how large complex animals first appeared on Earth. It was a key milestone that led to humans. The scientists found that the rise of algae was instrumental in triggering one of the most transformative ecological revolutions in the planet's history.
The new study comes from the Australian National University and was based on examining ancient sedimentary rocks, gathered in central Australia. The lead researcher Associate Professor Jochen Brocks explained that the scientists crushed the rocks to extract molecules of ancient organisms.
"These molecules tell us that it really became interesting 650 million years ago. It was a revolution of ecosystems, it was the rise of algae," said Brocks.
He set the stage for how algae had such an impact by describing an event called Snowball Earth which took place 700 million years ago. It resulted in Earth being completely frozen over for 50 million years. But once the ice started to melt, a tremendous amount of nutrients was released:
"The Earth was frozen over for 50 million years. Huge glaciers ground entire mountain ranges to powder that released nutrients, and when the snow melted during an extreme global heating event rivers washed torrents of nutrients into the ocean," elaborated Brocks.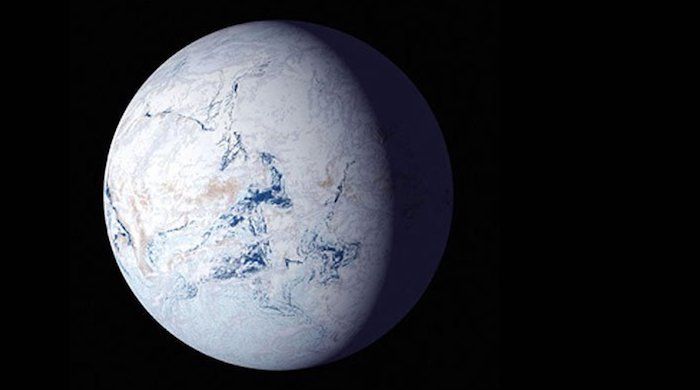 Snowball Earth. Credit: Harvard University.
The rush of nutrients and the cooling of global temperatures created the right conditions for the growth and rapid propagation of algae. The ocean was no longer just full of bacteria, moving towards hosting more complex life forms. This set of an evolutionary chain reaction that resulted in you and me.
"These large and nutritious organisms at the base of the food web provided the burst of energy required for the evolution of complex ecosystems, where increasingly large and complex animals, including humans, could thrive on Earth," proposed Brocks.
The research team's co-lead Dr. Amber Jarrett, who found the ancient rocks that were dated to just after the Snowball Earth period, called their discovery "ground-breaking" --
"In these rocks we discovered striking signals of molecular fossils," said Dr Jarrett. "We immediately knew that we had made a ground-breaking discovery that snowball Earth was directly involved in the evolution of large and complex life." 
You can read the published research in Nature magazine.
Check out also a video with the researchers describing their work here:
Research in plant neurobiology shows that plants have senses, intelligence and emotions.
Getty Images
Surprising Science
The field of plant neurobiology studies the complex behavior of plants.
Plants were found to have 15-20 senses, including many like humans.
Some argue that plants may have awareness and intelligence, while detractors persist.
Most people think human extinction would be bad. These people aren't philosophers.
Shutterstock
Politics & Current Affairs
A new opinion piece in The New York Times argues that humanity is so horrible to other forms of life that our extinction wouldn't be all that bad, morally speaking.
The author, Dr. Todd May, is a philosopher who is known for advising the writers of The Good Place.
The idea of human extinction is a big one, with lots of disagreement on its moral value.
Since the idea of locality is dead, space itself may not be an aloof vacuum: Something welds things together, even at great distances.

Videos
Realists believe that there is an exactly understandable way the world is — one that describes processes independent of our intervention. Anti-realists, however, believe realism is too ambitious — too hard. They believe we pragmatically describe our interactions with nature — not truths that are independent of us.
In nature, properties of Particle B may depend on what we choose to measure or manipulate with Particle A, even at great distances.
In quantum mechanics, there is no explanation for this. "It just comes out that way," says Smolin. Realists struggle with this because it would imply certain things can travel faster than light, which still seems improbable.