Nerd vs. geek: How an insult became a compliment
Now might just be the best time in history to be a geek or a nerd. How have the definitions and connotations changed over time?
14 March, 2018
PayPal CEO Peter Thiel, left, and founder Elon Musk, right, at Paypal corporate headquarters in Palo Alto, CA on October 20, 2000. Credit: AP
Are you a geek or a nerd? Maybe you don't want to admit it, but chances are you may have some qualities of both in you. But what is the real difference between the two terms?
---
'Geek' comes to us from history, being a term coined all the way back in the 1500s. At that time, it was reserved for a person thought to be a fool. Another possibility is that it comes from the 18th-century word 'gecken' used during the reign of the Austro-Hungarian Empire, where it referred to circus performers who specialized in biting heads off live chickens.
Fast-forward to the 1950s and the word geek came to mean what it essentially does today, designating someone who is very passionately into technology or certain sub-cultures. You can have academic geeks, computer geeks, film geeks, Star Wars geeks, video game geeks, food and fashion geeks and so forth. Geeks gather collections of objects, facts, and mementos related to their obsessive interests, as Big Think wrote previously. Geeks can also fix things for you, a fact used by the retailer Best Buy in naming its repair division the Geek Squad.
A 'nerd' could be similarly passionate but focused on achievement over collecting, preferring to gain knowledge and skills rather than trivia. One fun bit of trivia, however: the term nerd was invented by none other than the beloved children's author Dr. Seuss in 1950 when he wrote, "A nerkle, a nerd, and a seersucker too!" in his book If I Ran the Zoo.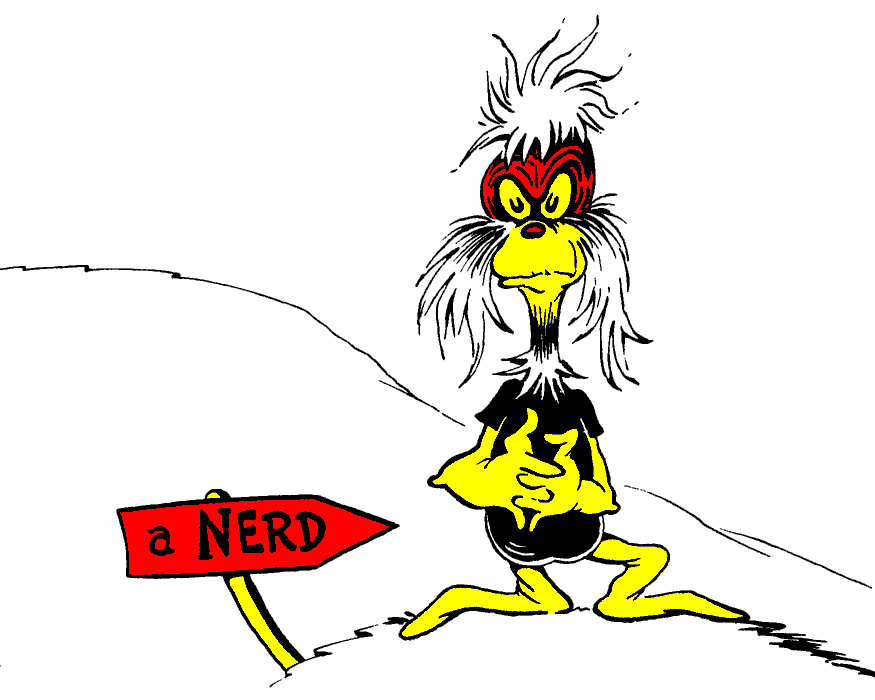 Credit: Dr. Seuss.
In 1951, a Newsweek article pointed out that the term started to become popular as a synonym for a "drip" or a "square" in Detroit, Michigan. The usage of the word just spread from there, entering popular culture in the 1970s when it was frequently used on the TV sitcom Happy Days—the one with Fonzie. 
Here's how Slackpropagation differentiates between geeks and nerds: 
"Both are dedicated to their subjects, and sometimes socially awkward. The distinction is that geeks are fans of their subjects, and nerds are practitioners of them." 
While geeks can have certain cool factors, nerds tend to be thought of as overly intellectual and often perceived to be lacking in social graces. As a result, more people would admit to being geeks than nerds. Still, like geeks, modern nerds have reclaimed some measure of pride in what was once a more decidedly negative term with the nerds of Silicon Valley, in particular, finding that the qualities that once had some laughing at them could actually earn them millions (and for some, billions). 
Kory Stamper, a lexicographer at Merriam-Webster Dictionary and a Big Think contributor, explains how the terms have been reappropriated. She explains that 'nerd' refers to someone with a depth of knowledge in a specific field or topic—making her a true word nerd—while geek now denotes a technical know-how, a brainy group that is good at technology.
"There was a dip in its usage for a while before becoming more popular as more people started learning html and building their own websites," wrote Stamper. "It came back in the mid-1990s, when it was still being used disparagingly. There was a slow shift and by the 2000s, it began to register a neutral sense."
It also bears saying that one of the most popular shows of the past decade has been The Big Bang Theory, which celebrates both nerds and geeks. This is a clear example of Slackpropagation's definition: The Big Bang Theory is a show about nerds, made for geeks. The show makes gentle fun of its heroes, who fit most of the stereotypes ascribed to these words, but it also helps them become understandable and beloved by a massive audience around the world.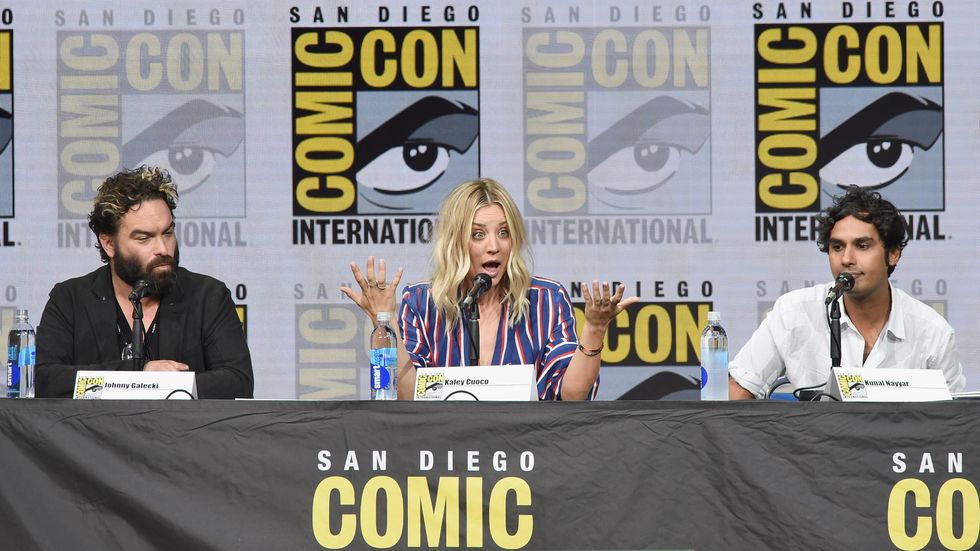 (L-R) Actors Johnny Galecki, Kaley Cuoco and Kunal Nayyar speak onstage at the 'The Big Bang Theory' panel during Comic-Con International 2017. (Photo by Kevin Winter/Getty Images)
Also of note is that you will now find more people calling themselves nerds or geeks than ever before, signifying the cultural transformation of these concepts. Many people are now ready to "own their nerd-dom," as noted by author Neil Gaiman.
So which one are you, a geek or a nerd?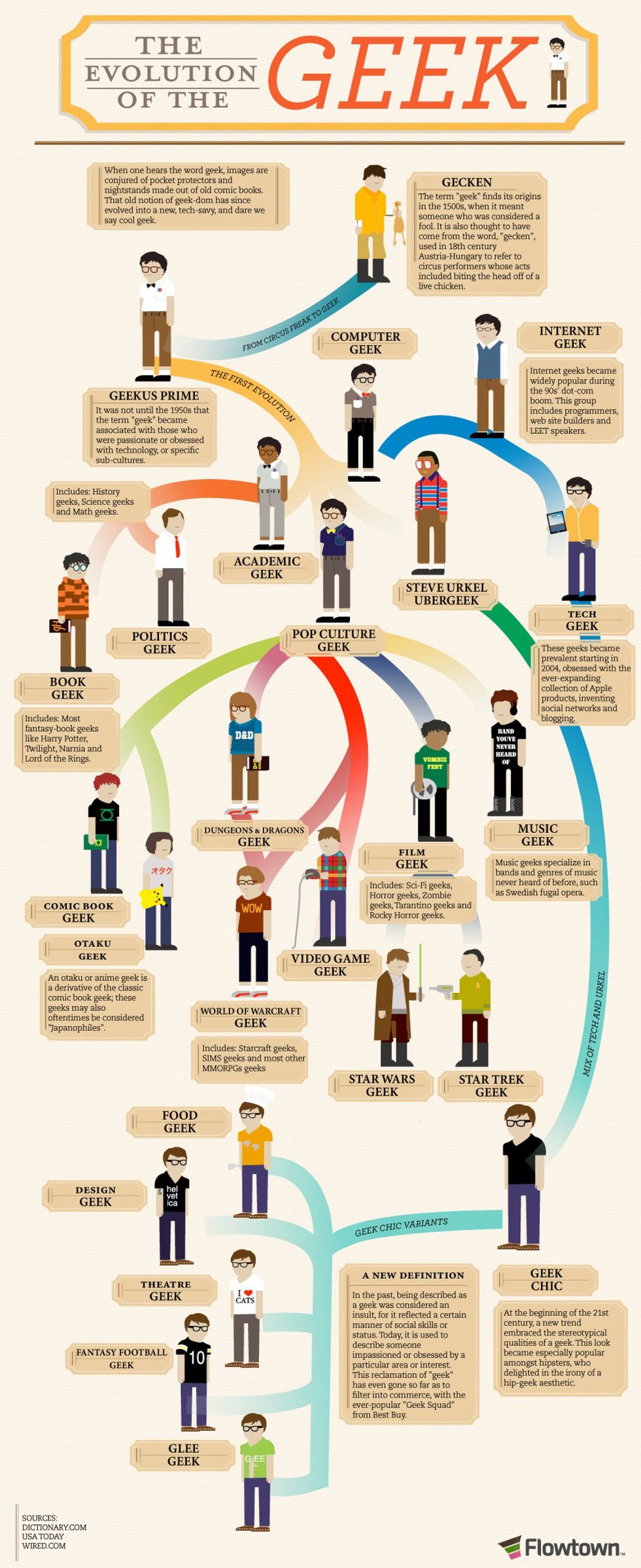 Infographic by Visual.ly
To create wiser adults, add empathy to the school curriculum.
Sponsored by Charles Koch Foundation
Stories are at the heart of learning, writes Cleary Vaughan-Lee, Executive Director for the Global Oneness Project. They have always challenged us to think beyond ourselves, expanding our experience and revealing deep truths.
Vaughan-Lee explains 6 ways that storytelling can foster empathy and deliver powerful learning experiences.
Global Oneness Project is a free library of stories—containing short documentaries, photo essays, and essays—that each contain a companion lesson plan and learning activities for students so they can expand their experience of the world.
Philosophers like to present their works as if everything before it was wrong. Sometimes, they even say they have ended the need for more philosophy. So, what happens when somebody realizes they were mistaken?
Just before I turned 60, I discovered that sharing my story by drawing could be an effective way to both alleviate my symptoms and combat that stigma.
Photo by JJ Ying on Unsplash
Mind & Brain
I've lived much of my life with anxiety and depression, including the negative feelings – shame and self-doubt – that seduced me into believing the stigma around mental illness: that people knew I wasn't good enough; that they would avoid me because I was different or unstable; and that I had to find a way to make them like me.
A joint study by two England universities explores the link between sex and cognitive function with some surprising differences in male and female outcomes in old age.
Mind & Brain
A joint study by the universities of Coventry and Oxford in England has linked sexual activity with higher cognitive abilities in older age.
The results of this study suggest there are significant associations between sexual activity and number sequencing/word recall in men. In women, however, there was a significant association between sexual activity in word recall alone - number sequencing was not impacted.
The differences in testosterone (the male sex hormone) and oxytocin (a predominantly female hormone) may factor into why the male cognitive level changes much more during sexual activity in older age.
Technology & Innovation
Mathematicians studied 100 billion tweets to help computer algorithms better understand our colloquial digital communication.
Scroll down to load more…