Neil deGrasse Tyson Explains the Strange Paradoxes of Time Travel
Astrophysicist Neil deGrasse Tyson explains the nature of time and the conundrums of time travel in a recent interview.
21 March, 2017
---
Astrophysicist and science educator Neil deGrasse Tyson gave a fascinating interview recently to Jake Roper of Vsauce3, where he talked at length about the nature of time and the possibility of time travel.
Tyson thinks the most dramatic impact on our current understanding of time came from Einstein's discovery of general relativity. Time stopped being a linear, necessarily sequential idea where "we are all participating in the same ticks of the clock," as Tyson says. With relativity, time became a more fluid concept, dependent on the observer.
Because of relativity, we learned that there is no "absolute time".
"Time is relative, so time can be stretched, for me relative to you. So, time has multiple, sort of, parallel rates at which it flows, depending on the state of who's making the measurement and the state of who's in motion, and what conditions they are in," said Tyson (0:53).
Tyson rather thinks of time as a dimension, calling us "prisoners of the present". What he means is that we don't have an ability to jump into the past or the future on our individual timelines. But what if we could do just that?
If time travel was feasible, we'd open ourselves up to some potentially mind-bending situations and logic puzzles. 
"Suppose you could move around in your timeline with the same flexibility as moving left and right, up and down, forward and backward. If that's the case you can revisit your own timeline. Under those conditions you do not die. You are always dying. You are not born. You're always being born. That's another kind of interesting way to think about time," explained Tyson (1:34).
Some classic time paradoxes come out of this thinking. They revolve around the changes that can be imagined by suddenly being able to go back and forth in time.
If you jumped into the future, would you then know and remember everything that would have happened to you had you stayed in your original timeline and let events take place naturally?
And if your timeline already exists, could you change your fate by changing aspects of your future, if you managed to travel to it, like in the classic sci-fi movie franchise "Terminator".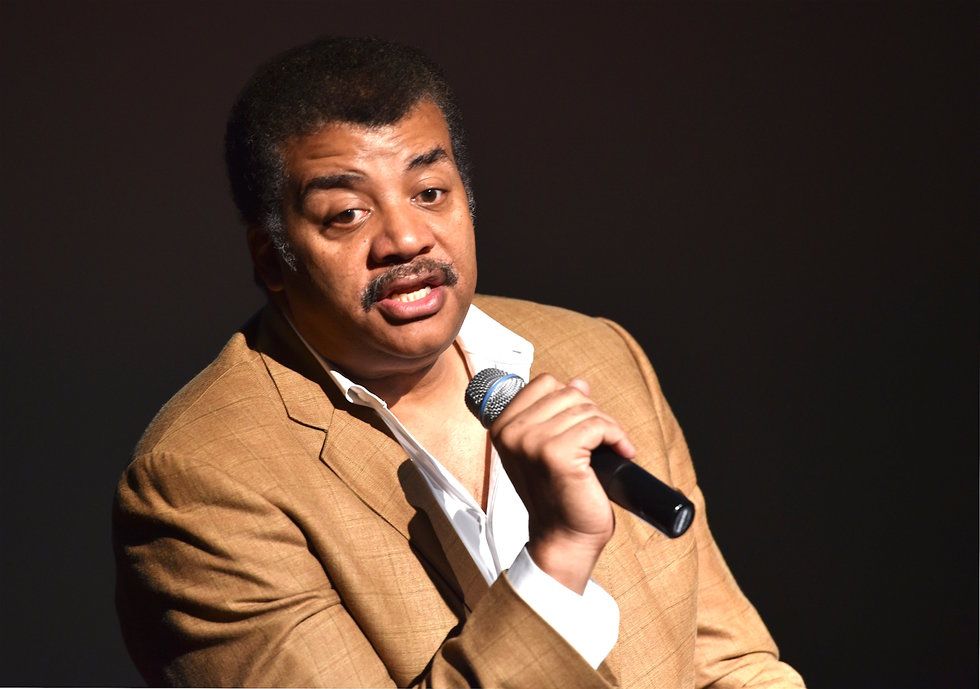 Neil deGrasse Tyson, astrophysicist, 'Cosmos' television show host and Frederick P. Rose Director of the Hayden Planetarium at the American Museum of Natural History speaks August 4, 2014 after a screening of James Cameron's 'Deepsea Challenge 3D' film at the museum in New York.  (Photo credit: STAN HONDA/AFP/Getty Images)
 Tyson hypothesizes that maybe you could alter your timeline, creating a new one as part of a "very complex, sort of, fractal structure". And if this was possible, Tyson really doesn't agree with some of the unnecessarily complicated plot choices of the "Terminator":
"So, what gets me about Terminator is he's got to kill everybody who might be the mother of the future of the person who overthrows the thing… You can go further back [in time] just have one little thing change and everything after that would change."
In an example of another strange conundrum, Tyson also explores the idea of a particle that is never created nor destroyed and only exists in a time loop, a concept called "the Bootstrap Paradox". In the time-travel movie "Somewhere in Time", this "self-created" object was a locket which the lead character received as a gift from an old woman who told him to meet her back in time. He figures out how to go back in time, meets her when she's young and gifts her the same locket that she gave him back in the future. Once he did that, the origin of the object became uncertain and it got trapped in the time loop.
Another potentially big player in time travel - the infamous Butterfly Effect. It's a concept from chaos theory which basically says that small initial causes can create large ripple effects. If you were time traveling, could you too easily change the course of history?
Tyson isn't so sure that if you, let's say, go back and kill baby Hitler that you'd really change anything.
"You pivot everything on this one thing and tell me that all of civilization will be different. I'm not buying it. Civilization is more robust than that. And if Hitler were killed as a child, then no, maybe not - the Germans were ripe to have somebody rise up and take control of their psyche. And maybe the circumstances made Hitler - not Hitler making the circumstances," pointed out Tyson (10:27).
In the end, Tyson doesn't believe that travel back in time is possible, agreeing on that with Stephen Hawking. He thinks that at some point, physicists will discover a new law that will explain what prevents backwards time travel, adding "we don't know what that law is or why it must exist but everything we can imagine that allows it totally messes everything up." 
While this is still just a hypothetical discussion, Tyson sees definite value in speculating about time travel. On the other hand, he takes comfort in living a "fixed" life in a linear timeline, adding his opinion of free will:
"If it is being a prisoner of the present transitioning from the past to the future, I have the illusion of free will. And I'm happy to live in that illusion in the knowledge that I don't." (13:15)
Watch the whole interview here:
As religious diversity increases in the United States, we must learn to channel religious identity into interfaith cooperation.
Sponsored by Charles Koch Foundation
Religious diversity is the norm in American life, and that diversity is only increasing, says Eboo Patel.
Using the most painful moment of his life as a lesson, Eboo Patel explains why it's crucial to be positive and proactive about engaging religious identity towards interfaith cooperation.
The opinions expressed in this video do not necessarily reflect the views of the Charles Koch Foundation, which encourages the expression of diverse viewpoints within a culture of civil discourse and mutual respect.
Pulitzer Prize-winner Jared Diamond explains why some nations make it through epic crises and why others fail.
Videos
"A country is not going to resolve a national crisis unless it acknowledges that it's in a crisis," says Jared Diamond. "If you don't, you're going to get nowhere. Many Americans still don't recognize today that the United States is descending into a crisis."
The U.S. tends to focus on "bad countries" like China, Canada and Mexico as the root of its problems, however Diamond points out the missing piece: Americans are generating their own problems.
The crisis the U.S. is experiencing is not cause for despair. The U.S. has survived many tragedies, such as the War of Independence and the Great Depression – history is proof that the U.S. can get through this current crisis too.
If you don't want to know anything about your death, consider this your spoiler warning.
Culture & Religion
For centuries cultures have personified death to give this terrifying mystery a familiar face.
Modern science has demystified death by divulging its biological processes, yet many questions remain.
Studying death is not meant to be a morbid reminder of a cruel fate, but a way to improve the lives of the living.
When it comes to sniffing out whether a source is credible or not, even journalists can sometimes take the wrong approach.
Sponsored by Charles Koch Foundation
We all think that we're competent consumers of news media, but the research shows that even journalists struggle with identifying fact from fiction.
When judging whether a piece of media is true or not, most of us focus too much on the source itself. Knowledge has a context, and it's important to look at that context when trying to validate a source.
The opinions expressed in this video do not necessarily reflect the views of the Charles Koch Foundation, which encourages the expression of diverse viewpoints within a culture of civil discourse and mutual respect.