"Impossible" Time Crystals May Actually Be Real, Say Physicists
Physicists may be close to creating the theoretical "time crystals".
14 September, 2016
Cutting edge physics research gives us another remarkable idea that sounds like something out of a science fiction novel. In 2012, Nobel-Prize winning Frank Wilczek and a team of theoretical physicists at MIT came up with an idea that hypothetical structures exist that would appear to move without using energy. He called them "time crystals". While most physicists since then have dismissed the idea as "impossible", a new paper shows how these time crystals could actually exist, possibly changing our understanding of fundamental principles of nature. 
---
What's special about time crystals is that, if they exist, they could break the symmetry of time and space. The way time crystals would move is in a repeating pattern, without using stored energy, in a sort of perpetual motion. 
"I was thinking about the classification of crystals, and then it just occurred to me that it's natural to think about space and time together," said Wilczek about his idea. "So if you think about crystals in space, it's very natural also to think about the classification of crystalline behavior in time."
The reason crystals gave Wilczek the idea is because they exhibit unusual growth behavior, with their atoms spontaneously organizing into rows, columns and 3D lattices, without becoming symmetrical like a sphere. This breaks the spatial symmetry of nature, which maintains that all places are equivalent. Knowing this, Professor Wilczek came up with mathematical proof that showed the atoms of crystallizing matter could regularly form repeating lattices in time, but without consuming or producing any energy. They would return to their "ground state" and start the process all over again. Such a system would be breaking time-translational symmetry (TTS), another fundamental symmetry in physics.
This idea seemed strange, but because it had peer-reviewed proof, other scientists were compelled to consider it. If experimentalists could make real the ideas that theoretical physicists came up with, the existence of time crystals would shed light on the nature of time itself, possibly reconciling the theory of relativity with quantum mechanics.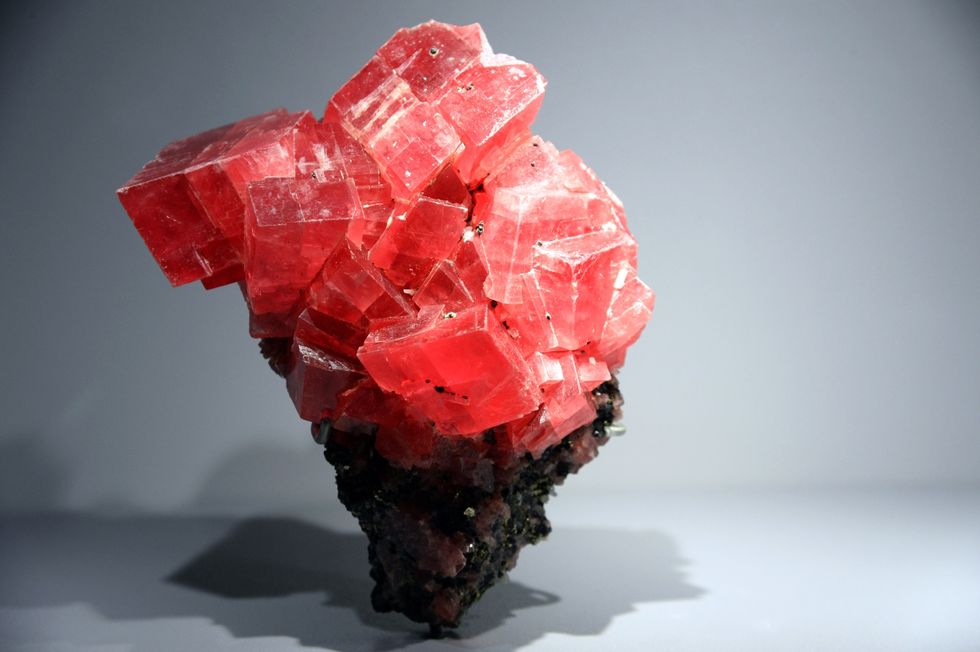 Red fluorite crystals shown at the Natural history Museum in Paris. Photo by PATRICK KOVARIK/AFP/Getty Images.
Now, experimental scientists from the University of California, Santa Barbara and from Microsoft's research lab Station Q published a paper, explaining how symmetry-breaking time crystals could be possible. They maintain there is a difference between "explicit" and "spontaneous" symmetry breaking.
"If a symmetry is broken explicitly, then the laws of nature do not have the symmetry any more; spontaneous symmetry breaking means that the laws of nature have a symmetry, but nature chooses a state that doesn't," said Dominic Else, co-author of the paper. 
Basically, nature can choose to make exceptions.
The scientists predict that this kind of broken symmetry can happen in quantum systems they called "Floquet-many-body-localized driven systems." And they have an experiment in mind to create these.
"In collaboration with experimental research groups, we are exploring the possibility of realizing Floquet time crystals in systems of cold atomic gases," said co-author Chetan Nayak at Microsoft Station Q and UCSB to Phys.org.
They plan to use a large system of trapped atoms, trapped ions or superconducting qubits to create a time crystal, then to observe it and measure its changes over time. 
Universities claim to prepare students for the world. How many actually do it?
Sponsored by Charles Koch Foundation
Many university mission statements do not live up to their promise, writes Ben Nelson, founder of Minerva, a university designed to develop intellect over content memorization.
The core competencies that students need for success—critical thinking, communication, problem solving, and cross-cultural understanding, for example—should be intentionally taught, not left to chance.
These competencies can be summed up with one word: wisdom. True wisdom is the ability to apply one's knowledge appropriately when faced with novel situations.
This is what the world will look like, 250 million years from now
On Pangaea Proxima, Lagos will be north of New York, and Cape Town close to Mexico City
Surprising Science
To us humans, the shape and location of oceans and continents seems fixed. But that's only because our lives are so short.
A new study may help us better understand how children build social cognition through caregiver interaction.
Personal Growth
Scientists speculate imitation helps develop social cognition in babies.
A new study out of Lund University shows that six-month-olds look and smile more at imitating adults.
Researchers hope the data will spur future studies to discover what role caregiver imitation plays in social cognition development.
Researchers at UT Southwestern noted a 47 percent increase in blood flow to regions associated with memory.
Photo: Johannes Eisele/AFP via Getty Images
Surprising Science
Researchers at UT Southwestern observed a stark improvement in memory after cardiovascular exercise.
The year-long study included 30 seniors who all had some form of memory impairment.
The group of seniors that only stretched for a year did not fair as well in memory tests.
Videos
According to a man that knows more than 20 languages, the key is to start in the middle.
Scroll down to load more…