"Impossible" Time Crystals May Actually Be Real, Say Physicists
Physicists may be close to creating the theoretical "time crystals".
14 September, 2016
Cutting edge physics research gives us another remarkable idea that sounds like something out of a science fiction novel. In 2012, Nobel-Prize winning Frank Wilczek and a team of theoretical physicists at MIT came up with an idea that hypothetical structures exist that would appear to move without using energy. He called them "time crystals". While most physicists since then have dismissed the idea as "impossible", a new paper shows how these time crystals could actually exist, possibly changing our understanding of fundamental principles of nature. 
---
What's special about time crystals is that, if they exist, they could break the symmetry of time and space. The way time crystals would move is in a repeating pattern, without using stored energy, in a sort of perpetual motion. 
"I was thinking about the classification of crystals, and then it just occurred to me that it's natural to think about space and time together," said Wilczek about his idea. "So if you think about crystals in space, it's very natural also to think about the classification of crystalline behavior in time."
The reason crystals gave Wilczek the idea is because they exhibit unusual growth behavior, with their atoms spontaneously organizing into rows, columns and 3D lattices, without becoming symmetrical like a sphere. This breaks the spatial symmetry of nature, which maintains that all places are equivalent. Knowing this, Professor Wilczek came up with mathematical proof that showed the atoms of crystallizing matter could regularly form repeating lattices in time, but without consuming or producing any energy. They would return to their "ground state" and start the process all over again. Such a system would be breaking time-translational symmetry (TTS), another fundamental symmetry in physics.
This idea seemed strange, but because it had peer-reviewed proof, other scientists were compelled to consider it. If experimentalists could make real the ideas that theoretical physicists came up with, the existence of time crystals would shed light on the nature of time itself, possibly reconciling the theory of relativity with quantum mechanics.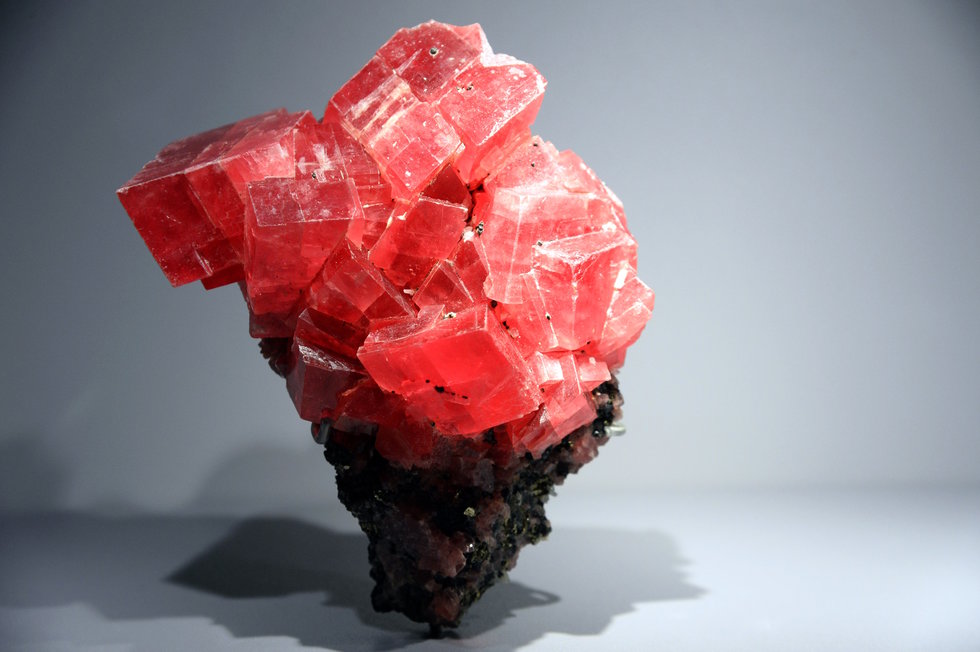 Red fluorite crystals shown at the Natural history Museum in Paris. Photo by PATRICK KOVARIK/AFP/Getty Images.
Now, experimental scientists from the University of California, Santa Barbara and from Microsoft's research lab Station Q published a paper, explaining how symmetry-breaking time crystals could be possible. They maintain there is a difference between "explicit" and "spontaneous" symmetry breaking.
"If a symmetry is broken explicitly, then the laws of nature do not have the symmetry any more; spontaneous symmetry breaking means that the laws of nature have a symmetry, but nature chooses a state that doesn't," said Dominic Else, co-author of the paper. 
Basically, nature can choose to make exceptions.
The scientists predict that this kind of broken symmetry can happen in quantum systems they called "Floquet-many-body-localized driven systems." And they have an experiment in mind to create these.
"In collaboration with experimental research groups, we are exploring the possibility of realizing Floquet time crystals in systems of cold atomic gases," said co-author Chetan Nayak at Microsoft Station Q and UCSB to Phys.org.
They plan to use a large system of trapped atoms, trapped ions or superconducting qubits to create a time crystal, then to observe it and measure its changes over time. 
Malcolm Gladwell teaches "Get over yourself and get to work" for Big Think Edge.
Big Think Edge
Learn to recognize failure and know the big difference between panicking and choking.

At Big Think Edge, Malcolm Gladwell teaches how to check your inner critic and get clear on what failure is.

Subscribe to Big Think Edge before we launch on March 30 to get 20% off monthly and annual memberships.
We take fewer mental pictures per second.
Mind & Brain
Recent memories run in our brains like sped-up old movies.
In childhood, we capture images in our memory much more quickly.
The complexities of grownup neural pathways are no match for the direct routes of young brains.
A consortium of scientists and engineers have proposed that the U.S. and Mexico build a series of guarded solar, wind, natural gas and desalination facilities along the entirety of the border.
Credit: Purdue University photo/Jorge Castillo Quiñones
Politics & Current Affairs
The proposal was recently presented to several U.S. members of Congress.
The plan still calls for border security, considering all of the facilities along the border would be guarded and connected by physical barriers.
It's undoubtedly an expensive and complicated proposal, but the team argues that border regions are ideal spots for wind and solar energy, and that they could use the jobs and fresh water the energy park would create.
Melting ice is turning up bodies on Mt. Everest. This isn't as shocking as you'd think.
popular
Mt. Everest is the final resting place of about 200 climbers who never made it down.
Recent glacial melting, caused by global warming, has made many of the bodies previously hidden by ice and snow visible again.
While many bodies are quite visible and well known, others are renowned for being lost for decades.
The bodies that remain in view are often used as waypoints for the living. Some of them are well-known markers that have earned nicknames.
For instance, the image above is of "Green Boots," the unidentified corpse named for its neon footwear. Widely believed to be the body of Tsewang Paljor, the remains are well known as a guide point for passing mountaineers. Perhaps it is too well known, as the climber David Sharp died next to Green Boots while dozens of people walked past him- many presuming he was the famous corpse.
A large area below the summit has earned the discordant nickname "rainbow valley" for being filled with the bright and colorfully dressed corpses of maintainers who never made it back down. The sight of a frozen hand or foot sticking out of the snow is so common that Tshering Pandey Bhote, vice president of Nepal National Mountain Guides Association claimed: "most climbers are mentally prepared to come across such a sight."
Other bodies are famous for not having been found yet. Sandy Irvine, the partner of George Mallory, may have been one of the first two people to reach the summit of Everest a full thirty years before Edmund Hillary and Tenzing Norgay did it. Since they never made it back down, nobody knows just how close to the top they made it.
Mallory's frozen body was found by chance in the nineties without the Kodak cameras he brought up to record the climb with. It has been speculated that Irvine might have them and Kodak says they could still develop the film if the cameras turn up. Circumstantial evidence suggests that they died on the way back down from the summit, Mallory had his goggles off and a photo of his wife he said he'd put at the peak wasn't in his coat. If Irving is found with that camera, history books might need rewriting.
As Everest's glaciers melt its morbid history comes into clearer view. Will the melting cause old bodies to become new landmarks? Will Sandy Irvine be found? Only time will tell.
<div class="ad-tag"> <div class="ad-tag__inner"> <div class="gallery_ad"></div> </div> </div>
Big think's weekly newsletter.
Get smarter faster from the comfort of your inbox.
See our newsletter privacy policy
here
Most Popular
Most Recent
Big think's weekly newsletter.
Get smarter faster from the comfort of your inbox.
See our newsletter privacy policy
here
© Copyright 2007-2018 & BIG THINK, BIG THINK EDGE,
SMARTER FASTER trademarks owned by The Big Think, Inc. All rights reserved.