How many people have lived on planet Earth?
Researchers estimate how many humans have ever lived.
01 May, 2016
It's easy to think that our lifetime and the world around us is unique and definitive. But thinking about how many people have ever lived on this planet can add some perspective to our instinctive self-centeredness. And it's not only a matter of how many people lived before we appeared, but how many have died.
---
So what's the answer? According to estimates by demographic researchers at the Population Reference Bureau (PRB), as of 2015, there have been 108.2 billion who have ever been born. Taking away the roughly 7.4 billion who are alive today, we get 100.8 billion who have died before us.
There are almost 14x more people dead than alive! That would make for one massive army of zombies, ghosts and White Walkers. Or, if you prefer to be more optimistic, you can think that the living are about 6.8% percent of everyone who'd ever lived. For the sake of simplicity (and to take into account the people born in the past year), lets round up the percentage to 7. We are the 7%. Let's make the most of it!
How do the researchers come up with these estimates? The starting point that the Population Reference Bureau takes for the beginning of what it considers human history is 50,000 BC, when the modern Homo Sapiens appeared. This date in itself is debatable as early hominids walked the earth millions of years ago. The date of 50,000 BC is taken from the United Nations Determinants and Consequences of Population Trends.
Coming up with how many people were born after that is certainly based on informed speculation. Plagued by low life expectancy (up to 10 years during the Iron Age) thanks to lack of medicine, food supply issues, climate changes, killing each other and other problems, human population grew at a slow rate. Early infant mortality was as high as 500 infant deaths per 1,000 births or higher.
Here's a chart from PBR estimating how population expanded (at least until 2011).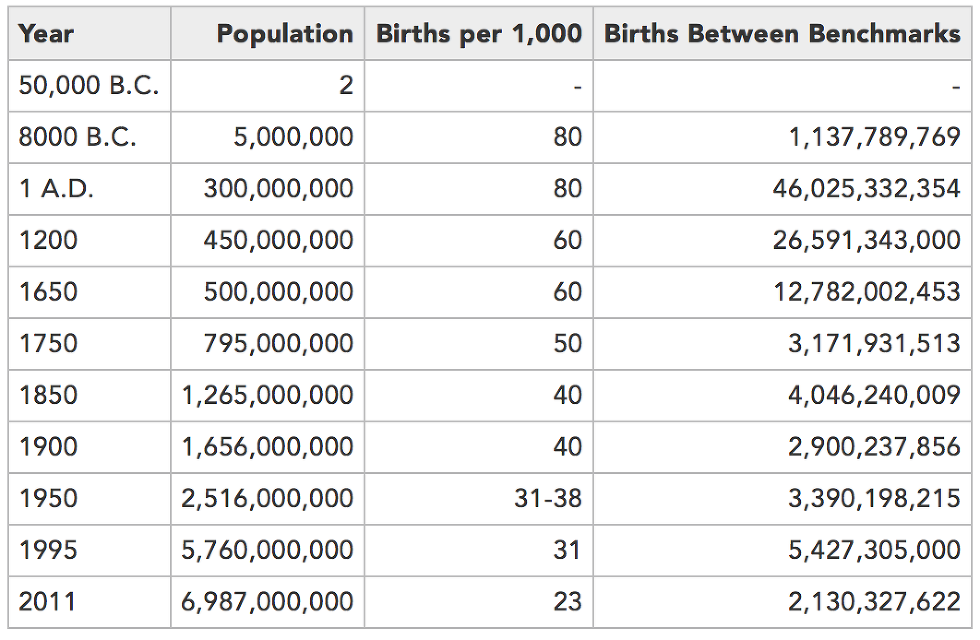 Interestingly, you can see how the rate of growth was lower from 1AD until 1650 AD, mainly due to such events as the outbreak of the plague, known as Black Death. You can also see the great population expansion from about the time of the Industrial Revolution to our current day. From 1850 till now, the planet's living population increased by about 6 times!
Certainly, some of these numbers are to be argued. The researchers made guesstimates on the birth rates and set a constant rate of population growth, which surely fluctuated. Still, this estimate gives us a useful perspective on our place in the life of our planet.
Here's Carl Haub from PRB talking about his methodology:
What can 3D printing do for medicine? The "sky is the limit," says Northwell Health researcher Dr. Todd Goldstein.
Northwell Health
Sponsored by Northwell Health
Medical professionals are currently using 3D printers to create prosthetics and patient-specific organ models that doctors can use to prepare for surgery.
Eventually, scientists hope to print patient-specific organs that can be transplanted safely into the human body.
Northwell Health, New York State's largest health care provider, is pioneering 3D printing in medicine in three key ways.
Big Think Edge
Push Past Negative Self-Talk: Give Yourself the Proper Fuel to Attack the World, with David Goggins, Former NAVY SealIf you've ever spent 5 minutes trying to meditate, you know something most people don't realize: that our minds are filled, much of the time, with negative nonsense. Messaging from TV, from the news, from advertising, and from difficult daily interactions pulls us mentally in every direction, insisting that we focus on or worry about this or that. To start from a place of strength and stability, you need to quiet your mind and gain control. For former NAVY Seal David Goggins, this begins with recognizing all the negative self-messaging and committing to quieting the mind. It continues with replacing the negative thoughts with positive ones.
If you don't want to know anything about your death, consider this your spoiler warning.
Culture & Religion
For centuries cultures have personified death to give this terrifying mystery a familiar face.
Modern science has demystified death by divulging its biological processes, yet many questions remain.
Studying death is not meant to be a morbid reminder of a cruel fate, but a way to improve the lives of the living.
Big Think Edge
Master Execution: How to Get from Point A to Point B in 7 Steps, with Rob Roy, Retired Navy SEALUsing the principles of SEAL training to forge better bosses, former Navy SEAL and founder of the Leadership Under Fire series Rob Roy, a self-described "Hammer", makes people's lives miserable in the hopes of teaching them how to be a tougher—and better—manager. "We offer something that you are not going to get from reading a book," says Roy. "Real leaders inspire, guide and give hope."Anybody can make a decision when everything is in their favor, but what happens in turbulent times? Roy teaches leaders, through intense experiences, that they can walk into any situation and come out ahead. In this lesson, he outlines seven SEAL-tested steps for executing any plan—even under extreme conditions or crisis situations.
Big think's weekly newsletter.
Get smarter faster from the comfort of your inbox.
See our newsletter privacy policy
here
Most Popular
Most Recent
Big think's weekly newsletter.
Get smarter faster from the comfort of your inbox.
See our newsletter privacy policy
here
© Copyright 2007-2019 & BIG THINK, BIG THINK EDGE,
SMARTER FASTER trademarks owned by The Big Think, Inc. All rights reserved.