How many people have lived on planet Earth?
Researchers estimate how many people have ever lived and died to give us a unique perspective on our place in the world's history.
01 May, 2016
It's easy to think that our lifetime and the world around us is unique and definitive. But thinking about how many people have ever lived on this planet can add some perspective to our instinctive self-centeredness. And it's not only a matter of how many people lived before we appeared, but how many have died.
---
So what's the answer? According to estimates by demographic researchers at the Population Reference Bureau (PRB), as of 2015, there have been 108.2 billion who have ever been born. Taking away the roughly 7.4 billion who are alive today, we get 100.8 billion who have died before us.
There are almost 14x more people dead than alive! That would make for one massive army of zombies, ghosts and White Walkers. Or, if you prefer to be more optimistic, you can think that the living are about 6.8% percent of everyone who'd ever lived. For the sake of simplicity (and to take into account the people born in the past year), lets round up the percentage to 7. We are the 7%. Let's make the most of it!
How do the researchers come up with these estimates? The starting point that the Population Reference Bureau takes for the beginning of what it considers human history is 50,000 BC, when the modern Homo Sapiens appeared. This date in itself is debatable as early hominids walked the earth millions of years ago. The date of 50,000 BC is taken from the United Nations Determinants and Consequences of Population Trends.
Coming up with how many people were born after that is certainly based on informed speculation. Plagued by low life expectancy (up to 10 years during the Iron Age) thanks to lack of medicine, food supply issues, climate changes, killing each other and other problems, human population grew at a slow rate. Early infant mortality was as high as 500 infant deaths per 1,000 births or higher.
Here's a chart from PBR estimating how population expanded (at least until 2011).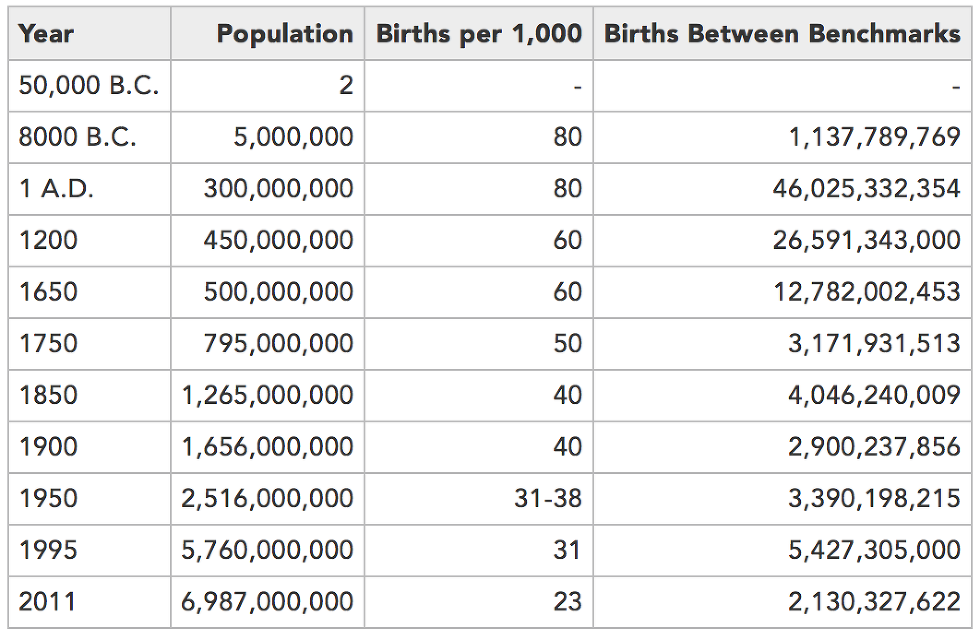 Interestingly, you can see how the rate of growth was lower from 1AD until 1650 AD, mainly due to such events as the outbreak of the plague, known as Black Death. You can also see the great population expansion from about the time of the Industrial Revolution to our current day. From 1850 till now, the planet's living population increased by about 6 times!
Certainly, some of these numbers are to be argued. The researchers made guesstimates on the birth rates and set a constant rate of population growth, which surely fluctuated. Still, this estimate gives us a useful perspective on our place in the life of our planet.
Here's Carl Haub from PRB talking about his methodology:
Pfizer's partnerships strengthen their ability to deliver vaccines in developing countries.
Susan Silbermann, Global President of Pfizer Vaccines, looks on as a health care worker administers a vaccine in Rwanda. Photo: Courtesy of Pfizer.
Sponsored
Community healthcare workers face many challenges in their work, including often traveling far distances to see their clients
Pfizer is helping to drive the UN's sustainable development goals through partnerships.
Pfizer partnered with AMP and the World Health Organization to develop a training program for healthcare workers.
The controversy around the Torah codes gets a new life.
Michael Drosnin
Surprising Science
Mathematicians claim to see a predictive pattern in the ancient Torah texts.
The code is revealed by a method found with special computer software.
Some events described by reading the code took place after the code was written.
A glass of juice has as much sugar, ounce for ounce, as a full-calorie soda. And those vitamins do almost nothing.
popular
Quick: think back to childhood (if you've reached the scary clown you've gone too far). What did your parents or guardians give you to keep you quiet? If you're anything like most parents, it was juice. But here's the thing: juice is bad for you. 
Orangutans join humans and bees in a very exclusive club
Surprising Science
Orangutan mothers wait to sound a danger alarm to avoid tipping off predators to their location
It took a couple of researchers crawling around the Sumatran jungle to discover the phenomenon
This ability may come from a common ancestor
Big think's weekly newsletter.
Get smarter faster from the comfort of your inbox.
See our newsletter privacy policy
here
Most Popular
Most Recent
Big think's weekly newsletter.
Get smarter faster from the comfort of your inbox.
See our newsletter privacy policy
here
© Copyright 2007-2018 & BIG THINK, BIG THINK EDGE,
SMARTER FASTER trademarks owned by The Big Think, Inc. All rights reserved.