From Living Inside Asteroids to Solar Arks, a Scientist Designs the Space Colonies of the Future
New research explains how to build different types of outposts in space.
03 April, 2017
The next several decades are likely to be revolutionary in humanity's relationship with space. Instead of just the select few astronauts, a much larger portion of the planet's population, perhaps hundreds of thousands, could start traveling into the cosmos. They would go on long journeys to faraway planets like Mars, staff the first colonies on the moon and beyond, become asteroid miners and engage in many other professions that will be necessary as we explore this new frontier. But what will these first outposts in space look like and how will they work? 
---
A new study on the future of space stations and space colonies was recently published in the journal Reach, a publication focused on human space exploration. The paper was written by Werner Grandl, an Austrian architect and civil engineer, who has been researching and publishing studies on space colonies and space stations since 1986.
Grandl provides a clear imperative for the humans to go to space, calling planet Earth "just the cradle of mankind." According to Grandl, if we want to survive as a species, we need to "stretch the concept of nature beyond the biosphere" and understand "cosmic evolution". And within that larger cosmic view, there is no reason to stay put on Earth, with all its dangers and scarcities.
The first place we should go? You guessed it - the moon.
Grandl thinks that humans will return to the moon in the 2020s, building a lunar base on and below the surface. The purpose of the outpost would be both for research and for learning to utilize the moon's resources. Helium-3 (a rare isotope of helium), iron, aluminum, titanium and more can be extracted from lunar materials. Farther down the line, the moon base would produce fuel for spaceships on their way to intergalactic destinations.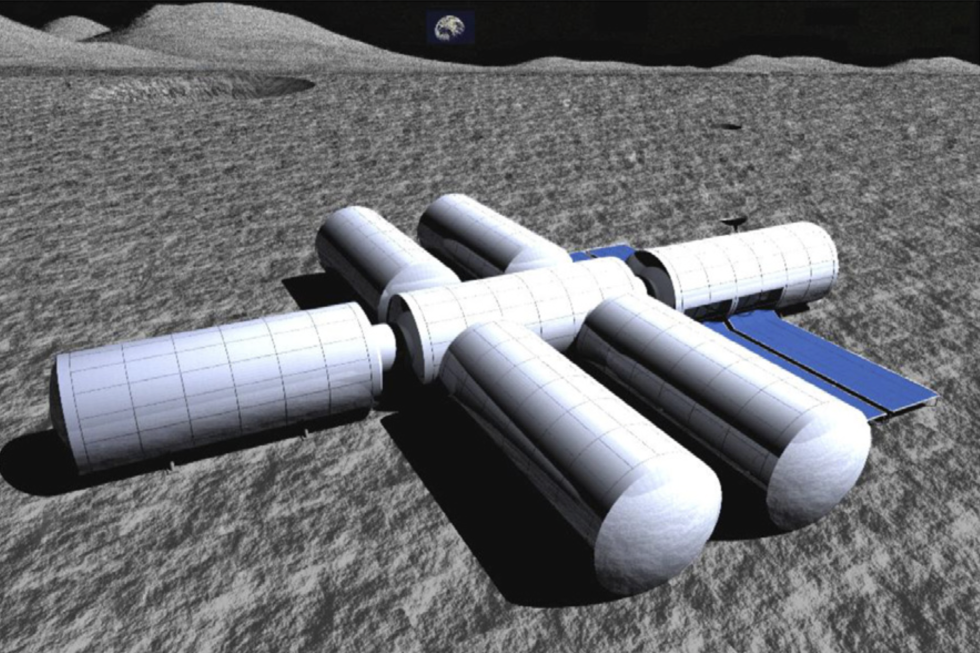 Initial modular lunar base. The figure shows the initial stage of six modules with one additional module (to the left). Credit: Werner Grandl.
The initial lunar base would consist of 6 cylindrical modules made of lightweight aluminum, 17 meters long and 6 meters in diameter. One module would house 8 people. The modules would each have different functions in the base - one would would be dedicated to generating energy and communications. There would also be modules for a central gathering area, an airlock, laboratory, living quarters with private rooms for each person, and a spare module for enlarging the base.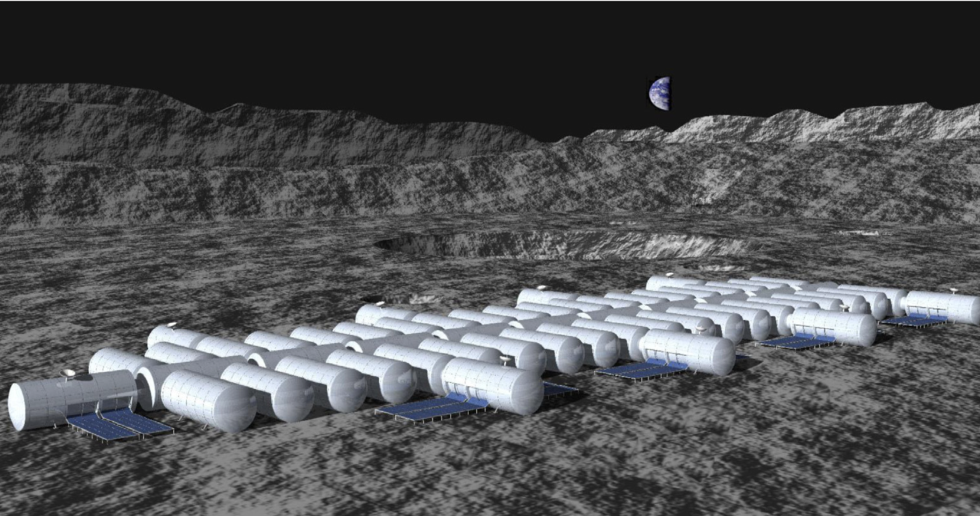 Urban structure on the Moon, built of standardized modules (Grandl, 2010) 
Another possibility for a lunar base location and design - put it into an underground "lava tube" - a natural cave under the surface, for example into the Mare Tranquilitatis Hole (MTH). Advantages of an underground base can be numerous, from providing water within their soil, to reducing the effects of cosmic rays and offering better temperature conditions.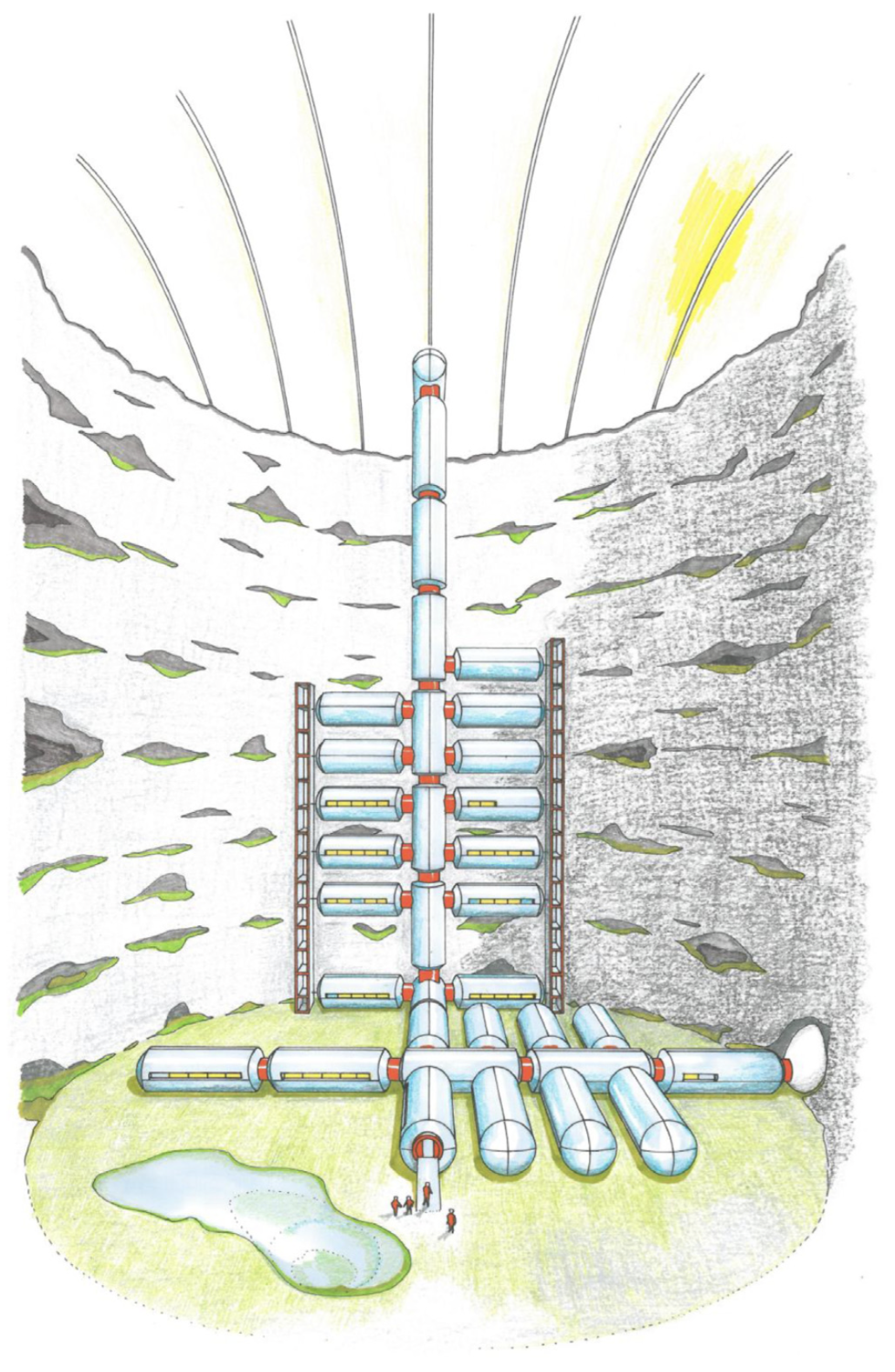 'Green" habitat for 100 inhabitants inside Mare Tranquilitatis Hole (Grandl and Böck 2015). 
Grandl envisions that another place where humans might eventually find themselves would be in colonies dedicated to mining asteroids. Near Earth Asteroids could provide rare-earth elements and metals like platinum, which would be easier to extract than on Earth, without worrying about environmental pollution or politics. One kind of colony that would spring up to support this mining would be a manned space station connected to the asteroid. The station would have all the necessary equipment and staff for the mining process. 
Once a particular asteroid has been tapped out, if it's larger than 400m in diameter, its hollowed-out insides could be big enough to support a rotating human colony of more than 2,000 inhabitants. Water, oxygen and building materials would be extracted from the asteroid itself.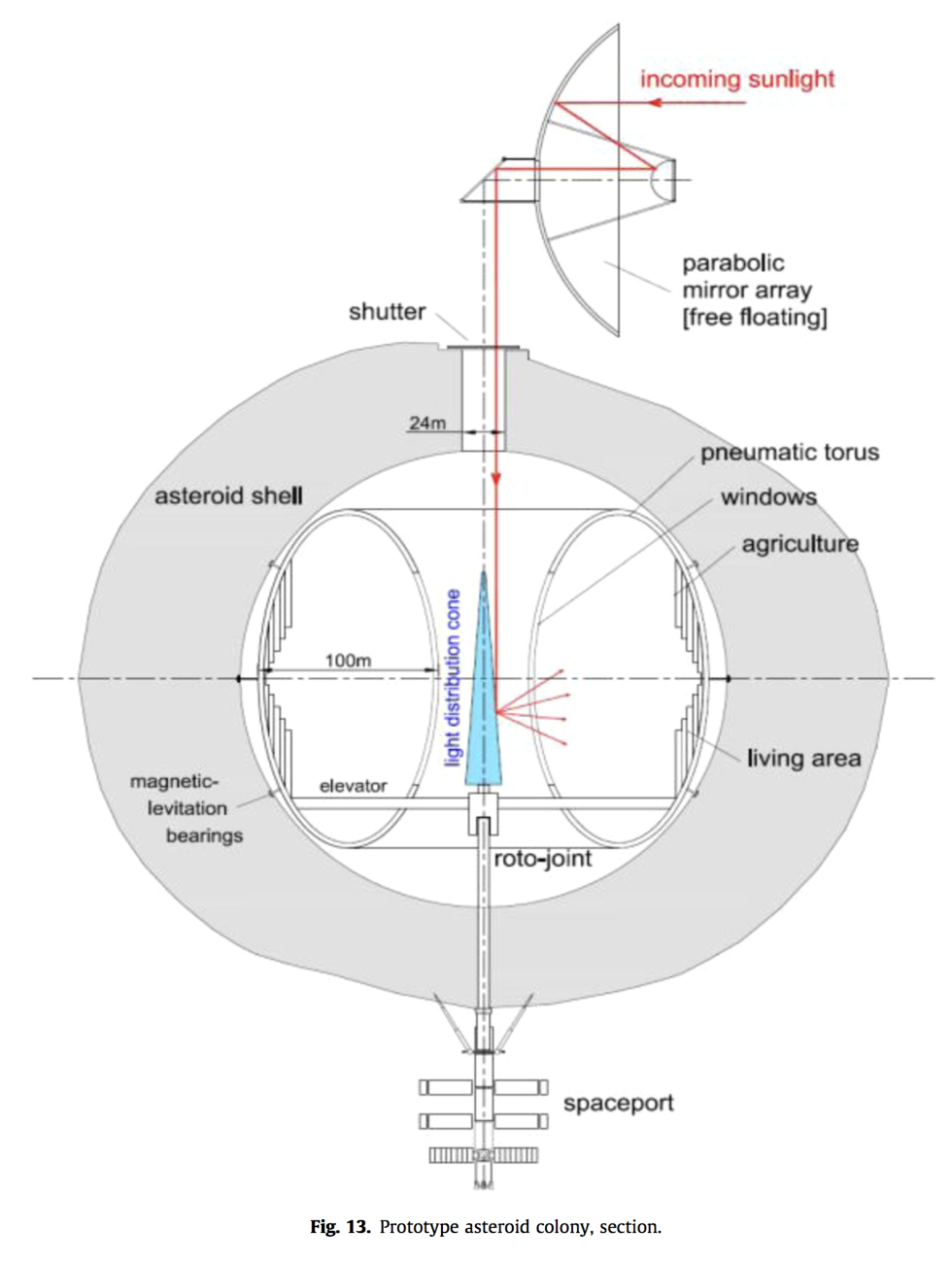 Prototype asteroid colony. Credit: Werner Grandl.
The premiere space colony envisioned by Grandl and his team is the Solar Ark. It would be cylindrical in shape and have artificial gravity. This idea of needing to create gravity was actually first proposed by the Russian scientist Konstantin Tsiolkovsky, one of the founding fathers of rocketry and astronautics, who was also the first to advocate creating large colonies around Earth.
Why would we need artificial gravity? The lack of gravity in space can be dangerous to human health, with such issues as bone demineralization and atrophying of muscles. In order to avoid these negative effects, gravity could potentially be simulated in space by employing "centrifugal forces." According to calculations by the NASA engineer Jesco von Puttkamer, a space station that's 50 meters in radius and rotates at the spin rate of 4.2 rpm would create an artificial gravity of 1G.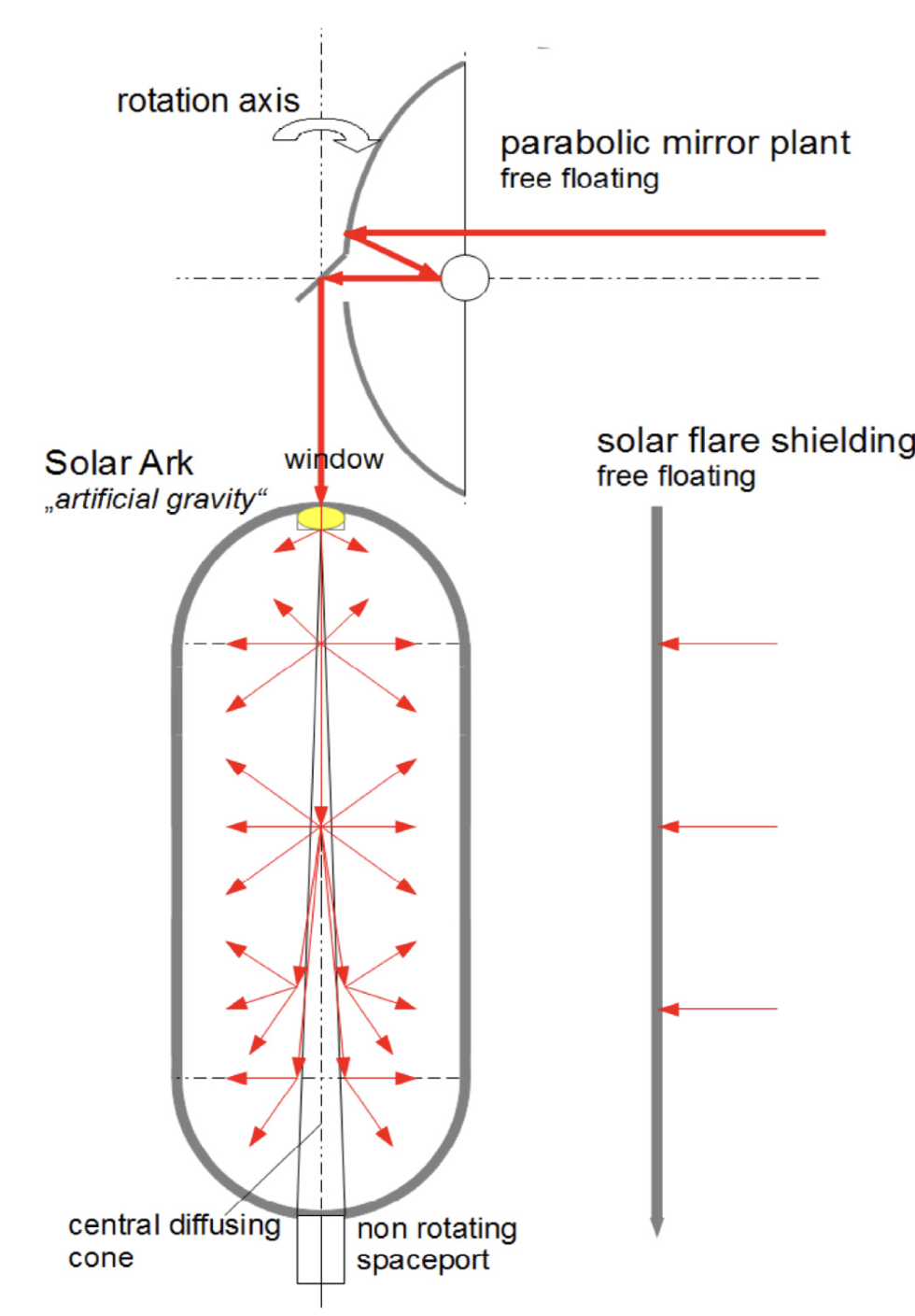 Illumination of a Solar Ark. Credit: Grandl
The Solar Ark would be one such massive colony that could range in length from 2.3 km to 8km, with its diameter ranging from 900 m to 3.2 km. The larger colony could be home to up to 250,000 inhabitants.
The Ark would also feature an artificial climate, and would be illuminated by capturing sunlight via a system of parabolic mirrors (hence its name Solar Ark). Its hull would be covered by an outer and inner aluminum "membrane", with external thrusters adjusting the rotation and direction of the colony. The outer membrane would also be shielded by layers of foamglass with little thermal conductivity, protecting against meteorites and radiation.
A free-floating structure near the colony would protect it from solar flares.
How far in the future are these plans? Most technologies needed to make such ideas a reality, other than artificial gravity, are already available, says Grandl. 
Related Articles
Explore how alcohol affects your brain, from the first sip at the bar to life-long drinking habits.
(Photo by Angie Garrett/Wikimedia Commons)
Mind & Brain
Alcohol is the world's most popular drug and has been a part of human culture for at least 9,000 years.
Alcohol's effects on the brain range from temporarily limiting mental activity to sustained brain damage, depending on levels consumed and frequency of use.
Understanding how alcohol affects your brain can help you determine what drinking habits are best for you.
If you want to know what makes a Canadian lynx a Canadian lynx a team of DNA sequencers has figured that out.
Surprising Science
A team at UMass Amherst recently sequenced the genome of the Canadian lynx.
It's part of a project intending to sequence the genome of every vertebrate in the world.
Conservationists interested in the Canadian lynx have a new tool to work with.
Artwork: Guillaume le Clerc / Wikimedia Commons
13th-century fantastical depiction of an elephant.
It is easy to see how one can look at 66,000 genomic sequences stored away as being the analogous equivalent of the Svalbard Global Seed Vault. It is a potential tool for future conservationists.
But what are the practicalities of sequencing the genome of a lynx beyond engaging with broad bioethical questions? As the animal's habitat shrinks and Earth warms, the Canadian lynx is demonstrating less genetic diversity. Cross-breeding with bobcats in some portions of the lynx's habitat also represents a challenge to the lynx's genetic makeup. The two themselves are also linked: warming climates could drive Canadian lynxes to cross-breed with bobcats.
John Organ, chief of the U.S. Geological Survey's Cooperative Fish and Wildlife units, said to MassLive that the results of the sequencing "can help us look at land conservation strategies to help maintain lynx on the landscape."
What does DNA have to do with land conservation strategies? Consider the fact that the food found in a landscape, the toxins found in a landscape, or the exposure to drugs can have an impact on genetic activity. That potential change can be transmitted down the generative line. If you know exactly how a lynx's DNA is impacted by something, then the environment they occupy can be fine-tuned to meet the needs of the lynx and any other creature that happens to inhabit that particular portion of the earth.
Given that the Trump administration is considering withdrawing protection for the Canadian lynx, a move that caught scientists by surprise, it is worth having as much information on hand as possible for those who have an interest in preserving the health of this creature—all the way down to the building blocks of a lynx's life.
The exploding popularity of the keto diet puts a less used veggie into the spotlight.
Purple cauliflower. (Photo: Shutterstock)
Surprising Science
The cauliflower is a vegetable of choice if you're on the keto diet.
The plant is low in carbs and can replace potatoes, rice and pasta.
It can be eaten both raw and cooked for different benefits.
Big think's weekly newsletter.
Get smarter faster from the comfort of your inbox.
See our newsletter privacy policy
here
Most Popular
Most Recent
Big think's weekly newsletter.
Get smarter faster from the comfort of your inbox.
See our newsletter privacy policy
here
© Copyright 2007-2018 & BIG THINK, BIG THINK EDGE,
SMARTER FASTER trademarks owned by The Big Think, Inc. All rights reserved.