Graphene hair dye: Scientists use miracle nanomaterial to make non-toxic dye
Scientists find a groundbreaking application of the supermaterial graphene.
22 March, 2018
---
Dying hair too often can damage it. The chemicals affect the silky strands, causing them to become brittle and dry. Now scientists from Northwestern University have come up with a way to color hair using the super-material graphene in a process that is non-toxic and non-damaging. It also colors the hair so well that it lasts for over 30 washes. And if you ever thought your hair isn't doing enough by just sitting there - graphene is a conductor that can turn hair into electrodes or allow it to be integrated with wearable electronic devices. 
Commercial dyes use chemicals such as ammonia and bleach which open up the outermost layer of hair called the cuticle and allow in coloring molecules that trigger a reaction inside the hair. The reaction produces more color but can cause the hair to become very fragile, while the molecules it injects can be quite toxic.
The research was led by Jiaxing Huang, who is the professor of materials science and engineering in Northwestern's McCormick School of Engineering. His team managed to bypass harmful chemicals by "leveraging the natural geometry of graphene sheets," as explains their press release. Unlike a cocktail of small molecules used in current hair dyes, the sheets of graphene, a two-dimensional material made of a single atomic layer of carbon, are flexible and soft. Applied as a spray, they wrap around each hair to create an even coating.
The ink formula by Huang also utilized edible, non-toxic polymer binds that make graphene stick to the hair through at least 30 washes - a commercial requirement for permanent hair dye. Another cool thing about graphene-treated hair is due to graphene's anti-static properties. It will reduce "winter-weather flyaways," claim the scientists.
"It's similar to the difference between a wet paper towel and a tennis ball," explained Huang, when contrasting the geometry of graphene to other black pigment particles like carbon black or iron oxide, used in temporary hair dyes. "The paper towel is going to wrap and stick much better. The ball-like particles are much more easily removed with shampoo."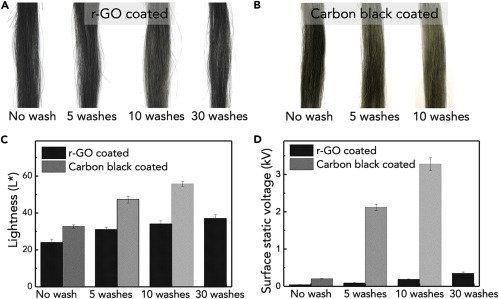 The durability of graphene-coated hair against washing. Credit: Northwestern University.
The particular properties of graphene also make it a safer alternative from a health standpoint. Unlike small molecules that can enter through the skin or inhalation, graphene is just too big to get into the body. "Compared to those small molecules used in current hair dyes, graphene flakes are humongous," said Huang.
There is also the possibility of applying graphene to turn the hair conductive on its surface, which would make it possible to integrate with wearable electronics. "We are only limited by our imagination," said Huang of that potential direction.
For now, Huang's team created graphene-based hair dyes in various shades of brown and black, relying on graphene natural black color. The scientists plan to experiment with more colors next. Considering that the retail sales of at-home hair coloring topped $1.9 billion in the U.S. in 2016, the graphene coloring spray can become a dramatic commercial success.
You can read the study here, published in the journal Chem.
Upstreamism advocate Rishi Manchanda calls us to understand health not as a "personal responsibility" but a "common good."
Sponsored by Northwell Health
Upstreamism tasks health care professionals to combat unhealthy social and cultural influences that exist outside — or upstream — of medical facilities.
Patients from low-income neighborhoods are most at risk of negative health impacts.
Thankfully, health care professionals are not alone. Upstreamism is increasingly part of our cultural consciousness.
The Bajau people's nomadic lifestyle has given them remarkable adaptions, enabling them to stay underwater for unbelievable periods of time. Their lifestyle, however, is quickly disappearing.
Wikimedia Commons
Culture & Religion
The Bajau people travel in small flotillas throughout the Phillipines, Malaysia, and Indonesia, hunting fish underwater for food.
Over the years, practicing this lifestyle has given the Bajau unique adaptations to swimming underwater. Many find it straightforward to dive up to 13 minutes 200 feet below the surface of the ocean.
Unfortunately, many disparate factors are erasing the traditional Bajau way of life.
We explore the history of blood types and how they are classified to find out what makes the Rh-null type important to science and dangerous for those who live with it.
Abid Katib/Getty Images
Surprising Science
Fewer than 50 people worldwide have 'golden blood' — or Rh-null.
Blood is considered Rh-null if it lacks all of the 61 possible antigens in the Rh system.
It's also very dangerous to live with this blood type, as so few people have it.
An innovation may lead to lifelike evolving machines.
Shogo Hamada/Cornell University
Surprising Science
Scientists at Cornell University devise a material with 3 key traits of life.
The goal for the researchers is not to create life but lifelike machines.
The researchers were able to program metabolism into the material's DNA.
Big think's weekly newsletter.
Get smarter faster from the comfort of your inbox.
See our newsletter privacy policy
here
Most Popular
Most Recent
Big think's weekly newsletter.
Get smarter faster from the comfort of your inbox.
See our newsletter privacy policy
here
© Copyright 2007-2019 & BIG THINK, BIG THINK EDGE,
SMARTER FASTER trademarks owned by The Big Think, Inc. All rights reserved.