Amazon Plans Giant Airship Warehouses Hovering Above Cities with Armies of Delivery Drones
A patent filed for Amazon's "airborne fulfillment centers" reveals the e-commerce giant's plans for the future of delivery.
05 January, 2017
---
If you are wondering about how the city of a near future might look like, imagining giant airships roaming the skies might soon be a pretty safe bet. A patent for Amazon's flying warehouses revealed some quite futuristic but also very possible technological solutions that the online retail leader is looking to implement.
The patent, found by by Zoe Leavitt of CB Insights, describes "airborne fulfillment centres" (AFC) that will float above cities, at 45,000 ft, carrying goods to be delivered by an army of drones. 
Some aspects of why the airships could be useful to Amazon - it would build fewer physical warehouses and the delivery by drones from an AFC would require very little power, as the drones would essentially be gliding down to their destination. Here's how the patent describes the workings of the flying warehouses:
"As the UAVs descend, they can navigate horizontally toward a user-specified delivery location using little to no power, other than to stabilise the UAV and/or guide the direction of descent. Shuttles (smaller airships) may be used to replenish the AFC with inventory, UAVs, supplies, fuel, etc. Likewise, the shuttles may be utilised to transport workers to and from the AFC."
The Daily Mail made a helpful graphic to show the process envisioned by Amazon: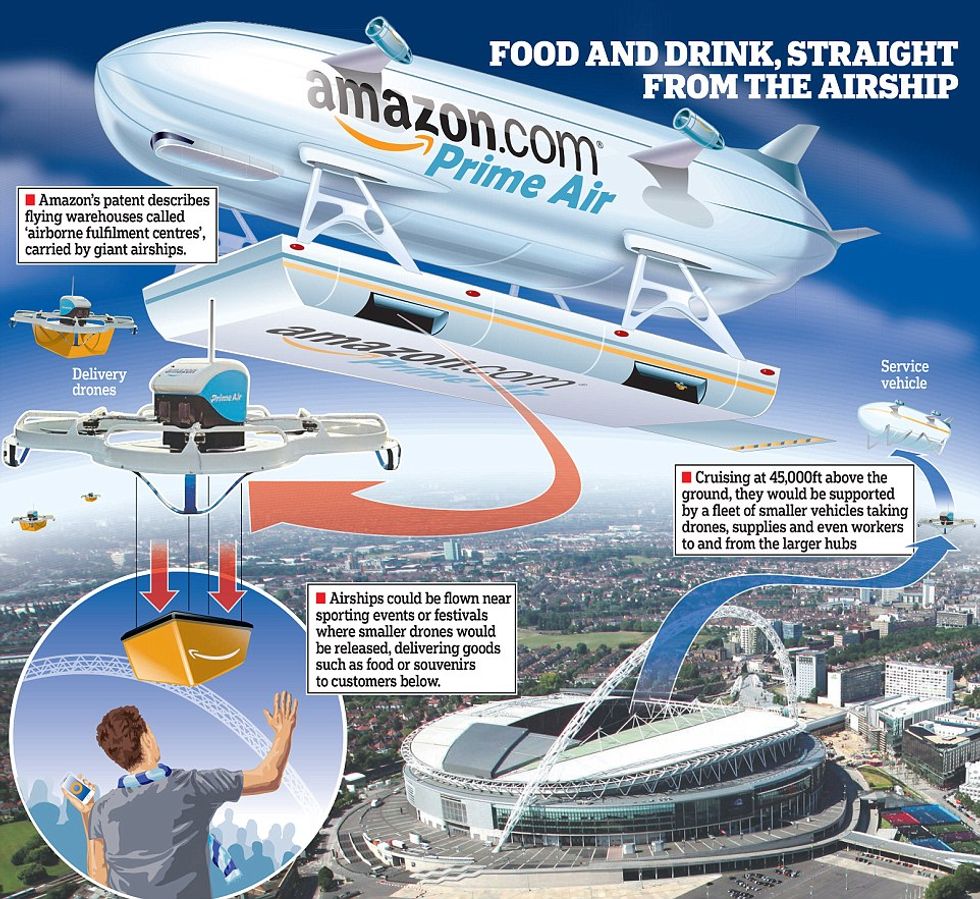 Another interesting aspect - the airships could be used as giant advertising boards, with customers being able to order what they see displayed. 
How would the airships be used? There are many applications. One way would be to fly them over events like football games to deliver snacks and merchandise to the spectators. Imagine a fleet of drones hovering over the stadium during breaks.
"'Perishable items or even prepared meals can be delivered in a timely fashion to a user,' says the patent.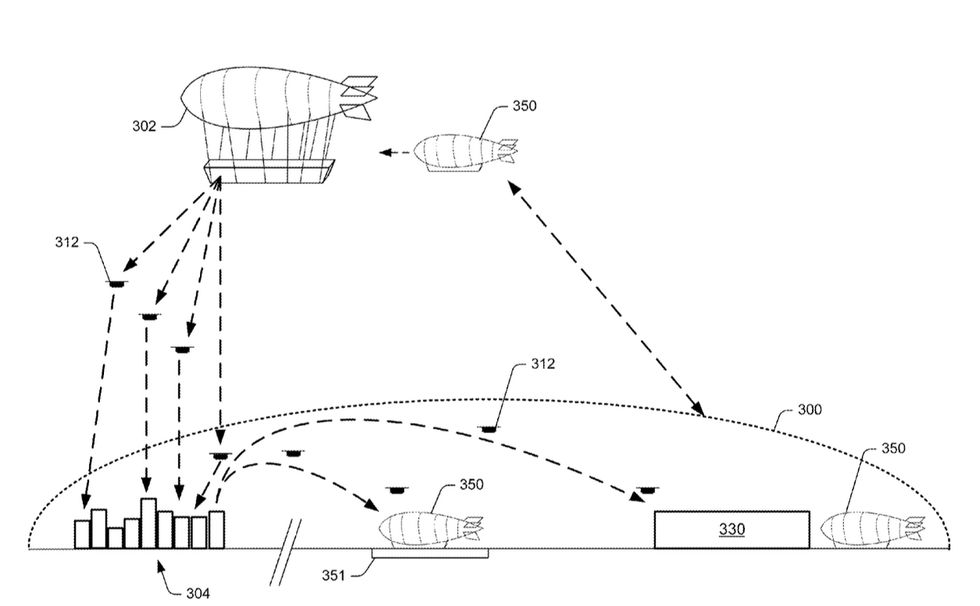 Illustration from the patent.
How far are we from this being a reality? We might be one or two years away, if you judge by Amazon's previous predictions. Amazon made its first successful drone delivery at the end of 2016. Here's how that looked: 
If you want to know more details about how the AFCs would work, you can read the patent here.
Cover photo credit: Amazon.
Who is to blame for the U.S.'s dismal college graduation rate? "Radical" educator Dennis Littky has a hunch.
Sponsored by Charles Koch Foundation
COVID-19 has magnified the challenges that underserved communities face with regard to higher education, such as widening social inequality and sky-high tuition.
At College Unbound, where I am president, we get to know students individually to understand what motivates them, so they can build a curriculum based on goals they want to achieve.
My teaching mantra: Everything is permitted during COVID-19. Everything is permitted during COVID-19. Everything is permitted during COVID-19.
Meteorologists propose a stunning new explanation for the mysterious events in the Bermuda Triangle.
Surprising Science
One of life's great mysteries, the Bermuda Triangle might have finally found an explanation. This strange region, that lies in the North Atlantic Ocean between Bermuda, Miami and San Juan, Puerto Rico, has been the presumed cause of dozens and dozens of mind-boggling disappearances of ships and planes.
Did you know that shifting to a positive perspective on aging can add 7.5 years to your life? Or that there is a provable U-curve of happiness that shows people get happier after age 50?
Sweden tops the ranking for the third year in a row.
AXEL SCHMIDT/DDP/AFP via Getty Images
Technology & Innovation
What does COVID-19 mean for the energy transition? While lockdowns have caused a temporary fall in CO2 emissions, the pandemic risks derailing recent progress in addressing the world's energy challenges.
Culture & Religion
Neo's superhuman powers were only inside of The Matrix. The outside world offered a different reality.
Scroll down to load more…