Over 30% of All American Jobs to Be Lost to Automation by 2030, Says New Study
A report on the effects of global automation highlights the dramatic changes over the next 13 years.
03 December, 2017
---
Maybe your worries about having a robotic overlord are not warranted in the short term, but losing a job to a robot might be a fact of life that's just around the corner. A new study predicts that up to a third of all American jobs will be lost to automation within the next 13 years.
The study by McKinsey Global Institute, a think tank that specializes in business and economics, says that nearly 70 million U.S. workers would have to find new occupations by 2030. This will happen due to advances in robotics, artificial intelligence and machine learning. 
Machines will become better than humans at a variety of skills, including some that require cognitive abilities. Automated technologies will also be producing significantly fewer errors, allowing businesses to improve productivity, quality and speed. Employing humans will become an illogical option in some professions. People would need retraining or enter completely new fields, concludes the report's co-author, Michael Chui, a partner at the McKinsey Global Institute.
"We believe that everyone will need to do retraining over time," he said, according to the Washington Post.
The researchers believe the coming changes will affect people across different career levels. Certain sectors will be affected more than others. By 2030, the demand for office workers, including anyone involved in administrative tasks, should fall by 20%, predict the researchers. Up to 30% of the people in jobs requiring "predictable physical work" like in construction or the food industry, for example, could lose their jobs as well. 
These are the types of activities inherent in some jobs that are more susceptible to be replaced by automation: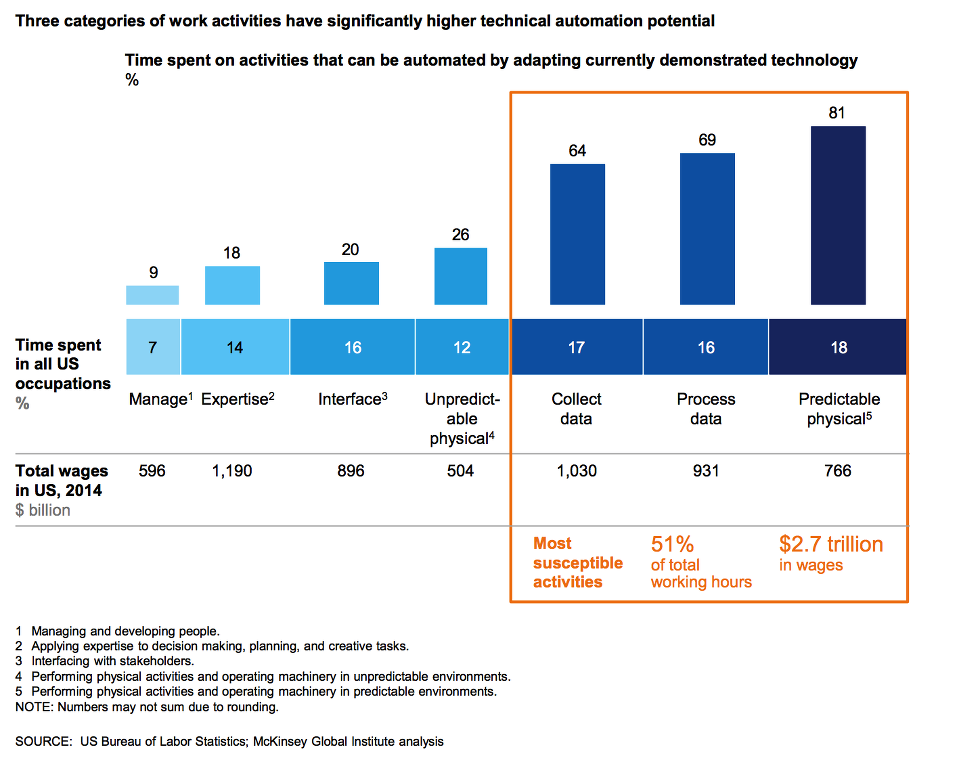 Jobs that require creativity or more human interaction, like being a lawyer, manager, a doctor or a teacher would be less under the knife from automation, think the scientists. There could also be new type of jobs in supporting the technology that will arise. 
The changes won't just hit the U.S. but will reverberate around the world. The scientists say that up to 800 billion employees perform "technically automatable activities" and will find themselves out of that work by 2030. On the flip side, the researchers say up to 280 million new jobs could be created from increased spending on consumer goods and another 85 million jobs from more spending on health and education. 
These are the U.S. industries most likely to be affected by automation: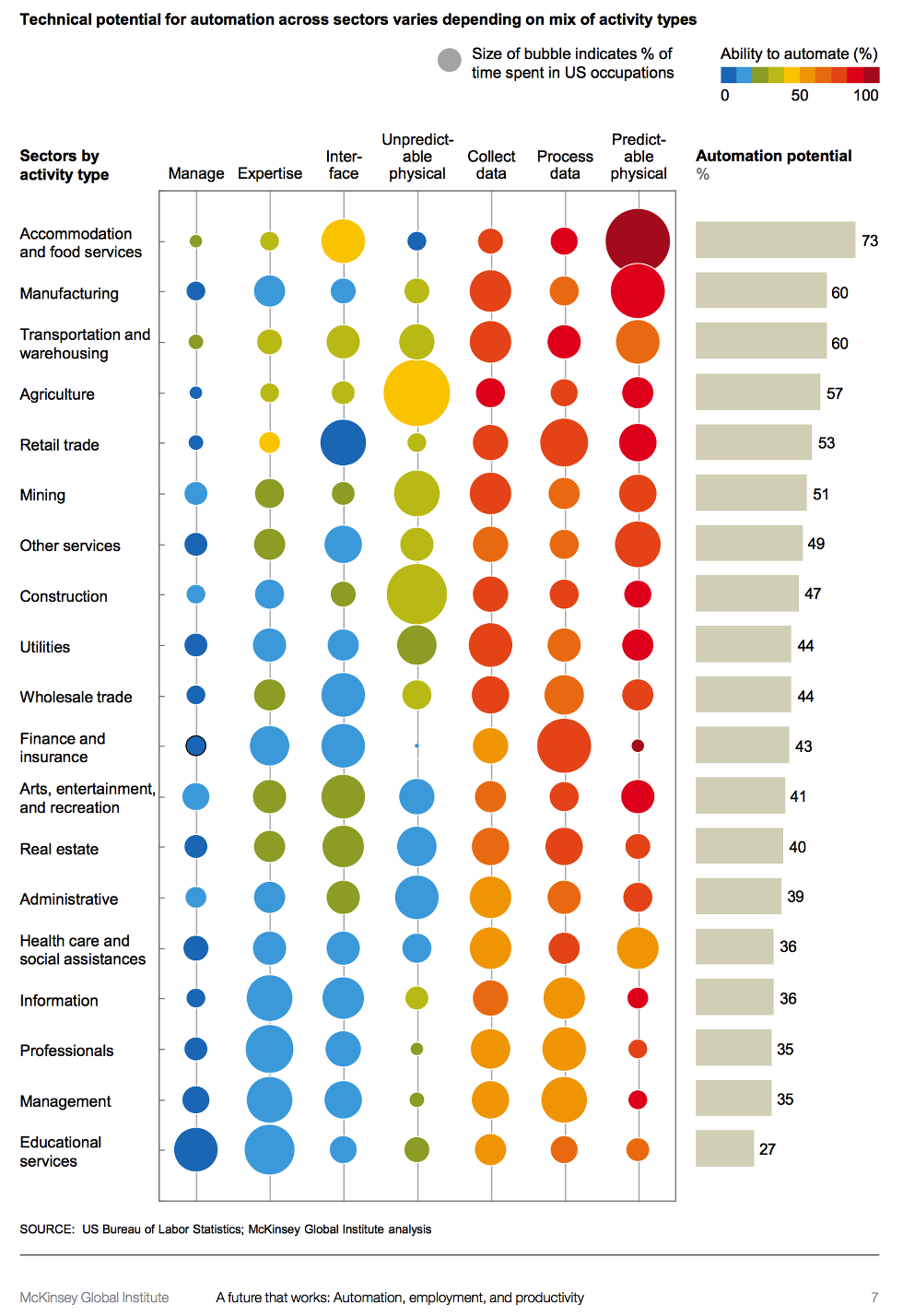 The authors see the looming transformation akin to what happened in the United States and Europe in the early 1900s, when global industry switched from farming to factory work. Overall, their message is not one of doom. They do not want to scare people but rather prepare for an inevitable transition, especially highlighting the need for mass retraining.
You can learn more about the study and read it here.
Step inside the unlikely friendship of a former ACLU president and an ultra-conservative Supreme Court Justice.

Sponsored by Charles Koch Foundation
Former president of the ACLU Nadine Strossen and Supreme Court Justice Antonin Scalia were unlikely friends. They debated each other at events all over the world, and because of that developed a deep and rewarding friendship – despite their immense differences.
Scalia, a famous conservative, was invited to circles that were not his "home territory", such as the ACLU, to debate his views. Here, Strossen expresses her gratitude and respect for his commitment to the exchange of ideas.
"It's really sad that people seem to think that if you disagree with somebody on some issues you can't be mutually respectful, you can't enjoy each other's company, you can't learn from each other and grow in yourself," says Strossen.
The opinions expressed in this video do not necessarily reflect the views of the Charles Koch Foundation, which encourages the expression of diverse viewpoints within a culture of civil discourse and mutual respect.
French newspapers report that the trial hasn't lived up to expectations.
Image source: Charly Triballeau / AFP / Getty Images
Technology & Innovation
The French government initially invested in a rural solar roadway in 2016.
French newspapers report that the trial hasn't lived up to expectations.
Solar panel "paved" roadways are proving to be inefficient and too expensive.
Erik Verlinde has been compared to Einstein for completely rethinking the nature of gravity.
Photo by Willeke Duijvekam
Surprising Science
The Dutch physicist Erik Verlinde's hypothesis describes gravity as an "emergent" force not fundamental.
The scientist thinks his ideas describe the universe better than existing models, without resorting to "dark matter".
While some question his previous papers, Verlinde is reworking his ideas as a full-fledged theory.
Scientists make an important discovery for the future of computing.
Pixabay
Surprising Science
Researchers find a new state of matter called "topological superconductivity".
The state can lead to important advancements in quantum computing.
Utilizing special particles that emerge during this state can lead to error-free data storage and blazing calculation speed.