Big ideas.
Once a week.
Subscribe to our weekly newsletter.
A new quantum theory predicts that the future could be influencing the past
A new study challenges what we understand about the workings of time.
09 July, 2017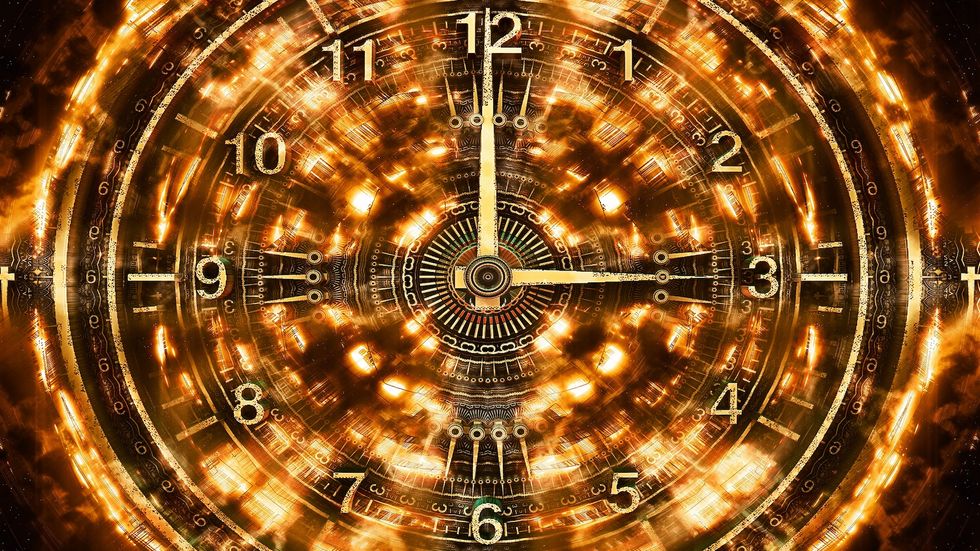 credit: Pixabay
Quantum physics has spawned its share of strange ideas and hard-to-grasp concepts - from Einstein's "spooky action at a distance" to the adventures of Shroedinger's cat. Now a new study lends support to another mind-bender - the idea of retrocausality, which basically proposes that the future can influence the past and the effect, in essence, happens before the cause.
---
At this point, retrocausality does not mean that you get to send signals from the future to the past - rather that an experimenter's measurement of a particle can influence the properties of that particle in the past, even before making their choice. 
The new paper argues that retrocausality could be a part of quantum theory. The scientists expound on the more traditionally accepted concept of time symmetry and show that if that is true, then so should be retrocausality. Time symmetry says that physical processes can run forward and backwards in time while being subject to the same physical laws.
The scientists describe an experiment where time symmetry would require processes to have the same probabilities, whether they go backwards or forward in time. But that would cause a contradiction if there was no retrocausality, as it requires these processes to have different probabilities. What the paper shows is that you can't have both concepts be true at the same time.
Eliminating time symmetry would also get rid of some other sticky problems of quantum physics, like Einstein's discomfort with entanglement which he described as "spooky action at a distance." He saw challenges to quantum theory in the idea that entangled or connected particles could instantly affect each other even at large distances. In fact, accepting retrocausality could allow for a reinterpretation of Bell tests that were used to show evidence of "spooky action". Instead, the tests could be supporting retrocausailty. 
The paper, published in the Proceedings of the Royal Society A, was authored by Matthew S. Leifer at Chapman University in California and Matthew F. Pusey at the Perimeter Institute for Theoretical Physics in Ontario. The scientists hope their work can lead towards a fuller understanding of quantum theory.
"The reason I think that retrocausality is worth investigating is that we now have a slew of no-go results about realist interpretations of quantum theory, including Bell's theorem, Kochen-Specker, and recent proofs of the reality of the quantum state," said Leifer to Phys.org. "These say that any interpretation that fits into the standard framework for realist interpretations must have features that I would regard as undesirable. Therefore, the only options seem to be to abandon realism or to break out of the standard realist framework."
Are we going to have time travel as a result of this? In one idea proposed by Richard Feynman, existence of retrocausality could mean that positrons, antimatter counterparts of electrons, would move backwards in time so that they could have a positive charge. If this was proven to be true, time travel could involve simply changing the direction of moving particles in the single dimension of time.
Leifer doesn't go as far as time travel in his explanation, but speculates that if retrocausality does exist in the universe, then there could be evidence of it in the cosmological data, saying that "there are certain eras, perhaps near the big bang, in which there is not a definite arrow of causality." 
Is this idea ready for the big time? It is supported by Huw Price, a philosophy professor at the University of Cambridge who focuses on the physics of time and is a leading advocate of retrocausality. Leifer and Pusey are taking things in stride, however, realizing that much more work needs to be done. 
"There is not, to my knowledge, a generally agreed upon interpretation of quantum theory that recovers the whole theory and exploits this idea. It is more of an idea for an interpretation at the moment, so I think that other physicists are rightly skeptical, and the onus is on us to flesh out the idea," said Leifer.
There are no experiments underway by the physicists to test their theory, but they hope this work will question the assumptions of quantum mechanics and lead to new discoveries down the line.
A cave in France contains man's earliest-known structures that had to be built by Neanderthals who were believed to be incapable of such things.
Image source:
yannvdb
/Wikimedia Commons
Surprising Science
In a French cave deep underground, scientists have discovered what appear to be 176,000-year-old man-made structures. That's 150,000 years earlier than any that have been discovered anywhere before. And they could only have been built by Neanderthals, people who were never before considered capable of such a thing.
This is going to force a major shift in the way we see these early hominids. Researchers had thought that Neanderthals were profoundly primitive, and just barely human. This cave in France's Aveyron Valley changes all that: It's suddenly obvious that Neanderthals were not quite so unlike us.
According to The Atlantic, Bruniquel Cave was first explored in 1990 by Bruno Kowalsczewski, who was 15 at the time. He'd spent three years digging away at rubble covering a space through which his father felt air moving.
Some members of a local caving club managed to squeeze through the narrow, 30-meter long tunnel Kowalsczewski had dug to arrive in a passageway. They followed it past pools of water and old animal bones for over 330 meters before coming into a large chamber and a scene they had no reason to expect: Stalagmites that someone had broken into hundreds of small pieces, most of which were arranged into two rings—one roughly 6 meters across, and one 2 meters wide—with the remaining pieces stacked into one of four piles or leaning against the rings. There were also indications of fires and burnt bones.
Image source: Etienne FABRE - SSAC
What the?

A professional archeologist, Francois Rouzaud, determined with carbon dating that a burnt bear bone found in the chamber was 47,600 years old, which made the stalagmite structures older than any known cave painting. It also put the cave squarely within the age of the Neanderthals since they were the only humans in France that early. No one had suspected them of being capable of constructing complex forms or doing anything that far underground.
After Rouzard suddenly died in 1999, exploration at the cave stopped until life-long caver Sophie Verheyden, vacationing in the area, heard about it and decided to try and uranium-date the stalagmites inside.
The team she assembled eventually determined that the stalagmites had been broken up by people 176,000 years ago, way farther back even than Rouzard had supposed.
There weren't any signs that Neanderthals lived in the cave, so it's a mystery what they were up to down there. Verheyden thinks it's unlikely that a solitary artist created the tableaux, and so an organized group of skilled workers must've been involved. And "When you see such a structure so far into the cave, you think of something cultural or religious, but that's not proven," Verheyden told The Atlantic.
Whatever they built, the Bruniquel Cave reveals some big surprises about Neanderthals: They had fire, they built things, and likely used tools. Add this to recent discoveries that suggest they buried their dead, made art, and maybe even had language, and these mysterious proto-humans start looking a lot more familiar. A lot more like homo sapiens, and a lot more like distant cousins lost to history.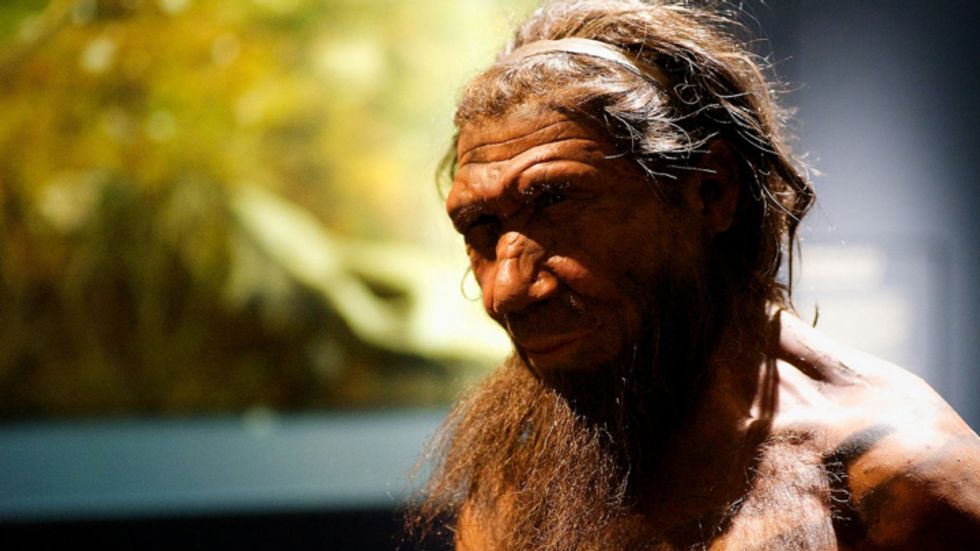 Paul Hudson/Flickr
A recent study used fMRI to compare the brains of psychopathic criminals with a group of 100 well-functioning individuals, finding striking similarities.
Mind & Brain
The study used psychological inventories to assess a group of violent criminals and healthy volunteers for psychopathy, and then examined how their brains responded to watching violent movie scenes.
The fMRI results showed that the brains of healthy subjects who scored high in psychopathic traits reacted similarly as the psychopathic criminal group. Both of these groups also showed atrophy in brain regions involved in regulating emotion.
The study adds complexity to common conceptions of what differentiates a psychopath from a "healthy" individual.
When considering what precisely makes someone a psychopath, the lines can be blurry.
Psychological research has shown that many people in society have some degree of malevolent personality traits, such as those described by the "dark triad": narcissism (entitled self-importance), Machiavellianism (strategic exploitation and deceit), and psychopathy (callousness and cynicism). But while people who score high in these traits are more likely to end up in prison, most of them are well functioning and don't engage in extreme antisocial behaviors.
Now, a new study published in Cerebral Cortex found that the brains of psychopathic criminals are structurally and functionally similar to many well-functioning, non-criminal individuals with psychopathic traits. The results suggest that psychopathy isn't a binary classification, but rather a "constellation" of personality traits that "vary in the non-incarcerated population with normal range of social functioning."
Assessing your inner psychopath
The researchers used functional magnetic resonance imaging (fMRI) to compare the brains of violent psychopathic criminals to those of healthy volunteers. All participants were assessed for psychopathy through commonly used inventories: the Hare Psychopathy Checklist-Revised and the Levenson Self-Report Psychopathy Scale.
Experimental design and sample stimuli. The subjects viewed a compilation of 137 movie clips with variable violent and nonviolent content.Nummenmaa et al.
Both groups watched a 26-minute-long medley of movie scenes that were selected to portray a "large variability of social and emotional content." Some scenes depicted intense violence. As participants watched the medley, fMRI recorded how various regions of their brains responded to the content.

The goal was to see whether the brains of psychopathic criminals looked and reacted similarly to the brains of healthy subjects who scored high in psychopathic traits. The results showed similar reactions: When both groups viewed violent scenes, the fMRI revealed strong reactions in the orbitofrontal cortex and anterior insula, brain regions associated with regulating emotion.
These similarities manifested as a positive association: The more psychopathic traits a healthy subject displayed, the more their brains responded like the criminal group. What's more, the fMRI revealed a similar association between psychopathic traits and brain structure, with those scoring high in psychopathy showing lower gray matter density in the orbitofrontal cortex and anterior insula.
There were some key differences between the groups, however. The researchers noted that the structural abnormalities in the healthy sample were mainly associated with primary psychopathic traits, which are: inclination to lie, lack of remorse, and callousness. Meanwhile, the functional responses of the healthy subjects were associated with secondary psychopathic traits: impulsivity, short temper, and low tolerance for frustration.
Overall, the study further illuminates some of the biological drivers of psychopathy, and it adds nuance to common conceptions of the differences between psychopathy and being "healthy."
Why do some psychopaths become criminals?
The million-dollar question remains unanswered: Why do some psychopaths end up in prison, while others (or, people who score high in psychopathic traits) lead well-functioning lives? The researchers couldn't give a definitive answer, but they did note that psychopathic criminals had lower connectivity within "key nodes of the social and emotional brain networks, including amygdala, insula, thalamus, and frontal pole."
"Thus, even though there are parallels in the regional responsiveness of the brain's affective circuit in the convicted psychopaths and well-functioning subjects with psychopathic traits, it is likely that the disrupted functional connectivity of this network is specific to criminal psychopathy."
Counterintuitively, directly combating misinformation online can spread it further. A different approach is needed.
Coronavirus
Like the coronavirus, engaging with misinformation can inadvertently cause it to spread.
Social media has a business model based on getting users to spend increasing amounts of time on their platforms, which is why they are hesitant to remove engaging content.
The best way to fight online misinformation is to drown it out with the truth.
A year ago, the Center for Countering Digital Hate warned of the parallel pandemics — the biological contagion of COVID-19 and the social contagion of misinformation, aiding the spread of the disease. Since the outbreak of COVID-19, anti-vaccine accounts have gained 10 million new social media followers, while we have witnessed arson attacks against 5G masts, hospital staff abused for treating COVID patients, and conspiracists addressing crowds of thousands.
Many have refused to follow guidance issued to control the spread of the virus, motivated by beliefs in falsehoods about its origins and effects. The reluctance we see in some to get the COVID vaccine is greater amongst those who rely on social media rather than traditional media for their information. In a pandemic, lies cost lives, and it has felt like a new conspiracy theory has sprung up online every day.
How we, as social media users, behave in response to misinformation can either enable or prevent it from being seen and believed by more people.
The rules are different online
Credit: Pool via Getty Images
If a colleague mentions in the office that Bill Gates planned the pandemic, or a friend at dinner tells the table that the COVID vaccine could make them infertile, the right thing to do is often to challenge their claims. We don't want anyone to be left believing these falsehoods.
But digital is different. The rules of physics online are not the same as they are in the offline world. We need new solutions for the problems we face online.
Now, imagine that in order to reply to your friend, you must first hand him a megaphone so that everyone within a five-block radius can hear what he has to say. It would do more damage than good, but this is essentially what we do when we engage with misinformation online.
Think about misinformation as being like the coronavirus — when we engage with it, we help to spread it to everyone else with whom we come into contact. If a public figure with a large following responds to a post containing misinformation, they ensure the post is seen by hundreds of thousands or even millions of people with one click. Social media algorithms also push content into more users' newsfeeds if it appears to be engaging, so lots of interactions from users with relatively small followings can still have unintended negative consequences.
The trend of people celebrating and posting photos of themselves or loved ones receiving the vaccine has been far more effective than any attempt to disprove a baseless claim about Bill Gates or 5G mobile technology.
Additionally, whereas we know our friend from the office or dinner, most of the misinformation we see online will come from strangers. They often will be from one of two groups — true believers, whose minds are made up, and professional propagandists, who profit from building large audiences online and selling them products (including false cures). Both of these groups use trolling tactics, that is, seeking to trigger people to respond in anger, thus helping them reach new audiences and thereby gaming the algorithm.
On the day the COVID vaccine was approved in the UK, anti-vaccine activists were able to provoke pro-vaccine voices into posting about thalidomide, exposing new audiences to a reason to distrust the medical establishment. Those who spread misinformation understand the rules of the game online; it's time those of us on the side of enlightenment values of truth and science did too.
How to fight online misinformation
Of course, it is much easier for social media companies to take on this issue than for us citizens. Research from the Center for Countering Digital Hate and Anti-Vax Watch last month found that 65% of anti-vaccine content on social media is linked to just twelve individuals and their organizations. Were the platforms to simply remove the accounts of these superspreaders, it would do a huge amount to reduce harmful misinformation.
The problem is that social media platforms are resistant to do so. These businesses have been built by constantly increasing the amount of time users spend on their platforms. Getting rid of the creators of engaging content that has millions of people hooked is antithetical to the business model. It will require intervention from governments to force tech companies to finally protect their users and society as a whole.
So, what can the rest of us do, while we await state regulation?
Instead of engaging, we should be outweighing the bad with the good. Every time you see a piece of harmful misinformation, share advice or information from a trusted source, like the WHO or BBC, on the same subject. The trend of people celebrating and posting photos of themselves or loved ones receiving the vaccine has been far more effective than any attempt to disprove a baseless claim about Bill Gates or 5G mobile technology. In the attention economy that governs tech platforms, drowning out is a better strategy than rebuttal.
Imran Ahmed is CEO of the Center for Countering Digital Hate.
Mind & Brain
Because of our ability to think about thinking, "the gap between ape and man is immeasurably greater than the one between amoeba and ape."
Scroll down to load more…