5 Topics That Are "Forbidden" to Science
A "forbidden research" conference at MIT tackles areas of science constrained by ethical, cultural and institutional restrictions.
26 February, 2017
---
The recent changes in Washington do not seem to bode well for fact-driven, scientific points of view on many issues. But there are already a number of sensitive areas of science where important research is stalling due to outside pressures or serious questions asked by the scientists themselves.
A yearly conference organized by the MIT Media Lab tackles "forbidden research", the science that is constrained by ethical, cultural and institutional restrictions. The purpose of the conference is to give scientists a forum to consider these ideas and questions and to discuss the viability and necessity of studying topics like the rights of AI and machines, genetic engineering, climate change and others.
Edward Snowden, who appeared remotely at the 2016 conference, summarized its "theme" as "law is no substitute for conscience." Pointing to his work against pervasive digital surveillance, he reiterated that "the legality of a thing is quite distinct from the morality of it."
The major "forbidden" topics discussed at the conference were, unsurprisingly, wrought with political implications - 
1. Messing with Nature
How much should we mess with nature? We now have an opportunity to potentially greatly advance our abilities and eradicate diseases with genetic engineering. But how much interference with the way nature designed us is ok? Who should decide how much is ok? 
It is possible to use "gene" drives" to gene-edit an entire species, like, for instance, to get rid of mosquitoes. Not many would miss the pesky insects, but spreading the modified genetic traits throughout their population could have unintended consequences, not to mention the effect on the food chain.
Still, these concerns do not necessarily outweigh the possibility that gene-editing them could be extremely beneficial to us. The questions of how gene-editing can be safely incorporated into our lives will continue to persist as technology keeps improving. 
 "Some things are forbidden and arguably shouldn't be, but other things perhaps we need some more barriers," says Kevin Esvelt, a synthetic biologist with the Media Lab.
2. Engineering the Climate
One way to help address climate change is via solar engineering. This involves releasing sulfur dioxide into the atmosphere to reflect some of the sunlight away from Earth. Doing this could tamp down rising temperatures, possibly bringing them back to pre-industrial levels. 
This approach is certainly open to significant challenges. Atmospheric testing is necessary to see whether doing this could damage the ozone layer while adding more pollutants to the atmosphere. Yet, it's something that to could work and address global warming. Without a serious discussion, which starts by agreeing that global warming is a real issue, we are just doing nothing while the problem potentially grows worse and worse.
"We have collectively decided we prefer ignorance. We need a serious, open, no-nonsense international research program, and we don't have one. That is political cowardice," said Harvard professor David Keith.
3. Robot Ethics
As robotic technology continues to advance by leaps and bounds, the questions of where the lines between the robots and humans will be drawn abound. For example, there is potential to protect children from sexual deviance by creating sex robots for pedophiles. This kind of research is nearly impossible, however, due to the ethical and legal restrictions in the field.
"I want to know [if] we can use robots therapeutically to help," said robot ethicist Kate Darling from MIT'a Media Lab. "We have no idea if we can, and we can't research it because of the huge social stigma."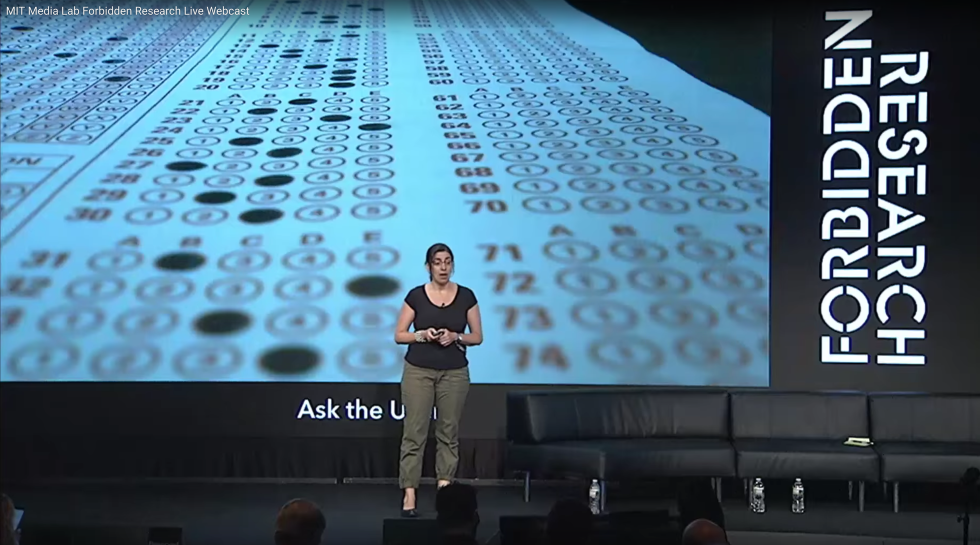 MIT Media Lab's "Forbidden Research" conference 2016. Credit: MIT Media Lab, Youtube.
4. Secure Communication Technology 
It's a real challenge to create communication tech that is not being spied on by somebody, from corporations to the government. This was stressed by Edward Snowden and hacker and engineer Andrew Huang, who appeared at the conference.
Snowden elaborated on the distinction between the moral and legal in these examples: 
"Our investigation regards countering what we're calling lawful abuses of digital surveillance. Lawful abuse, right, what is that, doesn't seem to make a lot of sense. Seems like it might be a contradiction in terms. (…) But if you think about it for just a moment it might seem to be a little bit more clear. After all, the legality of a thing is quite distinct from the morality of it. Segregation, slavery, genocides, these have all been perpetuated under frameworks that said they were lawful, as long as you abided by the regulations that were sort of managing those activities," said Snowden.
5. Universal Access to Science
Should all publicly-funded research be available to everyone on Earth? This was the inspiration for SciHub, a Russian science that featured 55 million scientific papers for free. Many of them were pirated and pulled from behind paywalls.
Kazakh student Alexandra Elbakyan, who created the site, said at the conference that she can't travel to the U.S. or Europe because she might be arrested. On the other hand, because the site has been resilient and not taken down, she thinks "the only thing now is to make it legal".
The nature of science is to discover secrets, not keep them—Alexandra Elbakyan, @ringo_ring #forbiddenML
— MIT Media Lab (@medialab) July 21, 2016
Big Think
Sponsored by Lumina Foundation
Upvote/downvote each of the videos below!

As you vote, keep in mind that we are looking for a winner with the most engaging social venture pitch - an idea you would want to invest in.
Lumina Foundation and Big Think have partnered to bring this entrepreneurial competition to life, and we hope you'll participate! We have narrowed down the competition to four finalists and will be announcing an audience's choice award and a judges' choice award in May.
The creator of the winning video — chosen by Big Think's audience, the Lumina Foundation, and an independent panel of experts (bios below) — will be flown to New York for a taping in the Big Think studio as a way to further promote their vision for a new, disruptive idea in post-secondary education.
Thank you to all of the contestants who spent time submitting applications, and best of luck to our final four competitors.
Finalist: Greater Commons - Todd McLeod
Greater Commons, founded by Todd McLeod and Andrew Cull, is an organization that helps people live happier, more successful and fulfilling lives through agile learning. The current education system is inefficient and exclusionary, in which many students who end up earning a degree, if at all, enter a career not related to their field of study. Greater Commons solves this problem and gap in post-high school secondary education in a variety of ways. Passionately and diligently, Great Commons helps others obtain skills, knowledge, wisdom, motivation, and inspiration so that they may live better lives.
Finalist: PeerFoward - Keith Frome
PeerForward is an organization dedicated to increasing the education and career success rates of students in low-income schools and communities by mobilizing the power of positive peer influence. PeerForward works with partner schools to select influential students as a part of a team, systemizing the "peer effect." Research in the fields of sociology of schools, social-emotional learning, adult-youth partnerships, and civic education demonstrates that students can have a positive effect on the academic outcomes of their peers. PeerForward is unique through its systemic solutions to post-secondary education.
Finalist: Cogniss - Leon Young
Cogniss combines technology and best practice knowledge to enable anyone to innovate and share solutions that advance lifelong learning. Cogniss is the only platform to integrate neuroscience, through which it solves the problem of access by providing a low-code platform that enables both developers and non-developers to build sophisticated education apps fast, and at a much lower cost. It addresses the uneven quality of edtech solutions by embedding research-based learning design into its software. App creators can choose from a rich set of artificial intelligence, game, social and data analytics, and gamification to build their perfect customized solution.
Finalist: Practera - Nikki James
Practera's mission is to create a world where everyone can learn through experience. Today's workplaces are increasingly dynamic and diverse, however, costly and time-consuming experiential learning is not always able to offer the right opportunities at scale. Many students graduate without developing the essential skills for their chosen career. Practera's team of educators and technologists see this problem as an opportunity to transform the educational experience landscape, through a CPL pedagogical framework and opportunities to apply students' strengths through active feedback.
Thank you to our judges!
Our expert judges are Lorna Davis, Dan Rosensweig, and Stuart Yasgur.
Lorna Davis is the Senior Advisor to Danone CEO and is a Global Ambassador for the B Corp movement. Lorna has now joined B-Lab, the non-for-profit that supports the B Corporation movement on an assignment to support the journey of large multi nationals on the path to using business as a force of good.
Dan Rosensweig joined Chegg in 2010 with a vision for transforming the popular textbook rental service into a leading provider of digital learning services for high school and college students. As Chairman and CEO of Chegg, Dan commits the company to fulfilling its mission of putting students first and helping them save time, save money and get smarter.

Stuart Yasgur leads Ashoka's Social Financial Services globally. At Ashoka, Stuart works with others to initiate efforts that have mobilized more than $500 million in funding for social entrepreneurs, engaged the G20 through the Toronto, Seoul and Los Cabos summits and helped form partnerships with leading financial institutions and corporations.
Again, thank you to our incredible expert judges.
Upstreamism advocate Rishi Manchanda calls us to understand health not as a "personal responsibility" but a "common good."
Sponsored by Northwell Health
Upstreamism tasks health care professionals to combat unhealthy social and cultural influences that exist outside — or upstream — of medical facilities.
Patients from low-income neighborhoods are most at risk of negative health impacts.
Thankfully, health care professionals are not alone. Upstreamism is increasingly part of our cultural consciousness.
The Bajau people's nomadic lifestyle has given them remarkable adaptions, enabling them to stay underwater for unbelievable periods of time. Their lifestyle, however, is quickly disappearing.
Wikimedia Commons
Culture & Religion
The Bajau people travel in small flotillas throughout the Phillipines, Malaysia, and Indonesia, hunting fish underwater for food.
Over the years, practicing this lifestyle has given the Bajau unique adaptations to swimming underwater. Many find it straightforward to dive up to 13 minutes 200 feet below the surface of the ocean.
Unfortunately, many disparate factors are erasing the traditional Bajau way of life.
Big think's weekly newsletter.
Get smarter faster from the comfort of your inbox.
See our newsletter privacy policy
here
Most Popular
Most Recent
Big think's weekly newsletter.
Get smarter faster from the comfort of your inbox.
See our newsletter privacy policy
here
© Copyright 2007-2019 & BIG THINK, BIG THINK EDGE,
SMARTER FASTER trademarks owned by The Big Think, Inc. All rights reserved.