5 Topics That Are "Forbidden" to Science
A "forbidden research" conference at MIT tackles areas of science constrained by ethical, cultural and institutional restrictions.
26 February, 2017
---
The recent changes in Washington do not seem to bode well for fact-driven, scientific points of view on many issues. But there are already a number of sensitive areas of science where important research is stalling due to outside pressures or serious questions asked by the scientists themselves.
A yearly conference organized by the MIT Media Lab tackles "forbidden research", the science that is constrained by ethical, cultural and institutional restrictions. The purpose of the conference is to give scientists a forum to consider these ideas and questions and to discuss the viability and necessity of studying topics like the rights of AI and machines, genetic engineering, climate change and others.
Edward Snowden, who appeared remotely at the 2016 conference, summarized its "theme" as "law is no substitute for conscience." Pointing to his work against pervasive digital surveillance, he reiterated that "the legality of a thing is quite distinct from the morality of it."
The major "forbidden" topics discussed at the conference were, unsurprisingly, wrought with political implications - 
1. Messing with Nature
How much should we mess with nature? We now have an opportunity to potentially greatly advance our abilities and eradicate diseases with genetic engineering. But how much interference with the way nature designed us is ok? Who should decide how much is ok? 
It is possible to use "gene" drives" to gene-edit an entire species, like, for instance, to get rid of mosquitoes. Not many would miss the pesky insects, but spreading the modified genetic traits throughout their population could have unintended consequences, not to mention the effect on the food chain.
Still, these concerns do not necessarily outweigh the possibility that gene-editing them could be extremely beneficial to us. The questions of how gene-editing can be safely incorporated into our lives will continue to persist as technology keeps improving. 
 "Some things are forbidden and arguably shouldn't be, but other things perhaps we need some more barriers," says Kevin Esvelt, a synthetic biologist with the Media Lab.
2. Engineering the Climate
One way to help address climate change is via solar engineering. This involves releasing sulfur dioxide into the atmosphere to reflect some of the sunlight away from Earth. Doing this could tamp down rising temperatures, possibly bringing them back to pre-industrial levels. 
This approach is certainly open to significant challenges. Atmospheric testing is necessary to see whether doing this could damage the ozone layer while adding more pollutants to the atmosphere. Yet, it's something that to could work and address global warming. Without a serious discussion, which starts by agreeing that global warming is a real issue, we are just doing nothing while the problem potentially grows worse and worse.
"We have collectively decided we prefer ignorance. We need a serious, open, no-nonsense international research program, and we don't have one. That is political cowardice," said Harvard professor David Keith.
3. Robot Ethics
As robotic technology continues to advance by leaps and bounds, the questions of where the lines between the robots and humans will be drawn abound. For example, there is potential to protect children from sexual deviance by creating sex robots for pedophiles. This kind of research is nearly impossible, however, due to the ethical and legal restrictions in the field.
"I want to know [if] we can use robots therapeutically to help," said robot ethicist Kate Darling from MIT'a Media Lab. "We have no idea if we can, and we can't research it because of the huge social stigma."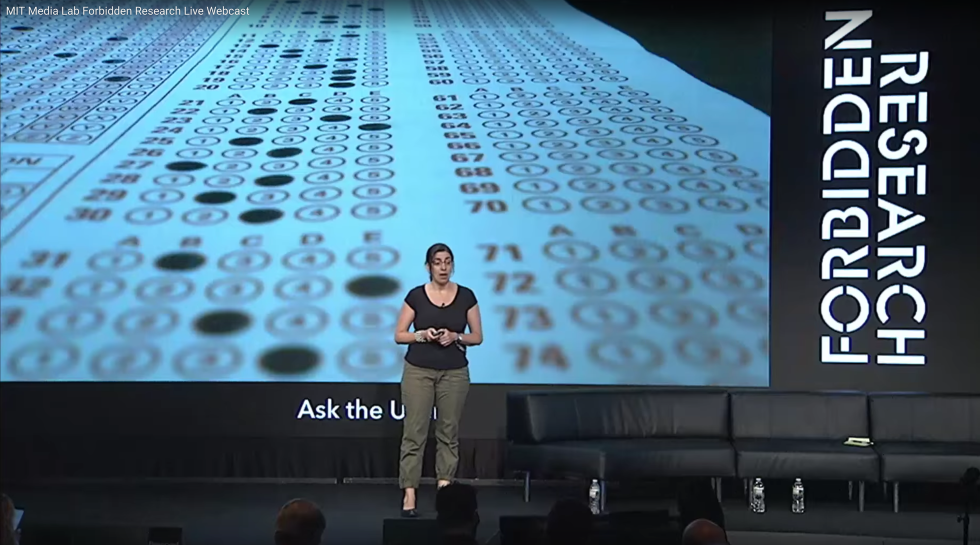 MIT Media Lab's "Forbidden Research" conference 2016. Credit: MIT Media Lab, Youtube.
4. Secure Communication Technology 
It's a real challenge to create communication tech that is not being spied on by somebody, from corporations to the government. This was stressed by Edward Snowden and hacker and engineer Andrew Huang, who appeared at the conference.
Snowden elaborated on the distinction between the moral and legal in these examples: 
"Our investigation regards countering what we're calling lawful abuses of digital surveillance. Lawful abuse, right, what is that, doesn't seem to make a lot of sense. Seems like it might be a contradiction in terms. (…) But if you think about it for just a moment it might seem to be a little bit more clear. After all, the legality of a thing is quite distinct from the morality of it. Segregation, slavery, genocides, these have all been perpetuated under frameworks that said they were lawful, as long as you abided by the regulations that were sort of managing those activities," said Snowden.
5. Universal Access to Science
Should all publicly-funded research be available to everyone on Earth? This was the inspiration for SciHub, a Russian science that featured 55 million scientific papers for free. Many of them were pirated and pulled from behind paywalls.
Kazakh student Alexandra Elbakyan, who created the site, said at the conference that she can't travel to the U.S. or Europe because she might be arrested. On the other hand, because the site has been resilient and not taken down, she thinks "the only thing now is to make it legal".
The nature of science is to discover secrets, not keep them—Alexandra Elbakyan, @ringo_ring #forbiddenML
— MIT Media Lab (@medialab) July 21, 2016
What can 3D printing do for medicine? The "sky is the limit," says Northwell Health researcher Dr. Todd Goldstein.
Northwell Health
Sponsored by Northwell Health
Medical professionals are currently using 3D printers to create prosthetics and patient-specific organ models that doctors can use to prepare for surgery.
Eventually, scientists hope to print patient-specific organs that can be transplanted safely into the human body.
Northwell Health, New York State's largest health care provider, is pioneering 3D printing in medicine in three key ways.
Can dirt help us fight off stress? Groundbreaking new research shows how.
University of Colorado Boulder
Surprising Science
New research identifies a bacterium that helps block anxiety.
Scientists say this can lead to drugs for first responders and soldiers, preventing PTSD and other mental issues.
The finding builds on the hygiene hypothesis, first proposed in 1989.
Are modern societies trying too hard to be clean, at the detriment to public health? Scientists discovered that a microorganism living in dirt can actually be good for us, potentially helping the body to fight off stress. Harnessing its powers can lead to a "stress vaccine".
Researchers at the University of Colorado Boulder found that the fatty 10(Z)-hexadecenoic acid from the soil-residing bacterium Mycobacterium vaccae aids immune cells in blocking pathways that increase inflammation and the ability to combat stress.
The study's senior author and Integrative Physiology Professor Christopher Lowry described this fat as "one of the main ingredients" in the "special sauce" that causes the beneficial effects of the bacterium.
The finding goes hand in hand with the "hygiene hypothesis," initially proposed in 1989 by the British scientist David Strachan. He maintained that our generally sterile modern world prevents children from being exposed to certain microorganisms, resulting in compromised immune systems and greater incidences of asthma and allergies.
Contemporary research fine-tuned the hypothesis, finding that not interacting with so-called "old friends" or helpful microbes in the soil and the environment, rather than the ones that cause illnesses, is what's detrimental. In particular, our mental health could be at stake.
"The idea is that as humans have moved away from farms and an agricultural or hunter-gatherer existence into cities, we have lost contact with organisms that served to regulate our immune system and suppress inappropriate inflammation," explained Lowry. "That has put us at higher risk for inflammatory disease and stress-related psychiatric disorders."
University of Colorado Boulder
Christopher Lowry
This is not the first study on the subject from Lowry, who published previous work showing the connection between being exposed to healthy bacteria and mental health. He found that being raised with animals and dust in a rural environment helps children develop more stress-proof immune systems. Such kids were also likely to be less at risk for mental illnesses than people living in the city without pets.
Lowry's other work also pointed out that the soil-based bacterium Mycobacterium vaccae acts like an antidepressant when injected into rodents. It alters their behavior and has lasting anti-inflammatory effects on the brain, according to the press release from the University of Colorado Boulder. Prolonged inflammation can lead to such stress-related disorders as PTSD.
The new study from Lowry and his team identified why that worked by pinpointing the specific fatty acid responsible. They showed that when the 10(Z)-hexadecenoic acid gets into cells, it works like a lock, attaching itself to the peroxisome proliferator-activated receptor (PPAR). This allows it to block a number of key pathways responsible for inflammation. Pre-treating the cells with the acid (or lipid) made them withstand inflammation better.
Lowry thinks this understanding can lead to creating a "stress vaccine" that can be given to people in high-stress jobs, like first responders or soldiers. The vaccine can prevent the psychological effects of stress.
What's more, this friendly bacterium is not the only potentially helpful organism we can find in soil.
"This is just one strain of one species of one type of bacterium that is found in the soil but there are millions of other strains in soils," said Lowry. "We are just beginning to see the tip of the iceberg in terms of identifying the mechanisms through which they have evolved to keep us healthy. It should inspire awe in all of us."
Check out the study published in the journal Psychopharmacology.
We were gaining three IQ points per decade for many, many years. Now, that's going backward. Could this explain some of our choices lately?
The Flynn effect appears to be in retrograde. (Credit: Shutterstock/Big Think)
popular
There's a new study out of Norway that indicates our—well, technically, their—IQs are shrinking, to the tune of about seven IQ points per generation.
An ordained Lama in a Tibetan Buddhist lineage, Lama Rod grew up a queer, black male within the black Christian church in the American south. Navigating all of these intersecting, evolving identities has led him to a life's work based on compassion for self and others.
Think Again Podcasts
"What I'm interested in is deep, systematic change. What I understand now is that real change doesn't happen until change on the inside begins to happen."
"Masculinity is not inherently toxic. Patriarchy is toxic. We have to let that energy go so we can stop forcing other people to do emotional labor for us."
Big think's weekly newsletter.
Get smarter faster from the comfort of your inbox.
See our newsletter privacy policy
here
Most Popular
Most Recent
Big think's weekly newsletter.
Get smarter faster from the comfort of your inbox.
See our newsletter privacy policy
here
© Copyright 2007-2019 & BIG THINK, BIG THINK EDGE,
SMARTER FASTER trademarks owned by The Big Think, Inc. All rights reserved.