What Trump meant at Davos: "America first does not mean America alone."
President Donald Trump veered away from his typical protectionist rhetoric at the World Economic Forum in his remarks on the benefits of global cooperation.
26 January, 2018
---
President Donald Trump walked a fine line between globalization and his trademark protectionism on Friday while addressing global political and business leaders at the World Economic Forum in Davos, Switzerland.
His main selling point: American is back in business.
"There has never been a better time to hire, to build, to invest, and to grow in the United States," he said during his 15-minute speech. "America is open for business, and we are competitive once again."
Elsewhere in the speech, Trump touted himself as the first true businessman president, extolled recent Republican tax cuts, said he favored free trade but warned the U.S. would no longer "turn a blind eye" toward unfair trade practices, and argued for a merit-based immigration system.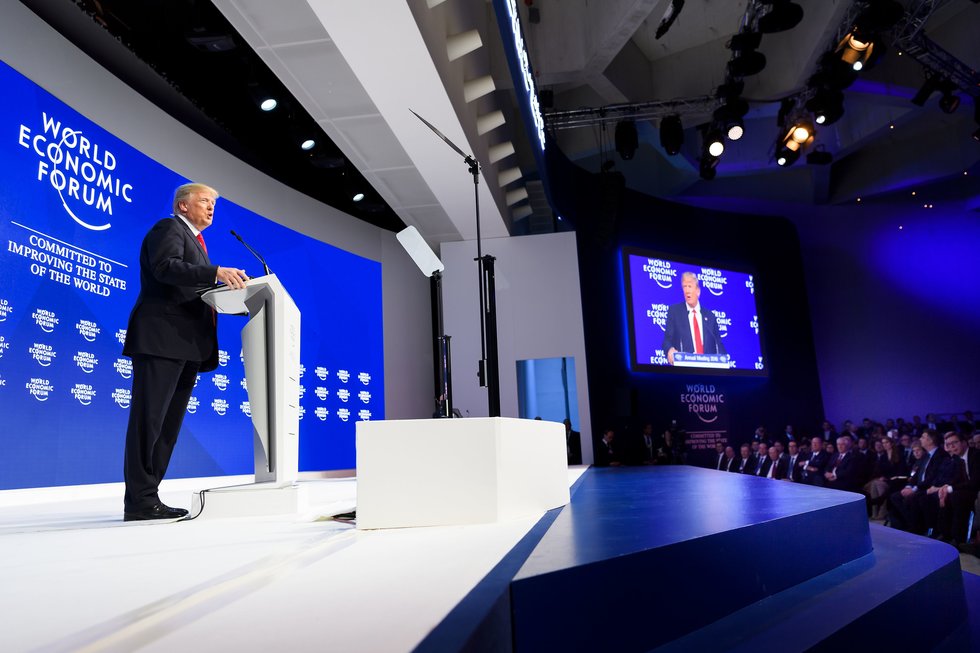 Photo: Fabrice Coffrini/Getty
But the most notable part of Trump's address came when he veered away from his typical hardline protectionist rhetoric, saying "America first does not mean America alone."  
"When the United States grows, so does the world," he said.
The message more or less fit the general tone of the forum, which has traditionally hosted speakers who promote globalization, praise diversity, and decry climate change — issues with which Trump has sometimes been at odds, as the New York Times notes.
German Chancellor Angela Merkel said at the forum that "protectionism is not the proper answer." Other world leaders echoed the sentiment.
Trump has repeatedly criticized multilateral trade agreements and argued for more isolationism in the past. In early 2017, he withdrew the U.S. from the Trans-Pacific Partnership, originally a 12-nation agreement among the U.S. and Pacific rim countries that was designed partially to temper China's rising dominance in the region, because he thought it would encourage domestic companies to ship jobs overseas.
But in January 2018, the president said he would consider rejoining the agreement if the U.S. got a "substantially better" deal. It's likely too late, considering the 11 remaining TPP countries have already moved forward in the agreement without the U.S.
Trump's change of tone in Switzerland comes in the wake of slowed economic growth back home. The annualized GDP growth rate dropped to 2.6 percent in the last quarter of 2017 — up from the year before, but still below the 3 percent mark the Trump administration had repeatedly predicted. 
But that could change if global business leaders believe what Trump said in Davos:
"Now is the perfect time to bring your business, your jobs and your investments to the United States."
--
Lumina Foundation is partnering with Big Think to unearth the next large-scale, rapid innovation in post-high school education. Enter the competition here!
Musican. Actor. Fashion Icon. Internet Visionary?
Technology & Innovation
David Bowie was well known as a rock star, but somehow his other interests and accomplishments remain obscure.
In this 1999 interview, he explains why he knows the internet is more than just a tool and why it was destined to change the world.
He launched his own internet service provider in 1998, BowieNet. It ceased operations in 2006.
Moans, groans, and gripes release stress hormones in the brain.
popular
Could you give up complaining for a whole month? That's the crux of this interesting piece by Jessica Hullinger over at Fast Company. Hullinger explores the reasons why humans are so predisposed to griping and why, despite these predispositions, we should all try to complain less. As for no complaining for a month, that was the goal for people enrolled in the Complaint Restraint project.
Participants sought to go the entirety of February without so much as a moan, groan, or bellyache.
Good science is sometimes trumped by the craving for a "big splash."
Videos
Scientists strive to earn credit from their peers, for grants from federal agencies, and so a lot of the decisions that they make are strategic in nature. They're encouraged to publish exciting new findings that demonstrate some new phenomenon that we have never seen before.
This professional pressure can affect their decision-making — to get acclaim they may actually make science worse. That is, a scientist might commit fraud if he thinks he can get away with it or a scientist might rush a result out of the door even though it hasn't been completely verified in order to beat the competition.
On top of the acclaim of their peers, scientists — with the increasing popularity of science journalism — are starting to be rewarded for doing things that the public is interested in. The good side of this is that the research is more likely to have a public impact, rather than be esoteric. The bad side? To make a "big splash" a scientist may push a study or article that doesn't exemplify good science.
Big think's weekly newsletter.
Get smarter faster from the comfort of your inbox.
See our newsletter privacy policy
here
Most Popular
Most Recent
Big think's weekly newsletter.
Get smarter faster from the comfort of your inbox.
See our newsletter privacy policy
here
© Copyright 2007-2018 & BIG THINK, BIG THINK EDGE,
SMARTER FASTER trademarks owned by The Big Think, Inc. All rights reserved.