Why the U.S. just fell off the list of top 10 most innovative countries
It's the first time the U.S. has fallen off the top 10 list since Bloomberg began its index.
23 January, 2018
Photo: innovationcompany.co.uk
---
South Korea again took first place in the Bloomberg Innovation Index, while the U.S. dropped out of the top 10 for the first time since the gauge began.
Bloomberg has been publishing its innovation index for six years, scoring countries across seven equally weighted categories:
Research and development intensity
Manufacturing value-added
Productivity
High-tech density
Tertiary efficiency
Researcher concentration
Patent activity
The U.S. dropped to 11th place this year, in part due to losses in the education-efficiency category, which measures the share of new science and engineering graduates in the labor force. And while American productivity increased, the U.S. was also docked points in value-added manufacturing, defined as the balance between inputs in the manufacturing process and the value of what results.
"I see no evidence to suggest that this trend will not continue," said Robert D. Atkinson, president of the Information Technology & Innovation Foundation in Washington, D.C., to Bloomberg. "Other nations have responded with smart, well-funded innovation policies like better R&D tax incentives, more government funding for research, more funding for technology commercialization initiatives."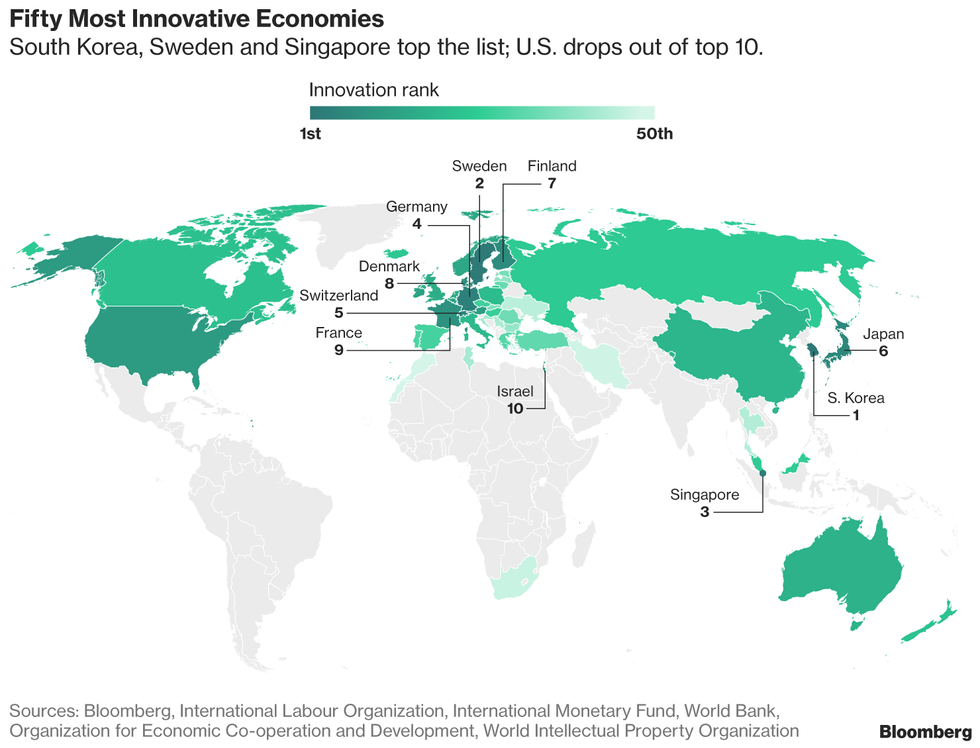 While the U.S. dropped rank, South Korea maintained its first-place slot on Bloomberg's innovation index for the fifth year in a row. What accounts for the East Asia nation's dominance?
For one, it's necessary to understand just how radical the country's economic transformation has been since the Korean War.
In the 1960s, South Korea was an agricultural-based society and one of poorest nations in the world. But thanks in part to national emphasis on increasing low-cost manufacturing exports, the evolution of Korean conglomerates like Samsung, and heavy investing into research and development, South Korea is now a global leader in innovation and the world's 11th largest economy.
"Korea has had to make its own path in a region where it competes with China's low labor costs, and Japan's high-tech, capital-intensive industries. Spending more on R&D than any other economy not only reflects a domestic consumer base with a high demand for new technological developments, but also the government's objective to build a creative economy," Kyle Ferrier, Director of Academic Affairs and Research at the Korea Economic Institute of America (KEI), told the German broadcaster DW.
Other notable changes from the previous year include Singapore jumping from sixth to third place, Sweden retaining its second-place slot, and Japan rising one spot to sixth. Check out other past-year changes below: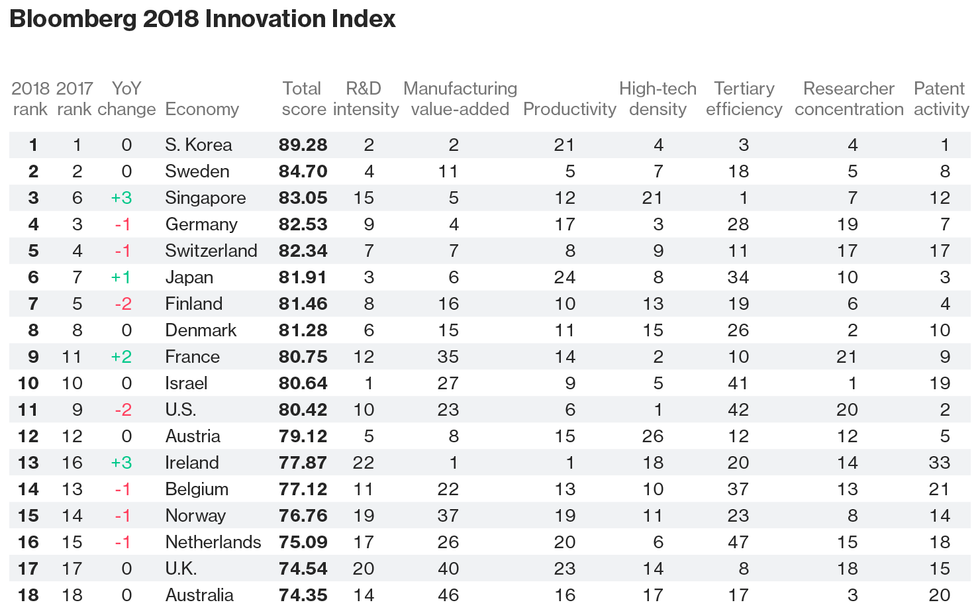 The pandemic reminds us that our higher education system, with all its flaws, remains a key part of our strategic reserve.
Sponsored by Charles Koch Foundation
America's higher education system is under great scrutiny as it adapts to a remote-learning world. These criticisms will only make higher ed more innovative.
While there are flaws in the system and great challenges ahead, higher education has adapted quickly to allow students to continue learning. John Katzman, CEO of online learning organization Noodle Partners, believes this is cause for optimism not negativity.
Universities are pillars of scientific research on the COVID-19 frontlines, they bring facts in times of uncertainty and fake news, and, in a bad economy, education is a personal floatation device.
Researchers present what they've learned now that they can read the tiny text inside the Antikythera mechanism.
Exploded view of Antikythera mechanism (Peulle/Wikimedia)
Surprising Science
Though it it seemed to be just a corroded lump of some sort when it was found in a shipwreck off the coast of Greece near Antikythera in 1900, in 1902 archaeologist Valerios Stais, looking at the gear embedded in it, guessed that what we now call the "Antikythera mechanism" was some kind of astronomy-based clock. He was in the minority—most agreed that something so sophisticated must have entered the wreck long after its other 2,000-year-old artifacts. Nothing like it was believed to have existed until 1,500 years later.
The institutional barriers that have often held creative teaching back are being knocked down by the coronavirus era.
Future of Learning
Long-held structures in the education system, like classroom confines and schedules, have held back innovation for a long time, says education leader Richard Culatta.
In the coronavirus era, we have been able to shake some of those rigid structures loose, making way for creativity and, ultimately, a more open mindset.
When creativity and technology combine, learning can become so much more than delivering content to a student. Culatta gives two stunning examples: one of a biotech class, and another involving a student discovering a star.
We'd like to think that judging people's worth based on the shape of their head is a practice that's behind us.
PATRICK KOVARIK/AFP via Getty Images
Culture & Religion
'Phrenology' has an old-fashioned ring to it. It sounds like it belongs in a history book, filed somewhere between bloodletting and velocipedes.
Surprising Science
Maybe you've been wondering if you're seeing one persistent squirrel or a rotating cast of characters.
Scroll down to load more…