Why the U.S. just fell off the list of top 10 most innovative countries
It's the first time the U.S. has fallen off the top 10 list since Bloomberg began its index.
23 January, 2018
Photo: innovationcompany.co.uk
---
South Korea again took first place in the Bloomberg Innovation Index, while the U.S. dropped out of the top 10 for the first time since the gauge began.
Bloomberg has been publishing its innovation index for six years, scoring countries across seven equally weighted categories:
Research and development intensity
Manufacturing value-added
Productivity
High-tech density
Tertiary efficiency
Researcher concentration
Patent activity
The U.S. dropped to 11th place this year, in part due to losses in the education-efficiency category, which measures the share of new science and engineering graduates in the labor force. And while American productivity increased, the U.S. was also docked points in value-added manufacturing, defined as the balance between inputs in the manufacturing process and the value of what results.
"I see no evidence to suggest that this trend will not continue," said Robert D. Atkinson, president of the Information Technology & Innovation Foundation in Washington, D.C., to Bloomberg. "Other nations have responded with smart, well-funded innovation policies like better R&D tax incentives, more government funding for research, more funding for technology commercialization initiatives."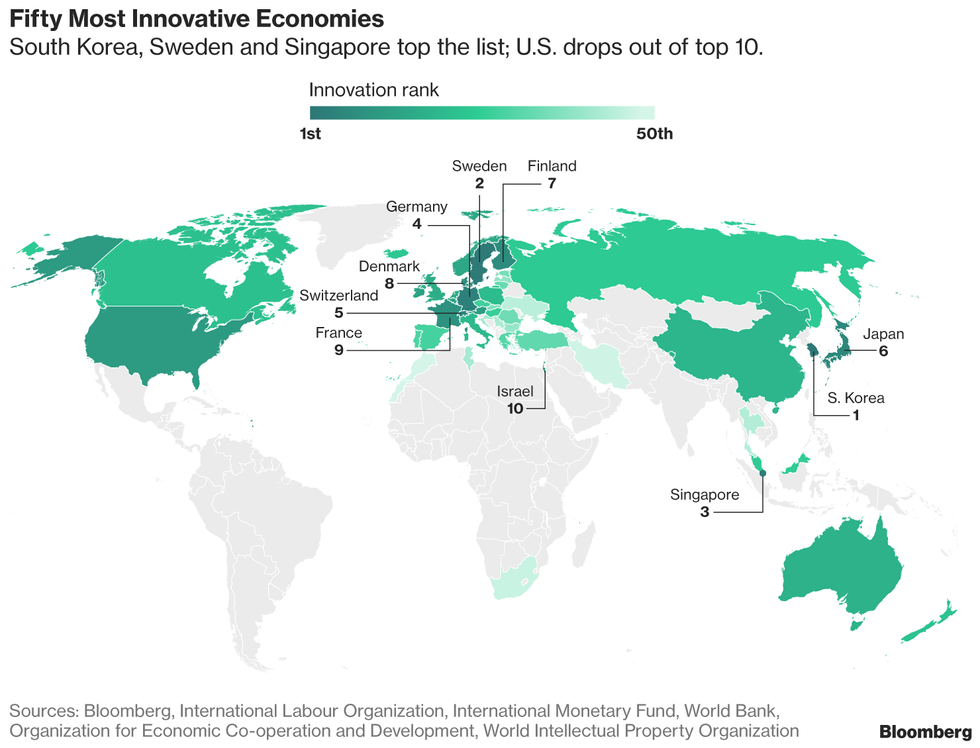 While the U.S. dropped rank, South Korea maintained its first-place slot on Bloomberg's innovation index for the fifth year in a row. What accounts for the East Asia nation's dominance?
For one, it's necessary to understand just how radical the country's economic transformation has been since the Korean War.
In the 1960s, South Korea was an agricultural-based society and one of poorest nations in the world. But thanks in part to national emphasis on increasing low-cost manufacturing exports, the evolution of Korean conglomerates like Samsung, and heavy investing into research and development, South Korea is now a global leader in innovation and the world's 11th largest economy.
"Korea has had to make its own path in a region where it competes with China's low labor costs, and Japan's high-tech, capital-intensive industries. Spending more on R&D than any other economy not only reflects a domestic consumer base with a high demand for new technological developments, but also the government's objective to build a creative economy," Kyle Ferrier, Director of Academic Affairs and Research at the Korea Economic Institute of America (KEI), told the German broadcaster DW.
Other notable changes from the previous year include Singapore jumping from sixth to third place, Sweden retaining its second-place slot, and Japan rising one spot to sixth. Check out other past-year changes below: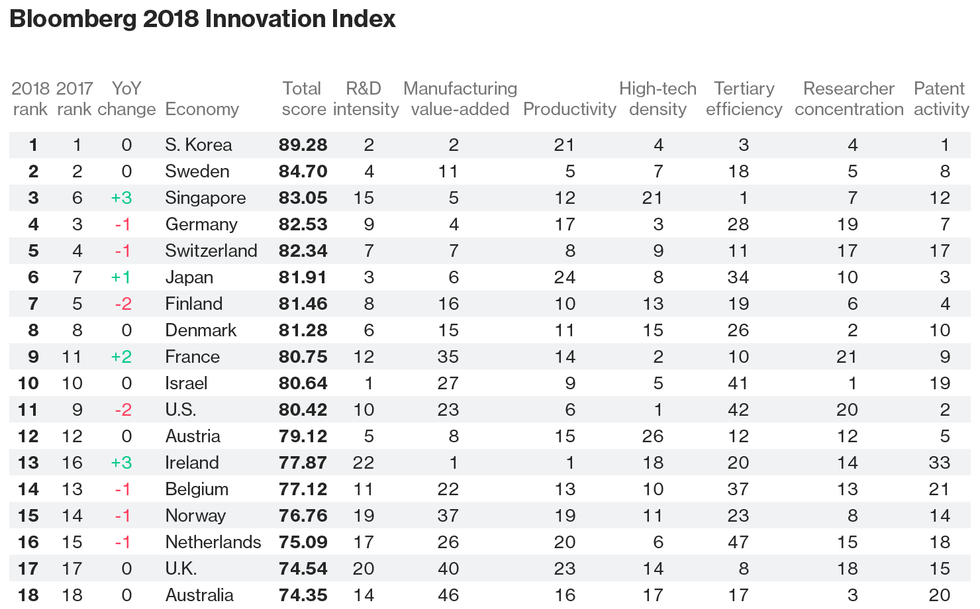 Trending
Videos
Here's how to have a healthier relationship with politics.
Scroll down to load more…