Ancient women with "tower-shaped" skulls were high-ranking political brides, says new study
DNA testing of the remains of nine women with elongated skulls suggests a strange explanation for how they likely ended up hundreds of miles from their homeland.
13 March, 2018
---
Scientists have a strange theory for how the 1,500-year-old remains of women who possessed features completely unlike the local population—including elongated skulls—ended up in present-day Bavaria.
Joachim Burger, an anthropologist and population geneticist at Johannes Gutenberg University, and colleagues posit the women were high-status "treaty brides" from Romania and Bulgaria, sent to marry men of distant tribes to strengthen political ties.
In a study recently published in The Proceedings of the National Academy of Sciences, Burger and his team analyzed remains unearthed in graves located in the present-day German state of Bavaria. They compared the DNA of bone fragments from the graves with each other, and with DNA of modern populations throughout Europe and Asia. The DNA of people with normal skulls was homogenous, closely matching genealogical profiles of modern people in central and northern Europe: blue eyes, light hair. But the DNA from nine women with elongated skulls suggested a distant origin, with dark hair and dark eyes—likely Bulgaria and Romania.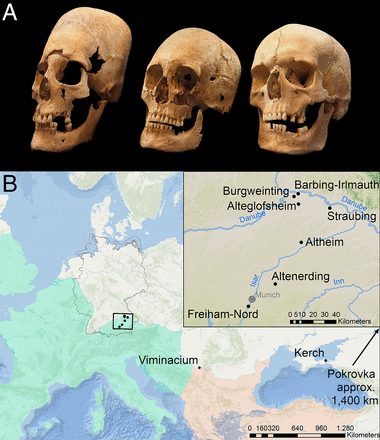 Why the long, "tower-shaped" skulls? They were almost surely the result of artificial cranial deformation, a long and tedious process in which the skull of an infant is repeatedly bound until the head grows into a distorted shape. It's been practiced for millennia all around the world as a way for families, typically wealthy ones, to distinguish their children (boys and girls) with a mark of high status.
The women would have been distinguished in other ways, too. Among the local blue-eyed, blonde-haired populations, these Bulgarian and Romanian (and one possibly Asian) women would have stood out with their dark hair and dark eyes.
But not everyone's convinced the paper gets the story right.
"This is one of the strangest things I've ever read," Israel Hershkovitz, an anthropologist at Tel Aviv University in Israel, who specializes in ancient human anatomy, told Science. "I don't buy it."
His objections? Hershkovitz said it's not clear the elongated skulls were formed intentionally, and that there are other ways deformation can occur: strapping an infant to a carrying bag too tightly, laying one down on a hard wooden surface. Also, he suggested that while inter-tribe marriage was common among ancient peoples, it'd be unusual to send more than one or two women to tribe, especially women of the same generation.


Map showing geographic distribution of genetic profiles of (A) all Bavarian males, (B) all Bavarian females with normal skulls, (C) all Bavarian females with elongated skulls
But Burger pointed out that the women with elongated skulls were spread across multiple villages, and that each village could have been a distinct political entity. He also said it's extremely likely that so many women in the area would have had their skulls accidentally elongated.
As for the effects artificial cranial deformation has on cognitive development, osteologist Michaela Harbeck told Haaretz:
"There is a discussion going on whether the artificial cranial deformation causes cognitive deficiencies. Some studies suggest there were several pathological conditions associated with it, including bulging eyes—but this highly depends on the degree of the deformation. I would guess that our individuals, which had only medium deformed skulls, did not suffer from it."
Step inside the unlikely friendship of a former ACLU president and an ultra-conservative Supreme Court Justice.

Sponsored by Charles Koch Foundation
Former president of the ACLU Nadine Strossen and Supreme Court Justice Antonin Scalia were unlikely friends. They debated each other at events all over the world, and because of that developed a deep and rewarding friendship – despite their immense differences.
Scalia, a famous conservative, was invited to circles that were not his "home territory", such as the ACLU, to debate his views. Here, Strossen expresses her gratitude and respect for his commitment to the exchange of ideas.
"It's really sad that people seem to think that if you disagree with somebody on some issues you can't be mutually respectful, you can't enjoy each other's company, you can't learn from each other and grow in yourself," says Strossen.
The opinions expressed in this video do not necessarily reflect the views of the Charles Koch Foundation, which encourages the expression of diverse viewpoints within a culture of civil discourse and mutual respect.
Learn how to redesign your job for maximum reward.
Videos
Broaching the question "What is my purpose?" is daunting – it's a grandiose idea, but research can make it a little more approachable if work is where you find your meaning. It turns out you can redesign your job to have maximum purpose.
There are 3 ways people find meaning at work, what Aaron Hurst calls the three elevations of impact. About a third of the population finds meaning at an individual level, from seeing the direct impact of their work on other people. Another third of people find their purpose at an organizational level. And the last third of people find meaning at a social level.
"What's interesting about these three elevations of impact is they enable us to find meaning in any job if we approach it the right way. And it shows how accessible purpose can be when we take responsibility for it in our work," says Hurst.
Erik Verlinde has been compared to Einstein for completely rethinking the nature of gravity.
Photo by Willeke Duijvekam
Surprising Science
The Dutch physicist Erik Verlinde's hypothesis describes gravity as an "emergent" force not fundamental.
The scientist thinks his ideas describe the universe better than existing models, without resorting to "dark matter".
While some question his previous papers, Verlinde is reworking his ideas as a full-fledged theory.
TuSimple, an autonomous trucking company, has also engaged in test programs with the United States Postal Service and Amazon.
Technology & Innovation
This week, UPS announced that it's working with autonomous trucking startup TuSimple on a pilot project to deliver cargo in Arizona using self-driving trucks.
UPS has also acquired a minority stake in TuSimple.
TuSimple hopes its trucks will be fully autonomous — without a human driver — by late 2020, though regulatory questions remain.