Map of Pangea reveals which countries shared borders 300 million years ago
Enter an ancient version of Earth, where Santa Claus lives in South Korea, Cuba is land-locked, and Antarctica and India share the same climate.
13 February, 2018
---
Trivia nights would have been a lot easier 300 million years ago. In the Early Permian Epoch, Earth had one just one ocean, Panthalassa, with one massive supercontinent in it, Pangea.
Pangea is just one of several supercontinents our planet has created over its 3.5 billion year history. They form as Earth's tectonic plates slide over its mantle, a process that breaks up landmasses and reforms them in new combinations—which is why geologists just found a chunk of Canada sticking to Australia, or why fossils of Lystrosaurus, a stocky, pig-like reptile, are found in the very separate locations of Antarctica, India and South Africa, and nowhere else. The slow grind of continents is imperceptible to us, but it is happening right this minute. "Continents on these plates typically move, I would say, at the rate your fingernails grow," geologist Ross Mitchell tells NPR.
Where were we 300 million years ago?
Absolutely nowhere—life on Pangea was human-free (pause for wistful thinking), but when we puzzle-fit the modern continents back to where they were 300 million years ago, it reveals how your country may have shared its borders with some very different neighbors.
This conceptual map called 'Pangea Politico' was designed by amateur cartographer Massimo Pietrobon to show how different the world would be if Pangea hadn't broken up some 200 million years ago. Pietrobon's map is more about politics than total geological accuracy, so the scales of some nations aren't perfect, but it shows the approximate location of how our modern world sat atop the old tectonic plate arrangement.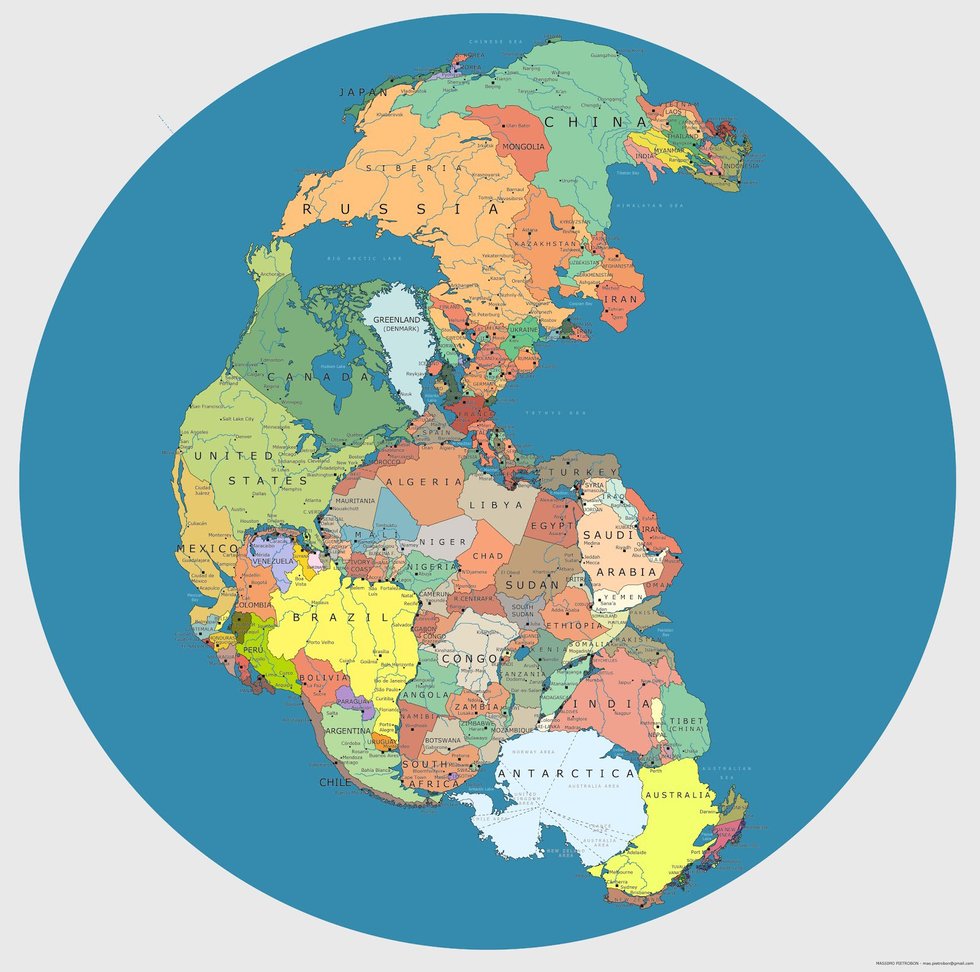 To zoom, click the map. Image credit: Massimo Pietrobon.
With great gusto, Pietrobon describes an ancient world where America and Russia are cozier neighbors, Santa Claus lives in South Korea, Cuba is land-locked, and Antarctica and India share the same climate. As translated (imperfectly) from Italian:
"And so the United States find themselves in front of the muzzle all the Arabs, while in the south they border directly with both Cuba and Colombia!

We Europeans, on the other hand, find Africa at home at last. Enough of the thousands of deaths at sea to get to Europe, now they get there by bike!

Again, finally, African Americans get together with their African cousins tout-court and can visit them by bus.

Not only that, the Moroccans will finally lead to Quebec on foot!"
'Pangea Politico' makes a timely and ultimately humanitarian statement about our borders and political feuds. "Gathering the world in one piece of land represents a return to the unity of the planet, to the unity of the human race, in spite of the divisions that are so convenient for our rulers!" writes Pietrobon.
Taking a long view of geology results in the same epiphany astronauts experience when they look at our pale blue dot from way out there. As Apollo 14 astronaut Edgar D. Mitchell famously said: "From out there on the moon, international politics looks so petty. You want to grab a politician by the scruff of the neck and drag him a quarter of a million miles out and say, "Look at that, you son of a bitch."
Where will we be 250 million years from now?
So we've seen the past in Pangea. What about the future? Current plate movements are slowly reshaping the world once again. Africa is on a collision course with southern Europe, as is the Australian Plate with Southeast Asia. Over the next 250 million years, it's very likely Earth will form another supercontinent of epic proportions, although experts disagree on exactly how it will come together—will it be Amasia, Pangea Proxima, or Novopangaea? Whether that landmass is a human-free place too is anyone's guess, but if so, let's hope it's for the right reasons and not the wrong ones.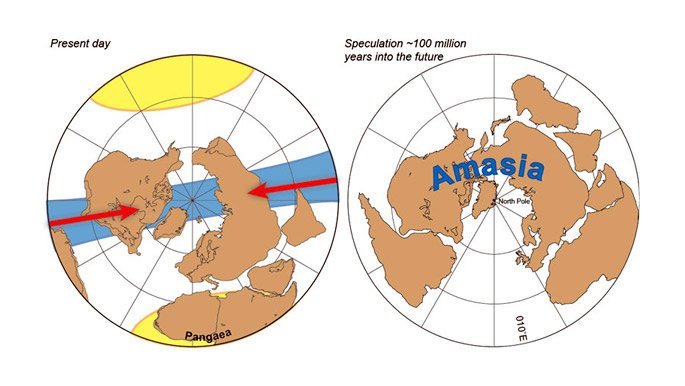 Amasia forming over the North Pole. Source: Yale University, Nature
Malcolm Gladwell teaches "Get over yourself and get to work" for Big Think Edge.
Big Think Edge
Learn to recognize failure and know the big difference between panicking and choking.

At Big Think Edge, Malcolm Gladwell teaches how to check your inner critic and get clear on what failure is.

Subscribe to Big Think Edge before we launch on March 30 to get 20% off monthly and annual memberships.
Can sensitive coral reefs survive another human generation?
Videos
Coral reefs may not be able to survive another human decade because of the environmental stress we have placed on them, says author David Wallace-Wells. He posits that without meaningful changes to policies, the trend of them dying out, even in light of recent advances, will continue.
The World Wildlife Fund says that 60 percent of all vertebrate mammals have died since just 1970. On top of this, recent studies suggest that insect populations may have fallen by as much as 75 percent over the last few decades.
If it were not for our oceans, the planet would probably be already several degrees warmer than it is today due to the emissions we've expelled into the atmosphere.
They didn't know it, but the rituals of Iron Age Scandinavians turned their iron into steel.
Shutterstock
Culture & Religion
Iron Age Scandinavians only had access to poor quality iron, which put them at a tactical disadvantage against their neighbors.
To strengthen their swords, smiths used the bones of their dead ancestors and animals, hoping to transfer the spirit into their blades.
They couldn't have known that in so doing, they actually were forging a rudimentary form of steel.
Michael Dowling, Northwell Health's CEO, believes we're entering the age of smart medicine.
Sponsored by Northwell Health
The United States health care system has much room for improvement, and big tech may be laying the foundation for those improvements.
Technological progress in medicine is coming from two fronts: medical technology and information technology.
As information technology develops, patients will become active participants in their health care, and value-based care may become a reality.
Big think's weekly newsletter.
Get smarter faster from the comfort of your inbox.
See our newsletter privacy policy
here
Most Popular
Most Recent
Big think's weekly newsletter.
Get smarter faster from the comfort of your inbox.
See our newsletter privacy policy
here
© Copyright 2007-2018 & BIG THINK, BIG THINK EDGE,
SMARTER FASTER trademarks owned by The Big Think, Inc. All rights reserved.