Jeff Bezos, Jamie Dimon, and Warren Buffett unite to disrupt healthcare's profit motive
The three behemoth companies are teaming up to disrupt the U.S. health care industry, a move that spooked the markets on the morning of the announcement.
30 January, 2018
Jeff Bezos, Amazon; Jamie Dimon, JPMorgan; Warren Buffett, Berkshire Hathaway (Getty)
---
Amazon, Berkshire Hathaway, and JPMorgan Chase announced on Tuesday plans to create an independent company that would provide innovative healthcare services to their U.S. employees.
"The ballooning costs of healthcare act as a hungry tapeworm on the American economy," said Berkshire Hathaway Chairman and CEO, Warren Buffett, in a joint press release. "Our group does not come to this problem with answers. But we also do not accept it as inevitable. Rather, we share the belief that putting our collective resources behind the country's best talent can, in time, check the rise in health costs while concurrently enhancing patient satisfaction and outcomes."
The proposed company would be "free from profit-making incentives and constraints," and plans to focus first on developing technology that would provide "simplified, high-quality and transparent healthcare at a reasonable cost."
That "reasonable cost" line will likely resonate with Americans. The U.S. spends about twice as much per-capita on healthcare as other developed countries. In 2016, healthcare spending accounted for about 18 percent of the U.S. GDP. That's more than double the share it held in 1980.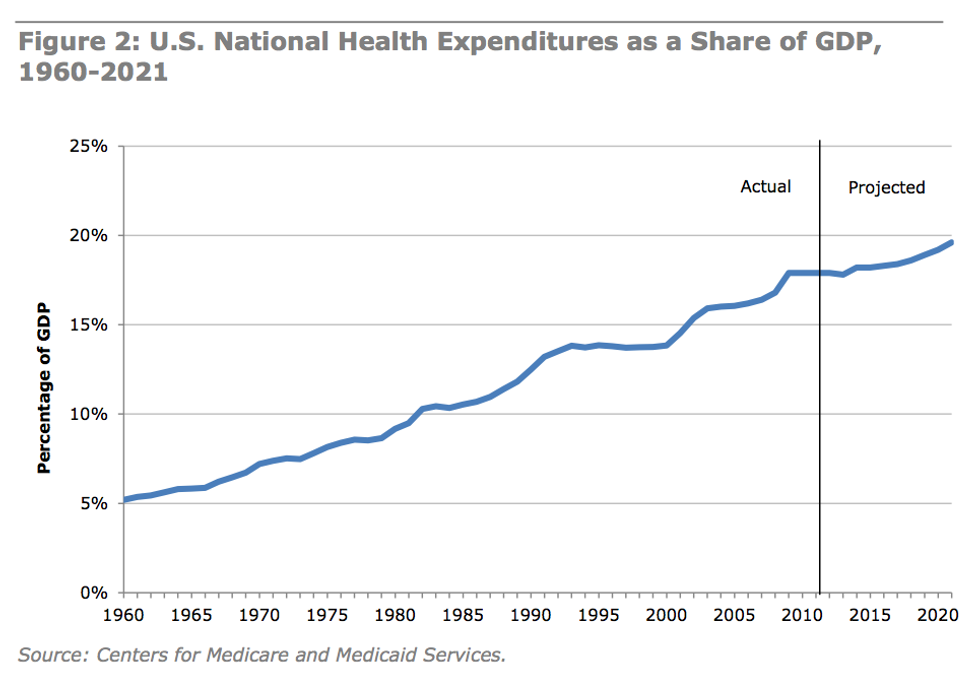 Rising healthcare costs can be attributed, in part, to inefficiencies in the system: requiring patients to see a doctor to get prescriptions filled, time-consuming administrative tasks, and a lack of serious price competition between hospitals. This new venture could begin to change that.
"This is the start of a restructuring of the healthcare industry. This could be the catalyst for something bigger," said Chuck Self, chief investment officer with iSectors, to CNN. "It's part of the Amazon-ization of the nation, but it's now clearly more than just Amazon."
The markets seem to agree. Stocks of major healthcare companies took a big hit on the morning of the announcement, including a more than 4-percent dip by CVS and Walgreens.
It's yet unclear when or how the new company will go about providing services to employees, or whether it will be able to compete seriously with the larger, more established providers who have the major advantage of scale. Still, the industry will surely keep close tabs on the new venture of the three behemoth companies, all of whom have a track record bringing innovation to their respective sectors.
"The three of our companies have extraordinary resources, and our goal is to create solutions that benefit our U.S. employees, their families and, potentially, all Americans," said Jamie Dimon, Chairman and CEO of JPMorgan Chase.
--
Universities claim to prepare students for the world. How many actually do it?
Sponsored by Charles Koch Foundation
Many university mission statements do not live up to their promise, writes Ben Nelson, founder of Minerva, a university designed to develop intellect over content memorization.
The core competencies that students need for success—critical thinking, communication, problem solving, and cross-cultural understanding, for example—should be intentionally taught, not left to chance.
These competencies can be summed up with one word: wisdom. True wisdom is the ability to apply one's knowledge appropriately when faced with novel situations.
This is what the world will look like, 250 million years from now
On Pangaea Proxima, Lagos will be north of New York, and Cape Town close to Mexico City
Surprising Science
To us humans, the shape and location of oceans and continents seems fixed. But that's only because our lives are so short.
A new study may help us better understand how children build social cognition through caregiver interaction.
Personal Growth
Scientists speculate imitation helps develop social cognition in babies.
A new study out of Lund University shows that six-month-olds look and smile more at imitating adults.
Researchers hope the data will spur future studies to discover what role caregiver imitation plays in social cognition development.
Researchers at UT Southwestern noted a 47 percent increase in blood flow to regions associated with memory.
Photo: Johannes Eisele/AFP via Getty Images
Surprising Science
Researchers at UT Southwestern observed a stark improvement in memory after cardiovascular exercise.
The year-long study included 30 seniors who all had some form of memory impairment.
The group of seniors that only stretched for a year did not fair as well in memory tests.
Videos
According to a man that knows more than 20 languages, the key is to start in the middle.
Scroll down to load more…