Scientists discover a new human organ hiding in plain sight
It's been there the whole time, but researchers couldn't see it because they'd always cut through it.
28 March, 2018
Ever heard of the "interstitium"?
---
That's what researchers are referring to when they talk about a new human organ that's been pretty much hiding in plain sight. 
It seems that the body's connective tissue is fluid-filled, a feature that hadn't been noticed before, largely because doctors and researchers typically cut through that layer when studying the cells of a human body; basically, they treat samples with chemicals, then cut them into thin slices, and dye them to highlight key features. This drains the fluid that creates this new organ and so, voila: it disappears or becomes unnoticeable.  
They found it using new technology called confocal laser endomicroscopy (pCLE).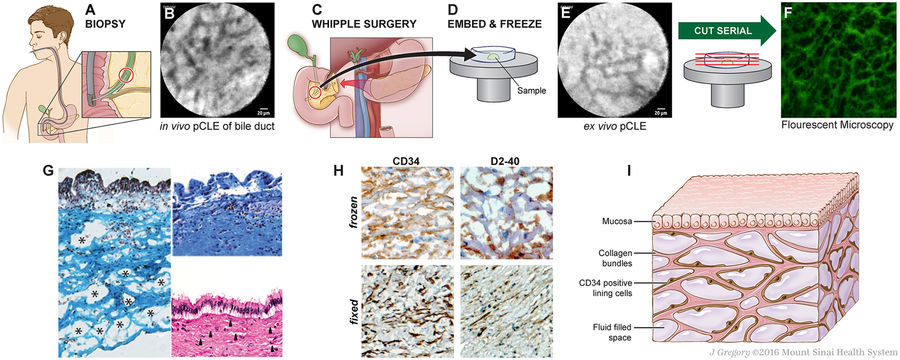 Previously, researchers believed these tissue layers to be a dense "wall" of collagen—a strong structural protein found in connective tissue. The new finding reveals that, instead of a wall, this tissue is, rather, an " open, fluid-filled highway," said co-senior study author Dr. Neil Theise, a professor of pathology at New York University Langone School of Medicine. The tissue contains interconnected, fluid-filled spaces that are supported by a lattice of thick collagen bundles, Theise said in the report.
It takes peer review and scientific consensus for the interstitium to actually gain the status of a new organ in the human body, but this research is a start along that path.  
The finding may help decipher how cancer travels to lymph nodes; if the malignant cells cross over into the interstitium, they are on a direct path to the lymph nodes because that fluid drains into the lymphatic system.
Pfizer's partnerships strengthen their ability to deliver vaccines in developing countries.
Susan Silbermann, Global President of Pfizer Vaccines, looks on as a health care worker administers a vaccine in Rwanda. Photo: Courtesy of Pfizer.
Sponsored
Community healthcare workers face many challenges in their work, including often traveling far distances to see their clients
Pfizer is helping to drive the UN's sustainable development goals through partnerships.
Pfizer partnered with AMP and the World Health Organization to develop a training program for healthcare workers.
The stories we tell define history. So who gets the mic in America?
Videos
History is written by lions. But it's also recorded by lambs.
In order to understand American history, we need to look at the events of the past as more prismatic than the narrative given to us in high school textbooks.
Including different voices can paint a more full and vibrant portrait of America. Which is why more walks of American life can and should be storytellers.

There is no doubt that the historical Jesus, the man who was executed by the Roman State in the first century CE, was a brown-skinned, Middle Eastern Jew.
Hans Zatzka (Public Domain)/The Conversation, CC BY-ND
popular
I grew up in a Christian home, where a photo of Jesus hung on my bedroom wall. I still have it. It is schmaltzy and rather tacky in that 1970s kind of way, but as a little girl I loved it. In this picture, Jesus looks kind and gentle, he gazes down at me lovingly. He is also light-haired, blue-eyed, and very white.
The controversy around the Torah codes gets a new life.
Michael Drosnin
Surprising Science
Mathematicians claim to see a predictive pattern in the ancient Torah texts.
The code is revealed by a method found with special computer software.
Some events described by reading the code took place after the code was written.
Big think's weekly newsletter.
Get smarter faster from the comfort of your inbox.
See our newsletter privacy policy
here
Most Popular
Most Recent
Big think's weekly newsletter.
Get smarter faster from the comfort of your inbox.
See our newsletter privacy policy
here
© Copyright 2007-2018 & BIG THINK, BIG THINK EDGE,
SMARTER FASTER trademarks owned by The Big Think, Inc. All rights reserved.