Why Do Most American Conservatives Still Refuse To Believe In Climate Change?
97% of scientists agree that humans are causing global warming, yet belief in climate change continues to depend on political beliefs above all else.
Simon Oxenham
Simon Oxenham covers the best and the worst from the world of psychology and neuroscience. Formerly writing with the pseudonym "Neurobonkers", Simon has a history of debunking dodgy scientific research and tearing apart questionable science journalism in an irreverent style. Simon has written and blogged for publishers including: The Psychologist, Nature, Scientific American and The Guardian. His work has been praised in the New York Times and The Guardian and described in Pearson's Textbook of Psychology as "excoriating reviews of bad science/studies".
Follow Simon on Twitter
Like Simon on Facebook
Follow Simon on Google+
Subscribe via Email
Subscribe via RSS
Contact Simon directly by Email
21 September, 2015
It is no secret that belief in climate change in America is strongly divided along party lines, a fact we were reminded of in last week's Republican leadership debates. The relationship was assessed in an experiment by Dan Kahan published in Advances in Political Psychology earlier this year, which demonstrated that there exists an extremely bizarre paradox that is as mind bending as it is troubling. Believe it or not, the more Republicans know about science, the less likely they are to believe in climate change. 
---

The Ordinary Science Intelligence measure which runs across the bottom of the graphs above measures how likely someone is to answer tests of scientific knowledge and reasoning correctly. For example, someone with an average Ordinary Science Intelligence score has a 70% chance of giving the correct answer to the simple scientific question "electrons are smaller than atoms - true or false". Someone would have to be a full standard deviation below average (i.e. in the 16th percentile) to be more likely than not to get this question wrong.
When we test the whole population on their scientific understanding before asking them if they believe in climate change, we see precisely the trend that we'd expect. The more people know about science, the more likely they are to agree that humans are causing climate change. But when the sample is split based on political affiliation, a very different picture emerges. Among conservatives, paradoxically, scientific understanding is inversely correlated with belief in climate change; those conservatives in the top few percentiles of scientific understanding are the least likely to believe in climate change. This is despite the fact that in reality, the debate among scientists is effectively already over – 97% of climate scientists agree that humans are causing global warming.
As the graph above shows, a Democrat with an average level of scientific understanding has an 80% chance of believing in global warming, while the equivalent Republican has only a 20% chance. Astonishingly, this number falls even further as Republicans' scientific literacy increases.
These findings support a 2008 report by the PEW Research Centre which found that only 19% of university educated Republicans believed in human caused global warming compared to 31% of Republicans who didn't attend university. Among Democrats, again, the opposite trend was true, 75% of university educated Democrats believed in global warming compared to only 52% of democrats who didn't go to university.
Interestingly, we see the same shocking pattern among religious people who are asked if they believe in evolution - as their knowledge of science increases, their likelihood of believing in evolution actually falls: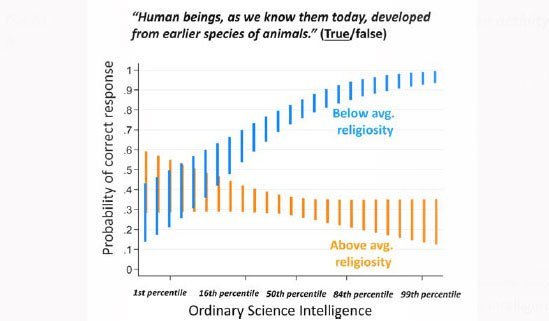 The similarity in the trends of the graphs above suggests refusal to believe in climate change is practically religious in nature. Both disbelief in climate change and disbelief in evolution don't just stand fast in the face of overwhelming scientific evidence, they grow stronger.
Why is this case? At its core, it seems the answer comes down to identity, confirmation bias and motivated reasoning. Humans are tribal. Asking whether you are left wing or right wing is like asking what football team you support. People tend to think of themselves as supporters of one team or another and rarely switch sides. We surround ourselves with people who share our views, we watch news and seek out evidence that fits our side's agenda; and science notwithstanding, we conveniently ignore anything that doesn't support our team and our way of life.
One explanation for why climate change has become such a partisan issue is that it is not the idea of climate change per se, that conflicts with conservative ideology, rather it is the most commonly proposed solutions to climate change: pollution taxes, emissions restrictions, and government intervention. A fascinating recent study examined what happens when solutions to climate change are framed in a way that doesn't conflict with conservative ideology. When the researchers mentioned "how the United States could help stop climate change and profit from leading the world in green technology", the likelihood that Republicans reported that they believed in climate change rocketed from 22% to 55%: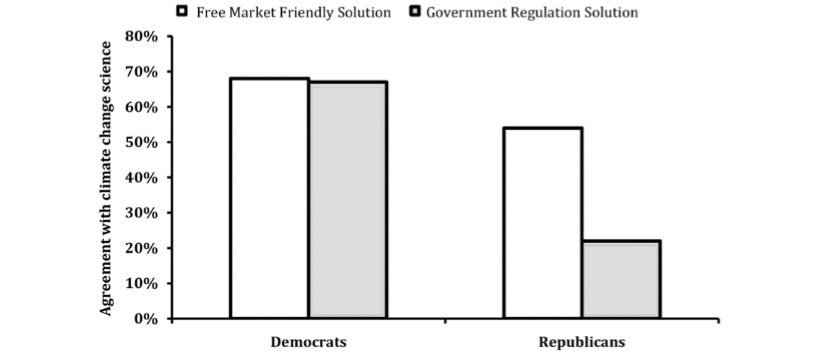 This data may explain the behavior of the candidates in the recent Republican leadership debates who shied away from discussing climate science, instead preferring to attack solutions to climate change with such words of wisdom as "America is not a planet" from Marco Rubio. No, America is not a planet and yes, of course we will have to unite around the world to fight climate change.
In last week's debate, three Republican candidates:  Rubio, Christie and Walker, at least accepted that climate change is real, which suggests the party may be in the midst of taking an important step forward, even though all the candidates stubbornly refused to agree on any action to prevent climate change.  It may be a case of one step forward and two steps back.
For whatever reason, climate change has become a fiercely partisan issue in the United States. If we are ever to have a hope of minimizing its catastrophic consequences, we must first understand this, and second, find ways to move past this. 
Follow Simon Oxenham on Twitter, Facebook, Google+, RSS, or join the mailing list to get each week's post straight to your inbox. Image Credit:  FREDERIC J. BROWN/Getty
Here's the science of black holes, from supermassive monsters to ones the size of ping-pong balls.
Videos
There's more than one way to make a black hole, says NASA's Michelle Thaller. They're not always formed from dead stars. For example, there are teeny tiny black holes all around us, the result of high-energy cosmic rays slamming into our atmosphere with enough force to cram matter together so densely that no light can escape.
CERN is trying to create artificial black holes right now, but don't worry, it's not dangerous. Scientists there are attempting to smash two particles together with such intensity that it creates a black hole that would live for just a millionth of a second.
Thaller uses a brilliant analogy involving a rubber sheet, a marble, and an elephant to explain why different black holes have varying densities. Watch and learn!
Bonus fact: If the Earth became a black hole, it would be crushed to the size of a ping-pong ball.
From time-traveling billiard balls to information-destroying black holes, the world's got plenty of puzzles that are hard to wrap your head around.
Big Think
Surprising Science
While it's one of the best on Earth, the human brain has a lot of trouble accounting for certain problems.
We've evolved to think of reality in a very specific way, but there are plenty of paradoxes out there to suggest that reality doesn't work quite the way we think it does.
Considering these paradoxes is a great way to come to grips with how incomplete our understanding of the universe really is.
In a breakthrough for nuclear fusion research, scientists at China's Experimental Advanced Superconducting Tokamak (EAST) reactor have produced temperatures necessary for nuclear fusion on Earth.
Credit: EAST Team
Surprising Science
The EAST reactor was able to heat hydrogen to temperatures exceeding 100 million degrees Celsius.
Nuclear fusion could someday provide the planet with a virtually limitless supply of clean energy.
Still, scientists have many other obstacles to pass before fusion technology becomes a viable energy source.
Big think's weekly newsletter.
Get smarter faster from the comfort of your inbox.
See our newsletter privacy policy
here
Most Popular
Most Recent
Big think's weekly newsletter.
Get smarter faster from the comfort of your inbox.
See our newsletter privacy policy
here
© Copyright 2007-2018 & BIG THINK, BIG THINK EDGE,
SMARTER FASTER trademarks owned by The Big Think, Inc. All rights reserved.