Why Do Most American Conservatives Still Refuse To Believe In Climate Change?
97% of scientists agree that humans are causing global warming, yet belief in climate change continues to depend on political beliefs above all else.
21 September, 2015
It is no secret that belief in climate change in America is strongly divided along party lines, a fact we were reminded of in last week's Republican leadership debates. The relationship was assessed in an experiment by Dan Kahan published in Advances in Political Psychology earlier this year, which demonstrated that there exists an extremely bizarre paradox that is as mind bending as it is troubling. Believe it or not, the more Republicans know about science, the less likely they are to believe in climate change. 
---

The Ordinary Science Intelligence measure which runs across the bottom of the graphs above measures how likely someone is to answer tests of scientific knowledge and reasoning correctly. For example, someone with an average Ordinary Science Intelligence score has a 70% chance of giving the correct answer to the simple scientific question "electrons are smaller than atoms - true or false". Someone would have to be a full standard deviation below average (i.e. in the 16th percentile) to be more likely than not to get this question wrong.
When we test the whole population on their scientific understanding before asking them if they believe in climate change, we see precisely the trend that we'd expect. The more people know about science, the more likely they are to agree that humans are causing climate change. But when the sample is split based on political affiliation, a very different picture emerges. Among conservatives, paradoxically, scientific understanding is inversely correlated with belief in climate change; those conservatives in the top few percentiles of scientific understanding are the least likely to believe in climate change. This is despite the fact that in reality, the debate among scientists is effectively already over – 97% of climate scientists agree that humans are causing global warming.
As the graph above shows, a Democrat with an average level of scientific understanding has an 80% chance of believing in global warming, while the equivalent Republican has only a 20% chance. Astonishingly, this number falls even further as Republicans' scientific literacy increases.
These findings support a 2008 report by the PEW Research Centre which found that only 19% of university educated Republicans believed in human caused global warming compared to 31% of Republicans who didn't attend university. Among Democrats, again, the opposite trend was true, 75% of university educated Democrats believed in global warming compared to only 52% of democrats who didn't go to university.
Interestingly, we see the same shocking pattern among religious people who are asked if they believe in evolution - as their knowledge of science increases, their likelihood of believing in evolution actually falls:
The similarity in the trends of the graphs above suggests refusal to believe in climate change is practically religious in nature. Both disbelief in climate change and disbelief in evolution don't just stand fast in the face of overwhelming scientific evidence, they grow stronger.
Why is this case? At its core, it seems the answer comes down to identity, confirmation bias and motivated reasoning. Humans are tribal. Asking whether you are left wing or right wing is like asking what football team you support. People tend to think of themselves as supporters of one team or another and rarely switch sides. We surround ourselves with people who share our views, we watch news and seek out evidence that fits our side's agenda; and science notwithstanding, we conveniently ignore anything that doesn't support our team and our way of life.
One explanation for why climate change has become such a partisan issue is that it is not the idea of climate change per se, that conflicts with conservative ideology, rather it is the most commonly proposed solutions to climate change: pollution taxes, emissions restrictions, and government intervention. A fascinating recent study examined what happens when solutions to climate change are framed in a way that doesn't conflict with conservative ideology. When the researchers mentioned "how the United States could help stop climate change and profit from leading the world in green technology", the likelihood that Republicans reported that they believed in climate change rocketed from 22% to 55%: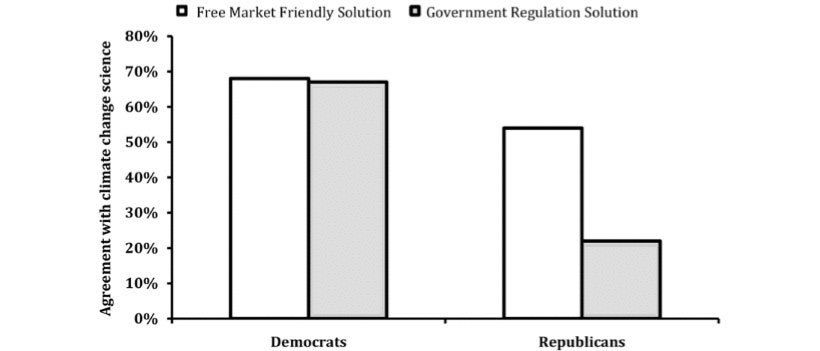 This data may explain the behavior of the candidates in the recent Republican leadership debates who shied away from discussing climate science, instead preferring to attack solutions to climate change with such words of wisdom as "America is not a planet" from Marco Rubio. No, America is not a planet and yes, of course we will have to unite around the world to fight climate change.
In last week's debate, three Republican candidates:  Rubio, Christie and Walker, at least accepted that climate change is real, which suggests the party may be in the midst of taking an important step forward, even though all the candidates stubbornly refused to agree on any action to prevent climate change.  It may be a case of one step forward and two steps back.
For whatever reason, climate change has become a fiercely partisan issue in the United States. If we are ever to have a hope of minimizing its catastrophic consequences, we must first understand this, and second, find ways to move past this. 
Follow Simon Oxenham on Twitter, Facebook, Google+, RSS, or join the mailing list to get each week's post straight to your inbox. Image Credit:  FREDERIC J. BROWN/Getty
What can 3D printing do for medicine? The "sky is the limit," says Northwell Health researcher Dr. Todd Goldstein.
Northwell Health
Sponsored by Northwell Health
Medical professionals are currently using 3D printers to create prosthetics and patient-specific organ models that doctors can use to prepare for surgery.
Eventually, scientists hope to print patient-specific organs that can be transplanted safely into the human body.
Northwell Health, New York State's largest health care provider, is pioneering 3D printing in medicine in three key ways.
An ordained Lama in a Tibetan Buddhist lineage, Lama Rod grew up a queer, black male within the black Christian church in the American south. Navigating all of these intersecting, evolving identities has led him to a life's work based on compassion for self and others.
Think Again Podcasts
"What I'm interested in is deep, systematic change. What I understand now is that real change doesn't happen until change on the inside begins to happen."
"Masculinity is not inherently toxic. Patriarchy is toxic. We have to let that energy go so we can stop forcing other people to do emotional labor for us."
We were gaining three IQ points per decade for many, many years. Now, that's going backward. Could this explain some of our choices lately?
The Flynn effect appears to be in retrograde. (Credit: Shutterstock/Big Think)
popular
There's a new study out of Norway that indicates our—well, technically, their—IQs are shrinking, to the tune of about seven IQ points per generation.
Here's why generalists triumph over specialists in the new era of innovation.
Videos
Since the explosion of the knowledge economy in the 1990s, generalist inventors have been making larger and more important contributions than specialists.
One theory is that the rise of rapid communication technologies allowed the information created by specialists to be rapidly disseminated, meaning generalists can combine information across disciplines to invent something new.
Here, David Epstein explains how Nintendo's Game Boy was a case of "lateral thinking with withered technology." He also relays the findings of a fascinating study that found the common factor of success among comic book authors.
Big think's weekly newsletter.
Get smarter faster from the comfort of your inbox.
See our newsletter privacy policy
here
Most Popular
Most Recent
Big think's weekly newsletter.
Get smarter faster from the comfort of your inbox.
See our newsletter privacy policy
here
© Copyright 2007-2019 & BIG THINK, BIG THINK EDGE,
SMARTER FASTER trademarks owned by The Big Think, Inc. All rights reserved.