The Problem With Nuance For The Sake of Nuance
A sociologist has launched a blistering attack on his own field, but the problem he addresses is something that affects us all.
Simon Oxenham
Simon Oxenham covers the best and the worst from the world of psychology and neuroscience. Formerly writing with the pseudonym "Neurobonkers", Simon has a history of debunking dodgy scientific research and tearing apart questionable science journalism in an irreverent style. Simon has written and blogged for publishers including: The Psychologist, Nature, Scientific American and The Guardian. His work has been praised in the New York Times and The Guardian and described in Pearson's Textbook of Psychology as "excoriating reviews of bad science/studies".
Follow Simon on Twitter
Like Simon on Facebook
Follow Simon on Google+
Subscribe via Email
Subscribe via RSS
Contact Simon directly by Email
04 September, 2015
How much nuance is too much nuance? As someone in the business of communicating ideas, this is a question that is always on my mind. Anyone who has ever had an editor, or been asked to submit a complex assignment with what appears to be a ludicrously small word limit, understands the risks and rewards of nuance and its mortal enemy, brevity.
---
The fact that a man who wouldn't know nuance if it walked up and punched him straight in the face currently stands a serious chance of running the White House, is a perfect illustration of the rewards of kissing nuance goodbye. The fact that for most of us this outcome is a truly terrifying prospect is testament to the risk.
Obviously I am not suggesting for even a moment that we should think more like Donald Trump — just that if those of us that disagree with his simplistic ideas presented our ideas with slightly less convolution, our ideas might have more success at taking root in people's minds.
Less really is sometimes more.
And this is the crux of the problem, a problem I've been wrestling with a lot recently. The problem is massive within the field of psychology, as I recently observed with Jon Sutton in a cover story for The Psychologist. The problem is massive on the Internet, where recent research has shown that blatant mistruths about the world run wild on social media; while the complex reality lies ignored in the dust. Now the field of Sociology is also waking up to the problem. A paper has just been published by a sociologist at a meeting of the American Sociological Association, with the unconventional title: Fuck Nuance. The author only doubles down in the abstract...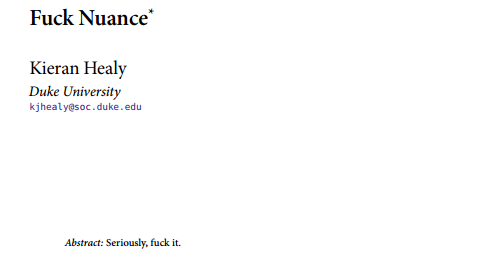 Somewhat ironically for a paper on the pitfalls of nuance, the paper itself is actually somewhat nuanced. In the interest of brevity, I'll take you straight to what I felt was the clincher: "Demands for more nuance actively inhibit the process of abstraction that good theory depends on".
According to Healy, a serious problem in his field is "the ever more extensive expansion of some theoretical system in a way that effectively closes it off from rebuttal." Healy calls this the nuance of the conceptual framework. "It is an evasion of the demand that a theory be refutable."
"By calling for a theory to be more comprehensive, or for an explanation to include additional dimensions, or a concept to become more flexible and multifaceted, we paradoxically end up with less clarity. We lose information by adding detail." — Kieran Healy
For a more nuanced take, you'll have to read the paper yourself. The article is interesting and entertaining and at many points crosses the line into satire (though it is a little unclear to what extent that is actually intended), but while written in good humour, at its heart is an issue worth contemplating.
Via The Chronicle of Higher Education, where you can read an interview with the paper's author.
Follow Neurobonkers on Twitter, Facebook, Google+, RSS, or join the mailing list. Image Credit: Getty/Rocco Baviera
Related Articles
These five main food groups are important for your brain's health and likely to boost the production of feel-good chemicals.
Infographics show the classes and anxieties in the supposedly classless U.S. economy.
What is the middle class now, anyway? (JEWEL SAMAD/AFP/Getty Images)
Politics & Current Affairs
For those of us who follow politics, we're used to commentators referring to the President's low approval rating as a surprise given the U.S.'s "booming" economy. This seeming disconnect, however, should really prompt us to reconsider the measurements by which we assess the health of an economy. With a robust U.S. stock market and GDP and low unemployment figures, it's easy to see why some think all is well. But looking at real U.S. wages, which have remained stagnant—and have, thus, in effect gone down given rising costs from inflation—a very different picture emerges. For the 1%, the economy is booming. For the rest of us, it's hard to even know where we stand. A recent study by Porch (a home-improvement company) of blue-collar vs. white-collar workers shows how traditional categories are becoming less distinct—the study references "new-collar" workers, who require technical certifications but not college degrees. And a set of recent infographics from CreditLoan capturing the thoughts of America's middle class as defined by the Pew Research Center shows how confused we are.
Big think's weekly newsletter.
Get smarter faster from the comfort of your inbox.
See our newsletter privacy policy
here
Most Popular
Most Recent
Big think's weekly newsletter.
Get smarter faster from the comfort of your inbox.
See our newsletter privacy policy
here
© Copyright 2007-2018 & BIG THINK, BIG THINK EDGE,
SMARTER FASTER trademarks owned by The Big Think, Inc. All rights reserved.