Why Facebook Is Mapping Human Settlements across the Globe
An estimated 10 percent of the world's population doesn't have access to the Internet. Facebook's Connectivity Lab is trying to find a way to bring isolated communities online, but in order to do so, it needs to know where they live.
25 February, 2016
---
An estimated 10 percent of the world's population doesn't have access to the Internet. Facebook's Connectivity Lab is trying to find a way to bring isolated communities online, but in order to do so, it needs to know where they live.
The construction of its Aquila drones was the first step. These unmanned solar-powered drones have a wingspan of a Boeing 737 and can spend months in the air, beaming down Internet to ground-based hubs. Through these drones, the Internet can be made available in remote areas where the infrastructure would be too costly or difficult to build. Google has been working on a similar balloon-based project in Indonesia. However, the Connectivity Lab needs to know where to send these drones — where they'll do the most good.
So, a team of researchers began looking at population distributions across 20 different countries from maps provided by the World Bank and Columbia University. They used these third-party images and fed them into their neural network. Through new machine learning techniques, they trained a computer to sift through billions of images in order to identify population centers. These new maps show populations on a much finer grid, just 10 meters across.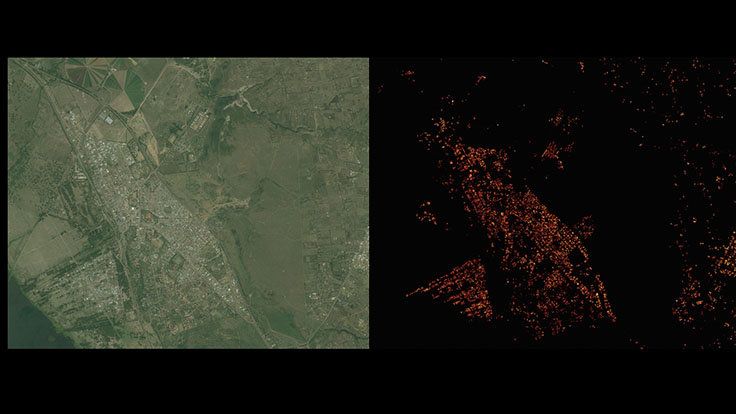 "In total, we analyzed 21.6 million km2 of the priority countries. For this we processed 14.6 billion images with our neural network; this is more than 10 times as much as all the images analyzed by Facebook on a daily basis," according to one report.
These maps will help guide the Connectivity Lab to identify what areas need which kind of support, whether it be an aerial Internet-delivering drone or a ground-based solution. Facebook says once the maps have been reviewed, this data will become open to the public later this year.
"These higher-resolution data will be useful in optimizing the location of health and sanitation facilities, planning energy and transportation networks, improving resource management and access, and facilitating humanitarian assistance," Robert Chen, director of Columbia's Center for International Earth Science Information Network, said to Technology Review.
***
Photo Credit: David Ramos/Getty Images
Natalie has been writing professionally for about 6 years. After graduating from Ithaca College with a degree in Feature Writing, she snagged a job at PCMag.com where she had the opportunity to review all the latest consumer gadgets. Since then she has become a writer for hire, freelancing for various websites. In her spare time, you may find her riding her motorcycle, reading YA novels, hiking, or playing video games. Follow her on Twitter: @nat_schumaker
Step inside the unlikely friendship of a former ACLU president and an ultra-conservative Supreme Court Justice.

Sponsored by Charles Koch Foundation
Former president of the ACLU Nadine Strossen and Supreme Court Justice Antonin Scalia were unlikely friends. They debated each other at events all over the world, and because of that developed a deep and rewarding friendship – despite their immense differences.
Scalia, a famous conservative, was invited to circles that were not his "home territory", such as the ACLU, to debate his views. Here, Strossen expresses her gratitude and respect for his commitment to the exchange of ideas.
"It's really sad that people seem to think that if you disagree with somebody on some issues you can't be mutually respectful, you can't enjoy each other's company, you can't learn from each other and grow in yourself," says Strossen.
The opinions expressed in this video do not necessarily reflect the views of the Charles Koch Foundation, which encourages the expression of diverse viewpoints within a culture of civil discourse and mutual respect.
Scientists make an important discovery for the future of computing.
Pixabay
Surprising Science
Researchers find a new state of matter called "topological superconductivity".
The state can lead to important advancements in quantum computing.
Utilizing special particles that emerge during this state can lead to error-free data storage and blazing calculation speed.
Erik Verlinde has been compared to Einstein for completely rethinking the nature of gravity.
Photo by Willeke Duijvekam
Surprising Science
The Dutch physicist Erik Verlinde's hypothesis describes gravity as an "emergent" force not fundamental.
The scientist thinks his ideas describe the universe better than existing models, without resorting to "dark matter".
While some question his previous papers, Verlinde is reworking his ideas as a full-fledged theory.
As tempting as it may be to run away from emotionally-difficult situations, it's important we confront them head-on.
Videos
Impossible-sounding things are possible in hospitals — however, there are times when we hit dead ends. In these moments, it's important to not run away, but to confront what's happening head-on.
For a lot of us, one of the ways to give meaning to terrible moments is to see what you can learn from them.
Sometimes certain information can "flood" us in ways that aren't helpful, and it's important to figure out what types of data you are able to take in — process — at certain times.