What's the Probability That the Moon Landing Was All a Hoax? One Man Has Done the Math.
What's the probability the moon landing was all one big hoax? David Robert Grimes has done the math, applying it to some of the most controversial conspiracy theories.
02 February, 2016
---
There are people out there who (still) believe climate change is a big hoax. Others think vaccines are dangerous and some even believe the moon-landing was staged. But what's the probability that these conspiracies would go on without someone stepping forward, revealing the truth? David Robert Grimes has done the math.
Grimes has published this mathematical model in PLOS ONE, applying it to some of the most controversial conspiracy theories.
It's a basic formula. Grimes looks at the amount of people involved and how long this "conspiracy" has gone on for.
"Even if there was a concerted effort, the sheer number of people required for the sheer scale of hypothetical scientific deceptions would inextricably undermine these nascent conspiracies," Grimes writes.
When the amount of people involved in a conspiracy increases, the rate at which the conspiracy will be revealed increases (whether by some sort of whistleblower or by an accidental slip of the tongue). "For a conspiracy of even only a few thousand actors, intrinsic failure would arise within decades," he writes. "For hundreds of thousands, such failure would be assured within less than half a decade."
The following charts show how quickly a NASA moon-landing, climate change, vaccination, or cancer cure hoax would be revealed: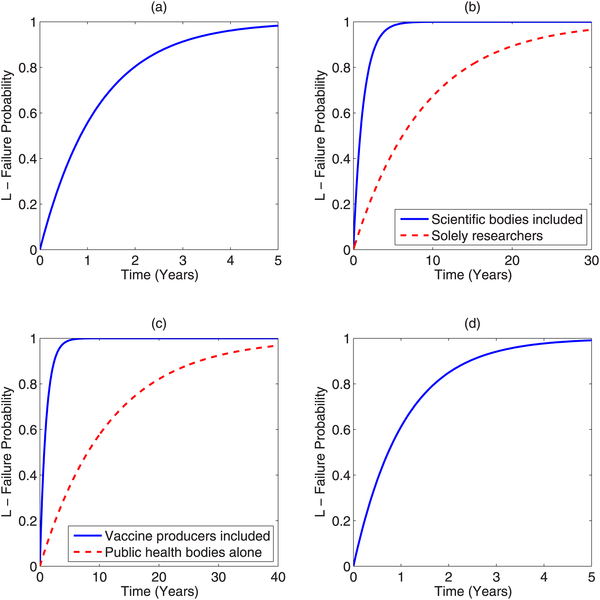 It's a matter of odds, one that Edward Snowden proved when he confirmed to many citizens that their own government was spying on them. Big secrets don't stay secret for long.

Grimes puts forth a compelling argument for why climate deniers, anti-vaxxers, moon-landing skeptics, and cancer cure believers should reconsider their stance. But he's read the science, and understands his study will sway few minds to the side of reason.
"The grim reality is that there appears to be a cohort so ideologically invested in a belief that for whom no reasoning will shift, their convictions impervious to the intrusions of reality. In these cases, it is highly unlikely that a simple mathematical demonstration of the untenability of their belief will change their viewpoint. However, for the less invested, such an intervention might indeed prove useful."
There's a lot of emotion involved in conspiracy theories. The parents involved in the anti-vaccine movement come to mind. These myths hold meaning to people and reveal a deeper truth in how we perceive the world. In the age of the internet, the facts are always available to us. But as anyone knowns, if someone searches long and deep enough, they'll eventually find their version of the truth and a forum of people willing to support it. Even those who spread the belief that the Earth is flat.
***
Photo Credit:
Main: NASA (Great Images in NASA Description) [Public domain], via Wikimedia Commons
Charts: David Robert Grimes
Natalie has been writing professionally for about 6 years. After graduating from Ithaca College with a degree in Feature Writing, she snagged a job at PCMag.com where she had the opportunity to review all the latest consumer gadgets. Since then she has become a writer for hire, freelancing for various websites. In her spare time, you may find her riding her motorcycle, reading YA novels, hiking, or playing video games. Follow her on Twitter: @nat_schumaker
What can 3D printing do for medicine? The "sky is the limit," says Northwell Health researcher Dr. Todd Goldstein.
Northwell Health
Sponsored by Northwell Health
Medical professionals are currently using 3D printers to create prosthetics and patient-specific organ models that doctors can use to prepare for surgery.
Eventually, scientists hope to print patient-specific organs that can be transplanted safely into the human body.
Northwell Health, New York State's largest health care provider, is pioneering 3D printing in medicine in three key ways.
A 2019 ranking of all 50 states' education systems shows the Sunshine State serves its college students well.
Politics & Current Affairs
Florida may be the butt of many jokes, but its higher education system is second to none.
However, the state's PreK-12 education lacks comparatively, giving Massachusetts the top spot for the best education overall.
Americans believe their state governments should prioritize education, but much work needs to be done to catch up to other countries.
Some books had a profound influence on Einstein's thinking and theories.
Getty Images
Culture & Religion
Einstein had a large library and was a voracious reader.
The famous physicist admitted that some books influenced his thinking.
The books he preferred were mostly philosophical and scientific in nature.
Mega-rich entrepreneurs are taking us where no human being has gone before.
Videos
During the first golden era of space exploration, we went to the moon. Then we sort of dropped the ball for 50 years.
The problem is space travel is very expensive, especially the way governments do space travel.
Because it costs $10,000 to put a pound of anything into orbit around the planet, we need to have an infusion of public and private funds. That's where billionaires such as Elon Musk and Jeff Bezos come into the picture. With their help, we have new energies, new strategies, and new plans to go back into outer space.
Big think's weekly newsletter.
Get smarter faster from the comfort of your inbox.
See our newsletter privacy policy
here
Most Popular
Most Recent
Big think's weekly newsletter.
Get smarter faster from the comfort of your inbox.
See our newsletter privacy policy
here
© Copyright 2007-2019 & BIG THINK, BIG THINK EDGE,
SMARTER FASTER trademarks owned by The Big Think, Inc. All rights reserved.