How Will Climate Change Alter the Arctic? Just Look Back 53 Million Years to Find Out.
Around 53 million years ago, the Arctic was host to a wide range of creatures that thrived in its warm swamps. The fossil record shows how our warming climate might influence old migratory patterns to reemerge in the Arctic Circle.
18 February, 2016
---
Around 53 million years ago, the Arctic was host to a wide range of creatures that thrived in its warm swamps. Today, those fossils show us how life could transition as the Earth warms from climate change. A new study reveals a large, flightless bird may have lived among the turtles, alligators, primates, tapirs, and hippo- and rhino-like mammals found in this region.
"Permanent Arctic ice, which has been around for millennia, is on track to disappear," co-author Jaelyn Eberle of the University of Colorado said in a statement. "I'm not suggesting there will be a return of alligators and giant tortoises to Ellesmere Island any time soon. But what we know about past warm intervals in the Arctic can give us a much better idea about what to expect in terms of changing plant and animal populations there in the future."
In the 1970s, a toe bone was found on Ellesmere Island, in the northernmost part of Canada. This fossil matches the toe bones belonging to a big bird known as Gastornis discovered in Wyoming and dates back to roughly the same time period. This flightless bird had a head the size of a horse's that dwarfed the size of its body and weighed several hundred pounds. It had powerful jaws, but other physical traits seem to suggest Gastornis was an herbivore.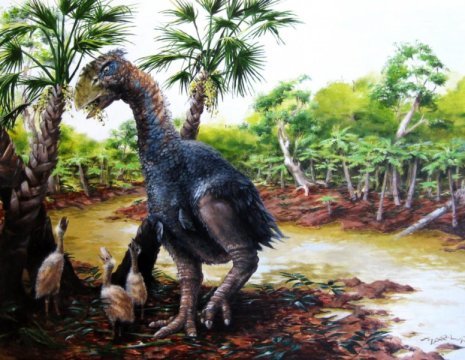 Ellesmere Island of the past was very different from the present, where temperatures can reach minus 40 degrees Fahrenheit in winter. However, life still finds its way to its shores.
"There are some sea ducks today that spend the winter in the cold, freezing Arctic, and we see many more species of waterfowl that are only in the Arctic during the relatively warmer spring and summer months," professor Thomas Stidham of the Chinese Academy of Sciences in Beijing said in a statement.
The island is still located above the Arctic Circle, which means it sits in darkness for six months out of the year. This has led researchers to wonder if Gastornis made a home on Ellesmere Island or if it migrated. If the fossils from Wyoming are indeed a match, it makes the migration hypothesis a more likely option. 
Researchers believe as the climate warms we may see a shift in migration patterns. We may even see life emerge again in places where it could not endure. It reminds us we're living in a fascinating time, where new things are being discovered about our world. Though, I'm sure all of us could do without the mass extinction.
***
Main Image Credit: NASA / Michael Studinger
Illustration by Marlin Peterson
Natalie has been writing professionally for about 6 years. After graduating from Ithaca College with a degree in Feature Writing, she snagged a job at PCMag.com where she had the opportunity to review all the latest consumer gadgets. Since then she has become a writer for hire, freelancing for various websites. In her spare time, you may find her riding her motorcycle, reading YA novels, hiking, or playing video games. Follow her on Twitter: @nat_schumaker
The way that you think about stress can actually transform the effect that it has on you – and others.
Big Think Edge
Stress is contagious, and the higher up in an organization you are the more your stress will be noticed and felt by others.
Kelly McGonigal teaches "Reset your mindset to reduce stress" for Big Think Edge.

Subscribe to Big Think Edge before we launch on March 30 to get 20% off monthly and annual memberships.
These quick bursts of inspiration will brighten your day in 10 minutes or less.

Explore a legendary philosopher's take on how society fails to prepare us for education and progress.
Alan Watts.
Personal Growth
Alan Watts was an instrumental figure in the 1960s counterculture revolution.
He believed that we put too much of a focus on intangible goals for our educational and professional careers.
Watts believed that the whole educational enterprise is a farce compared to how we should be truly living our lives.
How can we use the resources that are already on the Moon to make human exploration of the satellite as economical as possible?
The All-Terrain Hex-Limbed Extra-Terrestrial Explorer (ATHLETE), a prototype heavy-lift utility vehicle to support future human exploration of extraterrestrial surfaces, at right, is parked beside the Habitat Demonstration Unit - Pressurized Excursion Module (HDU-PEM), at left, a concept off-Earth living and work quarters for astronauts stationed on asteroids, the moon or Mars, 15 September 2010. Photo by: ROBYN BECK/AFP/Getty Images
Technology & Innovation
If you were transported to the Moon this very instant, you would surely and rapidly die. That's because there's no atmosphere, the surface temperature varies from a roasting 130 degrees Celsius (266 F) to a bone-chilling minus 170 C (minus 274 F). If the lack of air or horrific heat or cold don't kill you then micrometeorite bombardment or solar radiation will. By all accounts, the Moon is not a hospitable place to be.

Big think's weekly newsletter.
Get smarter faster from the comfort of your inbox.
See our newsletter privacy policy
here
Most Popular
Most Recent
Big think's weekly newsletter.
Get smarter faster from the comfort of your inbox.
See our newsletter privacy policy
here
© Copyright 2007-2018 & BIG THINK, BIG THINK EDGE,
SMARTER FASTER trademarks owned by The Big Think, Inc. All rights reserved.