How Will Climate Change Alter the Arctic? Just Look Back 53 Million Years to Find Out.
Around 53 million years ago, the Arctic was host to a wide range of creatures that thrived in its warm swamps. The fossil record shows how our warming climate might influence old migratory patterns to reemerge in the Arctic Circle.
18 February, 2016
---
Around 53 million years ago, the Arctic was host to a wide range of creatures that thrived in its warm swamps. Today, those fossils show us how life could transition as the Earth warms from climate change. A new study reveals a large, flightless bird may have lived among the turtles, alligators, primates, tapirs, and hippo- and rhino-like mammals found in this region.
"Permanent Arctic ice, which has been around for millennia, is on track to disappear," co-author Jaelyn Eberle of the University of Colorado said in a statement. "I'm not suggesting there will be a return of alligators and giant tortoises to Ellesmere Island any time soon. But what we know about past warm intervals in the Arctic can give us a much better idea about what to expect in terms of changing plant and animal populations there in the future."
In the 1970s, a toe bone was found on Ellesmere Island, in the northernmost part of Canada. This fossil matches the toe bones belonging to a big bird known as Gastornis discovered in Wyoming and dates back to roughly the same time period. This flightless bird had a head the size of a horse's that dwarfed the size of its body and weighed several hundred pounds. It had powerful jaws, but other physical traits seem to suggest Gastornis was an herbivore.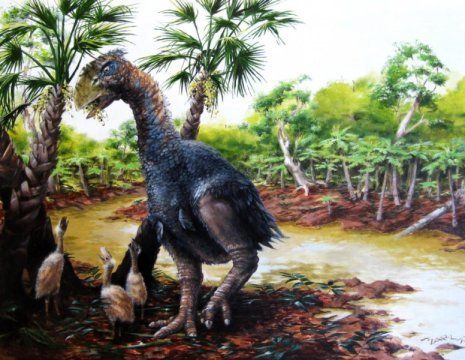 Ellesmere Island of the past was very different from the present, where temperatures can reach minus 40 degrees Fahrenheit in winter. However, life still finds its way to its shores.
"There are some sea ducks today that spend the winter in the cold, freezing Arctic, and we see many more species of waterfowl that are only in the Arctic during the relatively warmer spring and summer months," professor Thomas Stidham of the Chinese Academy of Sciences in Beijing said in a statement.
The island is still located above the Arctic Circle, which means it sits in darkness for six months out of the year. This has led researchers to wonder if Gastornis made a home on Ellesmere Island or if it migrated. If the fossils from Wyoming are indeed a match, it makes the migration hypothesis a more likely option. 
Researchers believe as the climate warms we may see a shift in migration patterns. We may even see life emerge again in places where it could not endure. It reminds us we're living in a fascinating time, where new things are being discovered about our world. Though, I'm sure all of us could do without the mass extinction.
***
Main Image Credit: NASA / Michael Studinger
Illustration by Marlin Peterson
Natalie has been writing professionally for about 6 years. After graduating from Ithaca College with a degree in Feature Writing, she snagged a job at PCMag.com where she had the opportunity to review all the latest consumer gadgets. Since then she has become a writer for hire, freelancing for various websites. In her spare time, you may find her riding her motorcycle, reading YA novels, hiking, or playing video games. Follow her on Twitter: @nat_schumaker
What makes a life worth living as you grow older?
Culture & Religion
Dr. Ezekiel Emanuel revisits his essay on wanting to die at 75 years old.
The doctor believes that an old life filled with disability and lessened activity isn't worth living.
Activists believe his argument stinks of ageism, while advances in biohacking could render his point moot.
The Amazon Rainforest is often called "The Planet's Lungs."
NASA
Politics & Current Affairs
For weeks, fires have been burning in the Amazon rainforest in Brazil, likely started by farmers and ranchers.
Brazil's president, Jair Bolsonaro, has blamed NGOs for starting the flames, offering no evidence to support the claim.
There are small steps you can take to help curb deforestation in the Amazon rainforest, which produces about 20 percent of the world's oxygen.
Emojis might contain more emotional information than meets the eye.
Pixabay
Sex & Relationships
A new study shows that people who frequently used emojis in text messages with potential dates engaged in more sexual activity and had more contact with those dates.
However, the study only shows an association; it didn't establish causality.
The authors suggest that emojis might help to convey nuanced emotional information that's lacking in strictly text-based messaging.