What Do a Robot's Dreams Look Like? Google Found Out
They may look odd, but it's all part of Google's plan to solve a huge issue in machine learning: recognizing objects in images.
18 October, 2016
When Google asked its neural network to dream, the machine begin to generating some pretty wild images. They may look odd, but it's all part of Google's plan to solve a huge issue in machine learning: recognizing objects in images.

To be clear, Google's software engineers didn't ask a computer to dream, but they did ask its neural network to alter the images based on an original photo they fed into it, by applying layers. This was all part of their Deep Dream program.
 
The purpose was to make it better at finding patterns, which computers are none too good at. So, engineers started by "teaching" the neural network to recognize certain objects by giving it 1.2 million images, complete with object classifications the computer could understand.

These classifications allowed Google's AI to learn to detect the different qualities of certain objects in an image, like a dog and a fork. But Google's engineers wanted to go one step further, which is where Deep Dream comes in, which allowed the neural network to add those hallucinogenic qualities to images. 
---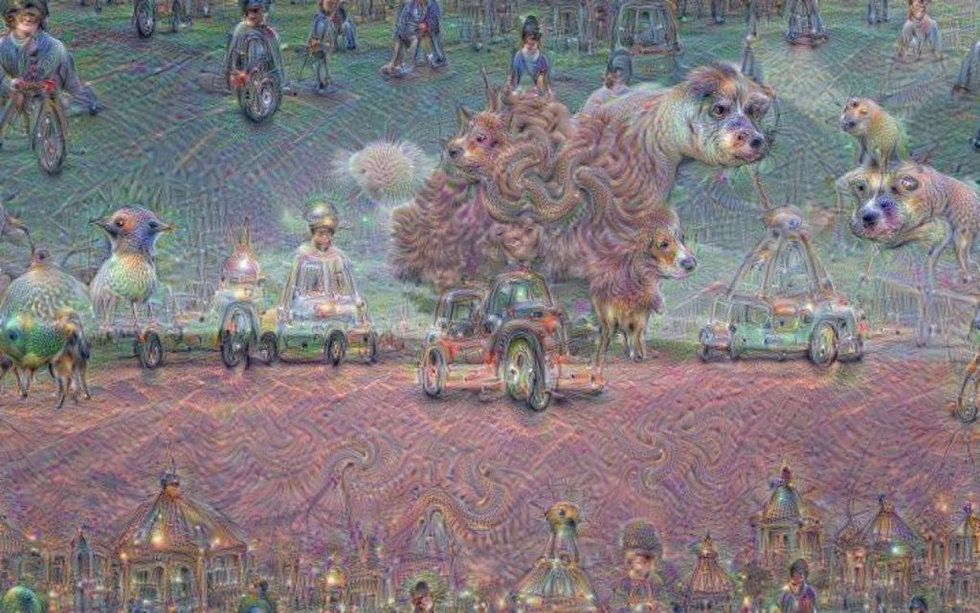 Google wanted to make its neural network better at detection to the point where it could pick out other objects in an image that may not contain that object (think of it as seeing the outline of a dog in the clouds). Deep Dream gave the computer the ability to change the rules and parameters of the images, which in turn allowed Google's AI to recognize objects the images didn't necessarily contain. So, an image might contain an image of a foot, but when it examined a few pixels of that image, it may have seen the outline of what looked like a dog's nose.

So, when researchers began to ask its neural network to tell them what other objects they might be able to see in an image of a mountain, tree, or plant, it came up with these interpretations: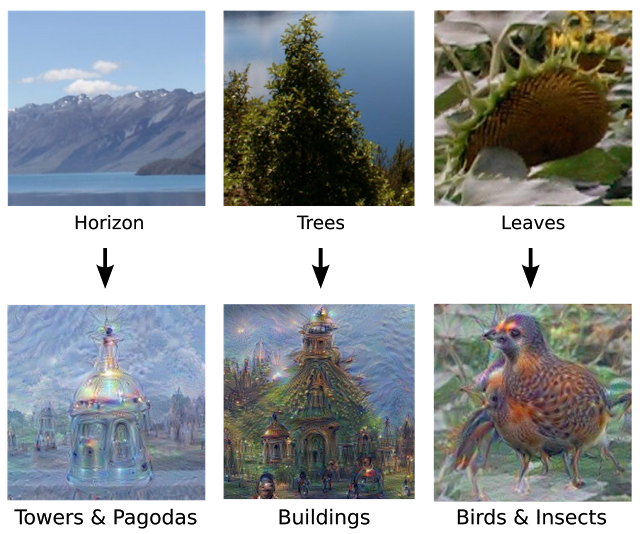 (Photo Credit: Michael Tyka/Google)
"The techniques presented here help us understand and visualize how neural networks are able to carry out difficult classification tasks, improve network architecture, and check what the network has learned during training," software engineers Alexander Mordvintsev and Christopher Olah, and intern Mike Tyka wrote in a post about Deep Dream. "It also makes us wonder whether neural networks could become a tool for artists—a new way to remix visual concepts—or perhaps even shed a little light on the roots of the creative process in general."
Just for fun, Google has opened up the tool to the public and you can generate your own Deep Dream art here: deepdreamgenerator.com
the-future-of-machine-learning
Research in plant neurobiology shows that plants have senses, intelligence and emotions.
Getty Images
Surprising Science
The field of plant neurobiology studies the complex behavior of plants.
Plants were found to have 15-20 senses, including many like humans.
Some argue that plants may have awareness and intelligence, while detractors persist.
E-cigarettes may be safer than traditional cigarettes, but they come with their own risks.
Surprising Science
A new study used an MRI machine to examine how vaping e-cigarettes affects users' cardiovascular systems immediately after inhalation.
The results showed that vaping causes impaired circulation, stiffer arteries and less oxygen in their blood.
The new study adds to a growing body of research showing that e-cigarettes – while likely safer than traditional cigarettes – are far from harmless.
Since the idea of locality is dead, space itself may not be an aloof vacuum: Something welds things together, even at great distances.

Videos
Realists believe that there is an exactly understandable way the world is — one that describes processes independent of our intervention. Anti-realists, however, believe realism is too ambitious — too hard. They believe we pragmatically describe our interactions with nature — not truths that are independent of us.
In nature, properties of Particle B may be depend on what we choose to measure or manipulate with Particle A, even at great distances.
In quantum mechanics, there is no explanation for this. "It just comes out that way," says Smolin. Realists struggle with this because it would imply certain things can travel faster than light, which still seems improbable.