What Do a Robot's Dreams Look Like? Google Found Out
They may look odd, but it's all part of Google's plan to solve a huge issue in machine learning: recognizing objects in images.
Natalie Shoemaker
Natalie has been writing professionally for about 6 years. After graduating from Ithaca College with a degree in Feature Writing, she snagged a job at PCMag.com where she had the opportunity to review all the latest consumer gadgets. Since then she has become a writer for hire, freelancing for various websites. In her spare time, you may find her riding her motorcycle, reading YA novels, hiking, or playing video games. Follow her on Twitter: @nat_schumaker
18 October, 2016
When Google asked its neural network to dream, the machine begin to generating some pretty wild images. They may look odd, but it's all part of Google's plan to solve a huge issue in machine learning: recognizing objects in images.

To be clear, Google's software engineers didn't ask a computer to dream, but they did ask its neural network to alter the images based on an original photo they fed into it, by applying layers. This was all part of their Deep Dream program.
 
The purpose was to make it better at finding patterns, which computers are none too good at. So, engineers started by "teaching" the neural network to recognize certain objects by giving it 1.2 million images, complete with object classifications the computer could understand.

These classifications allowed Google's AI to learn to detect the different qualities of certain objects in an image, like a dog and a fork. But Google's engineers wanted to go one step further, which is where Deep Dream comes in, which allowed the neural network to add those hallucinogenic qualities to images. 
---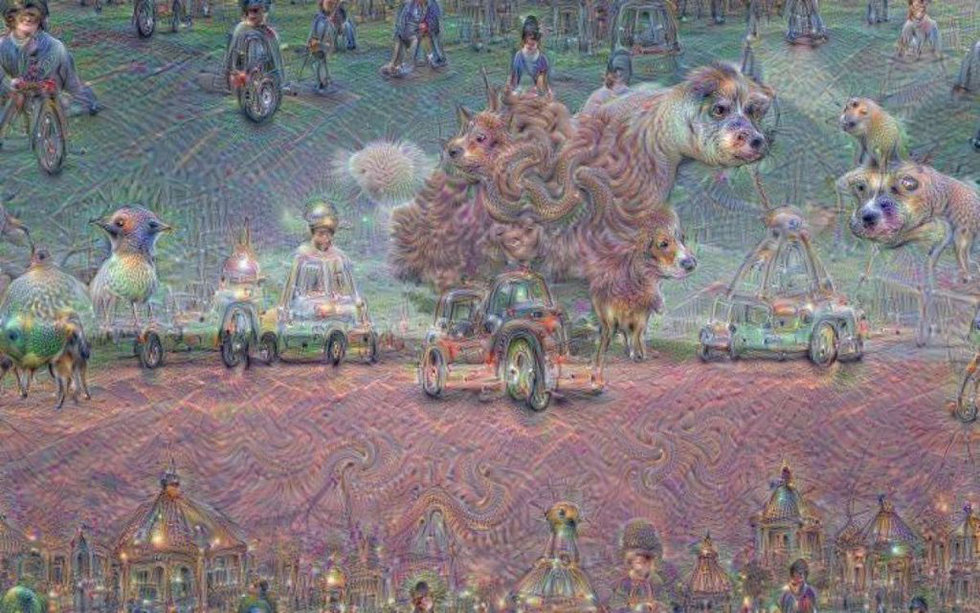 Google wanted to make its neural network better at detection to the point where it could pick out other objects in an image that may not contain that object (think of it as seeing the outline of a dog in the clouds). Deep Dream gave the computer the ability to change the rules and parameters of the images, which in turn allowed Google's AI to recognize objects the images didn't necessarily contain. So, an image might contain an image of a foot, but when it examined a few pixels of that image, it may have seen the outline of what looked like a dog's nose.

So, when researchers began to ask its neural network to tell them what other objects they might be able to see in an image of a mountain, tree, or plant, it came up with these interpretations: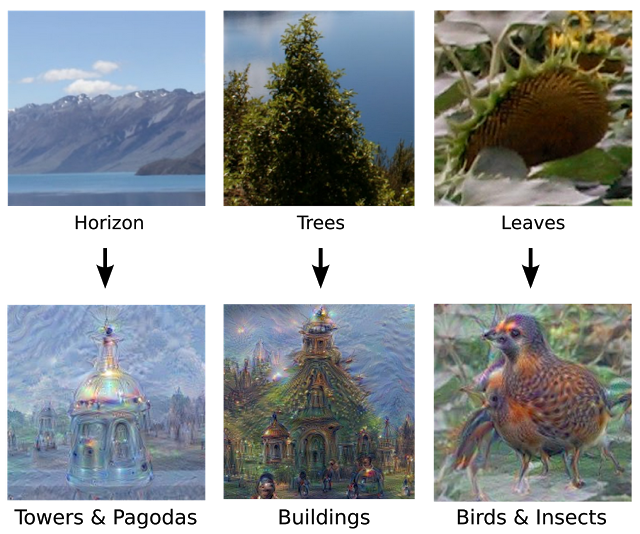 (Photo Credit: Michael Tyka/Google)
"The techniques presented here help us understand and visualize how neural networks are able to carry out difficult classification tasks, improve network architecture, and check what the network has learned during training," software engineers Alexander Mordvintsev and Christopher Olah, and intern Mike Tyka wrote in a post about Deep Dream. "It also makes us wonder whether neural networks could become a tool for artists—a new way to remix visual concepts—or perhaps even shed a little light on the roots of the creative process in general."
Just for fun, Google has opened up the tool to the public and you can generate your own Deep Dream art here: deepdreamgenerator.com
the-future-of-machine-learning
Related Articles
There's a high social cost that comes with lighting up.
(Porch)
Sex & Relationships
The home improvement company Porch recently polled 1,009 people on their feelings about smoking.
The company recently published the results as infographics.
In terms of dating, 80 percent of nonsmokers find the habit a turnoff
While short-term results are positive, there is mounting evidence against staying in ketosis for too long.
Surprising Science
Recent studies showed volunteers lost equal or more weight on high-carb, calorie-restricted diets than low-carb, calorie restricted diets.
There might be positive benefits to short-term usage of a ketogenic diet.
One dietician warns that the ketogenic diet could put diabetics at risk for diabetic ketoacidosis.
Research shows that the way math is taught in schools and how its conceptualized as a subject is severely impairing American student's ability to learn and understand the material.
One derivative coming right up... (Photo: Getty Images)
Technology & Innovation
Americans continually score either in the mid- or bottom-tier when it comes to math and science compared to their international peers.
Students have a fundamental misunderstanding of what math is and what it can do. By viewing it as a language, students and teachers can begin to conceptualize it in easier and more practical ways.
A lot of mistakes come from worrying too much about rote memorization and speedy problem-solving and from students missing large gaps in a subject that is reliant on learning concepts sequentially.
Big think's weekly newsletter.
Get smarter faster from the comfort of your inbox.
See our newsletter privacy policy
here
Most Popular
Most Recent
Big think's weekly newsletter.
Get smarter faster from the comfort of your inbox.
See our newsletter privacy policy
here
© Copyright 2007-2018 & BIG THINK, BIG THINK EDGE,
SMARTER FASTER trademarks owned by The Big Think, Inc. All rights reserved.