Former Pentagon Official Has an Idea for How We Can Avoid a Robopocalypse
How autonomous weapons will be utilized in our military is uncertain. Paul Scharre shares why their future use on the battlefield should be carefully considered.
07 March, 2016
---
Autonomous weapons may be the future machines of war. However, their use "raise novel questions of risk,"writes former Pentagon official, Paul Scharre, which is why their future use on the battlefield should be carefully considered.
Scharre directs the 20YY Future of Warfare Initiative at Center for a New American Security (CNAS), a policy research group in Washington, D.C. In the report Autonomous Weapons and Operational Risk, Scharre discusses the kinds of failures that could ensue should the military implement fully autonomous systems.
Scharre admits that much of our fears pertaining to automated systems are driven by what we've read in science-fiction novels. In truth, robot systems have a ability to lead to a utopic society. Autonomous cars are a perfect example of how robots can create a better future.
"I think 100 years from now, people will look back and say, 'Really? People used to drive their cars? What are they, insane?' Humans are the worst control system to put in front of a car," says Peter H. Diamandis, the chairman and CEO of the XPRIZE Foundation.
There are two viewpoints that are shaping the discussion about autonomous weapons, "some [view] them as potentially beneficial technologies that could make war more precise and humane, and others [view] them as dangerous technologies that could lead to catastrophe."
Robot systems lack the flexibility to adapt to new situations that arise. They do exactly as they're programmed and lack the ability to "step outside their instructions and employ 'common sense.'"
"Anyone who has ever been frustrated with an automated telephone call support helpline, an alarm clock mistakenly set to 'p.m.' instead of 'a.m.,' or any of the countless frustrations that come with interacting with computers, has experienced the problem of 'brittleness' that plagues automated systems," Mr. Scharre writes.
Scharre advocates for what he describes as "Centaur Warfighting"--a human-machine team working together. The human would act as the fail-safe, moral compass, and overseer of the machine's operations. While the robot would execute commands made by the human with more precision and accuracy. "[T]eaming cognitive architectures can leverage the predictability, reliability, and speed of automation while retaining the robustness and flexibility of human intelligence. Whenever possible, human-machine teaming will be preferred."
These kinds of pairings have proven to yield good results on far less risky strategic battlefields. In chess games, pairing a human expert with artificial intelligence wipe the floor with teams that only use artificial intelligence or humans.
"The AIs can analyze possible moves and identify vulnerabilities or opportunities the human player might have missed, resulting in blunder-free games," Scharre explains. "The human player can manage strategy, prune AI searches to focus on the most promising areas, and manage differences between multiple Ais. The chess AI, or multiple AIs, gives feedback to the human player, who then decides what move to make."
How autonomous weapons will be utilized in our military is uncertain. It's an ongoing discussion, but an important one to be aware of. Many of the world's brightest minds have already weighed in, and they're worried the development of AI is out-pacing our ability to regulate it. Technology should be used to benefit humanity—not create a Skynet dystopia. Stephen Hawking and Elon Musk have made their mistrust of artificial intelligence well-known. Even the Bulletin of the Atomic Scientists warned that if disruptive technological advancements continue to go unchecked, humanity could face a global catastrophe.
Peter Warren Singer, senior fellow and director of the 21st Century Defense Initiative at the Brookings Institution, has interviewed a number of experts about the possibility of a robot apocalypse. He found many of them thought it wasn't possible or it was a silly idea. However, Singer recalls what one Pentagon scientist said to him; he said, "'You know, I'm probably working on something that's either going to kill or enslave my grandkids, but, you know, it's really cool stuff, so why stop?'"
***
Photo Credit: Oli Scarff/Getty Images
Natalie has been writing professionally for about 6 years. After graduating from Ithaca College with a degree in Feature Writing, she snagged a job at PCMag.com where she had the opportunity to review all the latest consumer gadgets. Since then she has become a writer for hire, freelancing for various websites. In her spare time, you may find her riding her motorcycle, reading YA novels, hiking, or playing video games. Follow her on Twitter: @nat_schumaker
Malcolm Gladwell teaches "Get over yourself and get to work" for Big Think Edge.
Big Think Edge
Learn to recognize failure and know the big difference between panicking and choking.

At Big Think Edge, Malcolm Gladwell teaches how to check your inner critic and get clear on what failure is.

Subscribe to Big Think Edge before we launch on March 30 to get 20% off monthly and annual memberships.
We take fewer mental pictures per second.
Mind & Brain
Recent memories run in our brains like sped-up old movies.
In childhood, we capture images in our memory much more quickly.
The complexities of grownup neural pathways are no match for the direct routes of young brains.
It turns out, that tattoo ink can travel throughout your body and settle in lymph nodes.
17th August 1973: An American tattoo artist working on a client's shoulder. (Photo by F. Roy Kemp/BIPs/Getty Images)
popular
In the slightly macabre experiment to find out where tattoo ink travels to in the body, French and German researchers recently used synchrotron X-ray fluorescence in four "inked" human cadavers — as well as one without. The results of their 2017 study? Some of the tattoo ink apparently settled in lymph nodes.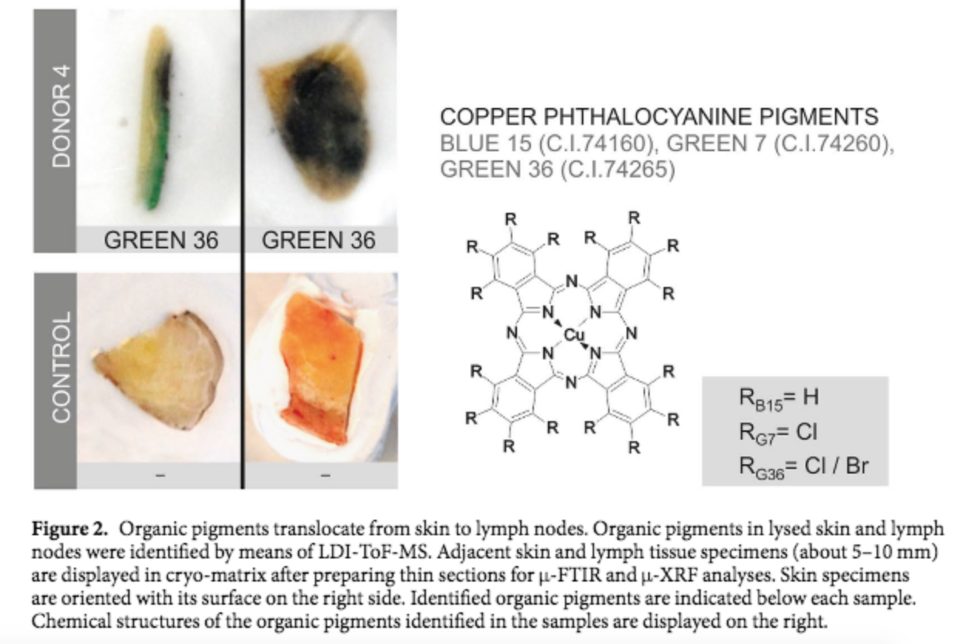 Image from the study.
As the authors explain in the study — they hail from Ludwig Maximilian University of Munich, the European Synchrotron Radiation Facility, and the German Federal Institute for Risk Assessment — it would have been unethical to test this on live animals since those creatures would not be able to give permission to be tattooed.
Because of the prevalence of tattoos these days, the researchers wanted to find out if the ink could be harmful in some way.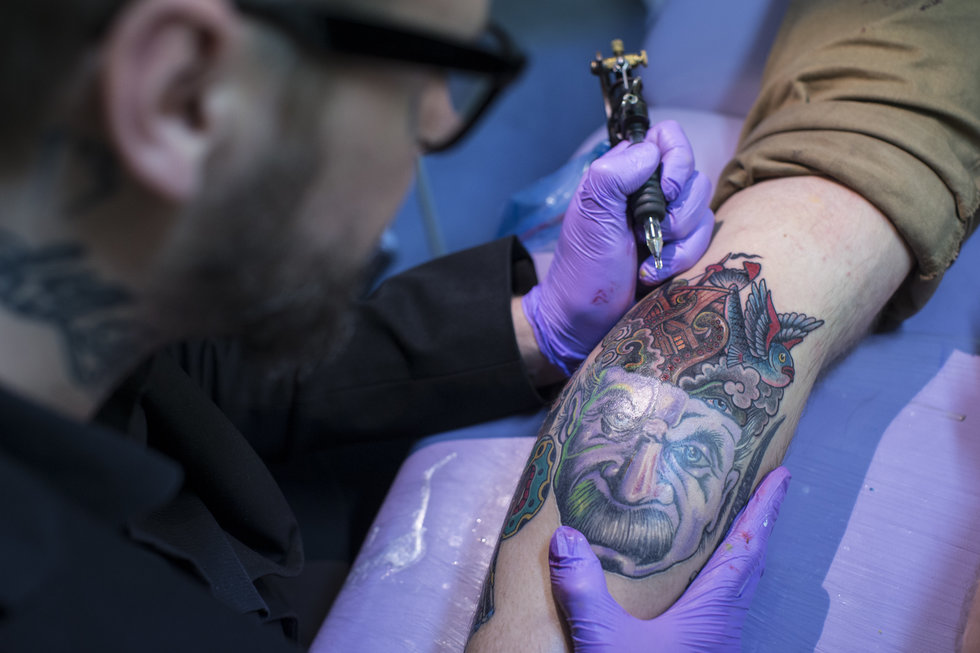 "The increasing prevalence of tattoos provoked safety concerns with respect to particle distribution and effects inside the human body," they write.
It works like this: Since lymph nodes filter lymph, which is the fluid that carries white blood cells throughout the body in an effort to fight infections that are encountered, that is where some of the ink particles collect.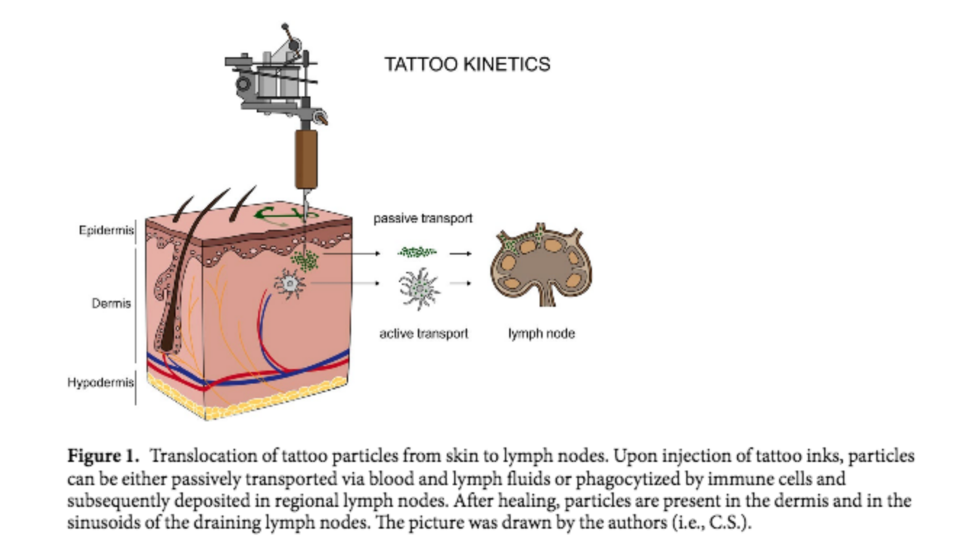 Image by authors of the study.
Titanium dioxide appears to be the thing that travels. It's a white tattoo ink pigment that's mixed with other colors all the time to control shades.
The study's authors will keep working on this in the meantime.
"In future experiments we will also look into the pigment and heavy metal burden of other, more distant internal organs and tissues in order to track any possible bio-distribution of tattoo ink ingredients throughout the body. The outcome of these investigations not only will be helpful in the assessment of the health risks associated with tattooing but also in the judgment of other exposures such as, e.g., the entrance of TiO2 nanoparticles present in cosmetics at the site of damaged skin."
Melting ice is turning up bodies on Mt. Everest. This isn't as shocking as you'd think.
Surprising Science
Mt. Everest is the final resting place of about 200 climbers who never made it down.
Recent glacial melting, caused by global warming, has made many of the bodies previously hidden by ice and snow visible again.
While many bodies are quite visible and well known, others are renowned for being lost for decades.
The bodies that remain in view are often used as waypoints for the living. Some of them are well-known markers that have earned nicknames.
For instance, the image above is of "Green Boots," the unidentified corpse named for its neon footwear. Widely believed to be the body of Tsewang Paljor, the remains are well known as a guide point for passing mountaineers. Perhaps it is too well known, as the climber David Sharp died next to Green Boots while dozens of people walked past him- many presuming he was the famous corpse.
A large area below the summit has earned the discordant nickname "rainbow valley" for being filled with the bright and colorfully dressed corpses of maintainers who never made it back down. The sight of a frozen hand or foot sticking out of the snow is so common that Tshering Pandey Bhote, vice president of Nepal National Mountain Guides Association claimed: "most climbers are mentally prepared to come across such a sight."
Other bodies are famous for not having been found yet. Sandy Irvine, the partner of George Mallory, may have been one of the first two people to reach the summit of Everest a full thirty years before Edmund Hillary and Tenzing Norgay did it. Since they never made it back down, nobody knows just how close to the top they made it.
Mallory's frozen body was found by chance in the nineties without the Kodak cameras he brought up to record the climb with. It has been speculated that Irvine might have them and Kodak says they could still develop the film if the cameras turn up. Circumstantial evidence suggests that they died on the way back down from the summit, Mallory had his goggles off and a photo of his wife he said he'd put at the peak wasn't in his coat. If Irving is found with that camera, history books might need rewriting.
As Everest's glaciers melt its morbid history comes into clearer view. Will the melting cause old bodies to become new landmarks? Will Sandy Irvine be found? Only time will tell.
<div class="ad-tag"> <div class="ad-tag__inner"> <div class="gallery_ad"></div> </div> </div>
Big think's weekly newsletter.
Get smarter faster from the comfort of your inbox.
See our newsletter privacy policy
here
Most Popular
Most Recent
Big think's weekly newsletter.
Get smarter faster from the comfort of your inbox.
See our newsletter privacy policy
here
© Copyright 2007-2018 & BIG THINK, BIG THINK EDGE,
SMARTER FASTER trademarks owned by The Big Think, Inc. All rights reserved.