My Life in Qatar: A Tall Spike in an Unflat World?
28 February, 2011
[cross-posted at E-Learning Journeys]
---
This is my third blog post as the guest of the week so I thought it was time I introduced myself a little more and talked about where I currently live and work. As you can tell by my accent, I am from Melbourne, Australia but have been working and traveling as an international educator for over 10 years, along with my husband (mathematics teacher) and daughter (just hit the terrible teen years!). Places I have worked are Zambia, Kuwait, Bangladesh and now Qatar. Being our first year in Qatar we are finding our new school, Qatar Academy, challenging in many ways. However I am finding my new position as Head of Information Technology and E-Learning to be a wonderfully rewarding experience with lots of amazing opportunities to contribute to the growth of the school.
I am also responding to Scott's post earlier today, The World is Spiky, where he shares some interesting insights from Richard Florida's new book Who's your city. From reading the words of Florida I think Qatar is in fact a 'tall spike' in an unflat world. Definition of this: "the tallest spikes that attract global talent, generate knowledge, and produce the lion's share of global innovation."
Qatar is an amazing place to be working right now. I found a blog post from last September after just arriving on 'Sharing an amazing vision in Qatar' in which I wrote:
Here in Qatar I work at Qatar Academy, a PreK-12 school now delivering the IBO curriculum across all levels (PYP, MYP and DP) which is located on Education City, a large campus on the outskirts of Doha. However I work for Qatar Foundation

(QF) for Education, Science and Community Development. QF represents

the innovation and creativity of His Highness Sheikh Hamad Bin Khalifa

Al Thani, Emir of the State of Qatar. QF is a non-profit organisation

and was founded in 1995, and Education City is their flagship.
I also wrote:
The

vision and commitment to excellence in education here is amazing. The

money being spent and the rate of development is staggering. QF is the

driving force behind the countries commitment to education and to Qatar

becoming one of the most developed knowledge-based societies around the

world. To do this they are partnering with international educational

institutions, supporting higher research and contributing to community

health and development programs. Her Highness, Sheikha Mozah Bint

Nasser Al Missned, Consort of His Highness, serves as the chairperson

of QF and personally guides the organisation with passion, vision and

enthusiasm.
Since September the pace of change and development has increased if anything. Education City is like a construction zone, with a new academic medical center, a new library, a new convention center, an amazing equestrian center and many other buildings going up....and fast! In a recent article in the New York Times talking about the rush of American universities to set up in global locations it stated:
And many are now considering full-fledged foreign branch campuses,

particularly in the oil-rich Middle East. Already, students in the

Persian Gulf state of Qatar can attend an American university without the expense, culture shock or post-9/11 visa problems of traveling to America.
At
Education City in Doha, Qatar's capital, they can study medicine at
Weill Medical College of Cornell University, international affairs at
Georgetown, computer science and business at Carnegie Mellon, fine arts
at Virginia Commonwealth, engineering at Texas A&M, and soon, journalism at Northwestern.
And yet another article from the NY Times:
Education City, the largest enclave of American universities overseas,

has fast become the elite of Qatari education, a sort of local Ivy League. But the five American schools have started small, with only about 300 slots among them for next year's entering classes.
Thomas Friedman, author of The World is Flat, after a recent trip to Doha commented:
In Doha, since I was last there, a skyline that looks like a

mini-Manhattan has sprouted from the desert. Whatever construction

cranes are not in China must be in Doha today. This once sleepy harbor

now has a profile of skyscrapers, thanks to a huge injection of oil and

gas revenues.
Then there are the other Qatari government initiatives in education from ICT Qatar that include e-Education and the e-Schoolbag program amongst other programs. I visited the new boys school rolling out the e-Schoolbag Tablet PC implementation and was duly impressed. There are many international consultants and educators currently working in Qatar, advising the government and supporting the vision with extra expertise and knowledge.
Qatar is determined to be a 'knowledge society' and with that vision in mind are carefully planning their approach to education. Yes, this is the Middle East and there are certain cultural sensitivities (aren't there any where in the world?) however I am finding a certain liberal attitude and a genuine desire to move forward. At a recent parent-teacher conference (Qatar Academy has about 85% Arabic students) I was pleasantly surprised at the friendly parents who not only wanted to shake my hand (remember that it is not always acceptable for men to shake a woman's hand here) but also called me by my first name.
So what does this all mean for the rest of the world?......well I suggest you all keep a close eye on Qatar. This is not a flash in the pan, this is a carefully calculated and planned development that is already making waves and impacting around the world. We have Al Jazeera news, we have Doha Debates, we had the Asian games 2006 and we are bidding for the Olympics for 2016. We have a clean city (I have just been to Mumbai and was brought back to the reality of a large, dirty city..what does Florida call them? 'third-world megacities'), albeit a little sandy some days. Qatar really is a 'tall spike in an unflat world' and despite the environmental concerns caused by over-indulgence (thanks Tom for reminding us), it is a beehive for creativity, innovation and 21st century thinking.
In the words of Sheikha Mozah:
"Today we plant seeds, tomorrow we open frontiers, tomorrow is rooted here".
Photo of Doha city skyline, taken late 2007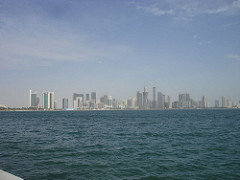 Animoto of a recent 'dune bashing' trip in the desert
Julie Lindsay, guest blogger
Technorati Tags: qatar thomasfriedman richardflorida qataracademy qatarfoundation doha
Malcolm Gladwell teaches "Get over yourself and get to work" for Big Think Edge.
Big Think Edge
Learn to recognize failure and know the big difference between panicking and choking.

At Big Think Edge, Malcolm Gladwell teaches how to check your inner critic and get clear on what failure is.

Subscribe to Big Think Edge before we launch on March 30 to get 20% off monthly and annual memberships.
Archeologists had been doubtful since no such ship had ever been found.
(Christoph Gerigk/Franck Goddio/Hilti Foundation)
Surprising Science
In 450 BCE, Greek historian Herodotus described a barge that's never been found.
When the ancient port of Thonis-Heracleion was discovered, some 70 sunken ships were found resting in its waters.
One boat, Ship 17, uncannily matches the Herodotus' description.
The blood of horseshoe crabs is harvested on a massive scale in order to retrieve a cell critical to medical research. However, recent innovations might make this practice obsolete.
Credit: Business Insider (video)
Surprising Science
Horseshoe crabs' blue blood is so valuable that a quart of it can be sold for $15,000.
This is because it contains a molecule that is crucial to the medical research community.
Today, however, new innovations have resulted in a synthetic substitute that may end the practice of farming horseshoe crabs for their blood.
The Canadian professor has been on the Joe Rogan Experience six times. There's a lot of material to discuss.
Personal Growth
Jordan Peterson has constantly been in the headlines for his ideas on gender over the last three years.
While on Joe Rogan's podcast, he explains his thoughts on the gender differences in society.
On another episode, Peterson discusses the development of character through competition.
Big think's weekly newsletter.
Get smarter faster from the comfort of your inbox.
See our newsletter privacy policy
here
Most Popular
Most Recent
Big think's weekly newsletter.
Get smarter faster from the comfort of your inbox.
See our newsletter privacy policy
here
© Copyright 2007-2018 & BIG THINK, BIG THINK EDGE,
SMARTER FASTER trademarks owned by The Big Think, Inc. All rights reserved.