Big ideas.
Once a week.
Subscribe to our weekly newsletter.
New evidence for a human magnetic sense that lets your brain detect the Earth's magnetic field
Do you have a magnetic compass in your head?
22 March, 2019
Do human beings have a magnetic sense? Biologists know other animals do. They think it helps creatures including bees, turtles and birds navigate through the world.

---
Scientists have tried to investigate whether humans belong on the list of magnetically sensitive organisms. For decades, there's been a back-and-forth between positive reports and failures to demonstrate the trait in people, with seemingly endless controversy.
The mixed results in people may be due to the fact that virtually all past studies relied on behavioral decisions from the participants. If human beings do possess a magnetic sense, daily experience suggests that it would be very weak or deeply subconscious. Such faint impressions could easily be misinterpreted – or just plain missed – when trying to make decisions.
So our research group – including a geophysical biologist, a cognitive neuroscientist and a neuroengineer – took another approach. What we found arguably provides the first concrete neuroscientific evidence that humans do have a geomagnetic sense.
How does a biological geomagnetic sense work?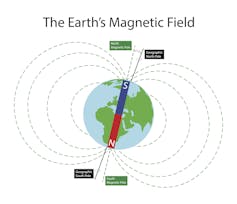 The Earth is surrounded by a magnetic field, generated by the movement of the planet's liquid core. It's why a magnetic compass points north. At Earth's surface, this magnetic field is fairly weak, about 100 times weaker than that of a refrigerator magnet.
Over the past 50 years or so, scientists have shown that hundreds of organisms in nearly all branches of the bacterial, protist and animal kingdoms have the ability to detect and respond to this geomagnetic field. In some animals – such as honey bees – the geomagnetic behavioral responses are as strong as the responses to light, odor or touch. Biologists have identified strong responses in vertebrates ranging from fish, amphibians, reptiles, numerous birds and a diverse variety of mammals including whales, rodents, bats, cows and dogs – the last of which can be trained to find a hidden bar magnet. In all of these cases, the animals are using the geomagnetic field as components of their homing and navigation abilities, along with other cues like sight, smell and hearing.
Skeptics dismissed early reports of these responses, largely because there didn't seem to be a biophysical mechanism that could translate the Earth's weak geomagnetic field into strong neural signals. This view was dramatically changed by the discovery that living cells have the ability to build nanocrystals of the ferromagnetic mineral magnetite – basically, tiny iron magnets. Biogenic crystals of magnetite were first seen in the teeth of one group of mollusks, later in bacteria, and then in a variety of other organisms ranging from protists and animals such as insects, fish and mammals, including within tissues of the human brain.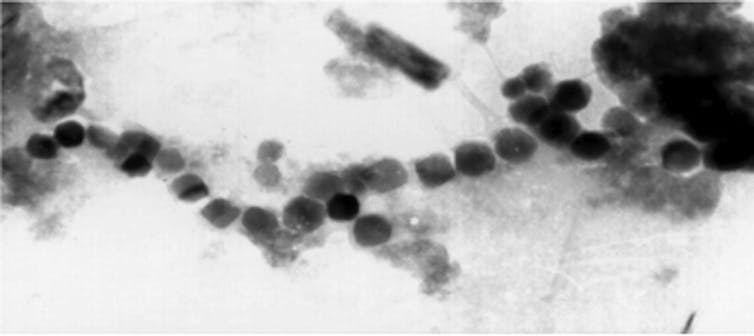 Nevertheless, scientists haven't considered humans to be magnetically sensitive organisms.
Manipulating the magnetic field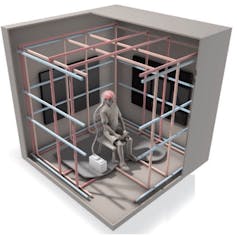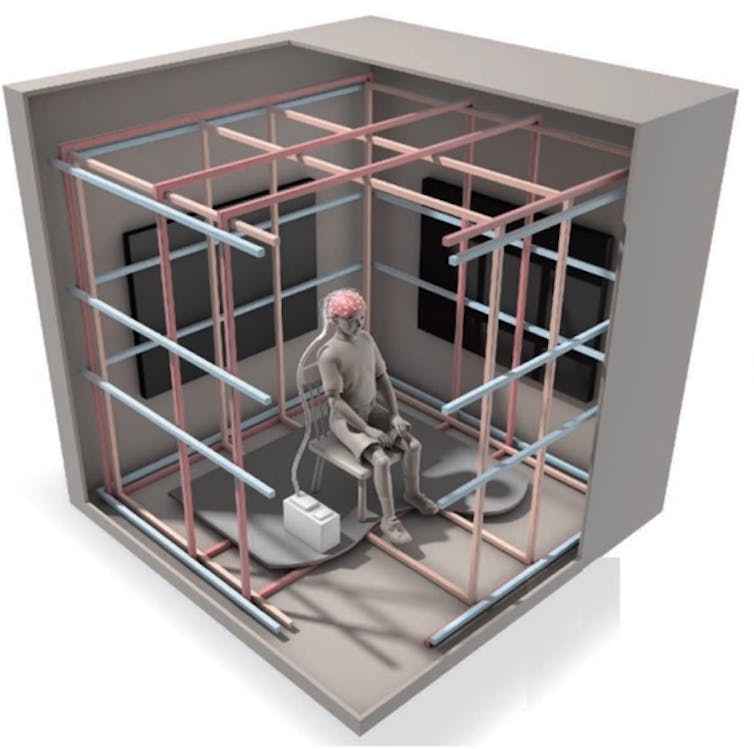 In our new study, we asked 34 participants simply to sit in our testing chamber while we directly recorded electrical activity in their brains with electroencephalography (EEG). Our modified Faraday cage included a set of 3-axis coils that let us create controlled magnetic fields of high uniformity via electric current we ran through its wires. Since we live in mid-latitudes of the Northern Hemisphere, the environmental magnetic field in our lab dips downwards to the north at about 60 degrees from horizontal.
In normal life, when someone rotates their head – say, nodding up and down or turning the head from left to right – the direction of the geomagnetic field (which remains constant in space) will shift relative to their skull. This is no surprise to the subject's brain, as it directed the muscles to move the head in the appropriate fashion in the first place.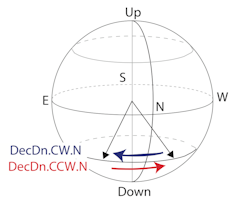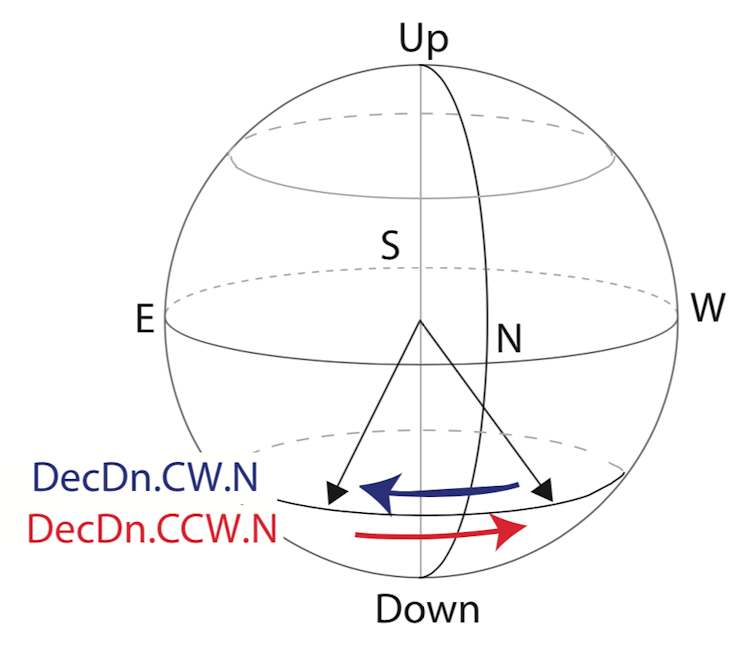 In our experimental chamber, we can move the magnetic field silently relative to the brain, but without the brain having initiated any signal to move the head. This is comparable to situations when your head or trunk is passively rotated by somebody else, or when you're a passenger in a vehicle which rotates. In those cases, though, your body will still register vestibular signals about its position in space, along with the magnetic field changes – in contrast, our experimental stimulation was only a magnetic field shift. When we shifted the magnetic field in the chamber, our participants did not experience any obvious feelings.
The EEG data, on the other hand, revealed that certain magnetic field rotations could trigger strong and reproducible brain responses. One EEG pattern known from existing research, called alpha-ERD (event-related desynchronization), typically shows up when a person suddenly detects and processes a sensory stimulus. The brains were "concerned" with the unexpected change in the magnetic field direction, and this triggered the alpha-wave reduction. That we saw such alpha-ERD patterns in response to simple magnetic rotations is powerful evidence for human magnetoreception.
Our participants' brains only responded when the vertical component of the field was pointing downwards at about 60 degrees (while horizontally rotating), as it does naturally here in Pasadena, California. They did not respond to unnatural directions of the magnetic field – such as when it pointed upwards. We suggest the response is tuned to natural stimuli, reflecting a biological mechanism that has been shaped by natural selection.
Other researchers have shown that animals' brains filter magnetic signals, only responding to those that are environmentally relevant. It makes sense to reject any magnetic signal that is too far away from the natural values because it most likely is from a magnetic anomaly - a lighting strike, or lodestone deposit in the ground, for example. One early report on birds showed that robins stop using the geomagnetic field if the strength is more than about 25 percent different from what they were used to. It's possible this tendency might be why previous researchers had trouble identifying this magnetic sense – if they cranked up the strength of the magnetic field to "help" subjects detect it, they might have instead ensured that subjects' brains ignored it.
Moreover, our series of experiments show that the receptor mechanism – the biological magnetometer in human beings – is not electrical induction, and can tell north from south. This latter feature rules out completely the so-called "quantum compass" or "cryptochrome" mechanism which is popular these days in the animal literature on magnetoreception. Our results are consistent only with functional magnetoreceptor cells based on the biological magnetite hypothesis. Note that a magnetite-based system can also explain all of the behavioral effects in birds that promoted the rise of the quantum compass hypothesis.
Brains register magnetic shifts, subconsciously
Our participants were all unaware of the magnetic field shifts and their brain responses. They felt that nothing had happened during the whole experiment – they'd just sat alone in dark silence for an hour. Underneath, though, their brains revealed a wide range of differences. Some brains showed almost no reaction, while other brains had alpha waves that shrank to half their normal size after a magnetic field shift.
It remains to be seen what these hidden reactions might mean for human behavioral capabilities. Do the weak and strong brain responses reflect some kind of individual differences in navigational ability? Can those with weaker brain responses benefit from some kind of training? Can those with strong brain responses be trained to actually feel the magnetic field?
A human response to Earth-strength magnetic fields might seem surprising. But given the evidence for magnetic sensation in our animal ancestors, it might be more surprising if humans had completely lost every last piece of the system. Thus far, we've found evidence that people have working magnetic sensors sending signals to the brain – a previously unknown sensory ability in the subconscious human mind. The full extent of our magnetic inheritance remains to be discovered.

Shinsuke Shimojo, Gertrude Baltimore Professor of Experimental Psychology, California Institute of Technology; Daw-An Wu, , California Institute of Technology, and Joseph Kirschvink, Nico and Marilyn Van Wingen Professor of Geobiology, California Institute of Technology
This article is republished from The Conversation under a Creative Commons license. Read the original article.
The father of all giant sea bugs was recently discovered off the coast of Java.
SJADE 2018
Surprising Science
A new species of isopod with a resemblance to a certain Sith lord was just discovered.
It is the first known giant isopod from the Indian Ocean.
The finding extends the list of giant isopods even further.
Humanity knows surprisingly little about the ocean depths. An often-repeated bit of evidence for this is the fact that humanity has done a better job mapping the surface of Mars than the bottom of the sea. The creatures we find lurking in the watery abyss often surprise even the most dedicated researchers with their unique features and bizarre behavior.

A recent expedition off the coast of Java discovered a new isopod species remarkable for its size and resemblance to Darth Vader.
The ocean depths are home to many creatures that some consider to be unnatural.
Bathynomus raksasa specimen (left) next to a closely related supergiant isopod, B. giganteus (right)
Sidabalok CM, Wong HP-S, Ng PKL (ZooKeys 2020)
According to LiveScience, the Bathynomus genus is sometimes referred to as "Darth Vader of the Seas" because the crustaceans are shaped like the character's menacing helmet. Deemed Bathynomus raksasa ("raksasa" meaning "giant" in Indonesian), this cockroach-like creature can grow to over 30 cm (12 inches). It is one of several known species of giant ocean-going isopod. Like the other members of its order, it has compound eyes, seven body segments, two pairs of antennae, and four sets of jaws.
The incredible size of this species is likely a result of deep-sea gigantism. This is the tendency for creatures that inhabit deeper parts of the ocean to be much larger than closely related species that live in shallower waters. B. raksasa appears to make its home between 950 and 1,260 meters (3,117 and 4,134 ft) below sea level.
Perhaps fittingly for a creature so creepy looking, that is the lower sections of what is commonly called The Twilight Zone, named for the lack of light available at such depths.
It isn't the only giant isopod, far from it. Other species of ocean-going isopod can get up to 50 cm long (20 inches) and also look like they came out of a nightmare. These are the unusual ones, though. Most of the time, isopods stay at much more reasonable sizes.
The discovery of this new species was published in ZooKeys. The remainder of the specimens from the trip are still being analyzed. The full report will be published shortly.
What benefit does this find have for science? And is it as evil as it looks?
The discovery of a new species is always a cause for celebration in zoology. That this is the discovery of an animal that inhabits the deeps of the sea, one of the least explored areas humans can get to, is the icing on the cake.
Helen Wong of the National University of Singapore, who co-authored the species' description, explained the importance of the discovery:
"The identification of this new species is an indication of just how little we know about the oceans. There is certainly more for us to explore in terms of biodiversity in the deep sea of our region."
The animal's visual similarity to Darth Vader is a result of its compound eyes and the curious shape of its head. However, given the location of its discovery, the bottom of the remote seas, it may be associated with all manner of horrifically evil Elder Things and Great Old Ones.
New study analyzes gravitational waves to confirm the late Stephen Hawking's black hole area theorem.
Credit: NASA's Goddard Space Flight Center
Surprising Science
A new paper confirms Stephen Hawking's black hole area theorem.
The researchers used gravitational wave data to prove the theorem.
The data came from Caltech and MIT's Advanced Laser Interferometer Gravitational-Wave Observatory.
The late Stephen Hawking's black hole area theorem is correct, a new study shows. Scientists used gravitational waves to prove the famous British physicist's idea, which may lead to uncovering more underlying laws of the universe.
The theorem, elaborated by Hawking in 1971, uses Einstein's theory of general relativity as a springboard to conclude that it is not possible for the surface area of a black hole to become smaller over time. The theorem parallels the second law of thermodynamics that says the entropy (disorder) of a closed system can't decrease over time. Since the entropy of a black hole is proportional to its surface area, both must continue to increase.
As a black hole gobbles up more matter, its mass and surface area grow. But as it grows, it also spins faster, which decreases its surface area. Hawking's theorem maintains that the increase in surface area that comes from the added mass would always be larger than the decrease in surface area because of the added spin.
Will Farr, one of the co-authors of the study that was published in Physical Review Letters, said their finding demonstrates that "black hole areas are something fundamental and important." His colleague Maximiliano Isi agreed in an interview with Live Science: "Black holes have an entropy, and it's proportional to their area. It's not just a funny coincidence, it's a deep fact about the world that they reveal."
The research team based their conclusions on the data from the gravitational waves spotted by Caltech and MIT's Advanced Laser Interferometer Gravitational-Wave Observatory (LIGO) in 2015.
What are gravitational waves?
Gravitational waves are "ripples" in spacetime, predicted by Albert Einstein in 1916, that are created by very violent processes happening in space. Einstein showed that very massive, accelerating space objects like neutron stars or black holes that orbit each other could cause disturbances in spacetime. Like the ripples produced by tossing a rock into a lake, they would bring about "waves" of spacetime that would spread in all directions.
As LIGO shared, "These cosmic ripples would travel at the speed of light, carrying with them information about their origins, as well as clues to the nature of gravity itself."
The gravitational waves discovered by LIGO's 3,000-kilometer-long laser beam, which can detect the smallest distortions in spacetime, were generated 1.3 billion years ago by two giant black holes that were quickly spiraling toward each other.
What Stephen Hawking would have discovered if he lived longer | NASA's Michelle Thaller | Big Think www.youtube.com
Confirming Hawking's black hole area theorem

The researchers separated the signal into two parts, depending on whether it was from before or after the black holes merged. This allowed them to figure out the mass and spin of the original black holes as well as the mass and spin of the merged black hole. With this information, they calculated the surface areas of the black holes before and after the merger.
"As they spin around each other faster and faster, the gravitational waves increase in amplitude more and more until they eventually plunge into each other — making this big burst of waves," Isi elaborated. "What you're left with is a new black hole that's in this excited state, which you can then study by analyzing how it's vibrating. It's like if you ping a bell, the specific pitches and durations it rings with will tell you the structure of that bell, and also what it's made out of."
The surface area of the resulting black holes was larger than the combined area of the original black holes. This conformed to Hawking's area law.
As a form of civil disobedience, hacking can help make the world a better place.
Politics & Current Affairs
Hackers' motivations range from altruistic to nihilistic.
Altruistic hackers expose injustices, while nihilistic ones make society more dangerous.
The line between ethical and unethical hacking is not always clear.
The following is an excerpt from Coding Democracy by Maureen Webb. Reprinted with Permission from The MIT PRESS. Copyright 2020.
As people begin to hack more concertedly at the structures of the status quo, the reactions of those who benefit from things as they are will become more fierce and more punitive, at least until the "hackers" succeed in shifting the relevant power relationships. We know this from the history of social movements. At the dawning of the digital age, farmers who hack tractors will be ruthlessly punished.
Somewhere on the continuum of altruism and transgression is the kind of hacking that might lead the world toward more accountable government and informed citizenries.
Of course, it must be acknowledged that hackers are engaged in a whole range of acts, from the altruistic to the plainly nihilistic and dangerous. On the altruistic side of the continuum, they are creating free software (GNU/Linux and other software under GPL licenses), Creative Commons (Creative Commons licensing), and Open Access (designing digital interfaces to make public records and publicly funded research accessible). They are hacking surveillance and monopoly power (creating privacy tools, alternative services, cooperative platforms, and a new decentralized internet) and electoral politics and decision making (Cinque Stelle, En Comú, Ethelo, Liquid Democracy, and PartidoX). They have engaged in stunts to expose the technical flaws in voting, communications, and security systems widely used by, or imposed on, the public (by playing chess with Germany's election voting machines, hacking the German Bildschirmtext system, and stealing ministers' biometric identifiers). They have punished shady contractors like HackingTeam, HBGary, and Stratfor, spilling their corporate dealings and personal information across the internet. They have exposed the corruption of oligarchs, politicians, and hegemons (through the Panama Papers, WikiLeaks, and Xnet).
More notoriously, they have coordinated distributed denial of service (DDoS) attacks to retaliate against corporate and government conduct (such as the Anonymous DDoS that protested PayPal's boycott of WikiLeaks; the ingenious use of the Internet of Things to DDoS Amazon; and the shutdown of US and Canadian government IT systems). They have hacked into databases (Manning and Snowden), leaked state secrets (Manning, Snowden, and WikiLeaks), and, in doing so, betrayed their own governments (Manning betrayed US war secrets, and Snowden betrayed US security secrets). They have interfered with elections (such as the hack and leak of the Democratic National Committee in the middle of the 2016 US election) and sown disinformation (the Russian hacking of US social media). They have interfered with property rights in order to assert user ownership, self-determination, and free software's four freedoms (farmers have hacked DRM code to repair their tractors, and Geohot unlocked the iPhone and hacked the Samsung phone to allow users administrator-level access to their devices) and to assert open access to publicly funded research. They have created black markets to evade state justice systems (such as Silk Road on the dark web) and cryptocurrencies that could undermine state-regulated monetary systems. They have meddled in geopolitics as free agents (Anonymous and the Arab Spring, and Julian Assange and his conduct with the Trump campaign). They have mucked around in and could potentially impair or shut down critical infrastructure. (The notorious "WANK worm" attack on NASA is an early, notorious, example, but hackers could potentially target banking systems, stock exchanges, electrical grids, telecommunications systems, air traffic control, chemical plants, nuclear plants, and even military "doomsday machines.")
It is impossible to calculate where these acts nudge us as a species. Some uses of hacking — such as the malicious, nihilistic hacking that harms critical infrastructure and threatens lives, and the hacking in cyberwarfare that injures the critical interests of other countries and undermines their democratic processes — are abhorrent and cannot be defended. The unfolding digital era looks very grim when one considers the threat this kind of hacking poses to peace and democracy combined with the dystopian direction states and corporations are going with digital tech.
But somewhere on the continuum of altruism and transgression is the kind of hacking that might lead the world toward more accountable government and informed citizenries, less corrupt and unfair economic systems, wiser public uses of digital tech, more self-determination for the ordinary user, fairer commercial contracts, better conditions for innovation and creativity, more decentralized and robust infrastructure systems, and an abolition of doomsday machines. In short, some hacking might move us toward a digital world in which there are more rather than fewer democratic, humanist outcomes.
It is not clear where the line between "good" and "bad" hacking should be drawn or how to regulate it wisely in every instance. Citizens should inform themselves and begin to consider this line-drawing seriously, however, since we will be grappling intensely with it for the next century or more. My personal view is that digital tech should not be used for everything. I think we should go back to simpler ways of running electrical grids and elections, for example. Systems are more resilient when they are not wholly digital and when they are smaller, more local, and modular. Consumers should have analogue options for things like fridges and cars, and design priorities for household goods should be durability and clean energy use, not interconnectedness.
In setting legal standards, prohibiting something and enforcing the prohibition are two different things. Sometimes a desired social norm can be struck by prohibiting a thing and not enforcing it strenuously. And the law can also recognize the constructive role that civil disobedience plays in the evolution of social norms, through prosecutorial discretion and judicial discretion in sentencing.
Wau Holland told the young hackers at the Paradiso that the Chaos Computer Club was "not just a bunch of techno freaks: we've been thinking about the social consequences of technology from the very beginning." Societies themselves, however, are generally just beginning to grapple with the social consequences of digital technology and with how to characterize the various acts performed by hackers, morally and legally. Each act raises a set of complex questions. Societies' responses will be part of the dialectic that determines where we end up. Should these various hacker acts be treated as incidents of public service, free speech, free association, legitimate protest, civil disobedience, and harmless pranksterism? Or should they be treated as trespass, tortious interference, intellectual property infringement, theft, fraud, conspiracy, extortion, espionage, terrorism, and treason? I invite you to think about this as you consider how hacking has been treated by societies to date.
Coronavirus
It could lead to a massive uptake in those previously hesitant.
Scroll down to load more…