The link between sleep, memory, and PTSD
Your brain organizes your memories in your sleep thanks to some incredible neuroscience.
05 August, 2018
---
The squishy, three-pound objects we carry around in our heads—our brains!—are poorly understood. While any one of the behaviors that emerge from the 100 trillion synapses in our brains is worth examining, sleep is perhaps the most compelling. Currently, the best available answer as to why human beings need to sleep is because we get tired. For something we spend a third of our lives doing, we don't understand a lot about it.
While we don't understand the ultimate necessity of sleep, we do understand some of the things that happen while we sleep. When sleeping, the brain appears to devote many of its resources towards consolidating and storing memories. Recent research suggests that when the brain's memory-making process is out of whack, it can make that brain more susceptible to post-traumatic stress disorder (PTSD).
How we process memories in our sleep
Our memories, as it turns out, are highly dependent on what we forget. During the day, our brains are recording. At night, they switch to editing, cutting out extraneous details and consolidating the important ones. Without this editing phase, the brain would be crowded with so much junk that—like a hoarder looking for their social security card—it wouldn't be able to find the important things necessary for survival. Forgetting also enables the brain to erase out-of-date and inaccurate facts so they can be replaced with updated information.
But the brain can only erase information in the absence of a certain neurotransmitter. Norepinephrine—the chemical in your brain related to stress, alertness, anxiety, and so on—also promotes learning and helps create longer-lasting and stronger memories. This makes intuitive sense: if an ancient human was assaulted by a jaguar in a particular corner of the jungle, that stressful experience would leave a strong impression. With this experience thoroughly impressed upon the human, they might avoid that area in the future.
Norepinephrine also blocks the brain's ability to forget. This is part of the reason why your brain is almost always recording information. During the daytime, a small nubbin in one of the deepest and oldest parts of your brain called the locus coeruleus is constantly pumping out norepinephrine and gets particularly twitchy when something stressful occurs—like, say, being assaulted by a jaguar.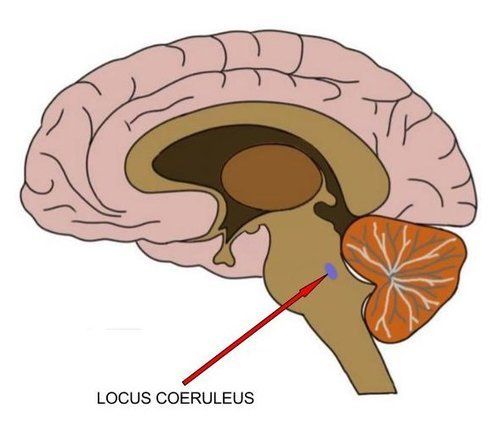 c/o Neuroscientifically Challenged
This tiny nubbin in the back of your brain switches off briefly right as the brain transitions to REM sleep. During REM sleep, it's almost completely inactive. As a result, your brain can begin editing the memories it collected throughout the day, cutting out extraneous information and preserving important stuff.
How sleep malfunctions under PTSD
In people with PTSD, the locus coeruleus refuses to go to sleep. Sleep dysfunction is a well-known symptom of PTSD, whether its insomnia, nightmares, or sleepwalking. These dysfunctions may be the result of the locus coeruleus failing to shut down, causing it to continuously pump out norepinephrine.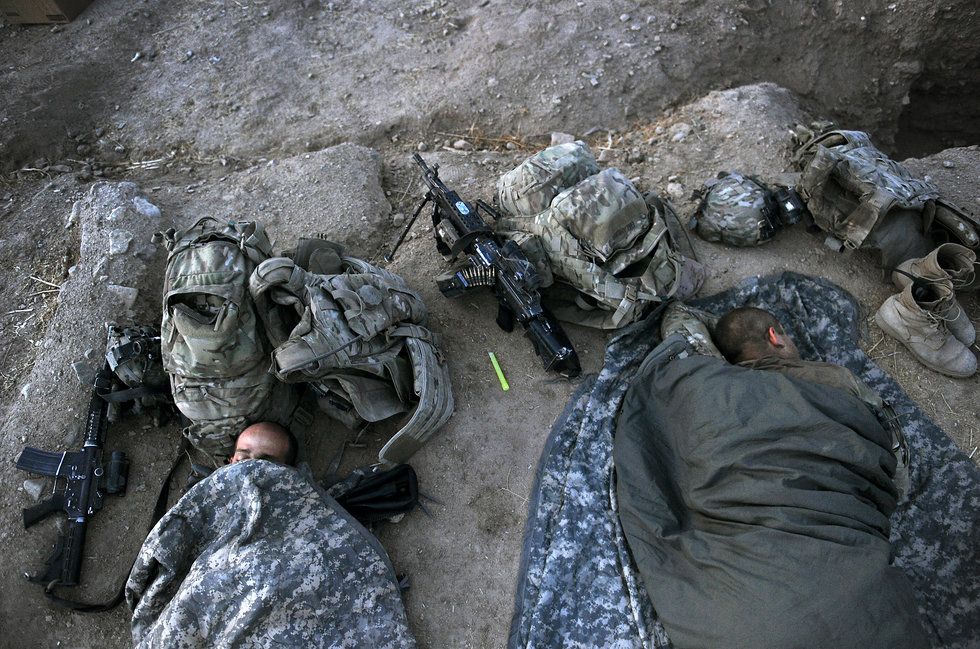 US soldiers catch some shuteye in Afghanistan. (Photo by Romeo Gacad/AFP/Getty Images)
As a result, the brain continues to store memory but fails to strip away irrelevant information. For victims of trauma, this irrelevant information could be the emotional experience of their trauma; under normal function, the brain knows that it is not useful to re-live a traumatic event every time it is dreamed about. With a hyperactive locus coeruleus, however, this irrelevant and damaging information is retained. Some theorize that the recurring nightmares common to PTSD sufferers are the result of the brain trying, but failing, to process these traumatic memories.
Can sleep deprivation help?
Some evidence exists that staying awake after a traumatic experience can mitigate the severity of PTSD. A study exposed several rats to a stressor (soiled cat litter, which smelled like one of the rats' primary predators). Then, some of these rats were not permitted to sleep for a period of time. The rats who were sleep deprived later showed less behavioral and physiological signs of a PTSD-like response.
This research suggests that it may be possible to ameliorate PTSD by staying awake for a period of time after being exposed to trauma. Staying awake would mean that your brain continues to record, which, in theory, would bury the traumatic memory in the noise of other memories to consolidate.
However, all of this needs to be taken with a grain of salt. Rats are obviously less complex creatures than human beings. Understanding how memory, sleep, and trauma interrelate certainly provides a logical case for why sleep deprivation may be beneficial after experiencing a trauma, but the human brain is three pounds of squishy complexity. The solutions to its problems aren't always easy.
Related Articles Around the Web
From Your Site Articles
What can 3D printing do for medicine? The "sky is the limit," says Northwell Health researcher Dr. Todd Goldstein.
Northwell Health
Sponsored by Northwell Health
Medical professionals are currently using 3D printers to create prosthetics and patient-specific organ models that doctors can use to prepare for surgery.
Eventually, scientists hope to print patient-specific organs that can be transplanted safely into the human body.
Northwell Health, New York State's largest health care provider, is pioneering 3D printing in medicine in three key ways.
The periodic table was a lot simpler at the beginning of the universe.
The controversial herbicide is everywhere, apparently.
Surprising Science
U.S. PIRG tested 20 beers and wines, including organics, and found Roundup's active ingredient in almost all of them.
A jury on August 2018 awarded a non-Hodgkin's lymphoma victim $289 million in Roundup damages.
Bayer/Monsanto says Roundup is totally safe. Others disagree.
Can dirt help us fight off stress? Groundbreaking new research shows how.
University of Colorado Boulder
Surprising Science
New research identifies a bacterium that helps block anxiety.
Scientists say this can lead to drugs for first responders and soldiers, preventing PTSD and other mental issues.
The finding builds on the hygiene hypothesis, first proposed in 1989.
Are modern societies trying too hard to be clean, at the detriment to public health? Scientists discovered that a microorganism living in dirt can actually be good for us, potentially helping the body to fight off stress. Harnessing its powers can lead to a "stress vaccine".
Researchers at the University of Colorado Boulder found that the fatty 10(Z)-hexadecenoic acid from the soil-residing bacterium Mycobacterium vaccae aids immune cells in blocking pathways that increase inflammation and the ability to combat stress.
The study's senior author and Integrative Physiology Professor Christopher Lowry described this fat as "one of the main ingredients" in the "special sauce" that causes the beneficial effects of the bacterium.
The finding goes hand in hand with the "hygiene hypothesis," initially proposed in 1989 by the British scientist David Strachan. He maintained that our generally sterile modern world prevents children from being exposed to certain microorganisms, resulting in compromised immune systems and greater incidences of asthma and allergies.
Contemporary research fine-tuned the hypothesis, finding that not interacting with so-called "old friends" or helpful microbes in the soil and the environment, rather than the ones that cause illnesses, is what's detrimental. In particular, our mental health could be at stake.
"The idea is that as humans have moved away from farms and an agricultural or hunter-gatherer existence into cities, we have lost contact with organisms that served to regulate our immune system and suppress inappropriate inflammation," explained Lowry. "That has put us at higher risk for inflammatory disease and stress-related psychiatric disorders."
University of Colorado Boulder
Christopher Lowry
This is not the first study on the subject from Lowry, who published previous work showing the connection between being exposed to healthy bacteria and mental health. He found that being raised with animals and dust in a rural environment helps children develop more stress-proof immune systems. Such kids were also likely to be less at risk for mental illnesses than people living in the city without pets.
Lowry's other work also pointed out that the soil-based bacterium Mycobacterium vaccae acts like an antidepressant when injected into rodents. It alters their behavior and has lasting anti-inflammatory effects on the brain, according to the press release from the University of Colorado Boulder. Prolonged inflammation can lead to such stress-related disorders as PTSD.
The new study from Lowry and his team identified why that worked by pinpointing the specific fatty acid responsible. They showed that when the 10(Z)-hexadecenoic acid gets into cells, it works like a lock, attaching itself to the peroxisome proliferator-activated receptor (PPAR). This allows it to block a number of key pathways responsible for inflammation. Pre-treating the cells with the acid (or lipid) made them withstand inflammation better.
Lowry thinks this understanding can lead to creating a "stress vaccine" that can be given to people in high-stress jobs, like first responders or soldiers. The vaccine can prevent the psychological effects of stress.
What's more, this friendly bacterium is not the only potentially helpful organism we can find in soil.
"This is just one strain of one species of one type of bacterium that is found in the soil but there are millions of other strains in soils," said Lowry. "We are just beginning to see the tip of the iceberg in terms of identifying the mechanisms through which they have evolved to keep us healthy. It should inspire awe in all of us."
Check out the study published in the journal Psychopharmacology.
Big think's weekly newsletter.
Get smarter faster from the comfort of your inbox.
See our newsletter privacy policy
here
Most Popular
Most Recent
Big think's weekly newsletter.
Get smarter faster from the comfort of your inbox.
See our newsletter privacy policy
here
© Copyright 2007-2019 & BIG THINK, BIG THINK EDGE,
SMARTER FASTER trademarks owned by The Big Think, Inc. All rights reserved.