Big ideas.
Once a week.
Subscribe to our weekly newsletter.
The link between sleep, memory, and PTSD
Your brain organizes your memories in your sleep thanks to some incredible neuroscience.
05 August, 2018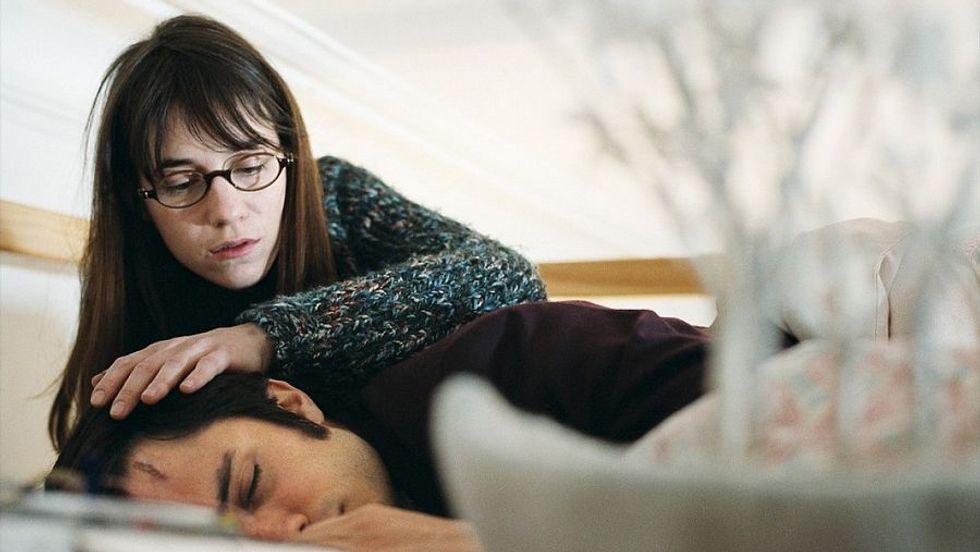 The Science of Sleep, New Line Cinema, 2006.
---
The squishy, three-pound objects we carry around in our heads—our brains!—are poorly understood. While any one of the behaviors that emerge from the 100 trillion synapses in our brains is worth examining, sleep is perhaps the most compelling. Currently, the best available answer as to why human beings need to sleep is because we get tired. For something we spend a third of our lives doing, we don't understand a lot about it.
While we don't understand the ultimate necessity of sleep, we do understand some of the things that happen while we sleep. When sleeping, the brain appears to devote many of its resources towards consolidating and storing memories. Recent research suggests that when the brain's memory-making process is out of whack, it can make that brain more susceptible to post-traumatic stress disorder (PTSD).
How we process memories in our sleep
Our memories, as it turns out, are highly dependent on what we forget. During the day, our brains are recording. At night, they switch to editing, cutting out extraneous details and consolidating the important ones. Without this editing phase, the brain would be crowded with so much junk that—like a hoarder looking for their social security card—it wouldn't be able to find the important things necessary for survival. Forgetting also enables the brain to erase out-of-date and inaccurate facts so they can be replaced with updated information.
But the brain can only erase information in the absence of a certain neurotransmitter. Norepinephrine—the chemical in your brain related to stress, alertness, anxiety, and so on—also promotes learning and helps create longer-lasting and stronger memories. This makes intuitive sense: if an ancient human was assaulted by a jaguar in a particular corner of the jungle, that stressful experience would leave a strong impression. With this experience thoroughly impressed upon the human, they might avoid that area in the future.
Norepinephrine also blocks the brain's ability to forget. This is part of the reason why your brain is almost always recording information. During the daytime, a small nubbin in one of the deepest and oldest parts of your brain called the locus coeruleus is constantly pumping out norepinephrine and gets particularly twitchy when something stressful occurs—like, say, being assaulted by a jaguar.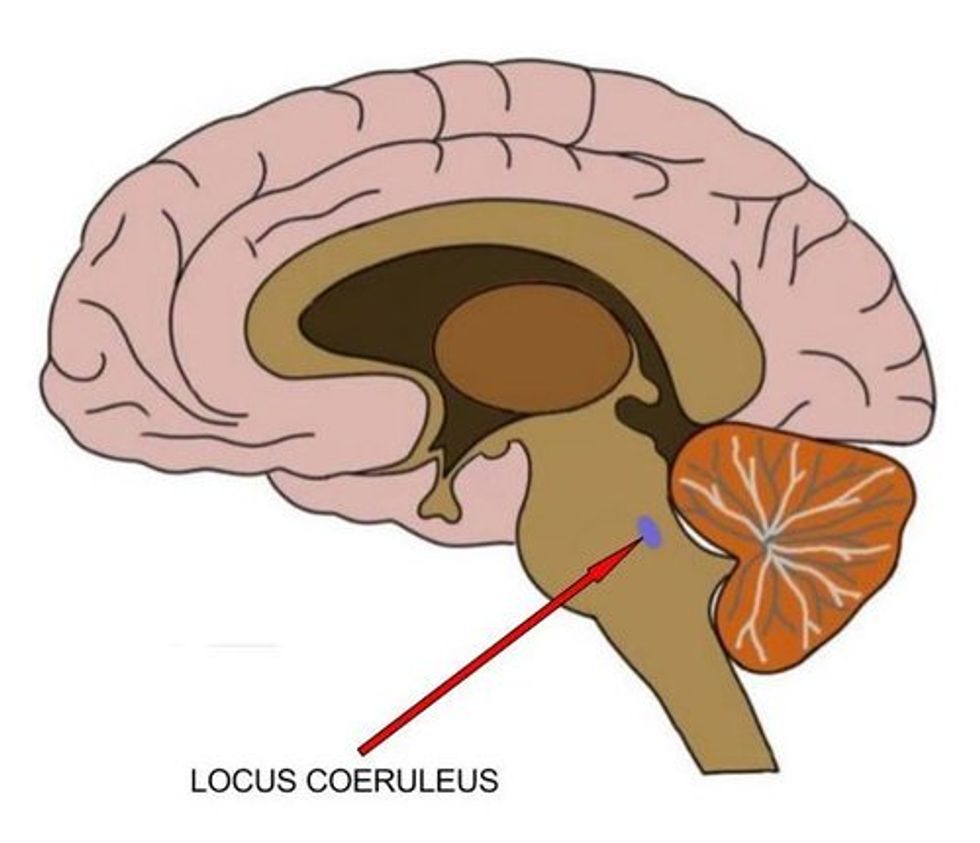 c/o Neuroscientifically Challenged
This tiny nubbin in the back of your brain switches off briefly right as the brain transitions to REM sleep. During REM sleep, it's almost completely inactive. As a result, your brain can begin editing the memories it collected throughout the day, cutting out extraneous information and preserving important stuff.
How sleep malfunctions under PTSD
In people with PTSD, the locus coeruleus refuses to go to sleep. Sleep dysfunction is a well-known symptom of PTSD, whether its insomnia, nightmares, or sleepwalking. These dysfunctions may be the result of the locus coeruleus failing to shut down, causing it to continuously pump out norepinephrine.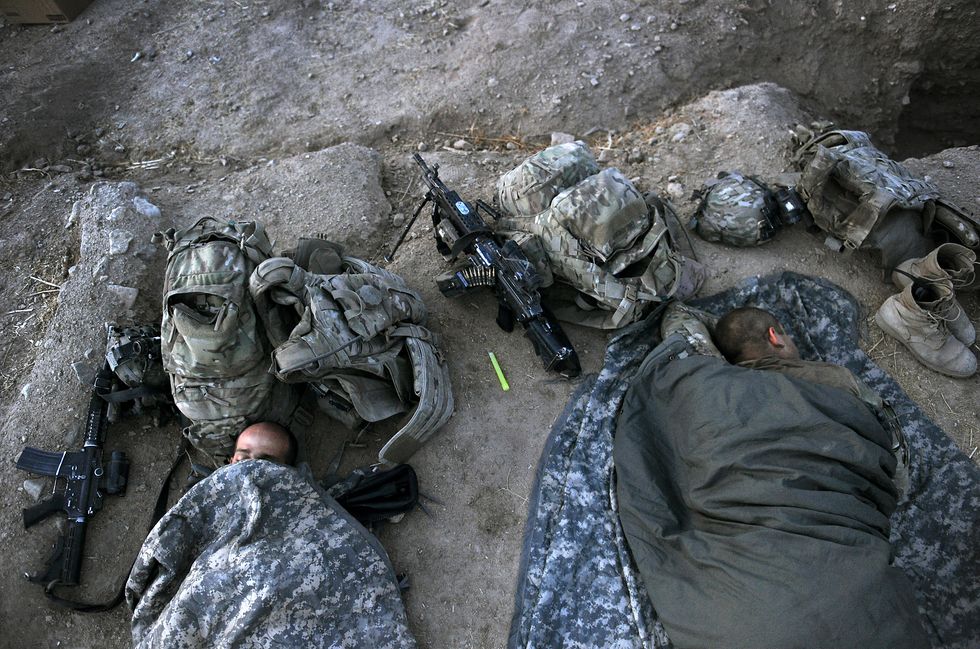 US soldiers catch some shuteye in Afghanistan. (Photo by Romeo Gacad/AFP/Getty Images)
As a result, the brain continues to store memory but fails to strip away irrelevant information. For victims of trauma, this irrelevant information could be the emotional experience of their trauma; under normal function, the brain knows that it is not useful to re-live a traumatic event every time it is dreamed about. With a hyperactive locus coeruleus, however, this irrelevant and damaging information is retained. Some theorize that the recurring nightmares common to PTSD sufferers are the result of the brain trying, but failing, to process these traumatic memories.
Can sleep deprivation help?
Some evidence exists that staying awake after a traumatic experience can mitigate the severity of PTSD. A study exposed several rats to a stressor (soiled cat litter, which smelled like one of the rats' primary predators). Then, some of these rats were not permitted to sleep for a period of time. The rats who were sleep deprived later showed less behavioral and physiological signs of a PTSD-like response.
This research suggests that it may be possible to ameliorate PTSD by staying awake for a period of time after being exposed to trauma. Staying awake would mean that your brain continues to record, which, in theory, would bury the traumatic memory in the noise of other memories to consolidate.
However, all of this needs to be taken with a grain of salt. Rats are obviously less complex creatures than human beings. Understanding how memory, sleep, and trauma interrelate certainly provides a logical case for why sleep deprivation may be beneficial after experiencing a trauma, but the human brain is three pounds of squishy complexity. The solutions to its problems aren't always easy.
Inventions with revolutionary potential made by a mysterious aerospace engineer for the U.S. Navy come to light.
Credit: Getty Images
Surprising Science
U.S. Navy holds patents for enigmatic inventions by aerospace engineer Dr. Salvatore Pais.
Pais came up with technology that can "engineer" reality, devising an ultrafast craft, a fusion reactor, and more.
While mostly theoretical at this point, the inventions could transform energy, space, and military sectors.
The U.S. Navy controls patents for some futuristic and outlandish technologies, some of which, dubbed "the UFO patents," came to light recently. Of particular note are inventions by the somewhat mysterious Dr. Salvatore Cezar Pais, whose tech claims to be able to "engineer reality." His slate of highly-ambitious, borderline sci-fi designs meant for use by the U.S. government range from gravitational wave generators and compact fusion reactors to next-gen hybrid aerospace-underwater crafts with revolutionary propulsion systems, and beyond.
Of course, the existence of patents does not mean these technologies have actually been created, but there is evidence that some demonstrations of operability have been successfully carried out. As investigated and reported by The War Zone, a possible reason why some of the patents may have been taken on by the Navy is that the Chinese military may also be developing similar advanced gadgets.
Among Dr. Pais's patents are designs, approved in 2018, for an aerospace-underwater craft of incredible speed and maneuverability. This cone-shaped vehicle can potentially fly just as well anywhere it may be, whether air, water or space, without leaving any heat signatures. It can achieve this by creating a quantum vacuum around itself with a very dense polarized energy field. This vacuum would allow it to repel any molecule the craft comes in contact with, no matter the medium. Manipulating "quantum field fluctuations in the local vacuum energy state," would help reduce the craft's inertia. The polarized vacuum would dramatically decrease any elemental resistance and lead to "extreme speeds," claims the paper.
Not only that, if the vacuum-creating technology can be engineered, we'd also be able to "engineer the fabric of our reality at the most fundamental level," states the patent. This would lead to major advancements in aerospace propulsion and generating power. Not to mention other reality-changing outcomes that come to mind.
Among Pais's other patents are inventions that stem from similar thinking, outlining pieces of technology necessary to make his creations come to fruition. His paper presented in 2019, titled "Room Temperature Superconducting System for Use on a Hybrid Aerospace Undersea Craft," proposes a system that can achieve superconductivity at room temperatures. This would become "a highly disruptive technology, capable of a total paradigm change in Science and Technology," conveys Pais.
High frequency gravitational wave generator.
Credit: Dr. Salvatore Pais
Another invention devised by Pais is an electromagnetic field generator that could generate "an impenetrable defensive shield to sea and land as well as space-based military and civilian assets." This shield could protect from threats like anti-ship ballistic missiles, cruise missiles that evade radar, coronal mass ejections, military satellites, and even asteroids.
Dr. Pais's ideas center around the phenomenon he dubbed "The Pais Effect". He referred to it in his writings as the "controlled motion of electrically charged matter (from solid to plasma) via accelerated spin and/or accelerated vibration under rapid (yet smooth) acceleration-deceleration-acceleration transients." In less jargon-heavy terms, Pais claims to have figured out how to spin electromagnetic fields in order to contain a fusion reaction – an accomplishment that would lead to a tremendous change in power consumption and an abundance of energy.
According to his bio in a recently published paper on a new Plasma Compression Fusion Device, which could transform energy production, Dr. Pais is a mechanical and aerospace engineer working at the Naval Air Warfare Center Aircraft Division (NAWCAD), which is headquartered in Patuxent River, Maryland. Holding a Ph.D. from Case Western Reserve University in Cleveland, Ohio, Pais was a NASA Research Fellow and worked with Northrop Grumman Aerospace Systems. His current Department of Defense work involves his "advanced knowledge of theory, analysis, and modern experimental and computational methods in aerodynamics, along with an understanding of air-vehicle and missile design, especially in the domain of hypersonic power plant and vehicle design." He also has expert knowledge of electrooptics, emerging quantum technologies (laser power generation in particular), high-energy electromagnetic field generation, and the "breakthrough field of room temperature superconductivity, as related to advanced field propulsion."
Suffice it to say, with such a list of research credentials that would make Nikola Tesla proud, Dr. Pais seems well-positioned to carry out groundbreaking work.
A craft using an inertial mass reduction device.
Credit: Salvatore Pais
The patents won't necessarily lead to these technologies ever seeing the light of day. The research has its share of detractors and nonbelievers among other scientists, who think the amount of energy required for the fields described by Pais and his ideas on electromagnetic propulsions are well beyond the scope of current tech and are nearly impossible. Yet investigators at The War Zone found comments from Navy officials that indicate the inventions are being looked at seriously enough, and some tests are taking place.
If you'd like to read through Pais's patents yourself, check them out here.
Laser Augmented Turbojet Propulsion System
Credit: Dr. Salvatore Pais
The Rijksmuseum employed an AI to repaint lost parts of Rembrandt's "The Night Watch." Here's how they did it.
Credit: Rijksmuseum
Culture & Religion
In 1715, Amsterdam's Town Hall sliced off all four outer edges of Rembrandt's priceless masterpiece so that it would fit on a wall.
Neural networks were used to fill in the missing pieces.
An unprecedented collaboration between man and machine is now on display at the Rijksmuseum.
Robert Erdmann, a senior scientist working for the Rijksmuseum, cannot help but smile when I ask him to explain — in as much detail as possible — how exactly he used artificial intelligence to recreate long-lost portions of Rembrandt van Rijn's most famous painting, The Night Watch (1642). "Most people just want the elevator pitch," he tells me over Zoom.
The Night Watch is a mammoth of a painting, and it used to be even bigger. In 1715, it came into the possession of the bureaucrats in charge of Amsterdam's Town Hall. In order to fit it on their wall, they sliced off all four outer edges of Rembrandt's priceless masterpiece, inadvertently creating the compromised version we know today.
Rembrandt's "The Night Watch," with the missing edges shown in black.
The missing pieces of "The Night Watch" were never recovered, but we know what they looked like thanks to Gerrit Lundens, a contemporary of Rembrandt who copied the painting when it was complete. These missing sections depict the top of the arch, a balustrade at the bottom, and two soldiers of Frans Banninck Cocq's militia company that stood at the far left.

Though the absence of these elements does not make "The Night Watch" any less impressive, their presence greatly alters the painting's look and feel. The balustrade emphasizes the company's movement forward. Together, the four missing pieces shift the principal figures — Cocq and Willem van Ruytenburch — to the right, creating a more compelling composition.
Copy of "The Night Watch" by Gerrit Lundens.
As part of Operation Night Watch, a multimillion-dollar restoration mission, the Rijksmuseum set out to recreate these missing pieces of the painting to show visitors The Night Watch as Rembrandt had originally constructed it. One easy way to do this would be to upload the smaller Lundens copy into Photoshop, blow it up by a factor of five, print it out, and call it a day.

Easy, but far from adequate. As Erdmann puts it: "There's nothing wrong with using an artist like that. However, the final product would still contain traces of that artist's own style." For Erdmann, the only viable solution was to create a series of neural networks — software that mimics the human brain through the use of artificial neurons — to transform the Lundens copy into an "original" Rembrandt.
Humans, unlike computers, aren't able to make perfect copies. Faithful though Lundens' painting is — especially in its visual detail, for example, the number of buttons on a coat, plumes on a feather, or engravings on a halberd — it still contains a myriad of miniscule differences that prevented Erdmann from simply copy-pasting it onto the original.
Perspective was the first and arguably most important item on Erdmann's list. "The geometric correspondence is pretty good at the bottom of the copy," he says. "At the top, that correspondence starts to fall apart; the composition looks stretched out, supposedly because Lundens was unable to reach the top of the painting to get its precise measurements."
Lundens' copy, adjusted for perspective by the AI.
After creating a neural network that could identify corresponding elements in both versions of The Night Watch — from faces and hands to clothing and weapons — Erdmann made a second neural network that could stretch, rotate, foreshorten, compress, and decompress the Lundens copy so that its measurements matched the Rembrandt original as closely as possible.

According to Erdman, this step was "a guide to where we should place the figures on the left, because they need to be consistent with the extrapolation from the original Night Watch." Aside from aligning the two paintings, Erdmann's adjustments also transformed the facial structure of figures like Cocq, bringing them closer to Rembrandt's expert rendering.
Detail of the Lundens copy before perspectival adjustments.
Detail of the Lundens copy after perspectival adjustments.
Just as a painter must tone their canvas before they can work on composition and color, so too did Erdmann have to get the dimensions right before he could move on to the third and final stage of his coding process. Erdmann's next part of the neural network involved — to paraphrase his elevator pitch — sending the artificial intelligence algorithm to art school.

"Not unlike how you might translate a text from Dutch to English, we wanted to see if we could transform Lundens' painterly style and palette into Rembrandt's," he explains, comparing the learning curve to a quiz. To educate it, the AI was given random tiles from the Lundens copy and asked to render the tiles in the style of Rembrandt.
As with any pedagogical situation, Erdmann evaluated the AI's efforts with a corresponding grade. The closer its output matched the contents of the original Night Watch, the higher the grade it received. When grading, Erdmann considered things like color, texture, and representation (i.e., how well does this frowning face resemble a frowning face, or this sword an actual sword?).
"Once you've defined what makes a good copy, you can train the network on thousands and thousands of these tiles," Erdmann goes on. There are 265 gigabytes of memory of thousands of attempts stored, which demonstrates improvement in quality over a very short time. Within less than a day, the error margin between the AI and the real Rembrandt grew so small it became insignificant; the training was complete.
Lundens copy when adjusted for perspective and Rembrandt's style by AI.
Along the way, the AI had developed a thorough understanding of what made Rembrandt Rembrandt. When translating Lundens' copy, it used a less saturated color palette and thicker, sketchier brushstrokes. It even adopted the painter's signature use of chiaroscuro — a technique involving sharp contrasts between light and shadow.

Then it was time for the final exam. Using the knowledge gained from copying Rembrandt, Erdmann ordered the AI to transform the four outer edges of the Lundens copy — removed from the original Night Watch — into Rembrandt's signature style. The result, an unprecedented collaboration between man and machine, is now on display in the Eregalerij of the Rijksmuseum.
Detail of the completed "Night Watch." The two figures on the left were added from the adjusted Lundens copy.
The missing pieces, resuscitated by AI, were printed onto canvas and varnished so that they had a similar gloss to the rest of the painting. The pieces were then attached to metal plates, which were placed in front of the original Night Watch at a distance of less than one centimeter, thus creating an optical illusion for visitors without actually touching Rembrandt's work.
While conservation science is evolving rapidly, the achievements of people like Erdmann are still eclipsed by the artistic genius of the painters whose work they try to preserve, which is a shame because Erdmann's software can be just as inventive as Rembrandt's brushwork. At the very least, Erdmann's problem-solving skills would have made the master proud.
If something is "true," it needs to be shown to work in the real world.
Credit
: Gene Gallin via Unsplash
Culture & Religion
Pragmatism is an American philosophical movement that originated as a rebuke to abstract European philosophy.
The pragmatic theory of truth argues that truth and reality only can be understood in their relation to how things work in the real world.
The trouble is that the theory devalues the term "truth," such that it only applies to one particular moment in time. But Charles Sanders Peirce offers a clever way out.
Think of wine. Now take away from this idea every possible property it has. Take away its redness or whiteness, its intoxicating effect, its taste, the slosh it makes, and so on. What are you left with? Nothing. An empty phoneme of the mind. An invisible color. A silent noise. Do this with any concept, and the result is the same.
This is exactly the kind of consideration that led the American Pragmatic movement. The likes of William James, John Dewey, and Charles Sanders Peirce argued that all of our concepts, and the truth of anything, are determined solely by the practical effects they have and how these extend into the real world. The idea of truth, and even of having intelligible thoughts at all, cannot be understood without reference to what that something does or how it behaves in the real world.
Pragmatic theory of truth: a very American idea
Peirce was the first to coin the term Pragmatism as a particular school of American philosophy, and it was a conscious response to the more untethered and arcane metaphysics coming out of Europe. Across the pond, and especially in Germany, philosophers since Immanuel Kant seemed to be locked in a competition to make philosophy as inaccessible and polysyllabic as possible (reaching its apogee in Georg Hegel). Pragmatists wanted to bring philosophy back and make it more relevant.
American Pragmatism gave out an exasperated and down-to-earth plea for philosophy to stop being quite so abstract.
According to Peirce, there was not any truth "out there" in the "real world" that we somehow, magically, could unearth. Instead, truth was defined by how it works in our everyday lives. So, my belief in gravity is true because of its practicality — that is, it works every day. It is true and meaningful precisely because it makes my pen drop, my coffee cup smash, and pole-vaulters come crashing down. Likewise, we know something is hard if it does not scratch easily, or if it helps you break a window, or if it hurts like heck when you hit it with your toe.
In short, we measure things by how they work and what they do. The same goes for truth.
Of course, an immediate objection comes to mind: surely the truth will change from person to person or from time to time. For instance, the Aristotelian model of gravity and the Ptolemaic model of planetary motion worked quite well for millennia. Does that mean these scientifically disproven models were actually true?! William James would argue yes, but Peirce would say no — and he offered a nuanced way out.
The coalescence of inquiry
For Peirce, "truth" could eventually coalesce or converge by the idealized agreement of intelligent inquirers. That is to say, scientists, scholars, and society will one day be so informed about the world that their answers to "what works" will be the only, final, and universal "truth" or "reality." As Peirce wrote, "The real, then, is that which, sooner or later, information and reasoning would finally result in, and which is therefore independent of the vagaries of me and you." And, elsewhere, he says reality is "what may finally come to be known to be in the ideal state of complete information."
For instance, Ptolemy's notion that the sun revolves around the Earth was never true but rather mistaken as true. What is true is defined by the end result of more advanced inquiry, such as that of Copernicus and Galileo. (Of course, we might still be mistaken today.) We cannot know if something is true until this perfected end point has been reached — the point when there are no alternative answers to the question, "What works best?"
Acceptance of error and self-correction
Most commentators today do not think Peirce meant there had to be an actual and future idealized end point where there would be no more debate and disagreement. Rather, Peirce's Pragmatism speaks to two broader and much more widely accepted epistemic virtues: an openness to accept error and the willingness to correct it.
Under Peirce's account, something is true or real insofar as it works within the world. This is not just for everyday experiences like gravity causing us to drop things. He meant that things must also work in the science laboratory as well.
Today, we practice science by presenting a hypothesis, which is then tested in experiments over and over again. Scientists are constantly calibrating the truth of hypotheses and theories based on how they work in the world. And, according to Peirce's Pragmatism, "although the conclusion [of an experiment] at any stage of the investigation may be more or less erroneous, the further application of the same method must correct the error."
So, we will get closer and closer to the truth as society becomes more and more informed. But this also means accepting that future societies will possibly, or even quite likely, correct what we today call truth.
The American way
Pragmatism has a certain intuitive appeal. Truth which is abstracted from how things operate in the real world often makes very little sense. The idea of a world "out there" beyond our minds — a world which is unseen, unknown, and unimaginable — is also unintelligible (as Kant pointed out) if it is not tied, in some way, both to how the world works and to what we humans can interact with.
People like Peirce should be praised for a very American Pragmatism that gave out an exasperated and down-to-earth plea for philosophy to stop being quite so abstract.
Jonny Thomson teaches philosophy in Oxford. He runs a popular Instagram account called Mini Philosophy (@philosophyminis). His first book is Mini Philosophy: A Small Book of Big Ideas.
Scroll down to load more…