Have You Peaked Too Early or Left It Too Late? Here's What We Can Learn From Great Scientists
What do great scientists have in common? A new study finds that age and career path have no bearing on success – but "deliberate practice" does, and it's something we can all use.
09 November, 2016
---
Scientists can have their big break any point in their career.
A new paper published in the journal Science determined that from a big data analysis on scientific careers from 1893 to 2010. The research team, led by Roberta Sinatra and Albert-​​​​László Barabási of Northeastern University, determined that a scientist can make a lasting impact with their research from the very first published paper to the very last. There is no definite trajectory for success, and every successful scientist's career is a mix of skill, persistence, and luck.
The research team figured all that out by analyzing publication data from scientists who published papers between 1893 to 2010. Those data points began with 236,884 physicist publications and expanded to 24,630 Google Scholar profiles and 514,896 publications across seven scientific disciplines "from physics to chemistry, economics to cognitive science," according to the Northeastern press release.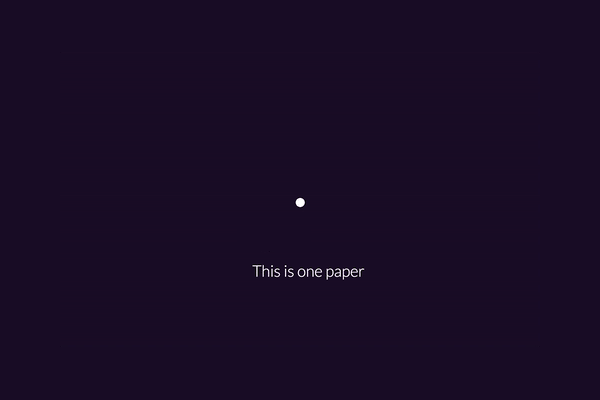 Credit: Kim Albrecht/Northeastern University
They crunched all of that data and came up with a productivity quotient or "Q." "The Q factor cap­tures a com­bi­na­tion of ability, edu­ca­tion, and knowl­edge… how good is a sci­en­tist at picking an idea and turning it into a discovery," Barabási explains in the press release. "A high Q com­bined with con­tinued efforts pro­vide a fore­cast of what's to come. We cannot pre­dict when a big hit will come, but by exam­ining Q—a stable factor—we can pre­dict that one will likely come in the future," Sinatra adds later. Here's an example of what that might look like:
The publication history of two Nobel laureates, Frank A. Wilczek (Nobel Prize in Physics, 2004) and John B. Fenn (Nobel Prize in Chemistry, 2002), illustrating that the highest-impact work can be, with the same probability, anywhere in the sequence of papers published by a scientist. Each vertical line corresponds to a research paper. The height of each line corresponds to paper impact, quantified with the number of citations the paper received after 10 years. Wilczek won the Nobel Prize for the very first paper he published, whereas Fenn published his Nobel-awarded work late in his career, after he was forcefully retired by Yale. [Image of Frank A. Wilczek is reprinted with permission of STS/Society for Science & the Public. Image of John B. Fenn is available for public domain use on Wikipedia.org.]
The probability of a scientist's first paper being enormously impactful is exactly the same as their last paper being enormously impactful. As the study authors write, "We find that the highest-impact work in a scientist's career is randomly distributed within her body of work. That is, the highest-impact work can be, with the same probability, anywhere in the sequence of papers published by a scientist." That probability remains regardless of discipline, career length, "working in different decades, and publishing solo or with teams and whether credit is assigned uniformly or unevenly among collaborators," according to the study.
"The composition of this Q quality, whatever you call it, is likely to vary in different fields," Dr. Dean Simonton of the University of California, Davis told The New York Times about the Northeastern study. "That's why you can see people who are highly successful in one field switch careers and not do so well."
The biggest factor for success? "Pro­duc­tivity and the will to keep trying that cor­re­sponds with great dis­cov­eries, whether the sci­en­tist is 20, 40, or even 70," explains Northeastern. "What mat­ters is not the timing of dis­cov­eries that could affect future gen­er­a­tions but that they hap­pened... under­standing that good sci­en­tists, if they have the resources to stay pro­duc­tive, could gen­erate future big dis­cov­eries, inde­pen­dent of age, is essen­tial for us to move for­ward in thinking about how to boost sci­ence."
And if they can do it, you can, too.
The scientists are essentially cultivating the habit of "deliberate practice," or pushing yourself slightly beyond your skill level. By utilizing deliberate practice every time you want to get better at something -- from building a business to learning a language to writing that novel for NaNoWriMo -- you increase your skill levels. You will most likely fail, but you'll learn how to overcome that obstacle and push past it next time. That creates an atmosphere for success, as author David Shenk told us:
So remember: the next time you want to succeed at something, keep trying. Or, as Barabási put it for The Times, "The bottom line is: Brother, never give up. When you give up, that's when your creativity ends."
Swipe right to make the connections that could change your career.
Getty Images
Sponsored
Swipe right. Match. Meet over coffee or set up a call.
No, we aren't talking about Tinder. Introducing Shapr, a free app that helps people with synergistic professional goals and skill sets easily meet and collaborate.
In his final years, Martin Luther King, Jr. become increasingly focused on the problem of poverty in America.
(Photo by J. Wilds/Keystone/Getty Images)
Politics & Current Affairs
Despite being widely known for his leadership role in the American civil rights movement, Martin Luther King, Jr. also played a central role in organizing the Poor People's Campaign of 1968.
The campaign was one of the first to demand a guaranteed income for all poor families in America.
Today, the idea of a universal basic income is increasingly popular, and King's arguments in support of the policy still make a good case some 50 years later.
10 of the most sandbagging, red-herring, and effective logical fallacies.
Personal Growth
Many an otherwise-worthwhile argument has been derailed by logical fallacies.
Sometimes these fallacies are deliberate tricks, and sometimes just bad reasoning.
Avoiding these traps makes disgreeing so much better.
For Damien Echols, tattoos are part of his existential armor.
Videos
In prison Damien Echols was known by his number SK931, not his name, and had his hair sheared off. Stripped of his identity, the only thing he had left was his skin.
This is why he began tattooing things that are meaningful to him — to carry a "suit of armor" made up the images of the people and objects that have significance to him, from his friends to talismans.
Echols believes that all places are imbued with divinity: "If you interact with New York City as if there's an intelligence behind... then it will behave towards you the same way."
Big think's weekly newsletter.
Get smarter faster from the comfort of your inbox.
See our newsletter privacy policy
here
Most Popular
Most Recent
Big think's weekly newsletter.
Get smarter faster from the comfort of your inbox.
See our newsletter privacy policy
here
© Copyright 2007-2018 & BIG THINK, BIG THINK EDGE,
SMARTER FASTER trademarks owned by The Big Think, Inc. All rights reserved.