Elon Musk Reveals Plan to Put 1 Million People on Mars
According to Elon Musk, it'll only take between 40 and 100 years to achieve a fully self-sustaining civilization on Mars. Here's how.
27 September, 2016
---
It would take between 40 and 100 years to achieve a fully self-sustaining civilization on Mars.
That's the biggest takeaway from Elon Musk's latest talk, called "Making Life Multiplanetary." Streamed live from the International Aeronautical Conference at about 3:00 pm EST on Tuesday September 27, Musk revealed his plan for humans to live on Mars in as little as 10 years.
But why Mars? "Our options within our solar system are limited," Elon explained to over 100,000 people watching live and online. "Venus is a super high-pressure hot acid bath. Mercury is too close to the sun. The moons of Jupiter or Saturn are too far away. That leaves us with one option: going to Mars. Our moon is challenging because it's smaller than a planet. It has no resources, no atmosphere. It has a 28-day long day. Mars is far better suited to scale up to be self-sustaining."
Difficult as that sounds, growing plants is not the biggest problem to creating a human civilization on Mars. To Musk, the biggest problem is cost.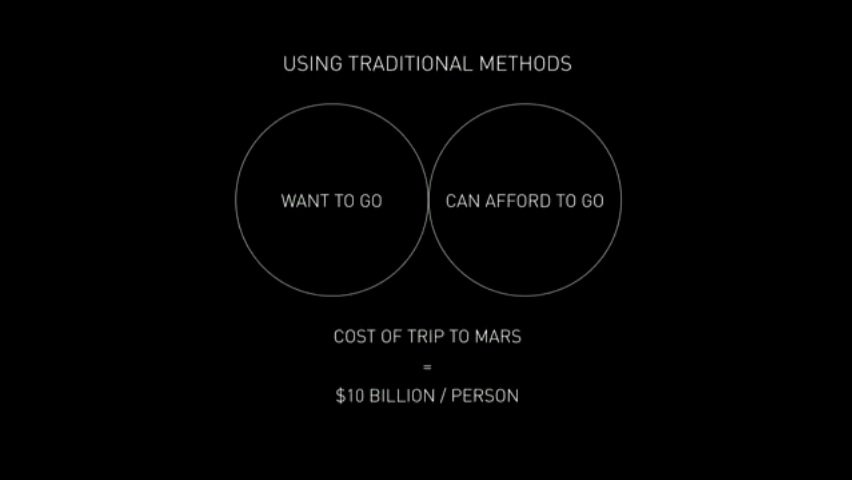 Credit: SpaceX
"We can't create a self-sustaining civilization if the cost per person is $10 billion," Musk said. "If we can get the cost down to the price of a house, which is $200,000 in the US, a self-sustaining civilization is possible." If you didn't do that math, that's a 5,000,000% price adjustment. Musk identified 4 ways to bring the price down: 1) full reusability; 2) refueling in orbit; 3) propellant production on Mars; 4) using the right propellant.
Reusability isn't something most rockets are designed to do. However, Musk's private spaceflight company SpaceX are designing the booster and tanker parts of the rocket to be used "as often as you like." They'll refill the spacecraft while it's in orbit waiting for the proper Mars/Earth alignment, which takes almost 2 years. Refilling a ship brings the price down by 500% because it allows for a smaller vehicle to be built, which is a lower development cost. Using the right kind of propellant also brings the price down 500%. It also allows for smaller vehicles, and will allow for those vehicles to be sent back from Mars instead of building and fueling new ones. "Mars has C02 in its atmosphere, and that makes it ideal for a propellant," Musk said. Methane is the most likely option.
Musk's private space development company SpaceX hopes to develop several pieces of technology that will make Mars self-sustaining and advance the boundaries of space travel. That's a tall order, even for SpaceX. But in the end it'll all be worth it for this:
Credit: SpaceX
All of the designs you see are made from SpaceX's engineering CAD models. They've already built the first tank for the spacecraft, and are working on the spacecraft body right now. Those are the two hardest parts of the plan according to Musk. Once they figure that out, everything'll be gravy.
"The hope is [to have] 1,000 ships waiting in orbit," Musk said. "The Mars Colonization fleet would leave en mass, kinda like Battlestar Galactica. We can load ships ahead of time, since we have 2 years to wait."
That said, it'll take a while to build enough ships. If we're going to build a civilization, we need at least 1 million people. That means up to 1,000 ships, making 20-50 Mars rendezvous every 2 years. Do the math and you'll see it'll take between 40 and 100 years to achieve a fully self-sustaining civilization on Mars.
Credit: SpaceX
The timeline is a little fuzzy right now, but the team is trying to make as much progress as they can. "[we want to] make Mars seem possible. Something we can do in our lifetimes," Musk explained. "[make] a way anyone can go if they wanted to." Hopefully they will.
But how? We'll fill you in on the technical details tomorrow.
--
Lumina Foundation is partnering with Big Think to unearth the next large-scale, rapid innovation in post-high school education. Enter the competition here!
Soon, parents may be able to prescribe music to their kids to help them focus.
Videos
Instead of prescribing medications to kids with ADD or ADHD, Clark and his team at Brain.fm are looking to music as another option for treatment.
Through a grant from the National Science Foundation, the company is developing music that features "neural-phase locking" — a combination of different principles that create specific characteristics in the brain, such as increased concentration or relaxation.
As long as they're listening to the music, the neural phase-locking aspect of Brain.fm's tunes has the potential to keep people focused.
There are four main stages. Each has its own particular set of advancements and challenges. 
Jordan Bruner. Vimeo.
popular
Don't you wish you could predict your child's behavior with 100 percent accuracy? Any realistic parent knows it's an impossible daydream, but an appealing one nonetheless. Kids will always surprise you. There are so many factors that go into behavior, not to mention the fact that internal and external forces can sometimes make kids act out of character.
"I should be as happy as I'm ever going to be right now, but I'm not. Is this it?"
Personal Growth
The life choices that had led me to be sitting in a booth underneath a banner that read "Ask a Philosopher" – at the entrance to the New York City subway at 57th and 8th – were perhaps random but inevitable.

Big think's weekly newsletter.
Get smarter faster from the comfort of your inbox.
See our newsletter privacy policy
here
Most Popular
Most Recent
Big think's weekly newsletter.
Get smarter faster from the comfort of your inbox.
See our newsletter privacy policy
here
© Copyright 2007-2018 & BIG THINK, BIG THINK EDGE,
SMARTER FASTER trademarks owned by The Big Think, Inc. All rights reserved.