Elon Musk Reveals Plan to Put 1 Million People on Mars
According to Elon Musk, it'll only take between 40 and 100 years to achieve a fully self-sustaining civilization on Mars. Here's how.
27 September, 2016
---
It would take between 40 and 100 years to achieve a fully self-sustaining civilization on Mars.
That's the biggest takeaway from Elon Musk's latest talk, called "Making Life Multiplanetary." Streamed live from the International Aeronautical Conference at about 3:00 pm EST on Tuesday September 27, Musk revealed his plan for humans to live on Mars in as little as 10 years.
But why Mars? "Our options within our solar system are limited," Elon explained to over 100,000 people watching live and online. "Venus is a super high-pressure hot acid bath. Mercury is too close to the sun. The moons of Jupiter or Saturn are too far away. That leaves us with one option: going to Mars. Our moon is challenging because it's smaller than a planet. It has no resources, no atmosphere. It has a 28-day long day. Mars is far better suited to scale up to be self-sustaining."
Difficult as that sounds, growing plants is not the biggest problem to creating a human civilization on Mars. To Musk, the biggest problem is cost.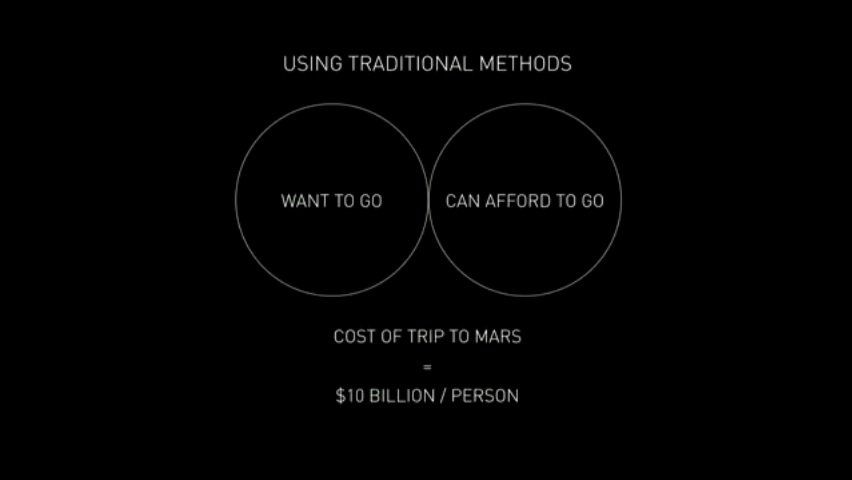 Credit: SpaceX
"We can't create a self-sustaining civilization if the cost per person is $10 billion," Musk said. "If we can get the cost down to the price of a house, which is $200,000 in the US, a self-sustaining civilization is possible." If you didn't do that math, that's a 5,000,000% price adjustment. Musk identified 4 ways to bring the price down: 1) full reusability; 2) refueling in orbit; 3) propellant production on Mars; 4) using the right propellant.
Reusability isn't something most rockets are designed to do. However, Musk's private spaceflight company SpaceX are designing the booster and tanker parts of the rocket to be used "as often as you like." They'll refill the spacecraft while it's in orbit waiting for the proper Mars/Earth alignment, which takes almost 2 years. Refilling a ship brings the price down by 500% because it allows for a smaller vehicle to be built, which is a lower development cost. Using the right kind of propellant also brings the price down 500%. It also allows for smaller vehicles, and will allow for those vehicles to be sent back from Mars instead of building and fueling new ones. "Mars has C02 in its atmosphere, and that makes it ideal for a propellant," Musk said. Methane is the most likely option.
Musk's private space development company SpaceX hopes to develop several pieces of technology that will make Mars self-sustaining and advance the boundaries of space travel. That's a tall order, even for SpaceX. But in the end it'll all be worth it for this:
Credit: SpaceX
All of the designs you see are made from SpaceX's engineering CAD models. They've already built the first tank for the spacecraft, and are working on the spacecraft body right now. Those are the two hardest parts of the plan according to Musk. Once they figure that out, everything'll be gravy.
"The hope is [to have] 1,000 ships waiting in orbit," Musk said. "The Mars Colonization fleet would leave en mass, kinda like Battlestar Galactica. We can load ships ahead of time, since we have 2 years to wait."
That said, it'll take a while to build enough ships. If we're going to build a civilization, we need at least 1 million people. That means up to 1,000 ships, making 20-50 Mars rendezvous every 2 years. Do the math and you'll see it'll take between 40 and 100 years to achieve a fully self-sustaining civilization on Mars.
Credit: SpaceX
The timeline is a little fuzzy right now, but the team is trying to make as much progress as they can. "[we want to] make Mars seem possible. Something we can do in our lifetimes," Musk explained. "[make] a way anyone can go if they wanted to." Hopefully they will.
But how? We'll fill you in on the technical details tomorrow.
--
Big Think Edge
The meaning of the word 'confidence' seems obvious. But it's not the same as self-esteem.
Confidence isn't just a feeling on your inside. It comes from taking action in the world.
Join Big Think Edge today and learn how to achieve more confidence when and where it really matters.
Lauren Miranda sent a nude selfie to a boyfriend years ago. Somehow one of her students discovered it.
Politics & Current Affairs
Math teacher Lauren Miranda was fired from her Long Island school when a topless selfie surfaced.
Miranda had only shared the photo with her ex-boyfriend, who is also a teacher in the school district.
She's suing the school for $3 million as well as getting her job back, citing gender discrimination.
If you're lacking confidence and feel like you could benefit from an ego boost, try writing your life story.
Personal Growth
In truth, so much of what happens to us in life is random – we are pawns at the mercy of Lady Luck. To take ownership of our experiences and exert a feeling of control over our future, we tell stories about ourselves that weave meaning and continuity into our personal identity.
Big think's weekly newsletter.
Get smarter faster from the comfort of your inbox.
See our newsletter privacy policy
here
Most Popular
Most Recent
Big think's weekly newsletter.
Get smarter faster from the comfort of your inbox.
See our newsletter privacy policy
here
© Copyright 2007-2019 & BIG THINK, BIG THINK EDGE,
SMARTER FASTER trademarks owned by The Big Think, Inc. All rights reserved.