A lack of sleep makes your brain eat itself, new research suggests
New study suggests chronic sleep-deprivation causes overactivity in the brain's self-cleaning mechanism, leading to the destruction of healthy cells.
01 June, 2017
---
Weird, shape-shifting glial cells are your brain's caretakers. They're the first responders in the event of a head injury, and — having colonized every nook and cranny of the place while you were still in the womb — they're your cranial custodians. These tentacled helpers clear out the junk and are vital to keeping your brain smoothly humming along. But now a new study has discovered something startling about them: they eat healthy brain cells in mice who don't get enough shut-eye. And maybe in us, too.
The study, by Michele Bellesi, Luisa De Vivo, Mattia Chini, and Chiara Chirelli, looked at two kinds of glial cells in mice:
astrocytes are like gardeners for your neural synapses, pruning away bits you don't use to continually keep your wiring tidy and efficient.
microglial cells are the garbage collectors, constantly on the lookout for used-up cells and other stuff that could get in the way.
There were three groups of mice in the study. The first group could sleep as long as they wanted, the second group was kept awake an extra eight hours before being allowed to sleep, and the third were kept away for five days to mimic chronic sleep loss. The researchers found that both kinds of glial cells put in destructive overtime in tired mice's brains.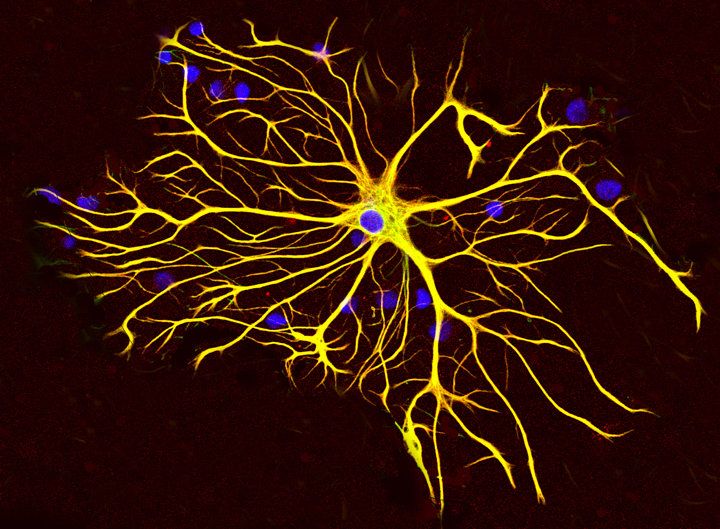 Astrocyte (GERRY SHAW)
In the group of well-rested mice, astrocytes were seen to be active in about 6% of a mouse's synapses. In mice whose sleep had been delayed, they appeared in a larger 8%. And in the profoundly sleep-deprived mice, astrocytes were active in 13.5% of the synapses, more than double the areas of activity in the well-rested mice. "We show for the first time that portions of synapses are literally eaten by astrocytes because of sleep loss," asserts Bellesi.
Whether this is a good or bad thing is unclear. Some of the pruning was done to the largest synapses: well-used, mature connections. Bellisi suspects, "They are like old pieces of furniture, and so probably need more attention and cleaning."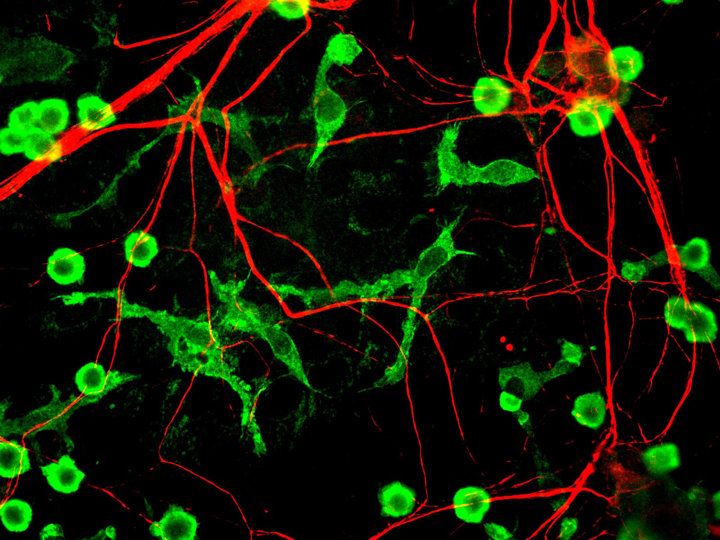 Microglia and neurons (GERRY SHAW)
More worrying is the similar increase in activity discovered in microglial cells of sleep-deprived mice. Overactive microglial cells in humans have been previously linked to a variety of brain disorders. Bellisi again: "We already know that sustained microglial activation has been observed in Alzheimer's and other forms of neurodegeneration." Other studies have also linked sleep deprivation to the onset of dementia, and this could be the mechanism at work.
Assuming the results in this study of mice also hold true for humans, the obvious takeaway is that we should all be careful to get the sleep we need. According to the Sleep Foundation, these are the current recommendations for how much sleep you should be getting:
Newborns (0-3 months): Sleep range narrowed to 14-17 hours each day (previously it was 12-18)
Infants (4-11 months): Sleep range widened two hours to 12-15 hours (previously it was 14-15)
Toddlers (1-2 years): Sleep range widened by one hour to 11-14 hours (previously it was 12-14)
Preschoolers (3-5): Sleep range widened by one hour to 10-13 hours (previously it was 11-13)
School age children (6-13): Sleep range widened by one hour to 9-11 hours (previously it was 10-11)
Teenagers (14-17): Sleep range widened by one hour to 8-10 hours (previously it was 8.5-9.5)
Younger adults (18-25): Sleep range is 7-9 hours (new age category)
Adults (26-64): Sleep range did not change and remains 7-9 hours
Older adults (65+): Sleep range is 7-8 hours (new age category)
Rest well!
Former president of the ACLU Nadine Strossen discusses whether our society should always defend free speech rights, even for groups who would oppose such rights.
Sponsored by Charles Koch Foundation
Former ACLU president Nadine Strossen understands that protecting free speech rights isn't always a straightforward proposition.
In this video, Strossen describes the reasoning behind why the ACLU defended the free speech rights of neo-Nazis in Skokie, Illinois, 1977.
The opinions expressed in this video do not necessarily reflect the views of the Charles Koch Foundation, which encourages the expression of diverse viewpoints within a culture of civil discourse and mutual respect.
Designers from Luxembourg created a smart planter that can make anyone have a green thumb.
Technology & Innovation
A design team came up with a smart planter that can indicate 15 emotions.
The emotions are derived from the sensors placed in the planter.
The device is not in production yet but you can order it through a crowdfunding campaign.
Autism is a widely misunderstood condition surrounded by falsehoods, half-truths, and cultural assumptions.
Mind & Brain
Autism-spectrum disorder covers a wide range of neurodevelopmental conditions that are highly individualized.
The prevalence of autism continues to increase in the United States, not due to vaccines but increased awareness and improved diagnosis.
Autism awareness is crucial as treatment strategies are more effective if accessed early.
Big Think Edge
Often times, interactions that we think are "zero-sum" can actually be beneficial for both parties.
Ask, What outcome will be good for both parties? How can we achieve that goal?
Afraid the win-win situation might not continue? Build trust by creating a situation that increases the probability you and your counterpart will meet again.