The Fourth Industrial Revolution is here. We need a new education model.
The job market of tomorrow will require people to develop their technical capacity in tandem with human-only skills.
Kevin Dickinson
Kevin Dickinson has been an independent writing consultant since 2011. During that time, he's worked as an educator, editor, journalist, and researcher, and written on subjects ranging from religion to Dr. Seuss, film history to Mars' surplus of iron oxide.
04 February, 2020
Photo: Kenzie Academy
Technological advancements are predicted to take as many as 75 million jobs from humans worldwide before 2022. However, 133 million new jobs are expected to be created in that same time.
Software developer jobs are growing more than 4x faster than other occupations, a demand that translates to a median wage of $105,590 per year (or $50.77 per hour).
Kenzie Academy, an online software and UX engineering school with an innovative tuition model, teaches technical skills along with soft skills like problem-solving, critical thinking, and team collaboration.
---
Every now and then, seismic shifts remap the economic landscape. While these afford opportunities for some, they can also swallow the jobs people and communities rely on to support careers and livelihoods. Just ask any lamplighter, log driver, or switchboard operator.
Even jobs that are the staples of history—our butchers, bakers, and candlestick makers—feel the aftershocks. Not long ago, these professions were the linchpins of any community. Today, they are split between small, artisanal craftspeople and mega-factories where a handful of people produce enough supply to provision several communities.
And we're already charting the tremors of the next shift. Called the Fourth Industrial Revolution by Klaus Schwab, founder and executive chairman of the World Economic Forum, it will see artificial intelligence, digital technology, and advancements in automation supplant vast swaths of the human workforce across many industries.
The Fourth Industrial Revolution is already underway. Image: Shutterstock
Can we future-proof our careers and livelihoods for this enormous change? Yes, and organizations like Kenzie Academy are moving quickly to help workers develop the skills that will remain firmly in demand in the Fourth Industrial Revolution.
Don't go the way of the lamplighter
Lamplighters went extinct because electric lines and power grids made their jobs obsolete. Switchboard operators endured a similar fate. As noted by the World Economic Forum in The Future of Jobs Report 2018: "There are complex feedback loops between new technology, jobs and skills. New technologies can drive business growth, job creation and demand for specialist skills but they can also displace entire roles when certain tasks become obsolete or automated."
According to that report, 75 million current jobs are potentially on the line in the upcoming revolution. Unsurprisingly, manufacturing is forecasted to continue hemorrhaging jobs. Despite greater overall output, the U.S. has lost about 7.5 million jobs since 1980. Many blame global trade and shifts in competition for the losses. While those have certainly been catalytic, so has automation and other technological advances.
Other industries that could automate a substantial portion of their workforces include agriculture, food services, transportation, and other forms of manual labor.
At first blush, this places the report in line with folk knowledge that sees the common denominator for occupations in decline to be a lack of high-level education. However, the World Economic Forum also predicts occupations such as paralegals, accountants, administration managers, executive secretaries, and data entry clerks to contract.
That's because the common denominator isn't education; it's job-ready skills.
Precision and manual labor can be performed better, and more safely, by a machine. Similarly, as artificial intelligence advances, digital technology will be able to outperform people in speed and accuracy when it comes to many mental labors. To name a few: memory, mathematics, data collection, time management, and pattern recognition. And the more repetitive an occupation's core functions, the higher the risk it can be automated or computerized.
Hard skills, meet soft skills
The World Economic Forum has defined a new set of skills (left) most required for the jobs of the future. Importantly, they're a mix of hard and soft skills. On the right are the 10 skills that are becoming less important.
Source: Future of Jobs Report 2018, World Economic Forum
So, is the future job market some judgment day-scenario where technology and artificial intelligence take all the jobs to render humans obsolete? Hardly. The bleak picture above is only half the prognosis. The World Economic Forum's report also foresees 133 million new jobs emerging by 2022 to offset the losses.
The catch? Those jobs require tech skills that many working-age people aren't currently trained for.
Schools like Kenzie Academy understand that in-demand soft skills including creativity, innovation, active learning, critical thinking, emotional intelligence, and problem-solving—that is, "human skills"—are not easily duplicated by an app. That is why they are aiming to teach hard skills like technical design and programming alongside the ability to work with a team, problem solving, and even interpersonal skills like interviewing and networking.
Millions of new jobs will emerge in the technology sector: data analysts, machine-learning specialists, software and application developers, new-technology specialists, and Kenzie is taking the lead to make people job-ready.
The fastest-growing occupation in America
Photo: Kenzie Academy
Software developers are already enjoying the windfall of the Fourth Industrial Revolution. The Bureau of Labor Statistics projects software development to be among the United States' fastest-growing occupations from 2018–28, increasing at the "much faster than average" rate of 21 percent. In 2018, that demand translated to a median wage of $105,590 per year (or $50.77 per hour).
Kenzie Academy, a campus-based and online software and UX engineering school, focuses its educational model on software development and UX design to prepare its students for that future. Co-founder and CEO Chok Ooi explains the school's philosophy: "Students learn by building projects and solving problems daily under the guidance of industry practitioners. We teach technical skills along with workplace skills like problem-solving, critical thinking, and team collaboration which are equally important for students to master."
Notice the overlap of both hard and soft skills that match the World Economic Forum's analysis. Kenzie teaches students the technical skills and the soft, human skills that are not reproducible in the digital space. Both are essential to the 21st-century marketplace and thriving in a world community bound by shared, interconnected technology.
"It's not just a skill; it's a new language that controls a majority of our world and knowing it will give you opportunities to work in new fields and be ready for the future of work. It is a language that transcends borders and can allow people to work with organizations around the world," says Steven Miller, team member at Kenzie Academy.
Speeding up adaptation
The solution seems easy enough: adaptation. If the skillsets of the current workforce are no longer marketable, we need to develop ways to build new ones or upskill old ones. Were it so simple. Unfortunately, many social and economic barriers impose themselves between large portions of the population and the education and networks necessary for entry into these occupations.
"Our current education system adapts to change too slowly and operates too ineffectively for this new world," Stephane Kasriel, former CEO of Upwork, writes in an article for the World Economic Forum.
Kasriel argues that our education system must be overhauled to meet the future's challenges. It should be a lifelong pursuit, one accessible to citizens regardless of social and economic status. It should also be rewired to equip people with the "meta-skills" machines aren't good at yet, like entrepreneurship, teamwork, and curiosity—not designed toward rote memorization of facts on a test.
He adds: "Skills, not college pedigree, will be what matters for the future workforce—so while we should make sure college is affordable, we should also make sure higher education is still worth the cost, or revisit it entirely and leverage more progressive approaches to skills training. Skills-focused vocational programmes, as well as other ways to climb the skill ladder (such as apprenticeships), should be widely accessible and affordable."
Rethinking student debt
Another barrier is financial. Few people can afford to pay for a bachelor's degree and those who can't take on immense debt to try. This leads to an untenable pattern where the debt, not the learning, becomes the lifelong pursuit.
Kenzie Academy's solution is a unique income share agreement that doesn't force students to repay their tuition fees until they earn a baseline of $40,000 a year. When they begin, they repay 13 percent of income for up to four years. The school also secured $100 million in financing to help further reduce the financial burden.
"There are millions of Americans who are barred from high-quality post-secondary education because of where they live and their financial situation. And many who are 'lucky enough' to go to college find themselves buried in debt and without a job," said Ooi in a release announcing the funding. "This $100 million will level the playing field, enabling deserving individuals, regardless of their background, to access high-quality training that leads to a high paying job in tech for only $100 upfront."
Is the future secure?
The jobs landscape in 2022. Source: Future of Jobs Report 2018, World Economic Forum
Will software development and other emerging jobs one day go the way of log drivers and lamplighters? Will Silicon Valley become tomorrow's Rust Belt? While possible, that future is incredibly unlikely or, at the very least, far off.
In a 2013 study out of Oxford University, researchers used a Gaussian process classifier to estimate the probability that occupations could be computerized. The researchers assigned a probability for 702 jobs. The probability that software development would be computerized was 4.2 percent. The top 10 emerging jobs roles listed by the World Economic Forum in its Future of Jobs Report: 2018 held similarly low probability. (For the record, the researchers found that occupations such as telemarketers, insurance underwriters, and mathematical technicians all faced a 99 percent probability of computerization.)
Because of their proximity, artificial intelligence and programming jobs are certainly interconnected. Despite this, the trend today is for A.I.-powered tools to take on programming's busywork, leaving the programmer the time to solve novel and complex problems in creative ways.
Of course, no one can divine the future. Some paradigm shift may one day invent an app that's better at being human than, well, humans. Until then, the future of work looks to value the very skills that make us human—and some technical know-how too.

Ready to learn the skills needed for the future of work? Click here to learn more: Kenzie.Academy
More From Kevin Dickinson
Related Articles
Scientists do not know what is causing the overabundance of the gas.
Credit: NASA
Surprising Science
A new study looked to understand the source of methane on Saturn's moon Enceladus.
The scientists used computer models with data from the Cassini spacecraft.
The explanation could lie in alien organisms or non-biological processes.
Something is producing an overabundance of methane in the ocean hidden under the ice of Saturn's moon Enceladus. A new study analyzed if the source could be an alien life form or some other explanation.
The study, published in Nature Astronomy, was carried out by scientists at the University of Arizona and Paris Sciences & Lettres University, who looked at composition data from the water plumes erupting on Enceladus.
The particular chemistry, discovered by the Cassini spacecraft which flew through the plumes, suggested a high concentration of molecules that have been linked to hydrothermal vents on the bottom of Earth's oceans. Such vents are potential cradles of life on Earth, according to previous studies. The data from Cassini, which has been studying Saturn after entering its orbit in 2004, revealed the presence of molecular hydrogen (dihydrogen), methane, and carbon dioxide, with the amount of methane presenting a particular interest to the scientists.
"We wanted to know: Could Earthlike microbes that 'eat' the dihydrogen and produce methane explain the surprisingly large amount of methane detected by Cassini?"
shared
one of the study's lead authors Régis Ferrière, an associate professor in the department of Ecology and Evolutionary Biology at the University of Arizona.
Earth's hydrothermal vents feature microorganisms that use dihydrogen for energy, creating methane from carbon dioxide via the process of methanogenesis.

Searching for such microorganisms known as methanogens on the seafloor of Enceladus is not yet feasible. Likely, it would require very sophisticated deep diving operations that will be the objective of future missions.
So, Ferrière's team took a more available approach to pinpointing the origins of the methane, creating mathematical models that attempted to explain the Cassini data. They wanted to calculate the likelihood that particular processes were responsible for producing the amount of methane observed. For example, is the methane more likely the result of biological or non-biological processes?
They found that the data from Cassini was consistent with either microbial activity at hydrothermal vents or processes that have nothing to do with life but could be quite different from what happens on Earth. Intriguingly, models that didn't involve biological entities didn't seem to produce enough of the gas.
"Obviously, we are not concluding that life exists in Enceladus' ocean," Ferrière stated. "Rather, we wanted to understand how likely it would be that Enceladus' hydrothermal vents could be habitable to Earthlike microorganisms. Very likely, the Cassini data tell us, according to our models."

Still, the scientists think future missions are necessary to either prove or discard the "life hypothesis." One explanation for the methane that does not involve biological organisms is that the gas is the result of a chemical breakdown of primordial organic matter within Enceladus' core. This matter could have become a part of Saturn's moon from comets rich in organic materials.
It marks a breakthrough in using gene editing to treat diseases.
Credit
: National Cancer Institute via Unsplash
Technology & Innovation
This article was originally published by our sister site, Freethink.
For the first time, researchers appear to have effectively treated a genetic disorder by directly injecting a CRISPR therapy into patients' bloodstreams — overcoming one of the biggest hurdles to curing diseases with the gene editing technology.
The therapy appears to be astonishingly effective, editing nearly every cell in the liver to stop a disease-causing mutation.
The challenge: CRISPR gives us the ability to correct genetic mutations, and given that such mutations are responsible for more than 6,000 human diseases, the tech has the potential to dramatically improve human health.
One way to use CRISPR to treat diseases is to remove affected cells from a patient, edit out the mutation in the lab, and place the cells back in the body to replicate — that's how one team functionally cured people with the blood disorder sickle cell anemia, editing and then infusing bone marrow cells.
Bone marrow is a special case, though, and many mutations cause disease in organs that are harder to fix.
Another option is to insert the CRISPR system itself into the body so that it can make edits directly in the affected organs (that's only been attempted once, in an ongoing study in which people had a CRISPR therapy injected into their eyes to treat a rare vision disorder).
Injecting a CRISPR therapy right into the bloodstream has been a problem, though, because the therapy has to find the right cells to edit. An inherited mutation will be in the DNA of every cell of your body, but if it only causes disease in the liver, you don't want your therapy being used up in the pancreas or kidneys.
A new CRISPR therapy: Now, researchers from Intellia Therapeutics and Regeneron Pharmaceuticals have demonstrated for the first time that a CRISPR therapy delivered into the bloodstream can travel to desired tissues to make edits.
We can overcome one of the biggest challenges with applying CRISPR clinically.

—JENNIFER DOUDNA

"This is a major milestone for patients," Jennifer Doudna, co-developer of CRISPR, who wasn't involved in the trial, told NPR.
"While these are early data, they show us that we can overcome one of the biggest challenges with applying CRISPR clinically so far, which is being able to deliver it systemically and get it to the right place," she continued.
What they did: During a phase 1 clinical trial, Intellia researchers injected a CRISPR therapy dubbed NTLA-2001 into the bloodstreams of six people with a rare, potentially fatal genetic disorder called transthyretin amyloidosis.
The livers of people with transthyretin amyloidosis produce a destructive protein, and the CRISPR therapy was designed to target the gene that makes the protein and halt its production. After just one injection of NTLA-2001, the three patients given a higher dose saw their levels of the protein drop by 80% to 96%.
A better option: The CRISPR therapy produced only mild adverse effects and did lower the protein levels, but we don't know yet if the effect will be permanent. It'll also be a few months before we know if the therapy can alleviate the symptoms of transthyretin amyloidosis.
This is a wonderful day for the future of gene-editing as a medicine.

—FYODOR URNOV

If everything goes as hoped, though, NTLA-2001 could one day offer a better treatment option for transthyretin amyloidosis than a currently approved medication, patisiran, which only reduces toxic protein levels by 81% and must be injected regularly.
Looking ahead: Even more exciting than NTLA-2001's potential impact on transthyretin amyloidosis, though, is the knowledge that we may be able to use CRISPR injections to treat other genetic disorders that are difficult to target directly, such as heart or brain diseases.
"This is a wonderful day for the future of gene-editing as a medicine," Fyodor Urnov, a UC Berkeley professor of genetics, who wasn't involved in the trial, told NPR. "We as a species are watching this remarkable new show called: our gene-edited future."
A new government report describes 144 sightings of unidentified aerial phenomena.
Surprising Science
The military has rebranded unidentified flying objects as unidentified aerial phenomena – UAPs – in part to avoid the stigma that has been attached to claims of aliens visiting the Earth since the Roswell incident in 1947. The report presents no convincing evidence that alien spacecraft have been spotted, but some of the data defy easy interpretation.
I'm a professor of astronomy who has written extensively on the search for life in the universe. I also teach a free online class on astrobiology. I do not believe that the new government report or any other sightings of UFOs in the past are proof of aliens visiting Earth. But the report is important because it opens the door for a serious look at UFOs. Specifically, it encourages the U.S. government to collect better data on UFOs, and I think the release of the report increases the chances that scientists will try to interpret that data. Historically, UFOs have felt off limits to mainstream science, but perhaps no more.
Three videos from the U.S. military sparked a recent surge in interest in UFOs.
What's in the UFO report?
The No. 1 thing the report focuses on is the lack of high-quality data. Here are the highlights from the slender nine-page report, covering a total of 144 UAP sightings from U.S. government sources between 2004 and 2021:
"Limited data and inconsistent reporting are key challenges to evaluating UAP."
Some observations "could be the result of sensor errors, spoofing, or observer misperception."
"UAP clearly pose a safety of flight issue and may pose a challenge to U.S. national security."
Of the 144 sightings, the task force was "able to identify one reported UAP with high confidence. In that case, we identified the object as a large, deflating balloon. The others remain unexplained."
"Some UAP many be technologies deployed by China, Russia, another nation, or non-governmental entity."
UFOs are taboo among scientists
UFO means unidentified flying object. Nothing more, nothing less. You'd think scientists would enjoy the challenge of solving this puzzle. Instead, UFOs have been taboo for academic scientists to investigate, and so unexplained reports have not received the scrutiny they deserve.
One reason is that most scientists think there is less to most reports than meets the eye, and the few who have dug deeply have mostly debunked the phenomenon. Over half of sightings can be attributed to meteors, fireballs and the planet Venus.
Another reason for the scientific hesitance is that UFOs have been co-opted by popular culture. They are part of a landscape of conspiracy theories that includes accounts of abduction by aliens and crop circles. Scientists worry about their professional reputations, and the association of UFOs with these supernatural stories causes most researchers to avoid the topic.
But some scientists have looked. In 1968, Edward U. Condon at the University of Colorado published the first major academic study of UFO sightings. The Condon Report put a damper on further research when it found that "nothing has come from the study of UFOs in the past 21 years that has added to scientific knowledge."
However, a review in 1998 by a panel led by Peter Sturrock, a professor of applied physics at Stanford University, concluded that some sightings are accompanied by physical evidence that deserves scientific study. Sturrock also surveyed professional astronomers and found that nearly half thought UFOs were worthy of scientific study, with higher interest among younger and more well-informed astronomers.
If astronomers are intrigued by UFOs – and believe some cases deserve study with academic rigor – what's holding them back? A history of mistrust between ufologists and scientists hasn't helped. And while UFO research has employed some of the tools of the scientific method, it has not had the core of skeptical, evidence-based reasoning that demarcates science from pseudoscience.
A search of 90,000 recent and current grants awarded by the National Science Foundation finds none addressing UFOs or related phenomena. I've served on review panels for 35 years, and can imagine the reaction if such a proposal came up for peer review: raised eyebrows and a quick vote not to fund.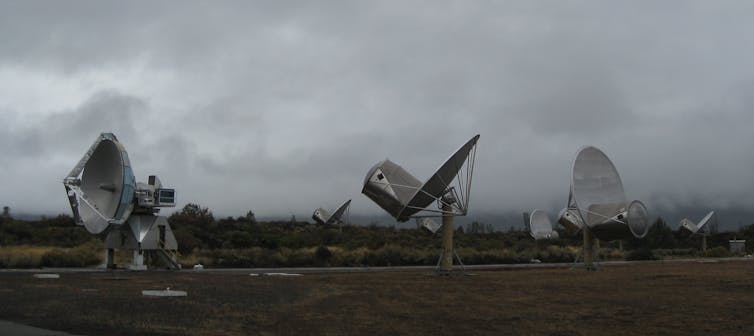 Radio telescopes like the Allen Telescope Array seen here scan the sky looking for signs of intelligent life in the universe. (Brewbooks/Wikimedia Commons, CC BY-SA)
A decadeslong search for aliens
While the scientific community has almost entirely avoided engaging with UFOs, a much more mainstream search for intelligent aliens and their technology has been going on for decades.
The search is motivated by the fact that astronomers have, to date, discovered over 4,400 planets orbiting other stars. Called exoplanets, some are close to the Earth's mass and at just the right distance from their stars to potentially have water on their surfaces – meaning they might be habitable.
Astronomers estimate that there are 300 million habitable worlds in the Milky Way galaxy alone, and each one is a potential opportunity for life to develop and for intelligence and technology to emerge. Indeed, most astronomers think it very unlikely that humans are the only or the first advanced civilization.
This confidence has fueled an active search for extraterrestrial intelligence, known as SETI. It has been unsuccessful so far. As a result, researchers have recast the question "Are we alone?" to "Where are the aliens?" The absence of evidence for intelligent aliens is called the Fermi paradox. First articulated by the physicist Enrico Fermi, it's a paradox because advanced civilizations should be spread throughout the galaxy, yet we see no sign of their existence.
The SETI activity has not been immune from scientists' criticism. It was starved of federal funding for decades and recently has gotten most of its support from private sources. However, in 2020, NASA resumed funding for SETI, and the new NASA administrator wants researchers to pursue the topic of UFOs.
In this context, the intelligence report is welcome. The report draws few concrete conclusions about UFOs and avoids any reference to aliens or extraterrestrial spacecraft. However, it notes the importance of destigmatizing UFOs so that more pilots report what they see. It also sets a goal of moving from anecdotal observations to standardized and scientific data collection. Time will tell if this is enough to draw scientists into the effort, but the transparency to publish the report at all reverses a long history of secrecy surrounding U.S. government reports on UFOs.
I don't see any convincing evidence of alien spacecraft, but as a curious scientist, I hope the subset of UFO sightings that are truly unexplained gets closer study. Scientists are unlikely to weigh in if their skepticism generates attacks from "true believers" or they get ostracized by their colleagues. Meanwhile, the truth is still out there.
This article has been updated to clarify that the report was produced by the Office of the Director of National Intelligence.
Chris Impey, University Distinguished Professor of Astronomy, University of Arizona
This article is republished from The Conversation under a Creative Commons license. Read the original article.
Big think's weekly newsletter.
Get smarter faster from the comfort of your inbox.
See our newsletter privacy policy
here
Most Popular
Most Recent
Big think's weekly newsletter.
Get smarter faster from the comfort of your inbox.
See our newsletter privacy policy
here
© Copyright 2007-2020 & BIG THINK, BIG THINK EDGE,
SMARTER FASTER trademarks owned by Freethink Media, Inc. All rights reserved.