Big ideas.
Once a week.
Subscribe to our weekly newsletter.
Why Traveling Abroad Makes Us More Creative Part II
28 August, 2012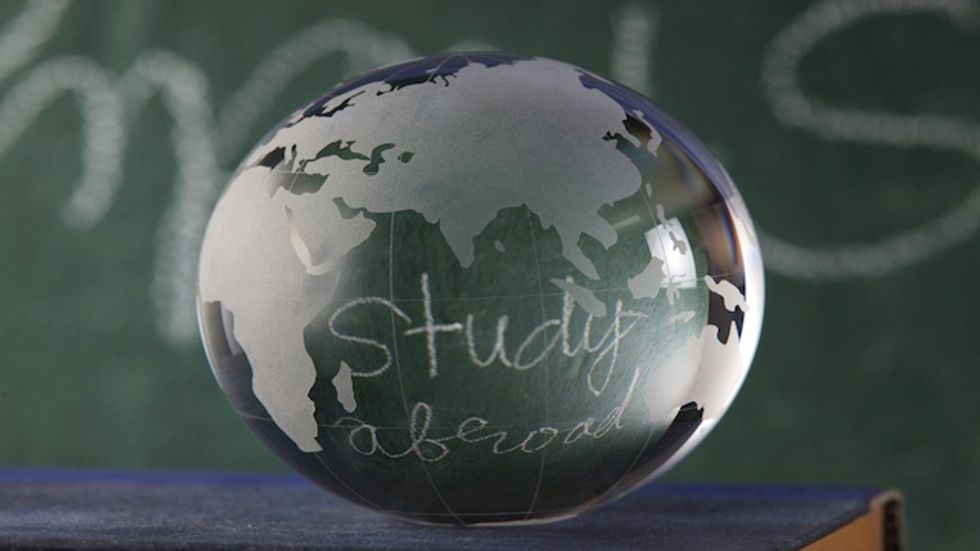 A few months ago I reported on a 2009 study out of the Kellogg School of Management by William Maddux and Adam Galinsky. Through a series of five studies Maddux and Galinsky found that students who traveled abroad scored higher on tests of creativity (for example, they solved Duncker's candle problem more frequently). That is, walking the streets of Berlin, Bangkok or Beijing influences us to see things from multiple perspectives, it leaves a residue on our minds that makes it easier to see one thing as having multiple meanings.
---
Recent experiments out of Indiana University demonstrate complementary results. In one study, professor Lile Jia and his colleagues asked participants to list as many different modes of transportation as possible. Here was the twist: they told half of the participants that Indiana University students studying in Greece (distant condition) created the task; the other half were told Indiana University students studying in Indiana (near condition) were the creators. Jia and his team found that participants in the distant condition generated more modes of transportation and were more original with their ideas – even "psychological distance" boosts creativity.
A wealth of research on multicultural experiences highlights numerous benefits for creativity, but several questions remain. For instance, is creativity domain specific or general? And does traveling abroad contribute to the later or the former? Are previous findings causal or correlative? After all, students who go abroad might be endowed with an open and creative mindset in the first place. 
This brings me to a brand new study from a team of researchers out of the University of Florida, Gainesville, including Christine Lee, David Therriault, and Tracy Linderholm. For their study they gathered three groups of undergrads; 45 had studied abroad, 45 were planning to study abroad, and 45 had no interest in studying abroad.
They tasked them with two creativity tests. The first was the Abbreviated Torrance Test for Adults (ATTA), which included three activities. For the first participants identified the troubles they might encounter if they could "walk on air or fly without being in an airplane or similar vehicle." Second, participants were "given two incomplete figures and asked to draw pictures with the figures." In the last test, the researchers had the undergrads draw pictures using nine identical isosceles triangles. The purpose of the ATTA was to test general creativity.
The second test was the Cultural Creativity Task (CCT), created by Lee and her colleagues back in 2011. In contrast to the ATTA, the CCT tested culture specific creative thinking. For example, the participants responded to the following scenarios: waking up with a different skin color, demonstrating high social status, developing new dishes using exotic ingredients, and creating a product that will have universal appeal.
The first thing the scientists found was that students who studied abroad scored higher on the CCT. This means that when it comes cultural specific creativity students who lived abroad outperformed those who did not. So far, so obvious. However, the team also found that the study abroad group scored higher on the ATTA, which measures general creativity. Taken together, both results "indicate that students who studied abroad demonstrate superior creative thinking on both a culture specific and a domain general measure of creative thinking compared with students who have not studied abroad."
In a recent email exchange Lee put it this way:
We were excited to find that students who studied abroad generated ideas that were higher in quality and more novel on both a general as well as culture-specific measure of creativity (compared to students who did not study abroad). We believe our findings have relevant implications regarding the benefits of multicultural experiences on creative thinking.
That said, she cautioned that, "replicating our findings in future studies using a pre-post design (testing students before and after they study abroad), and controlling for factors such as location and length of study, would greatly bolster the promising findings from our study." Doing so should better answer the question of the results being causal or correlative.
Until then, if you're given a chance to wander the world, take it. A stroll through the neighborhoods of Berlin, Bangkok or Beijing might not change your life, but it will leave a cultural footprint on your mind - one that will influence you to generate more creative solutions to everyday problems. 
Image via Shuttershock
And a special thanks to Christine Lee. (Linkedin page)
Inventions with revolutionary potential made by a mysterious aerospace engineer for the U.S. Navy come to light.
Credit: Getty Images
Surprising Science
U.S. Navy holds patents for enigmatic inventions by aerospace engineer Dr. Salvatore Pais.
Pais came up with technology that can "engineer" reality, devising an ultrafast craft, a fusion reactor, and more.
While mostly theoretical at this point, the inventions could transform energy, space, and military sectors.
The U.S. Navy controls patents for some futuristic and outlandish technologies, some of which, dubbed "the UFO patents," came to life recently. Of particular note are inventions by the somewhat mysterious Dr. Salvatore Cezar Pais, whose tech claims to be able to "engineer reality." His slate of highly-ambitious, borderline sci-fi designs meant for use by the U.S. government range from gravitational wave generators and compact fusion reactors to next-gen hybrid aerospace-underwater crafts with revolutionary propulsion systems, and beyond.
Of course, the existence of patents does not mean these technologies have actually been created, but there is evidence that some demonstrations of operability have been successfully carried out. As investigated and reported by The War Zone, a possible reason why some of the patents may have been taken on by the Navy is that the Chinese military may also be developing similar advanced gadgets.
Among Dr. Pais's patents are designs, approved in 2018, for an aerospace-underwater craft of incredible speed and maneuverability. This cone-shaped vehicle can potentially fly just as well anywhere it may be, whether air, water or space, without leaving any heat signatures. It can achieve this by creating a quantum vacuum around itself with a very dense polarized energy field. This vacuum would allow it to repel any molecule the craft comes in contact with, no matter the medium. Manipulating "quantum field fluctuations in the local vacuum energy state," would help reduce the craft's inertia. The polarized vacuum would dramatically decrease any elemental resistance and lead to "extreme speeds," claims the paper.
Not only that, if the vacuum-creating technology can be engineered, we'd also be able to "engineer the fabric of our reality at the most fundamental level," states the patent. This would lead to major advancements in aerospace propulsion and generating power. Not to mention other reality-changing outcomes that come to mind.
Among Pais's other patents are inventions that stem from similar thinking, outlining pieces of technology necessary to make his creations come to fruition. His paper presented in 2019, titled "Room Temperature Superconducting System for Use on a Hybrid Aerospace Undersea Craft," proposes a system that can achieve superconductivity at room temperatures. This would become "a highly disruptive technology, capable of a total paradigm change in Science and Technology," conveys Pais.
High frequency gravitational wave generator.
Credit: Dr. Salvatore Pais
Another invention devised by Pais is an electromagnetic field generator that could generate "an impenetrable defensive shield to sea and land as well as space-based military and civilian assets." This shield could protect from threats like anti-ship ballistic missiles, cruise missiles that evade radar, coronal mass ejections, military satellites, and even asteroids.
Dr. Pais's ideas center around the phenomenon he dubbed "The Pais Effect". He referred to it in his writings as the "controlled motion of electrically charged matter (from solid to plasma) via accelerated spin and/or accelerated vibration under rapid (yet smooth) acceleration-deceleration-acceleration transients." In less jargon-heavy terms, Pais claims to have figured out how to spin electromagnetic fields in order to contain a fusion reaction – an accomplishment that would lead to a tremendous change in power consumption and an abundance of energy.
According to his bio in a recently published paper on a new Plasma Compression Fusion Device, which could transform energy production, Dr. Pais is a mechanical and aerospace engineer working at the Naval Air Warfare Center Aircraft Division (NAWCAD), which is headquartered in Patuxent River, Maryland. Holding a Ph.D. from Case Western Reserve University in Cleveland, Ohio, Pais was a NASA Research Fellow and worked with Northrop Grumman Aerospace Systems. His current Department of Defense work involves his "advanced knowledge of theory, analysis, and modern experimental and computational methods in aerodynamics, along with an understanding of air-vehicle and missile design, especially in the domain of hypersonic power plant and vehicle design." He also has expert knowledge of electrooptics, emerging quantum technologies (laser power generation in particular), high-energy electromagnetic field generation, and the "breakthrough field of room temperature superconductivity, as related to advanced field propulsion."
Suffice it to say, with such a list of research credentials that would make Nikola Tesla proud, Dr. Pais seems well-positioned to carry out groundbreaking work.
A craft using an inertial mass reduction device.
Credit: Salvatore Pais
The patents won't necessarily lead to these technologies ever seeing the light of day. The research has its share of detractors and nonbelievers among other scientists, who think the amount of energy required for the fields described by Pais and his ideas on electromagnetic propulsions are well beyond the scope of current tech and are nearly impossible. Yet investigators at The War Zone found comments from Navy officials that indicate the inventions are being looked at seriously enough, and some tests are taking place.
If you'd like to read through Pais's patents yourself, check them out here.
Laser Augmented Turbojet Propulsion System
Credit: Dr. Salvatore Pais
Dancing, fot Nietzsche, was another way of saying Yes! to life.
YURI KADOBNOV/AFP via Getty Images
Culture & Religion
Friedrich Nietzsche's body of work is notoriously difficult to navigate. He wrote in multiple styles, including essays, aphorisms, poems, and fiction.
He introduced idiosyncratic concepts such as the free spirit, the Übermensch, eternal recurrence, ressentiment, the ascetic ideal, the revaluation of values, and the affirmation of life. He shifted allegiances: writing books, for example, in support of the composer Richard Wagner and the philosopher Arthur Schopenhauer, but later delivering blistering critiques of both. Not surprisingly, scholars range widely in their interpretations of Nietzsche: was he a poet or a philosopher? A nihilist, moral relativist, or Nazi sympathiser? A critic or a system builder? Anti-Christian or Christian? Answers frequently depend on which portions of Nietzsche's work a reader deems most important.
In the face of this complexity, Nietzsche offers an interpretive key: his references to dance (Tanz). Taken together, these references light a path that begins in Nietzsche's first book, The Birth of Tragedy (1872), and wends through every major work into his final book, the posthumous Ecce Homo (1908). These references not only link his ideas and styles, they also shed light on Nietzsche's enduring motivation: to teach readers how to affirm life here and now on Earth as human bodily selves. Nietzsche's dance references call attention to the sensory education that he insists is necessary for creating values that 'remain faithful to the Earth'.
When Nietzsche wrote his first book, he was unaware of the significance that dance would have for his philosophy, in part because he was deeply enamoured with Wagner. The musician had begun composing a cycle of four operas – his now-famous Ring – intending to revive the tradition of Ancient Greek tragedies. In so doing, Wagner hoped to realise the power of music that Schopenhauer described: to save humans from the cravings and suffering of Will.
During visits paid by Nietzsche, Wagner and his wife Cosima encouraged the younger man to write a scholarly book to justify these claims. Yet, as Nietzsche later admits, in his rush to laud Wagner (and Schopenhauer), he shortchanged one of his own insights – namely, that, in the tragedies of Ancient Greece, the dancing of the chorus was essential for ensuring that stories of madness, suffering and death nonetheless produce in spectators a rousing affirmation of life.
In The Birth of Tragedy, Nietzsche analyses this paradoxical experience. He explains that the dancing and singing of the chorus move spectators to identify viscerally with what the chorus represents: elemental rhythms of an endlessly creative Nature. As they are moved by these rhythms, spectators feel joy. They know their bodily selves as members of an endlessly generative whole. And from this sensory vantage point, they are not devastated by the tragic death of their hero, god or ideal; instead, they perceive this death as a mere moment in an ongoing flow of appearances. Nietzsche calls the effect a 'magic transformation': spectators' sensations of suffering and terror yield to feelings of 'metaphysical comfort' and the notion that 'life is at the bottom of things, despite all the changes of appearances, indestructibly powerful and pleasurable'.
Later, in Human, All Too Human (1878), Nietzsche elaborates that all human symbolism – even music – is rooted in the 'imitation of gesture' at work in ancient tragedy. He writes that the human impulse to move with others 'is older than language, and goes on involuntarily … [even] when the language of gesture is universally suppressed,' as he observed among Christians of his day. When humans don't learn how to move their bodily selves, Nietzsche insists, their senses grow dull and they lose the capacity to discern what is good for them. He asks: where are the 'Books that teach us to dance'? Here, dance assumes a role it will play throughout Nietzsche's writing as a litmus test for any value, idea, practice or person. Does it dance? Does it catalyse a joyful affirmation of life?
On the heels of Human, Nietzsche's poor health forced him to retire from teaching, and he began to conceive plans for writing his own tragedy – a book designed to awaken in his readers a sensory vantage point from which they might experience the death of a god – in this case, the Christian God – as good for them, and a reason to love life. A book that would teach us to dance.
Nietzsche began writing his tragedy only after breaking off relations with his friends, the psychologist Paul Rée and Lou Andreas-Salomé, the woman they both loved. Nietzsche believed that he had found in Andreas-Salomé the one person who understood his quest for a radical affirmation of life. He made plans with her and Rée to live together in an intellectual society that she called their 'Unholy Trinity'. However, due primarily to suspicions planted by Nietzsche's sister Elisabeth, the trio's plans did not materialise. A despondent Nietzsche wrote to his dear friend Franz Overbeck: 'Unless I can discover the alchemical trick of turning this – muck into gold, I am lost.'
Nietzsche's own 'magic transformation' appeared a month later: Part One of Thus Spoke Zarathustra (1883). Three more parts soon followed. In this story, Zarathustra is a man who has lived alone on a mountaintop for 10 years, and comes down to teach people how to love themselves and their humanity. All four parts are saturated with references to dance, dancers and dancing. Zarathustra is a dancer, and dance is what he admonishes others to do. As Zarathustra exhorts: 'You higher men, the worst about you is that you have not learned to dance as one must dance – dancing away over yourselves! What does it matter that you are failures? How much is still possible!' And when Zarathustra states: 'I would only believe in a god that knows how to dance,' he confirms that even our highest ideals must encourage us to affirm bodily life.
After Zarathustra, Nietzsche continued to evoke dance as a touchstone for life-affirming values. In his critique of western European Christian morality, On the Genealogy of Morals (1887), dance appears as an activity practised by the strong to preserve their ability to digest their experiences; those who dance are not burdened by ressentiment, or need for revenge. They have the sensory discernment needed to resist pernicious applications of the ascetic ideal. In Twilight of the Idols (1889) and The Antichrist (1895), dance appears as a discipline for training sensory awareness and cultivating skills of perception and responsibility, so that one is able to participate responsibly in the creation of values, conscious of what one's movements are making.
Nietzsche's ubiquitous references to dance are ever-present reminders that the work of overcoming oneself – of freeing oneself enough from anger, bitterness and despair to say 'Yes!' to life – is not just an intellectual or scientific task. An ability to affirm life demands bodily practices that discipline our minds to elemental rhythms, to the creativity of our senses, and to the 'great reason', our body, 'that does not say "I" but does 'I".' Only when we engage in such practices will we have the sensory awareness we need in order to discern whether the values we create and the movements we make express love for ourselves and the Earth.
Kimerer LaMothe
This article was originally published at Aeon and has been republished under Creative Commons. Read the original article.
Sometimes, moral lessons can be learned from blowing away zombies.
Credit: Naughty Dog
13-8
Most video games are happily escapist entertainment, but some are much more.
One of these is The Last of Us Part II (TLOU2), which takes place in a post-apocalyptic pandemic world.
Through the innovative use of game play technology TLOU2, radically changes your perspective and elevates this game from entertainment to true art.
There are basically two kinds of people in the world: those who play (or played) video games and those who don't get video games at all.
Okay, I admit this might be an oversimplification. But for a 58-year-old guy who didn't start playing until about ten years ago, this bifurcation explains why so many people miss what is truly revolutionary in these revolutionary technologies. I find myself spending a lot of time explaining to my non-gamer friends (both young and old) that in the midst of all the alien shooters, battle royales, and side-scrolling melee fighters — FYI, these are game genres — there lies a radically potent new method for storytelling. And it's storytelling that provides one path by which a great video game can become great art. To illustrate this point, let me introduce The Last of Us Part II.
Released during COVID-19, The Last of Us Part II (TLOU2) tells a story in a world fallen to a pandemic. The subject matter certainly seems timely, but by itself, that doesn't mean much. Post-apocalyptic pandemic video games are a dime a dozen. There are a zillion titles out there that will let you spend 20 or 30 hours of game time mowing down zombies of one form or another while upgrading your weapons, health, and skills.
The sublime art of TLOU2
Now, don't get me wrong. The mowing down of zombies and the upgrading of skills common to many video games are just fine. Not every game has to be great art, just like not every movie you watch or novel you read has to be great art. There is, most definitely, a place in this world for mindless escape, entertainment, and fun. That's because — if you are into it — sneaking around some last-outpost-of-humanity while trying to take out dangerous zombies can be a delicious waste of time at the end of a hard day. But with TLOU2, there is all that and more.
The creators of TLOU2 take players on a difficult, exhausting journey through the consequences of violence.
Given the "Part II" in its title, TLOU2 is obviously the continuation of a story laid down in The Last of Us. That game followed Joel, a survival-hardened middle-aged smuggler who's been tasked with shepherding teenaged Ellie across the country 20 years after the pandemic outbreak. Ellie is immune to the infection that turns people into zombies. Joel is given his mission by a resistance group that hopes to use Ellie to find a final cure. The journey of Ellie and Joel (who lost his own teenaged daughter two decades earlier in the outbreak) is harrowing and makes The Last of Us almost universally recognized as one of the greatest video games ever made. I've written before about how TLOU's innovative use of game-playing mechanics redefined what was possible for storytelling. In TLOU2, creator Naughty Dog Studio manages to make lightning strike twice, finding an entirely new path to transformative innovation.
Warning! From here on there are serious spoilers. If you think you want to play these games STOP.
The Last of Us Part IICredit: Naughty Dog
You've been warned
TLOU2 takes place four years after the end of the original game. The story is set in motion with the brutal murder of Joel as Ellie is forced to watch. It's an act of vengeance, a retribution for Joel's own choices at the end of the first game. So, what does TLOU2 do to make this game rise above a thousand other stories of vengeance and retribution? The answer lies in the most basic mechanics of game play: perspective.
When you play a video game like TLOU2, you take on the role of the character. This means you literally take control of their actions, seeing through their eyes (or over their shoulder) as you navigate them through the world and the story. This is where the digital technologies of video games take storytelling into new domains. In the hands of lesser creators, the possibilities of that power are lost, and you just get another ho-hum shooter with a weak story. That's not what happens in TLOU2.
The first half of the game follows Ellie as she tracks down Joel's killer and seeks her own vengeance. Her quarry is Abby, the daughter of a doctor that Joel killed at the end of the first game. Abby is now part of a paramilitary group in Seattle, and you, playing as Ellie, must work your way through the city to find her over the course of three days. Using stealth and combat, fighting both the infected (really terrifying zombies) and Abby's compatriots, the effort is unnerving and exhausting. Unlike most games, TLOU2 does not let you off the hook in its depiction of violence. The brutality of what you are doing cannot be avoided. Characters struggle for their lives and call to each other by name if you take one down. They are friends, and you are the one ending that friendship forever.
The big plot twist
Which you are doing because, in a stunning design choice, TLOU2 switches that all-important perspective on you right in the middle of the game. With an impressive narrative mechanism, the clock gets reset to three days earlier, and you are now Abby, greeting one friend after another at the stadium that serves as the paramilitary group's base of operations. You get breakfast at the commissary and chat with folks in the line. You check out gear for the upcoming patrol and take responsibility for a playful guard dog named Alice.
As you move Abby through these often intimate interactions, you come to realize that these are all the people that you just murdered (including the dog) in the first half of the game when you were Ellie. It's a terrible, harrowing shift that colors the rest of the game as it goes on to unpack deeper issues about the strictures of our tribalism, our capacities for choice, and the possibilities of forgiveness. In the end, I was just blown away.
What matters for our discussion today is that the immense power of TLOU2 — namely, its ability to haunt me months after I finished the game — is due to the medium. Yes, a novel or film can force a change in perspective and that can be arresting. But it's the immersion, the agency, and the appearance of choice (even if limited) in video games that radically shifts the experience of perspective in a story. And in that shift comes a transcendence, a reframing, and a learning that are all the reasons why we turn to art. Ultimately, one reason we create art, one reason we participate in art, is an effort to learn something. Through it, we hope to find something deeper, something more about this mystery of being human.
That is what TLOU2 accomplishes. Through the medium of video games, the creators of TLOU2 take players on a difficult, exhausting journey through the consequences of violence. Given that medium's usual careless treatment of violence, making such a journey possible was not a small thing. It was revealing, and that is what we can, and should, ask from true art.
Scroll down to load more…