Hologram technology finally advances to Blade Runner levels
Get ready for images projected in mid-air to start appearing in the next few years. 
26 January, 2018
According to pop culture, weren't there supposed to be more holograms by now? The 1970s and '80s were full of holographic wishes. Back to the Future II told us that we'd have holographic movie trailers. A major Star Wars plot point involved a holographic Princess Leia. Even erstwhile cartoon pop star Jem's backup band was called The Holograms. But in the 30+ years that your correspondent here has been alive — with the exception of a quasi-holographic Tupac Shakur at Coachella 2012 — we've been stuck with either tacky 2D holograms or projections onto gauze.
---
Until now. Brigham Young University is developing a technology called an Optical Trap Display that will allow projected object to exist in real space. To do so, the base releases a tiny opaque particle into the air and moves the particle in a predetermined path, illuminating it with a laser. If the particle moves faster than a certain speed, it gives the illusion of a solid object. If you speed the particle up even further, it creates the illusion of movement. >Still confused? Me too, and I'm the guy writing this. One easy way to visualize this process is to think about how a 3D printer scans an object and "draws" the outline. Try to imagine a single opaque particle doing all the work, and you have the basic idea behind the technology.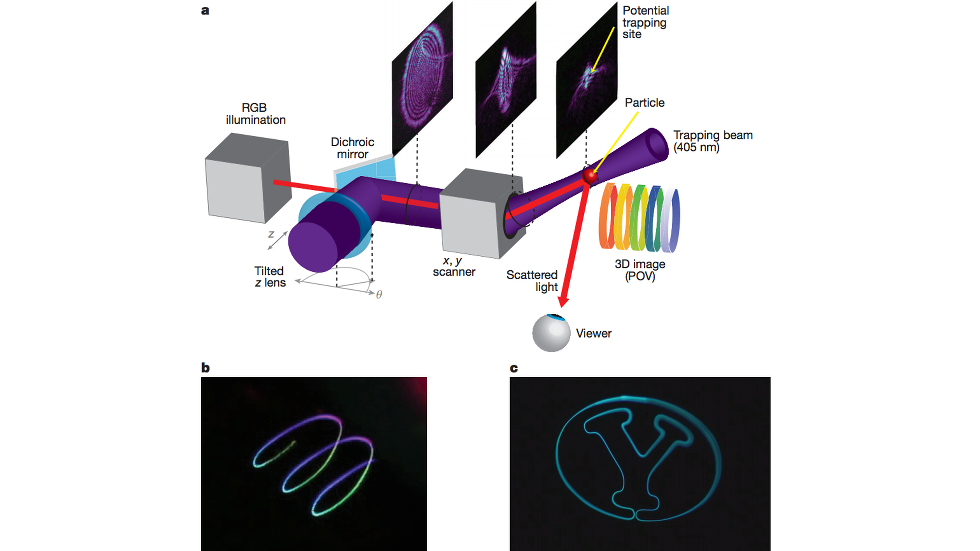 Image c/o Nature Journal
The good news? The tech is a lot more affordable than the elaborate set-up that bankrupted the Tupac hologram technology. The bad news? Right now, Brigham Young's holograms are about as big as your fingernail, according to Gizmodo.
This is still incredible news for futurists. Once this OTD technology progresses, perhaps we'll be able to see Blade Runner: 2049-style projections right on time in 2049.
What can 3D printing do for medicine? The "sky is the limit," says Northwell Health researcher Dr. Todd Goldstein.
Northwell Health
Sponsored by Northwell Health
Medical professionals are currently using 3D printers to create prosthetics and patient-specific organ models that doctors can use to prepare for surgery.
Eventually, scientists hope to print patient-specific organs that can be transplanted safely into the human body.
Northwell Health, New York State's largest health care provider, is pioneering 3D printing in medicine in three key ways.
Three academic papers from Australia shows sizable bone spurs growing at the base of our skulls.
Surprising Science
A team of researchers in Queensland says 33% of the Australian population has sizable bone spurs growing at the base of their skulls.
This postural deformity, enthesophytes, results in chronic headaches and upper back and neck pain.
The likelihood humans will alter their addiction to this technology is low, so this might be a major consequence of technology.
They'll reportedly last for thousands of years. This technology may someday power spacecraft, satellites, high-flying drones, and pacemakers.
Woman looking at a diamond.
popular
Nuclear energy is carbon free, which makes it an attractive and practical alternative to fossil fuels, as it doesn't contribute to global warming. We also have the infrastructure for it already in place. It's nuclear waste that makes fission bad for the environment. And it lasts for so long, some isotopes for thousands of years. Nuclear fuel is comprised of ceramic pellets of uranium-235 placed within metal rods. After fission takes place, two radioactive isotopes are left over: cesium-137 and strontium-90.
Facebook was careful to say that Libra is not maintained internally and is instead serviced by a non-profit collective of companies.
Technology & Innovation
Facebook has just announced its new cryptocurrency, Libra.
Early investors include many of the world's leading companies, implying they will accept Libra as payment
The announcement was met with a mixed response, but only time will tell how Libra will be received
Big think's weekly newsletter.
Get smarter faster from the comfort of your inbox.
See our newsletter privacy policy
here
Most Popular
Most Recent
Big think's weekly newsletter.
Get smarter faster from the comfort of your inbox.
See our newsletter privacy policy
here
© Copyright 2007-2019 & BIG THINK, BIG THINK EDGE,
SMARTER FASTER trademarks owned by The Big Think, Inc. All rights reserved.