By Mapping Buildings' Interiors, Your Phone Could Save Your Life
What if we told you that, right now, your phone was making a map of your interior surroundings — whether you're at work or at home — and sending that data to places unknown?
24 February, 2017
---
What if we told you that, right now, your phone was making a map of your interior surroundings — whether you're at work or at home — and sending that data to places unknown? Would you be upset, or is privacy truly dead? Would you be more upset to learn you agreed to this when downloading a popular gaming app?
What if that map were given to firefighters sent to save you from a burning building?
That is but one application of 3-D interior mapping suggested by Avideh Zakhor, professor of electrical engineering and computer science at the University of California at Berkeley and CEO/founder of Indoor Reality. A company which specialises in indoor 3-D mapping. She is also a Hertz Foundation Fellow and holds a doctorate from MIT.
But hold on a minute, let's get back to the "mapping my house" thing.
Dr. Zakhor wishes to remind you that, the smartphones, already one of the greatest technological miracles of all time, is hard at work taking all the information it can from you. Remember when you agreed to that data collection? Didn't you read the terms and conditions on that one app? No? Oh well, it's happening anyway.
Dr. Zakhor:
"All of us, through this amazing device we carry with ourselves, cell phones, are continuously collecting signals and images and data about our surrounding. Whether or not we know it, and whether or not we like it, we're doing that unconsciously all the time through crowdsourcing. So if you get the aggregate of all the people who are going into all these indoor spaces, you have the potential to map every indoor space. The typical cell phone has over 40 sensors. There's accelerometers, gyroscopes, barometers, thermometers, Wi-Fi signal, Bluetooth, all kinds of RF signal gathering capability. I hate to say it, but a lot of [us] are being tracked because, to use a lot of the applications on your phone, you allowed the company that sold you the phone to collect that information. And that's almost synonymous with mapping. So those could be used in order to map the interiors."
While the questions of privacy might be pressing to some, the idea that the slew of sensors on our phones could be used to create a detailed map of all interior spaces we visit is intriguing. After all, who hasn't gotten lost in a new place before? Couldn't we all benefit from knowing that a map of the place we're in exists and was made with the newest technology?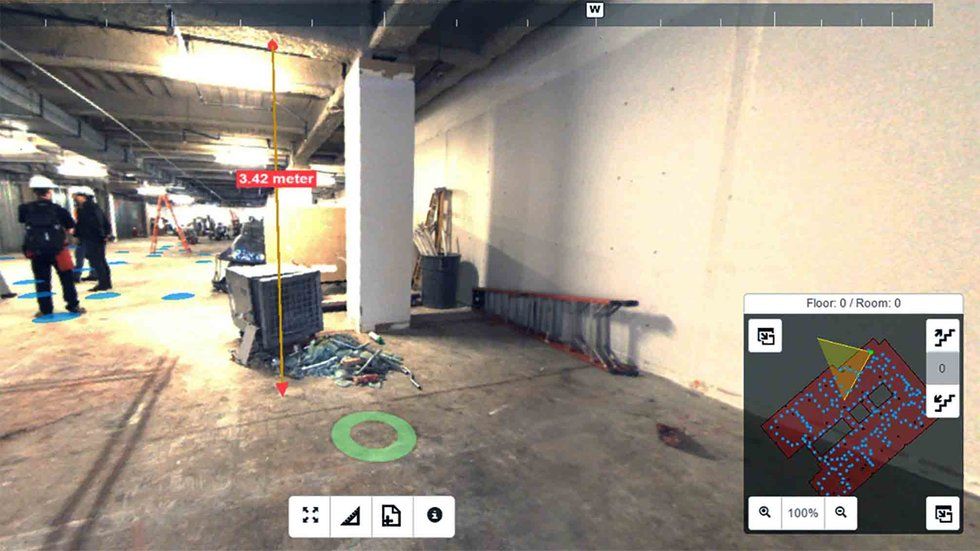 As seen by a smart device mapping the interior of a building. Image courtesy of Indoor Reality.
The benefits of 3-D mapping via crowdsourcing method are many. The pure potential reach by itself is astounding. But perhaps most interesting, is the idea of using all this data to create smart buildings: structures which use the data you create to save energy, operate more autonomously, and better serve the people who use them.
As Dr. Zakhor imagines:
"You can control the many, many sensors and actuators that are inside the building to your liking. So suppose that I like the temperature in my office to be no warmer than 64. Just because there's a map and because they know where I am, that I'm not in my office, there's not going to be any cold HVAC air being pumped into it. That saves energy. And when a day that I'm not working in my office but working in the conference room across the hall from my office the same temperature preferences can be applied to that room. Localizing people enables them to be more comfortable and more in tune with the environment that they're in. And it could result in potential energy savings inside buildings if that information is readily available."
Is 3-D interior mapping on the horizon? Will it be the emergency information of the future? Will your next call to the paramedics include an easy to read map of your home? Will the fire department be able to know which rooms to search before they arrive at a fire? Will you soon enjoy coming to work in your smart office, which knows your preferences better than your coworkers do? If Dr. Zakhor has anything to say about it, the answer will be yes.
--
Upstreamism advocate Rishi Manchanda calls us to understand health not as a "personal responsibility" but a "common good."
Sponsored by Northwell Health
Upstreamism tasks health care professionals to combat unhealthy social and cultural influences that exist outside — or upstream — of medical facilities.
Patients from low-income neighborhoods are most at risk of negative health impacts.
Thankfully, health care professionals are not alone. Upstreamism is increasingly part of our cultural consciousness.
It marks a major shift in the government's battle against the opioid crisis.
George Frey/Bloomberg via Getty Images
Politics & Current Affairs
The nation's sixth-largest drug distributor is facing criminal charges related to failing to report suspicious drug orders, among other things.
It marks the first time a drug company has faced criminal charges for distributing opioids.
Since 1997, nearly 222,000 Americans have died from prescription opioids, partly thanks to unethical doctors who abuse the system.
An innovation may lead to lifelike evolving machines.
Shogo Hamada/Cornell University
Surprising Science
Scientists at Cornell University devise a material with 3 key traits of life.
The goal for the researchers is not to create life but lifelike machines.
The researchers were able to program metabolism into the material's DNA.
The real Game of Thrones might be who best leverages the hit HBO show to shape political narratives.
Photo credit: Mario Tama / Getty Images
Politics & Current Affairs
Sen. Elizabeth Warren argues that Game of Thrones is primarily about women in her review of the wildly popular HBO show.
Warren also touches on other parallels between the show and our modern world, such as inequality, political favoritism of the elite, and the dire impact of different leadership styles on the lives of the people.
Her review serves as another example of using Game of Thrones as a political analogy and a tool for framing political narratives.
Big think's weekly newsletter.
Get smarter faster from the comfort of your inbox.
See our newsletter privacy policy
here
Most Popular
Most Recent
Big think's weekly newsletter.
Get smarter faster from the comfort of your inbox.
See our newsletter privacy policy
here
© Copyright 2007-2019 & BIG THINK, BIG THINK EDGE,
SMARTER FASTER trademarks owned by The Big Think, Inc. All rights reserved.