Big ideas.
Once a week.
Subscribe to our weekly newsletter.
How You Can Profit from 3D Printing
14 August, 2014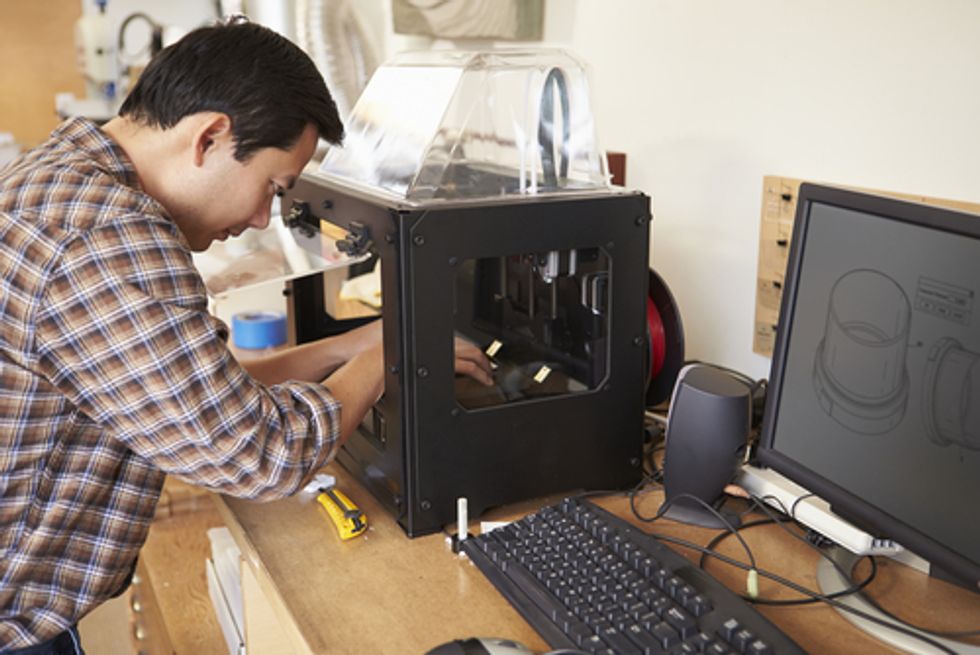 When I first discovered 3D printing several years ago, I instantly knew it was magical.  My mind was blown by the technology: an almost infinite amount of shapes can be "grown," layer by layer, just by using a printer. This is going to be disruptive, I knew. It would empower entrepreneurs, freeing them from the constraints of traditional manufacturing. So I set off to explore the technology and the industry building up around it. 
---
The journey was an emotional roller coaster of exuberant heights matched by lows of disillusionment.  I would get excited to learn that General Electric was making a new part for a jet engine never before possible without 3D printing.  But then I would think about how that could apply to my life—what did I know about making and selling jet engines?—and that magical promise of freedom would feel so distant and inaccessible.  Then the excitement would return upon reading articles about people using 3D printers to make prosthetic limbs that are far more affordable.  
The possibilities seemed endless, and also overwhelming. Where should I start? What tools would I need to learn?  How would I gain access to a printer without paying thousands of dollars? I pushed forward. I taught myself the tools.  I bought a 3D printer.  I even started teaching classes.  Because of the growing hype I suddenly found myself being asked to give lectures to audiences of hundreds of people.  Then, the consulting projects started rolling in.  And even while all that was happening, I still had a feeling of disillusionment nagging at me.  
I would feel the excitement around how 3D printing can fuel someone's creativity and break down barriers to becoming an entrepreneur.  But the next day I would teach a class about it and see my students struggle in the same way that I had, frustrated and overwhelmed by not knowing how to turn the technology into a business.  On bad days, my obsession with 3D printing could feel like a glorified hobby involving loudly colored plastic. 
After so many ups and downs, I finally refined my thinking and distilled my understanding of the possibilities of the technology down to some real actionable paths.  I found that you can make money and become your own boss thanks to 3D printing.  I am now about to save you at least a year's worth of time and all the ups and downs of that emotional roller coaster that I and others have gone through. Here are three tried and tested ways that you can make money with 3D printing.
Create and sell designs.  This is the most affordable and easiest way to get started.  It's essentially like creating a smartphone app and selling it for royalties.
* Start by learning from free CAD tools like Trimble Sketchup or TinkerCAD.  Most beginners are surprised by how easily they can whip up a complex looking design after a few tutorials. Sophisticated and professional quality designs can be made with these tools.  Make sure to leverage the available online tutorials and communities for help.
Invent a design. 
* Leverage the power of 3D printing by creating complex shapes easily, customize designs cheaply, or create moving parts which require no assembly.
Need inspiration?  Spend time perusing the 40,000+ designs on thingiverse.com to marvel at the creativity and possibilities shared by others. 
* Once your design is complete in CAD, make sure it's 3D printable (or "watertight," in industry jargon).  Other free tools like netfabb or the Solid Inspector plugin for Sketchup will find and correct errors you inadvertently created.
* Now with your ready-to-print file, you just need to find an outlet to sell it.  Sites like CG Trader are pure design marketplaces which allow users to search for 3D printable designs and print them on their own 3D printers.  Other sites like Shapeways or i.Materialise allow similar services.
Buy a 3D printer and offer a 3D printing service.  While the concept is simple, this option is not quite as easy.  It will require an investment of hundreds to thousands of dollars to acquire a printer. 
* The first step is to select a printer that has the right balance of cost, output quality, versatility, and ease of use. 
* Once you have the printer in your home or office you will need to spend ample time experimenting with it and mastering its intricacies.  You will need to understand how variables like layer height, extrusion temperature, and travel speed will impact your print job. You will need to know how to select appropriate feedstock and optimize it based on the material type. Even the software you choose to turn the printable file into machine code (G-code in industry jargon) can influence the output.  Many printers come with their own software to do this, but you may get different (perhaps better, in some cases) results with the open source replicator G, for instance.  This in itself can be a fun path of discovery.
* Once you are confident in your expertise you can enter the fray by offering your services as part of one of the emerging 3D printing networks.  These are turnkey solutions with support for invoicing and shipping that allow you to list your printer and accept orders from people with designs they want printed.  Currently, the largest such network is 3D Hubs.
Come up with a novel online product/service that leverages 3D printing.  This opportunity requires the most money and creativity, but it also has the highest return potential. Here, you are making an online business where you sell a product revolutionized by 3D printing or some other related service.
* The key to coming up with a valuable service comes back to the freedoms inherent to 3D printing.  For instance, the ability to easily modify designs lends to automated customization of products.  Users can self-create customizations on your website and let 3D printers do the work.  For inspiration, consider examples like the custom 3D figurines of Shapify or the new site for custom shoes called Feetz.
* Once you have crafted a service, develop your website.  Website design has become fairly streamlined and commoditized.  Mainly you will want to focus on the features that uniquely leverage 3D printing.  The output of your website will be ready to print models.
Once your website design is underway, next secure a means to fabricate orders.
* If your website takes off, you will want professional grade equipment costing tens or hundreds of thousands of dollars. While you are building up to that, you can start out by partnering with an existing 3D printing service provider.  These are firms that own banks of professional grade 3D printers and will print objects for you for a fee.  There are many of these around the country; one of the biggest is called Solid Concepts.
* You will want to develop your operational processes so that the path from the process of clients customizing and placing their orders, to that order being turned into a print-ready design, to the design being sent over to the 3D printer or service bureau, to the object being printed, finished, and shipped is as streamlined as possible.  If you are working with a service bureau you will want to make sure to reduce the administrative burden of billing and shipping as much as possible.
Now, bring forth the magic.  Before social media could be invented, the Internet needed hoards of developers for basic websites.  Likewise, 3D printing needs a critical mass of printing capacity, designs to exercise those printers, and hoards of people developing new uses for them.  Working to build that foundation now can put money in your pocket, but more importantly it can set you up to invent, or at least have a front row seat, to the birth of 3D printing disruptions that are sure to come.  This is how the 3D printing revolution will unfold: by more and more tenacious creative people creating businesses around 3D printing. The more people use this technology, the more we will figure out the optimized place for 3D printing in our world. Be early to this shift, because it is coming.
Certain water beetles can escape from frogs after being consumed.
Surprising Science
A Japanese scientist shows that some beetles can wiggle out of frog's butts after being eaten whole.
The research suggests the beetle can get out in as little as 7 minutes.
Most of the beetles swallowed in the experiment survived with no complications after being excreted.
In what is perhaps one of the weirdest experiments ever that comes from the category of "why did anyone need to know this?" scientists have proven that the Regimbartia attenuata beetle can climb out of a frog's butt after being eaten.
The research was carried out by Kobe University ecologist Shinji Sugiura. His team found that the majority of beetles swallowed by black-spotted pond frogs (Pelophylax nigromaculatus) used in their experiment managed to escape about 6 hours after and were perfectly fine.
"Here, I report active escape of the aquatic beetle R. attenuata from the vents of five frog species via the digestive tract," writes Sugiura in a new paper, adding "although adult beetles were easily eaten by frogs, 90 percent of swallowed beetles were excreted within six hours after being eaten and, surprisingly, were still alive."
One bug even got out in as little as 7 minutes.

Sugiura also tried putting wax on the legs of some of the beetles, preventing them from moving. These ones were not able to make it out alive, taking from 38 to 150 hours to be digested.
Naturally, as anyone would upon encountering such a story, you're wondering where's the video. Thankfully, the scientists recorded the proceedings:
The Regimbartia attenuata beetle can be found in the tropics, especially as pests in fish hatcheries. It's not the only kind of creature that can survive being swallowed. A recent study showed that snake eels are able to burrow out of the stomachs of fish using their sharp tails, only to become stuck, die, and be mummified in the gut cavity. Scientists are calling the beetle's ability the first documented "active prey escape." Usually, such travelers through the digestive tract have particular adaptations that make it possible for them to withstand extreme pH and lack of oxygen. The researchers think the beetle's trick is in inducing the frog to open a so-called "vent" controlled by the sphincter muscle.
"Individuals were always excreted head first from the frog vent, suggesting that R. attenuata stimulates the hind gut, urging the frog to defecate," explains Sugiura.
For more information, check out the study published in Current Biology.
New research from the University of Granada found that stress could help determine sex.
Photo: Romolo Tavani / Adobe Stock
Surprising Science
A new study found that women with elevated stress before, during, and after conception are twice as likely to deliver a girl.
One factor could be that sperm carrying an X chromosome are better equipped to reach the egg under adverse conditions.
Another factor could be miscarriage of male fetuses during times of stress.
Stress in the modern world is generally viewed as a hindrance to a healthy life.
Indeed, excess stress is associated with numerous problems, including cardiovascular disease, high blood pressure, insomnia, depression, obesity, and other conditions. While the physiological mechanisms associated with stress can be beneficial, as Kelly McGonigal points out in The Upside of Stress, the modern wellness industry is built on the foundation of stress relief.
The effects of stress on pregnant mothers is another longstanding area of research. For example, what potential negative effects do elevated levels of cortisol, epinephrine, and norepinephrine have on fetal development?
A new study, published in the Journal of Developmental Origins of Health and Disease, investigated a very specific aspect of stress on fetuses: does it affect sex? Their findings reveal that women with elevated stress are twice as likely to give birth to a girl.
For this research, the University of Granada scientists recorded the stress levels of 108 women before, during, and after conception. By testing cortisol concentration in their hair and subjecting the women to a variety of psychological tests, the researchers discovered that stress indeed influences sex. Specifically, stress made women twice as likely to deliver a baby girl.
The team points out that their research is consistent with other research that used saliva to show that stress resulted in a decreased likelihood of delivering a boy.
Maria Isabel Peralta RamírezPhoto courtesy of University of Granada
Lead author María Isabel Peralta Ramírez, a researcher at the UGR's Department of Personality, Evaluation and Psychological Treatment, says that prior research focused on stress levels leading up to and after birth. She was interested in stress's impact leading up to conception. She says:
"Specifically, our research group has shown in numerous publications how psychological stress in the mother generates a greater number of psychopathological symptoms during pregnancy: postpartum depression, a greater likelihood of assisted delivery, an increase in the time taken for lactation to commence (lactogenesis), or inferior neurodevelopment of the baby six months after birth."
While no conclusive evidence has been rendered, the research team believes that activation of the mother's endogenous stress system during conception sets the concentration of sex hormones that will be carried throughout development. As the team writes, "there is evidence that testosterone functions as a mechanism when determining the baby's sex, since the greater the prenatal stress levels, the higher the levels of female testosterone." Levels of paternal stress were not factored into this research.
Previous studies show that sperm carrying an X chromosome are better equipped to reach the egg under adverse conditions than sperm carrying the Y chromosome. Y fetuses also mature slowly and are more likely to produce complications than X fetuses. Peralta also noted that there might be more aborted male fetuses during times of early maternal stress, which would favor more girls being born under such circumstances.
In the future, Peralta and her team say an investigation into aborted fetuses should be undertaken. Right now, the research was limited to a small sample size that did not factor in a number of elements. Still, the team concludes, "the research presented here is pioneering to the extent that it links prenatal stress to the sex of newborns."
--
Stay in touch with Derek on Twitter and Facebook. His most recent book is "Hero's Dose: The Case For Psychedelics in Ritual and Therapy."
The world's 10 most affected countries are spending up to 59% of their GDP on the effects of violence.
Mario Tama/Getty Images
Politics & Current Affairs
Conflict and violence cost the world more than $14 trillion a year.
That's the equivalent of $5 a day for every person on the planet.
Research shows that peace brings prosperity, lower inflation and more jobs.
Just a 2% reduction in conflict would free up as much money as the global aid budget.
Report urges governments to improve peacefulness, especially amid COVID-19.
What is the price of peace?
Or put another way, how much better off would we all be in a world where armed conflict was avoided?
Around $14.4 trillion in 2019, according to the Institute for Economics and Peace (IEP) which crunched the numbers. That's about $5 a day for every person on the planet.
To give some context, 689 million people - more than 9% of the world's population - live on less than $1.90 a day, according to World Bank figures, underscoring the potential impact peace-building activities could have.
Just over 10% of global GDP is being spent on containing, preventing and dealing with the consequences of violence. As well as the 1.4 million violent deaths each year, conflict holds back economic development, causes instability, widens inequality and erodes human capital.
Putting a price tag on peace and violence helps us see the disproportionately high amounts spent on creating and containing violent acts compared to what is spent on building resilient, productive, and peaceful societies.
—Steve Killelea, founder and executive chairman, Institute for Economics & Peace (IEP)
The cost of violence
In a report titled "The Economic Value of Peace 2021", the IEP says that for every death from violent conflict, 40 times as many people are injured. The world's 10 most affected countries are spending up to 59% of their GDP on the effects of violence.
Grounds for hope
But the picture is not all bleak. The economic impact of violence fell for the second year in a row in 2019, as parts of the world became more peaceful.
The global cost dropped by $64 billion between 2018 and 2019, even though it was still $1.2 trillion higher than in 2012.
In five regions of the world the costs increased in 2019. The biggest jump was in Central America and the Caribbean, where a rising homicide rate pushed the cost up 8.3%.
Syria, with its ongoing civil war, suffered the greatest economic impact with almost 60% of its GDP lost to conflict in 2019. That was followed by Afghanistan (50%) and South Sudan (46%).
The report makes a direct link between peace and prosperity. It says that, since 2000, countries that have become more peaceful have averaged higher GDP growth than those which have become more violent.
"This differential is significant and represents a GDP per capita that is 30% larger when compounded over a 20-year period," the report says adding that peaceful countries also have substantially lower inflation and unemployment.
"Small improvements in peace can have substantial economic benefits," it adds. "For example, a 2% reduction in the global impact of violence is roughly equivalent to all overseas development aid in 2019."
Equally, the total value of foreign direct investment globally only offsets 10% of the economic impact of violence. Authoritarian regimes lost on average 11% of GDP to the costs of violence while in democracies the cost was just 4% of GDP.
And the gap has widened over time, with democracies reducing the cost of violence by almost 16% since 2007 while in authoritarian countries it has risen by 27% over the same period.
The report uses 18 economic indicators to evaluate the cost of violence. The top three are military spending (which was $5.9 trillion globally in 2019), the cost of internal security which makes up over a third of the total at $4.9 trillion and homicide.
Peace brings prosperity
The formula also contains a multiplier effect because as peace increases, money spent containing violence can instead be used on more productive activities which drive growth and generate higher monetary and social returns.
"Substantial economic improvements are linked to improvements in peace," says the report. "Therefore, government policies should be directed to improving peacefulness, especially in a COVID-19 environment where economic activity has been subdued."
The IEP says what it terms "positive peace" is even more beneficial than "negative peace" which is simply the absence of violence or the fear of violence. Positive peace involves fostering the attitudes, institutions & structures that create and sustain peaceful societies.
The foundations of a positively peaceful society, it says, are: a well functioning government, sound business environment, acceptance of the rights of others, good relations with neighbours, free flow of information, high levels of human capital, low levels of corruption and equitable distribution of resources.
The World Economic Forum's report Mobilizing the Private Sector in Peace and Reconciliation urged companies large and small to recognise their potential to work for peace quoting the former Goldman Sachs chair, the late Peter Sutherland, who said: "Business thrives where society thrives."
Reprinted with permission of the World Economic Forum. Read the original article.
Surprising Science
The lush biodiversity of South America's rainforests is rooted in one of the most cataclysmic events that ever struck Earth.
Scroll down to load more…