Redoubt, oil and corporations: a tale of volcanic mitigation (or lack thereof)
Erik Klemetti
I write the Eruptions blog on Big Think. I've been mesmerized with volcanoes (and geology) all my life. It helps that part of my family comes from the shadow of Nevado del Ruiz in Colombia, where I could see first hand the deadly effects of volcanic eruptions. Since then, I've taken a bit of a winding path to become a volcanologist. I started as a history major at Williams College, almost went into radio, but ended up migrating to geology, including an undergraduate thesis on Vinalhaven Island, Maine. I followed this up by changing coast to get my Ph.D. from Oregon State University. Then I ran a MC-ICP-MS lab at University of Washington for a spell (and wrote for an indie rock website). I spent three years as a postdoctoral scholar at University of California - Davis studying the inner workings of magmatic systems. I am now an assistant professor at Denison University and have projects in New Zealand, Chile and Oregon.
I am fascinated by volcanoes, their eruptions and how those eruptions interact with the people who live around the volcanoes. I started this blog after getting frustrated with the news reports of volcanic eruptions. Most of them get the information wrong and/or are just sensationalistic. I will try to summarize eruptions as they occur, translate some of the volcanic processes that are happening and comment on the reports themselves.
And no matter what people tell you, I definitely do not have a cat named Tephra. (OK, I do).
You can find out more about my research by visiting my website. If you have any comments, questions or information, feel free to contact me at eruptionsblog at gmail dot com.
01 September, 2010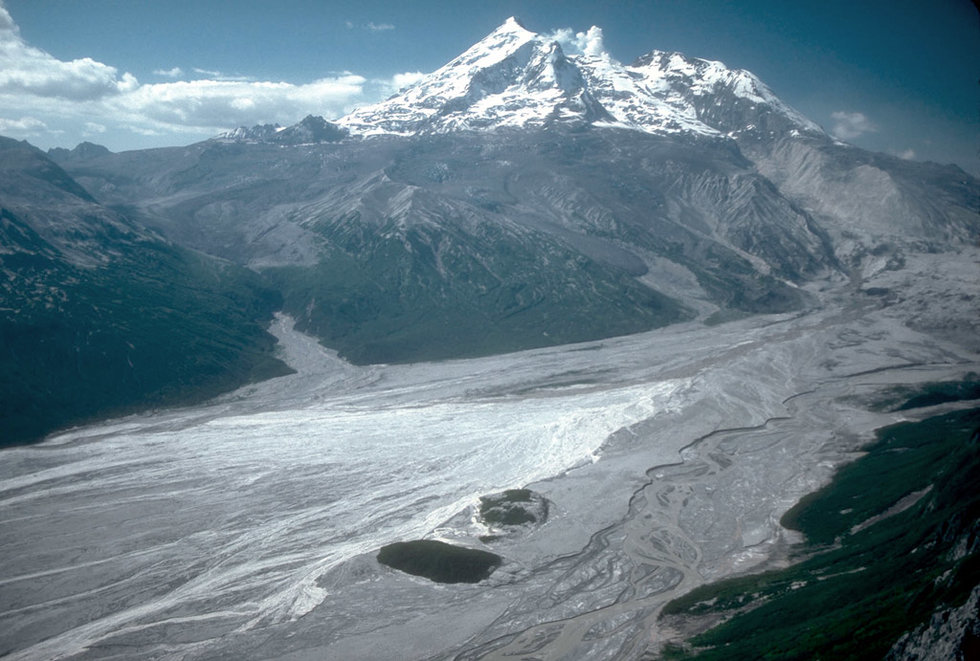 \n\n
The Anchorage Daily News has an excellent article today on the Drift River Oil Terminal, a depository for oil collected from the platforms in the Cook Inlet. This oil terminal stores at least 1,000,o00 barrels of oil (see article for why we're not sure) and sits, well, at the base of Redoubt (see map below from Anchorage Daily News) on the floodplain of the Drift River (~25 miles from the vent). 
---
\n\n
\n\n
Now, this oil terminal was more-or-less destroyed during the last episode of volcanism at Redoubt twenty years ago when the terminal was wiped out by floods resulting from the eruptions. Not only did this cause the retrieval of the oil left at the terminal to be an immense problem, but it shut down production in the Inlet for 10 days ... and we all know what this kind of news does to gasoline prices.
\n\n
You would think that after this event, Chevron (who owns the terminal) would have thought better of building there again because, well, not only is Redoubt a volcano, but it is a fairly active one at that. I mean, its not like (for arguments sake) building an oil terminal at the base of Mt. Jefferson in the Cascades, that hasn't erupted in a thousand of years. However, from what the ADN reports, Chevron has only: (1) possibly started to move oil away from the terminal since the ramping up of seismicity and (2) added a dike that "steer waters away from the facility if another monstrous flood occurs."
\n\n
I wish we knew more about what is being down about the oil terminal, because it could be a great example of when volcanic mitigation is ignored ... or alternately, if Chevron is actually doing something about it, when it is paid attention. It doesn't take a team of experts to realize that the placement of the terminal in a flood plain at the base of an active volcano might not be the best location in the Inlet. Combine that with the fact that, although a flood took out the facility in 1990, there is no guarantee that other volcanic hazards with a little more "oomph" might not be able to reach the facility, dike or not. The Drift River Oil Terminal is one of those situations where a little forethought into its placement might save Chevron and the country a lot of hassle and worry.
\n\n
As for the current state of Redoubt, as of noontime (Pacific) on 1/31/09, AVO reports "Seismicity remains relatively unchanged since 3:30 PM AKST yesterday afternoon. It is still well above background." The wait continues!
Related Articles
We're more dependent on them than we realize.
(Photo Lily on Unsplash)
Surprising Science
Scientists says our survival depends on biodiversity.
A natural climate strategy we often forget.
Seeing our place among the Earth's living creatures.
There's a high social cost that comes with lighting up.
(Porch)
Sex & Relationships
The home improvement company Porch recently polled 1,009 people on their feelings about smoking.
The company recently published the results as infographics.
In terms of dating, 80 percent of nonsmokers find the habit a turnoff
While short-term results are positive, there is mounting evidence against staying in ketosis for too long.
Surprising Science
Recent studies showed volunteers lost equal or more weight on high-carb, calorie-restricted diets than low-carb, calorie restricted diets.
There might be positive benefits to short-term usage of a ketogenic diet.
One dietician warns that the ketogenic diet could put diabetics at risk for diabetic ketoacidosis.
Big think's weekly newsletter.
Get smarter faster from the comfort of your inbox.
See our newsletter privacy policy
here
Most Popular
Most Recent
Big think's weekly newsletter.
Get smarter faster from the comfort of your inbox.
See our newsletter privacy policy
here
© Copyright 2007-2018 & BIG THINK, BIG THINK EDGE,
SMARTER FASTER trademarks owned by The Big Think, Inc. All rights reserved.