Eruptions Word(s) of the Day: Harmonic Tremor and Tornillos
18 October, 2010
Eruptions Word of the Day: Harmonic Tremor and Tornillos.
---
There are few methods that get as much attention in the world of volcanic monitoring than measuring the release of seismic energy. Not only does seismicity inform us on the depth and location of magma movement, but it can also give vital clues to how close a volcano is to eruption. Earthquakes might begin to occur in swarms – hundreds to thousands of separate earthquake events that record magma on the move at depth. These earthquakes might change in depth over months, weeks, days or less as the magma rises underneath a potentially active volcano. However, seismic signals can also be very difficult to interpret because many times the seismic information does not have single source – that is there are potentially multiple events that can produce seismic events recorded under volcanoes.
Now, you could fill a volume with the ins-and-outs of using seismicity to monitor volcanic activity – but for these purposes, I'm going to focus on two types of volcanic seismicity: harmonic tremor and tornillos.
Harmonic Tremor
When magma or fluids move through the crust, they can produce a seismic signal – harmonic tremor. Unlike normal seismicity related to fault movement that creates punctuated seismicity – a singular event that diminishes with time (and can then have aftershocks), the movement of magma or fluids can produce a constant, long-period tremor (see below). This tremor is also not like most tectonic seismicity in the sense that it is usually only measurable by seismic instruments – so you can't feel the tremor other than in very rare occurrence near (within 5 km) the volcano. Harmonic tremors were first recognized as a precursor of volcanic activity after the 1985 eruption of Nevado del Ruiz in Colombia.

Seismic trace of a harmonic tremor.
Harmonic tremors are the type of seismicity that most people associate with an impending or ongoing volcanic eruption – that is, magma movement generates the seismicity. The tremor might precede an eruption by days or hours or they might not lead to an eruption at all. This is one of the challenges of trying to interpret harmonic tremor under a volcano – magma movement does not necessarily mean that said magma is going to erupt. The other complication is that harmonic tremor can be generated by water/fluid flow rather than magma – this was demonstrated at Old Faithful at Yellowstone and even in ice movement. The presence of harmonic tremor does not necessitate an eruption – rather, it shows that magma or water/fluid is moving in the crust, generating this constant seismic rumble. So, all the concern at a volcano/caldera whenever any harmonic tremor is detected is definitely jumping the gun to say the least.
Tornillos
Another key type of pre-eruption seismicity is called a tornillo. These were first recognized at Redoubt and Nevado del Ruiz and utilized in eruptions at Galeras in Colombia. These seismic events are shaped like a screw (see below) – thus the named "tornillo", Spanish for "screw" – with a sharp initial tremor and a long (possibly minutes long) tapering of the signal away from the initial event. They likely represent the shattering of rock due to increased fluid pressure as magma moves through the crust. The magma has a finite volume, so the crust needs to accommodate this injection. It can do so by melting the crust (usually insignificant in small volumes of magma) or by fracturing the crust to make the space. One interesting finding at Galeras regarding tornillos is that there is positive correlation between the total number of pre-eruptive tornillos during an episode and the volume of material ejected by the eruption – this might suggest that there is a relationship between the volume of magma intruded into the volcanic edifice and the amount of tornillos. These tornillos, like harmonic tremor, are a potential sign that a volcano may be heading towards an eruption – and it can be clearly seen in webicorders such as before the eruption of Mount St. Helens in 2004. However, much like harmonic tremor, the presence of tornillos does not necessarily mean an eruption is around the corner.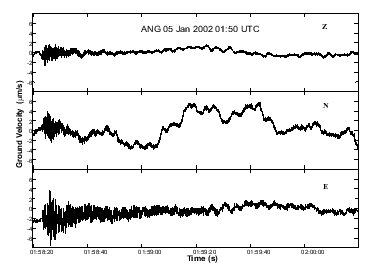 Bottom panel: a tornillo event, suggesting magma movement underneath a volcano.
Both of these seismic signals – tornillos and harmonic tremor – can be very useful when monitoring a volcano for potential activity. However, like any volcano monitoring technique, they should never be used alone to predict activity at a volcano. A volcano might be having some amount of harmonic tremor or inflation or increased gas emissions or some other signal of potential activity, but without independent correlation through multiple methods should you ever want to say that an eruption is "likely" to happen. Sure, an eruption could occur after the occurrence of one or any of these events but the relationship is never as easy as a harmonic tremor occurring and an eruption following lockstep. That is part of the challenge of volcanic monitoring – there is no easy recipe for predicting when a volcanic might erupt. However, the general public perceives volcanic monitoring in a way similar to weather forecasting, so when the volcano doesn't erupt, important credibility for volcanologists and/or the government is lost in the eyes of the public. Beyond any volcano monitoring method, it is credibility and preparedness that plays the biggest role in protecting people from volcanic hazards.
Top left: The crater of Galeras in Colombia in an undated INGEOMINAS picture.
Malcolm Gladwell teaches "Get over yourself and get to work" for Big Think Edge.
Big Think Edge
Learn to recognize failure and know the big difference between panicking and choking.

At Big Think Edge, Malcolm Gladwell teaches how to check your inner critic and get clear on what failure is.

Subscribe to Big Think Edge before we launch on March 30 to get 20% off monthly and annual memberships.
Here's why universal basic income will hurt the 99%, and make the 1% even richer.
Videos
Universal basic income is a band-aid solution that will not solve wealth inequality, says Rushkoff.
Funneling money to the 99% perpetuates their roles as consumers, pumping money straight back up to the 1% at the top of the pyramid.
Rushkoff suggests universal basic assets instead, so that the people at the bottom of the pyramid can own some means of production and participate in the profits of mega-rich companies.
Pugs and bulldogs are incredibly trendy, but experts have massive animal welfare concerns about these genetically manipulated breeds. 
'No nose, no thermoregulation, no health, no welfare.' Photo by terriermandotcom.blogspot.com
popular
Pugs, Frenchies, boxers, shih-tzus and other flat-faced dog breeds have been trending for at least the last decade, thanks to higher visibility (usually in a celebrity's handbag), an increase in city living (smaller dogs for smaller homes), and possibly even the fine acting of Frank the Pug in 1997's Men in Black. We're not ruling it out. These small, specialty pure breeds are seen as the pinnacle of cuteness – they have friendly personalities, endearing odd looks, and are perfect for Stranger Things video montages.
Both panoramic and detailed, this infographic manages to show both the size and distribution of world religions.
Strange Maps
At a glance, this map shows both the size and distribution of world religions.
See how religions mix at both national and regional level.
There's one country in the Americas without a Christian majority – which?
Big think's weekly newsletter.
Get smarter faster from the comfort of your inbox.
See our newsletter privacy policy
here
Most Popular
Most Recent
Big think's weekly newsletter.
Get smarter faster from the comfort of your inbox.
See our newsletter privacy policy
here
© Copyright 2007-2018 & BIG THINK, BIG THINK EDGE,
SMARTER FASTER trademarks owned by The Big Think, Inc. All rights reserved.