Eruption Updates (11/9/2010) for Merapi and Bulusan
Erik Klemetti
I write the Eruptions blog on Big Think. I've been mesmerized with volcanoes (and geology) all my life. It helps that part of my family comes from the shadow of Nevado del Ruiz in Colombia, where I could see first hand the deadly effects of volcanic eruptions. Since then, I've taken a bit of a winding path to become a volcanologist. I started as a history major at Williams College, almost went into radio, but ended up migrating to geology, including an undergraduate thesis on Vinalhaven Island, Maine. I followed this up by changing coast to get my Ph.D. from Oregon State University. Then I ran a MC-ICP-MS lab at University of Washington for a spell (and wrote for an indie rock website). I spent three years as a postdoctoral scholar at University of California - Davis studying the inner workings of magmatic systems. I am now an assistant professor at Denison University and have projects in New Zealand, Chile and Oregon.
I am fascinated by volcanoes, their eruptions and how those eruptions interact with the people who live around the volcanoes. I started this blog after getting frustrated with the news reports of volcanic eruptions. Most of them get the information wrong and/or are just sensationalistic. I will try to summarize eruptions as they occur, translate some of the volcanic processes that are happening and comment on the reports themselves.
And no matter what people tell you, I definitely do not have a cat named Tephra. (OK, I do).
You can find out more about my research by visiting my website. If you have any comments, questions or information, feel free to contact me at eruptionsblog at gmail dot com.
09 November, 2010
A couple of updates on two of the volcanoes that have caught people's attention right now! Oh yes, and sorry about the brevity of many of these updates lately - time, it seems to disappear much faster right now, so I've had to spend a little less time on the posts than I'd normally like. However, a big "thank you" to all of you Eruptions readers for picking up my slack and adding all the details and information that I have missed in regards to all this volcanic activity. The blog wouldn't be the same without you.
---
Bulusan, Philippines: The restive volcano experience another set of explosions yesterday and today, again producing fairly small plume of only ~1 km / 3,300 feet, but it is enough to give PHIVOLCS pause about the threat to the area near the volcano. Additional monitoring equipment has been moved to the volcano and local residents have been warned about the potential for lahars to be generated by these small explosions - in fact, one lahar has already damaged part of a highway near Bulusan. PHIVOLCS has also warned aircraft near the volcano about the potential ash hazard from these explosions, along with warning people on the northwest and southwest sides of Bulusan about potential ash fall. Local officials are already making plans for potential evacuations.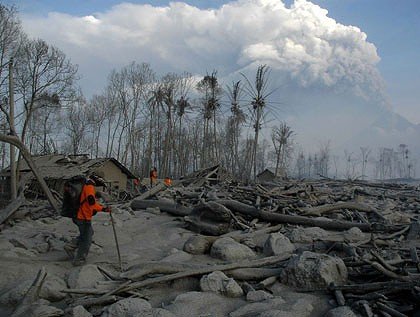 Searchers look for survivors in the ash-coated landscape around Merapi.
Merapi, Indonesia: Over in Indonesia, Merapi continues on in its current eruption, albeit at a slightly less energetic state. Syamsui Maarig, Head of National Disaster Management Agency (BNPB), reported that explosions at Merapi have become less frequent (indonesian) over the last 24 hours - and he gave the first estimate I've seen on an erupted volume: ~0.14 km3. That multiple is relatively small and what I might have guess from the pictures of the ash fall I have seen - and would put this as a ~VEI 3-4 eruption so far. James Reynolds has tweeted some stunning images of the damage caused by ash near the volcano, with trees and structures heavy strained by the weight of the ash. As the eruption marches on, the ash plume looms large over Yogjakarta (video) and the city's airport has been closed until at least next Monday. Now, over 320,000 people have had to flee from the activity, with over 200 people missing, including children lost in the chaos of the evacuations. If you want to try to keep an eye on the activity, there is a new webcam for Merapi that appears to be working, so check it out.
Top left: Ashfall on the streets of a village north of Merapi. Image courtesy of James Reynolds. Click on the image to see a larger version.
Big think's weekly newsletter.
Get smarter faster from the comfort of your inbox.
See our newsletter privacy policy
here