Tracking Space Junk from the Ground -- And Now From Space
Michio Kaku
Michio Kaku is a futurist, popularizer of science, and theoretical physicist, as well as a bestselling author and the host of two radio programs. He is the co-founder of string field theory (a branch of string theory), and continues Einstein's search to unite the four fundamental forces of nature into one unified theory. He holds the Henry Semat Chair and Professorship in theoretical physics and a joint appointment at City College of New York and the Graduate Center of C.U.N.Y. He is also a visiting professor at the Institute for Advanced Study in Princeton and is a Fellow of the American Physical Society.
Kaku launched his Big Think blog, "Dr. Kaku's Universe," in March 2010.
25 September, 2010
Nearly fifty years into mankind's space exploration, we have littered the heavens with our garbage. There is an incredible amount of debris that that is literally stuck in Earth's gravitational field, with each piece traveling at about 18,000 miles per hour. Of the estimated 600,000 pieces of old spacecraft parts, spent rocket stages, satellites that no longer work, fragments from small collisions, solid rocket fuel slag and even paint flakes from aging satellites or equipment, only about 20,000 or can be tracked. So each time we send new things into space such as the shuttle or satellites, we have to worry about the possibility for a major collision with some of that debris. To combat the problem, the United States has deployed a worldwide network of almost 30 optical and radar (mechanical and phased array) sensor sites that have a mission to detect, track and catalog these objects and debris that are currently orbiting Earth. The network of sensor sites is referred to as The Space Surveillance Network and has a variety of jobs including the plotting of anticipated orbital paths, predicting when and where a decaying space object will re-enter the atmosphere and even determine which country owns that re-entering object.
---
Satellite collisions are a rarity and do make the news. In 2008, China's space program intentionally crashed two satellites together as part of a anti-satellite test, a collision that outraged the International Space Community because it created thousands of additional debris fragments. There was also a major accidental collision last year between a commercial Iridium satellite and a defunct Russian Cosmos spacecraft; the two bodies smashed into one another almost 500 miles above Siberia. The more objects that are up there, the more chance they have of running into one another.
Until now, we have relied on ground-based systems to track all this space debris. But tonight a new United States Air Force satellite will be launched from Vandenberg Air Force Base that will give us for the first time an unobstructed and clear view of all of this debris and active satellites in space. The Space Based Surveillance Satellite (SBBS) is the first of it's kind and will finally give us the proper debris-tracking capabilities.
The launch is scheduled for 12:41am EDT on September 26 (9:41pm PDT on September 25).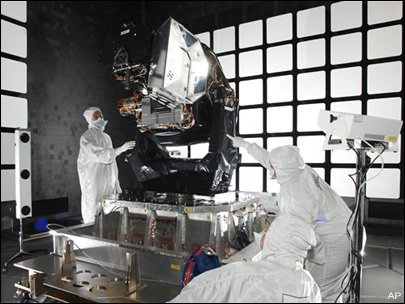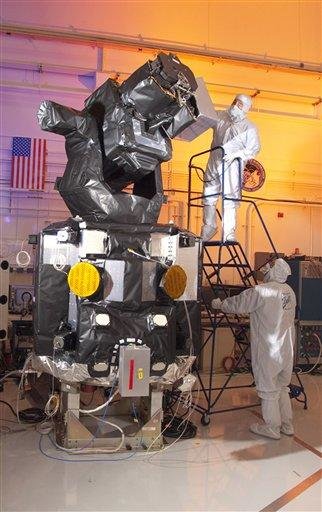 We will of course have to give the satellite a bit of time before ample amounts of data and images start pouring in, but we may find a considerable amount of more debris that we were unable to track before. It's likely that the tracking data that this satellite will provide will be worth it's weight in gold.
A study on flies may hold the key to future addiction treatments.
Scott Barbour/Getty Images
Mind & Brain
A new study suggests that drinking alcohol can affect how memories are stored away as good or bad.
This may have drastic implications for how addiction is caused and how people recall intoxication.
The findings may one day lead to a new form of treatment for those suffering from addiction.
Progressive America would be half as big, but twice as populated as its conservative twin.
Image: Dicken Schrader
Strange Maps
America's two political tribes have consolidated into 'red' and 'blue' nations, with seemingly irreconcilable differences.
Perhaps the best way to stop the infighting is to go for a divorce and give the two nations a country each
Based on the UN's partition plan for Israel/Palestine, this proposal provides territorial contiguity and sea access to both 'red' and 'blue' America
As the world gets hotter, men may have fewer and fewer viable sperm
Shutterstock
Surprising Science
New research on beetles shows that successive exposure to heatwaves reduces male fertility, sometimes to the point of sterility.
The research has implications both for how the insect population will sustain itself as well as how human fertility may work on an increasingly hotter Earth.
With this and other evidence, it is becoming clear that more common and more extreme heatwaves may be the most dangerous aspect of climate change.
Big think's weekly newsletter.
Get smarter faster from the comfort of your inbox.
See our newsletter privacy policy
here
Most Popular
Most Recent
Big think's weekly newsletter.
Get smarter faster from the comfort of your inbox.
See our newsletter privacy policy
here
© Copyright 2007-2018 & BIG THINK, BIG THINK EDGE,
SMARTER FASTER trademarks owned by The Big Think, Inc. All rights reserved.