Big ideas.
Once a week.
Subscribe to our weekly newsletter.
Short Men Can Look Forward to Having Younger Wives
11 October, 2011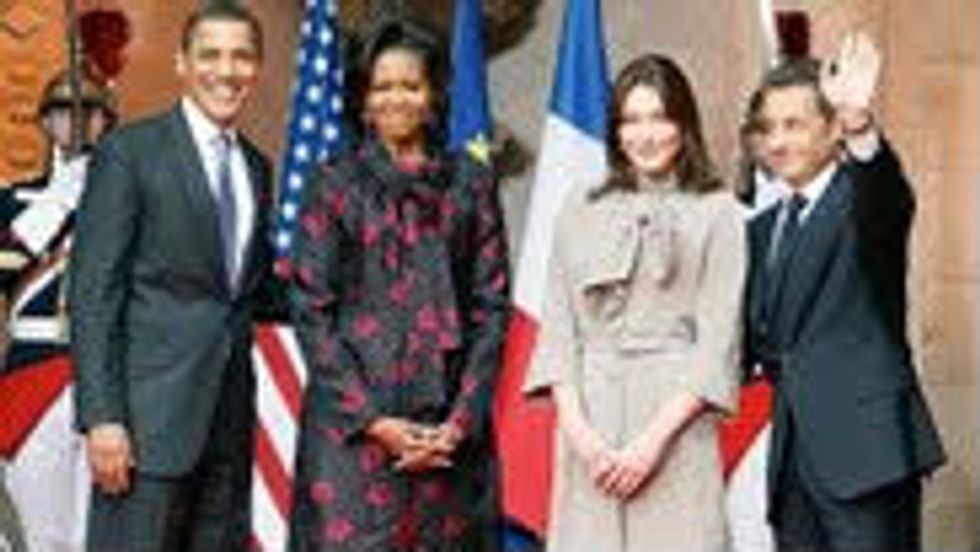 Women care about height and for many short men who are looking for a wife that means either settling for one who is less attractive or not finding one at all.  There is a silver lining though: a short man who is able to establish himself economically could very well find that later in life he has a younger wife than his taller friends.
---
Many studies have found a link between how well men do economically and their height. A recent German study, for example, found that for each additional standard deviation in height (an increase of about 7 cm) West German men are paid a 4% wage premium. So for example, a man who is less than 165 cm  (5'5") tall is, on average, paid 562€ less per month than a man who is between 185 and 195 cm (6'1" to 6'5"). Other studies that look at data from countries throughout the developed world have found very similar results – taller men do better on average in the labor market.
There are several reasons why this relationship exists beyond simple workplace discrimination, not the least of which being that adult height is related to socio-economic status in childhood. But it isn't just income that is causing short men to fair worse on the marriage market; even when we control for income women prefer taller men.

Consider the following experiment as an example. Imagine that a woman can choose to communicate with one of two men on an online dating site. One man earns $50,000 a year and is five inches taller than the woman. The other man earns X dollars per year and is five inches shorter than the woman. Every other characteristic about these two men is identical. What would "X" have to be in terms of income for the woman to prefer to communicate with the shorter man?
Using actual data from online dating websites economists have come up with the answer to that question – the short man would have to earn just over half a million dollars a year for a woman more than five inches taller than himself to want to communicate with him on an online dating site.*
Not surprisingly, the same study found that in online dating men who were between 6'3" and 6'4" tall received about 60% more messages from interested women than did men who were between 5'7" and 5'8" tall.
Using data from France, another study found that men who are shorter are significantly less likely to be either married or in a serious relationship even when the author controls for social status. They find that only 60% of 30 to 39 year old men who were less that 170 cm tall were married compared to 76% of men between 170 cm and 180 cm and 74% of men over 180 cm.
But here is an interesting twist. Because shorter men are more likely to still be single when they are a little older, they are in a good position to take advantage of an after-market, so to speak, that is populated with younger women who are less concerned with their husband's physical appearance and more interested in his ability to provide a stable income. Taller men are more likely to be married when they are younger, before they have established themselves as providers, and are more likely to be married to women who are closer to their own age.
Sure, taller men may have been married and then divorced, but the shorter men are more likely to not have the additional constraint on their resources of an ex-wife and children.

You might be wondering why I chose this picture of US president Obama and French president Sarkozy and their wives for this post. It is not just for the obvious point that Sarkozy is only 165 cm tall and is both powerful and married to a beautiful younger woman. It is because if you look closely enough you will notice that despite the fact that he is president of the fifth largest economy in the world, and married to a beautiful woman, Sarkozy is sufficiently concerned about his height to be wearing heels and to be standing on his toes. Such is the stigma attached to a man's height.

References:
"What Makes you Click? Mate Preferences and Matching Outcomes" in Online Dating by G. Hitsch, A. Hortaçsu, and D. Ariely.
Herpin N. (2005). "Love, careers, and heights in France, 2001." Economics and Human Biology, 3 (3); pp. 420-449.
Thank you to Elaine Scoiolino whose excellent book La Seduction: How the French Play the Game of Life brought this Sarkzy / Obama picture to my attention.
The father of all giant sea bugs was recently discovered off the coast of Java.
SJADE 2018
Surprising Science
A new species of isopod with a resemblance to a certain Sith lord was just discovered.
It is the first known giant isopod from the Indian Ocean.
The finding extends the list of giant isopods even further.
Humanity knows surprisingly little about the ocean depths. An often-repeated bit of evidence for this is the fact that humanity has done a better job mapping the surface of Mars than the bottom of the sea. The creatures we find lurking in the watery abyss often surprise even the most dedicated researchers with their unique features and bizarre behavior.

A recent expedition off the coast of Java discovered a new isopod species remarkable for its size and resemblance to Darth Vader.
The ocean depths are home to many creatures that some consider to be unnatural.
Bathynomus raksasa specimen (left) next to a closely related supergiant isopod, B. giganteus (right)
Sidabalok CM, Wong HP-S, Ng PKL (ZooKeys 2020)
According to LiveScience, the Bathynomus genus is sometimes referred to as "Darth Vader of the Seas" because the crustaceans are shaped like the character's menacing helmet. Deemed Bathynomus raksasa ("raksasa" meaning "giant" in Indonesian), this cockroach-like creature can grow to over 30 cm (12 inches). It is one of several known species of giant ocean-going isopod. Like the other members of its order, it has compound eyes, seven body segments, two pairs of antennae, and four sets of jaws.
The incredible size of this species is likely a result of deep-sea gigantism. This is the tendency for creatures that inhabit deeper parts of the ocean to be much larger than closely related species that live in shallower waters. B. raksasa appears to make its home between 950 and 1,260 meters (3,117 and 4,134 ft) below sea level.
Perhaps fittingly for a creature so creepy looking, that is the lower sections of what is commonly called The Twilight Zone, named for the lack of light available at such depths.
It isn't the only giant isopod, far from it. Other species of ocean-going isopod can get up to 50 cm long (20 inches) and also look like they came out of a nightmare. These are the unusual ones, though. Most of the time, isopods stay at much more reasonable sizes.
The discovery of this new species was published in ZooKeys. The remainder of the specimens from the trip are still being analyzed. The full report will be published shortly.
What benefit does this find have for science? And is it as evil as it looks?
The discovery of a new species is always a cause for celebration in zoology. That this is the discovery of an animal that inhabits the deeps of the sea, one of the least explored areas humans can get to, is the icing on the cake.
Helen Wong of the National University of Singapore, who co-authored the species' description, explained the importance of the discovery:
"The identification of this new species is an indication of just how little we know about the oceans. There is certainly more for us to explore in terms of biodiversity in the deep sea of our region."
The animal's visual similarity to Darth Vader is a result of its compound eyes and the curious shape of its head. However, given the location of its discovery, the bottom of the remote seas, it may be associated with all manner of horrifically evil Elder Things and Great Old Ones.
If computers can beat us at chess, maybe they could beat us at math, too.
Technology & Innovation
Most everyone fears that they will be replaced by robots or AI someday.
A field like mathematics, which is governed solely by rules that computers thrive on, seems to be ripe for a robot revolution.
AI may not replace mathematicians but will instead help us ask better questions.
The following is an excerpt adapted from the book Shape. It is reprinted with permission of the author.
Will machines replace us? Since the origin of artificial intelligence (AI), people have worried that computers eventually (or even imminently!) will surpass the human cognitive capacity in every respect.
Artificial intelligence pioneer Oliver Selfridge, in a television interview from the early 1960s, said, "I am convinced that machines can and will think in our lifetime" — though with the proviso, "I don't think my daughter will ever marry a computer." (Apparently, there is no technical advance so abstract that people can't feel sexual anxiety about it.)
AI Anxiety
Let's make the relevant question more personal: will machines replace me? I'm a mathematician; my profession is often seen from the outside as a very complicated but ultimately purely mechanical game played with fixed rules, like checkers, chess, or Go. These are activities in which machines have already demonstrated superhuman ability.
Some people imagine a world where computers give us all the answers. I dream bigger. I want them to ask good questions.
But for me, math is different: it is a creative pursuit that calls on our intuition as much as our ability to compute. (To be fair, chess players probably feel the same way.) Henri Poincaré, the mathematician who re-envisioned the whole subject of geometry at the beginning of the 20th century, insisted it would be hopeless
"to attempt to replace the mathematician's free initiative by a mechanical process of any kind. In order to obtain a result having any real value, it is not enough to grind out calculations, or to have a machine for putting things in order: it is not order only, but unexpected order, that has a value. A machine can take hold of the bare fact, but the soul of the fact will always escape it."
But machines can make deep changes in mathematical practice without shouldering humans aside. Peter Scholze, winner of a 2018 Fields Medal (sometimes called the "Nobel Prize of math") is deeply involved in an ambitious program at the frontiers of algebra and geometry called "condensed mathematics" — and no, there is no chance that I'm going to try to explain what that is in this space.
Meet AI, your new research assistant
Credit: Possessed Photography via Unsplash
What I am going to tell you is the result of what Scholze called the "Liquid Tensor Experiment." A community called Lean, started by Leonardo de Moura of Microsoft Research and now open-source and worldwide, has the ambitious goal of developing a computer language with the expressive capacity to capture the entirety of contemporary mathematics. A proposed proof of a new theorem, formalized by translation into this language, could be checked for correctness automatically, rather than staking its reputation on fallible human referees.

Scholze asked last December whether the ideas of condensed mathematics could be formalized in this way. He also wanted to know whether it could express the ideas of a particularly knotty proof that was crucial to the project — a proof that he was pretty sure was right.
When I first heard about Lean, I thought it would probably work well for some easy problems and theorems. I underestimated it. So did Scholze. In a May 2021 blog post, he writes, "[T]he Experiment has verified the entire part of the argument that I was unsure about. I find it absolutely insane that interactive proof assistants are now at the level that within a very reasonable time span they can formally verify difficult original research."
And the contribution of the machine wasn't just to certify that Scholze was right to think his proof was sound; he reports that the work of putting the proof in a form that a machine could read improved his own human understanding of the argument!
The Liquid Tensor Experiment points to a future where machines, rather than replacing human mathematicians, become our indispensable partners. Whether or not they can take hold of the soul of the fact, they can extend our grasp as we reach for the soul.
Slicing up a knotty problem
That can take the form of "proof assistance," as it did for Scholze, or it can go deeper. In 2018, Lisa Piccirillo, then a PhD student at the University of Texas, solved a long-standing geometry problem about a shape called the Conway knot. She proved the knot was "non-slice" — this is a fact about what the knot looks like from the perspective of four-dimensional beings. (Did you get that? Probably not, but it doesn't matter.) The point is this was a famously difficult problem.
A few years before Piccirillo's breakthrough, a topologist named Mark Hughes at Brigham Young had tried to get a neural network to make good guesses about which knots were slice. He gave it a long list of knots where the answer was known, just as an image-processing neural net would be given a long list of pictures of cats and pictures of non-cats.
Hughes's neural net learned to assign a number to every knot; if the knot were slice, the number was supposed to be 0, while if the knot were non-slice, the net was supposed to return a whole number bigger than 0. In fact, the neural net predicted a value very close to 1 — that is, it predicted the knot was non-slice — for every one of the knots Hughes tested, except for one. That was the Conway knot.
For the Conway knot, Hughes's neural net returned a number very close to 1/2, its way of saying that it was deeply unsure whether to answer 0 or 1. This is fascinating! The neural net correctly identified the knot that posed a really hard and mathematically rich problem (in this case, reproducing an intuition that topologists already had).
Some people imagine a world where computers give us all the answers. I dream bigger. I want them to ask good questions.
Dr. Jordan Ellenberg is a professor of mathematics at the University of Wisconsin and a number theorist whose popular articles about mathematics have appeared in the New York Times, the Wall Street Journal, Wired, and Slate. His most recent book is Shape: The Hidden Geometry of Information, Biology, Strategy, Democracy, and Everything Else.
Laughing gas may be far more effective for some than antidepressants.
Surprising Science
Standard antidepressant medications don't work for many people who need them.
With ketamine showing potential as an antidepressant, researchers investigate another anesthetic: nitrous oxide, commonly called "laughing gas."
Researchers observe that just a light mixture of nitrous oxide for an hour alleviates depression symptoms for two weeks.
The usual antidepressants don't work for everyone. That's what makes a new study of the antidepressant properties of nitrous oxide so intriguing. It looks like just a single low dose of what your dentist may call "laughing gas" can help alleviate symptoms of depression for weeks afterward.
The study, from researchers at University of Chicago and Washington University-St. Louis, is published in the journal Science Translational Medicine.
Resistance to anti-depression medications
Nitrous oxide: two atoms of nitrogen, one of oxygenCredit: Big Think
According to the senior author of the study, Charles Conway, "A significant percentage — we think around 15 percent — of people who suffer from depression don't respond to standard antidepressant treatment."

"These 'treatment-resistant depression' patients," Conway says, "often suffer for years, even decades, with life-debilitating depression. We don't really know why standard treatments don't work for them, though we suspect that they may have different brain network disruptions than non-resistant depressed patients. Identifying novel treatments, such as nitrous oxide, that target alternative pathways is critical to treating these individuals."
"There is a huge unmet need," says lead author Peter Nagele. "There are millions of depressed patients who don't have good treatment options, especially those who are dealing with suicidality."
If ketamine can help, can nitrous oxide?
Credit: sudok1 / Adobe Stock
The researchers wondered if some of the anti-depression properties seen in ketamine might also apply to nitrous oxide. Nagele explains, "Like nitrous oxide, ketamine is an anesthetic, and there has been promising work using ketamine at a sub-anesthetic dose for treating depression."

The researchers conducted a one-hour session — they describe it as a "proof-of-principle" trial — in which 20 individuals with depression were administered an air mixture with 50 percent nitrous oxide. Twenty-four hours later, the researchers found a significant reduction in the participants' symptoms of depression versus a control group.
However, the individuals also suffered the unpleasant side effects that laughing gas often causes in dental patients: headache, nausea, and vomiting.
Smaller dose, longer effect
Credit: sudok1 / Adobe Stock
"We wondered if our past concentration of 50 percent had been too high," recalls Nagele. "Maybe by lowering the dose, we could find the 'Goldilocks spot' that would maximize clinical benefit and minimize negative side effects."

In a new trial, 20 people with depression were given a lighter nitrous oxide mix, just 25 percent, and the individuals tested reported a 75 percent reduction in side effects compared to the a control group given an air/oxygen placebo. This time, the researchers also tracked the effect of nitrous oxide on symptoms of depression for a far longer period, two weeks instead of just 24 hours.
"The reduction in side effects was unexpected and quite drastic," reports Nagele, "but even more excitingly, the effects after a single administration lasted for a whole two weeks. This has never been shown before. It's a very cool finding."
Nagele also notes that, despite its popular renown as laughing gas, even a light 25 percent mix of nitrous actually causes people to nod off. "They're not getting high or euphoric; they get sedated."
Delivering help to people with depression
Nagele cautions, "These have just been pilot studies. But we need acceptance by the larger medical community for this to become a treatment that's actually available to patients in the real world. Most psychiatrists are not familiar with nitrous oxide or how to administer it, so we'll have to show the community how to deliver this treatment safely and effectively. I think there will be a lot of interest in getting this into clinical practice."
After all, Nagele adds, "If we develop effective, rapid treatments that can really help someone navigate their suicidal thinking and come out on the other side — that's a very gratifying line of research."
Scroll down to load more…