This Science Team Wants You to Never Have to Buy Another Pair of Glasses
These glycerin "smart glasses" may be the only specs you'll need – although they do need a design intervention at some point.
17 February, 2017
Sometimes, wearing eyeglasses can be a pain. You need to change them with every new prescription and in addition they don't always serve you well enough. Reading glasses, for example, help you focus up close but become useless if you need to go back to doing other activities. According to the American Academy of Ophthalmology more than 150 million Americans use some type of corrective eyewear, spending $15 billion each year. We may all need glasses at some point, because as a natural side-effect of aging, the lens inside our eyes that adjusts the focal depth depending on what we look at, loses its ability to change focus.
---
A team of engineers and electricians from University of Utah wants to solve part of this problem by reducing the need of wearers to have several types of glasses or to take glasses on and off depending on the situation. Engineering professor Carlos Mastrangelo and doctoral student Nazmul Hasan have created "smart glasses" that can automatically adjust the focus of what a person is seeing making the scene always clear, no matter if it is near or far.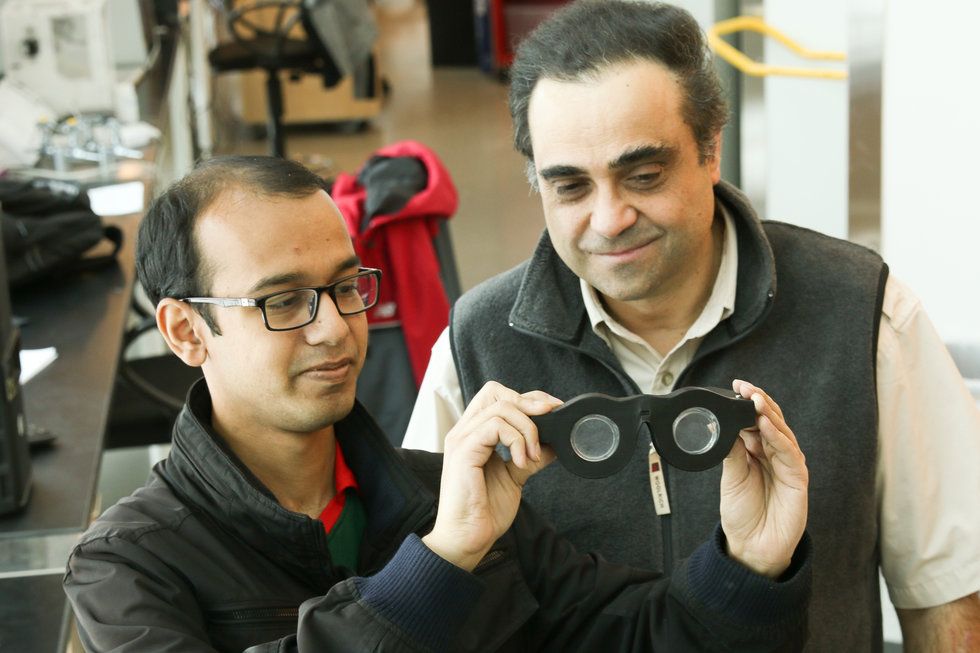 University of Utah electrical and computer engineering professor Carlos Mastrangelo, right, and doctoral student Nazmul Hasan with their "smart glasses". 
The smart glasses lenses are made of glycerin – a colorless liquid, which is enclosed by flexible membranes in the front and back. A mechanism in the rear membrane of the lenses allows them to change their curvature, which in turn changes the optical power of the lens. How do the glasses know how to adjust? An infrared light meter in the bridge of the glasses measures the distance between them and the objects the wearer looks at. The frames (which will need a design intervention at some point) house additional electronics and a battery that can last more than 24 hours per charge.  
But what is a new invention without an app to go with it? The glasses do come with an app, in which the wearer inputs his or her prescription, so that the glasses know how to adjust initially. This is all it takes – no need for custom lenses, and even if the prescription changes in the future, the glasses don't have to.
The team has already created a startup company with the goal to commercialize their invention, hoping to hit the market in about three years. 
Photos: University of Utah
What can 3D printing do for medicine? The "sky is the limit," says Northwell Health researcher Dr. Todd Goldstein.
Northwell Health
Sponsored by Northwell Health
Medical professionals are currently using 3D printers to create prosthetics and patient-specific organ models that doctors can use to prepare for surgery.
Eventually, scientists hope to print patient-specific organs that can be transplanted safely into the human body.
Northwell Health, New York State's largest health care provider, is pioneering 3D printing in medicine in three key ways.
Torn between absolutism on the left and the right, classical liberalism—with its core values of compassion and incremental progress whereby the once-radical becomes the mainstream—is in need of a good defense. And Adam Gopnik is its lawyer.
Think Again Podcasts
Liberalism as "radical pragmatism"
Intersectionality and civic discourse
How "a thousand small sanities" tackled drunk driving, normalized gay marriage, and could control gun violence
As Game of Thrones ends, a revealing resolution to its perplexing geography.
Strange Maps
The fantasy world of Game of Thrones was inspired by real places and events.
But the map of Westeros is a good example of the perplexing relation between fantasy and reality.
Like Britain, it has a Wall in the North, but the map only really clicks into place if you add Ireland.
The lost practice of face-to-face communication has made the world a more extreme place.
Videos
The world was saner when we spoke face-to-face, argues John Cameron Mitchell. Not looking someone in the eye when you talk to them raises the potential for miscommunication and conflict.
Social media has been an incredible force for activism and human rights, but it's also negatively affected our relationship with the media. We are now bombarded 24/7 with news that either drives us to anger or apathy.
Sitting behind a screen makes polarization worse, and polarization is fertile ground for conspiracy theories and fascism, which Cameron describes as irrationally blaming someone else for your problems.
Big think's weekly newsletter.
Get smarter faster from the comfort of your inbox.
See our newsletter privacy policy
here
Most Popular
Most Recent
Big think's weekly newsletter.
Get smarter faster from the comfort of your inbox.
See our newsletter privacy policy
here
© Copyright 2007-2019 & BIG THINK, BIG THINK EDGE,
SMARTER FASTER trademarks owned by The Big Think, Inc. All rights reserved.