This Science Team Wants You to Never Have to Buy Another Pair of Glasses
These glycerin "smart glasses" may be the only specs you'll need – although they do need a design intervention at some point.
17 February, 2017
Sometimes, wearing eyeglasses can be a pain. You need to change them with every new prescription and in addition they don't always serve you well enough. Reading glasses, for example, help you focus up close but become useless if you need to go back to doing other activities. According to the American Academy of Ophthalmology more than 150 million Americans use some type of corrective eyewear, spending $15 billion each year. We may all need glasses at some point, because as a natural side-effect of aging, the lens inside our eyes that adjusts the focal depth depending on what we look at, loses its ability to change focus.
---
A team of engineers and electricians from University of Utah wants to solve part of this problem by reducing the need of wearers to have several types of glasses or to take glasses on and off depending on the situation. Engineering professor Carlos Mastrangelo and doctoral student Nazmul Hasan have created "smart glasses" that can automatically adjust the focus of what a person is seeing making the scene always clear, no matter if it is near or far.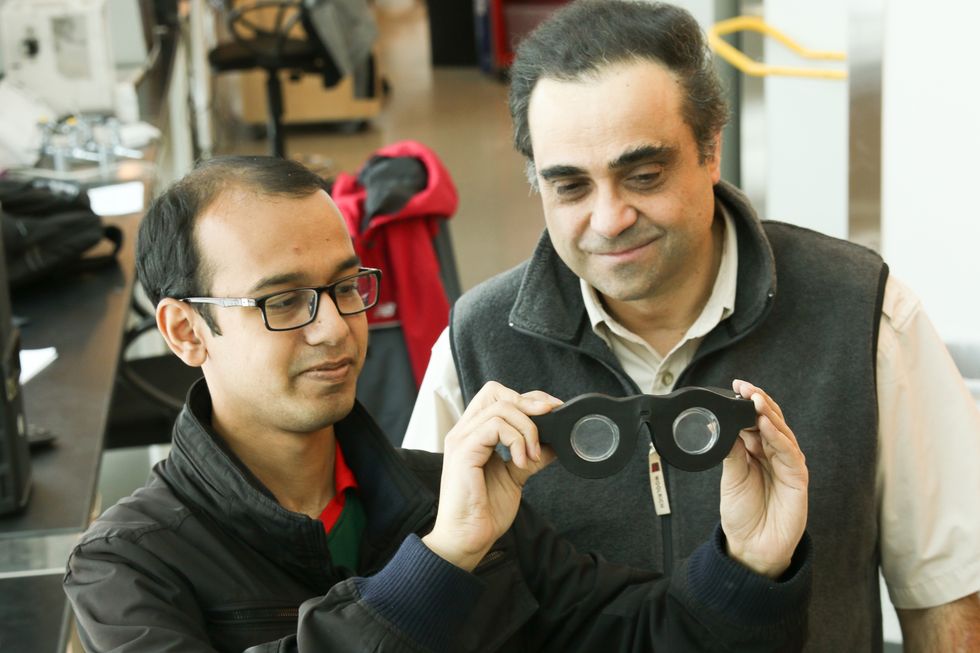 University of Utah electrical and computer engineering professor Carlos Mastrangelo, right, and doctoral student Nazmul Hasan with their "smart glasses". 
The smart glasses lenses are made of glycerin – a colorless liquid, which is enclosed by flexible membranes in the front and back. A mechanism in the rear membrane of the lenses allows them to change their curvature, which in turn changes the optical power of the lens. How do the glasses know how to adjust? An infrared light meter in the bridge of the glasses measures the distance between them and the objects the wearer looks at. The frames (which will need a design intervention at some point) house additional electronics and a battery that can last more than 24 hours per charge.  
But what is a new invention without an app to go with it? The glasses do come with an app, in which the wearer inputs his or her prescription, so that the glasses know how to adjust initially. This is all it takes – no need for custom lenses, and even if the prescription changes in the future, the glasses don't have to.
The team has already created a startup company with the goal to commercialize their invention, hoping to hit the market in about three years. 
Photos: University of Utah
Universities claim to prepare students for the world. How many actually do it?
Sponsored by Charles Koch Foundation
Many university mission statements do not live up to their promise, writes Ben Nelson, founder of Minerva, a university designed to develop intellect over content memorization.
The core competencies that students need for success—critical thinking, communication, problem solving, and cross-cultural understanding, for example—should be intentionally taught, not left to chance.
These competencies can be summed up with one word: wisdom. True wisdom is the ability to apply one's knowledge appropriately when faced with novel situations.
This is what the world will look like, 250 million years from now
On Pangaea Proxima, Lagos will be north of New York, and Cape Town close to Mexico City
Surprising Science
To us humans, the shape and location of oceans and continents seems fixed. But that's only because our lives are so short.
A new study may help us better understand how children build social cognition through caregiver interaction.
Personal Growth
Scientists speculate imitation helps develop social cognition in babies.
A new study out of Lund University shows that six-month-olds look and smile more at imitating adults.
Researchers hope the data will spur future studies to discover what role caregiver imitation plays in social cognition development.
Researchers at UT Southwestern noted a 47 percent increase in blood flow to regions associated with memory.
Photo: Johannes Eisele/AFP via Getty Images
Surprising Science
Researchers at UT Southwestern observed a stark improvement in memory after cardiovascular exercise.
The year-long study included 30 seniors who all had some form of memory impairment.
The group of seniors that only stretched for a year did not fair as well in memory tests.
Videos
According to a man that knows more than 20 languages, the key is to start in the middle.
Scroll down to load more…