This Science Team Wants You to Never Have to Buy Another Pair of Glasses
These glycerin "smart glasses" may be the only specs you'll need – although they do need a design intervention at some point.
17 February, 2017
Sometimes, wearing eyeglasses can be a pain. You need to change them with every new prescription and in addition they don't always serve you well enough. Reading glasses, for example, help you focus up close but become useless if you need to go back to doing other activities. According to the American Academy of Ophthalmology more than 150 million Americans use some type of corrective eyewear, spending $15 billion each year. We may all need glasses at some point, because as a natural side-effect of aging, the lens inside our eyes that adjusts the focal depth depending on what we look at, loses its ability to change focus.
---
A team of engineers and electricians from University of Utah wants to solve part of this problem by reducing the need of wearers to have several types of glasses or to take glasses on and off depending on the situation. Engineering professor Carlos Mastrangelo and doctoral student Nazmul Hasan have created "smart glasses" that can automatically adjust the focus of what a person is seeing making the scene always clear, no matter if it is near or far.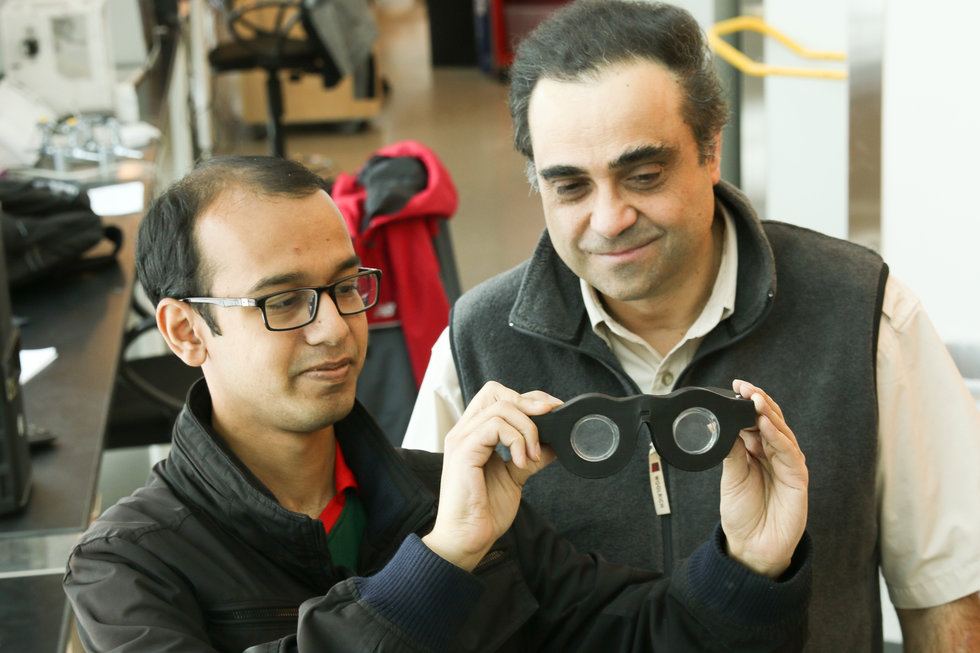 University of Utah electrical and computer engineering professor Carlos Mastrangelo, right, and doctoral student Nazmul Hasan with their "smart glasses". 
The smart glasses lenses are made of glycerin – a colorless liquid, which is enclosed by flexible membranes in the front and back. A mechanism in the rear membrane of the lenses allows them to change their curvature, which in turn changes the optical power of the lens. How do the glasses know how to adjust? An infrared light meter in the bridge of the glasses measures the distance between them and the objects the wearer looks at. The frames (which will need a design intervention at some point) house additional electronics and a battery that can last more than 24 hours per charge.  
But what is a new invention without an app to go with it? The glasses do come with an app, in which the wearer inputs his or her prescription, so that the glasses know how to adjust initially. This is all it takes – no need for custom lenses, and even if the prescription changes in the future, the glasses don't have to.
The team has already created a startup company with the goal to commercialize their invention, hoping to hit the market in about three years. 
Photos: University of Utah
Lumina Foundation is partnering with Big Think to unearth the next large-scale, rapid innovation in post-high school education. Enter the competition here!
That's one way to reduce the national debt.
Change.org
Politics & Current Affairs
The tongue-in-cheek petition, whose stated aim is to reduce the national debt, has been signed more than 8,600 times as of Tuesday.
Selling Montana, the fourth largest state in the country, would constitute the largest land deal since the Louisiana Purchase.
The national debt is often a source of concern for individuals, but the chances of the U.S. defaulting on its debts are relatively low — in part because the bulk of the national debt is owned by the American public.
The part of your brain responsible for ASMR catalogs music, and appears to be a stronghold against Alzheimer's and dementia.
The parts of the brain highlighted in red and yellow are thought to control your sense of attention and memory. (image c/o Brain Network Lab)
popular
Some music inspires you to move your feet, some inspires you to get out there and change the world. In any case, and to move hurriedly on to the point of this article, it's fair to say that music moves people in special ways. 
Evolutionarily speaking, being gay is still something of an enigma
Videos
Heterosexual people have been less interesting to scientists than gay people, in terms of where they come from, because, evolutionarily speaking, being gay doesn't lead to a higher "higher reproductive fitness" — meaning, it doesn't lead to more babies.
Across cultures, gay boys tend to be more interested in spending time with their mothers.
We still don't really know why gay people are attracted to each other.
Big think's weekly newsletter.
Get smarter faster from the comfort of your inbox.
See our newsletter privacy policy
here
Most Popular
Most Recent
Big think's weekly newsletter.
Get smarter faster from the comfort of your inbox.
See our newsletter privacy policy
here
© Copyright 2007-2018 & BIG THINK, BIG THINK EDGE,
SMARTER FASTER trademarks owned by The Big Think, Inc. All rights reserved.