Meltware: Ingenious DIY Tableware
Maria Popova
Maria Popova is a reader and a writer, and writes about what she reads on Brain Pickings (brainpickings.org), which is included in the Library of Congress archive of culturally valuable materials. She has also written for The New York Times, Wired UK, and The Atlantic, among others, and is an MIT Fellow. She is on Twitter @brainpicker.
25 November, 2010
Are your kitchen cabinets overflowing with tableware you rarely use, only to find yourself in need of an essential missing piece for that dinner party? Eindhoven Design Academy graduate Maaike Seegers has a solution: Meltware, an ingenious collection of DIY tableware that allows you to make your own dinnerware in exactly the sizes and numbers you need, on demand.
---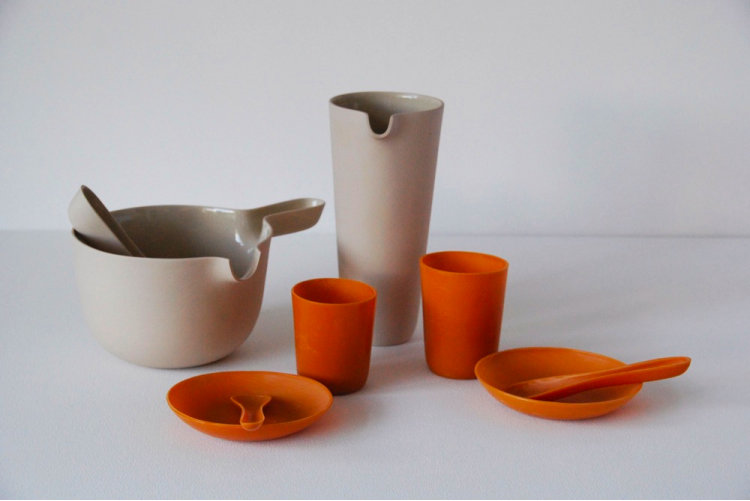 It comes with three stoneware pieces – a spoon, a bowl, and a carafe – that can be used as molds for creating more utensils. You make the rest of the set by bending and shaping Carnauba wax – a heavyduty natural waterproof wax derived from palm trees. Just heat up the the wax in a pan to melt it, then pour it into the molds for your very own homemade dinnerware.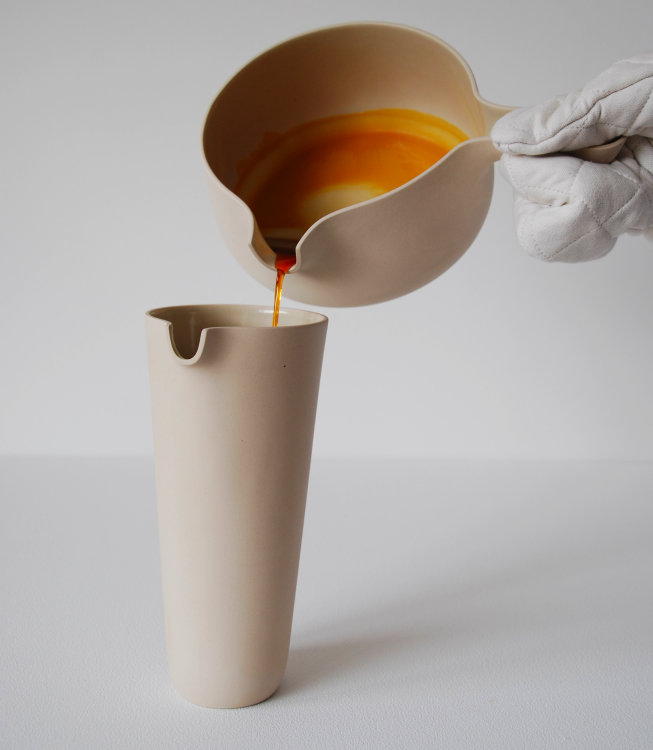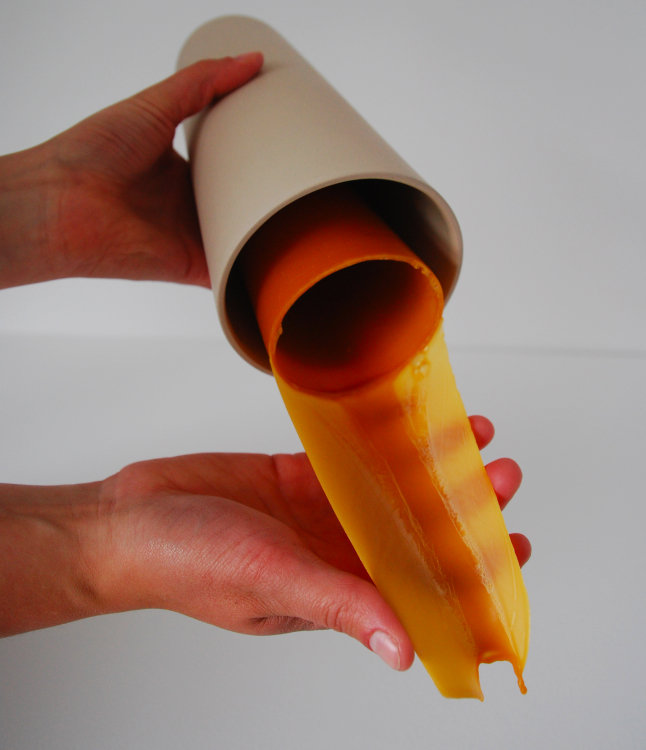 Different sizes are made by varying the amount of wax and how it is poured. The best part: The entire collection can be remelted – brilliant storage efficiency as well as a convenient fix in case anything gets broken.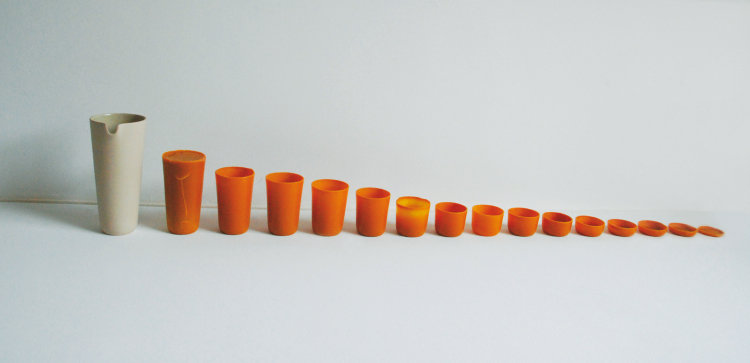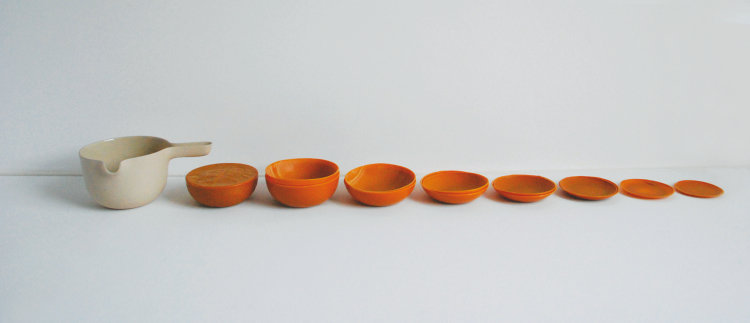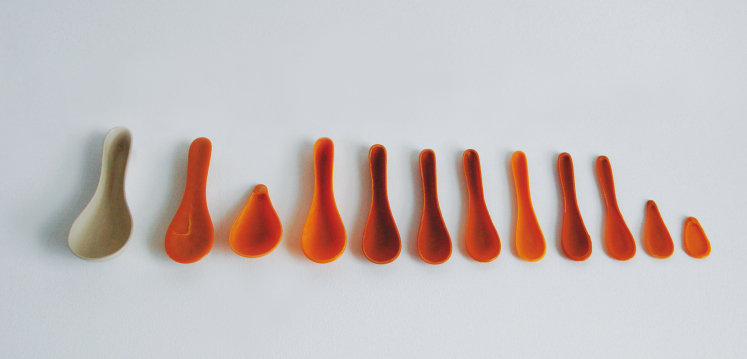 At a time when 3D printing is hailed as the next big design revolution, it's interesting to see a different, more organic approach that bespeaks the same need: DIY, on-demand, factory-free design object for everyday life.
Images courtesy of FastCo Design
Maria Popova is the editor of Brain Pickings, a curated inventory of miscellaneous interestingness. She writes for Wired UK, GOOD Magazine, Design Observer and Huffington Post, and spends a shameful amount of time on Twitter.
Related Articles
How a cataclysm worse than what killed the dinosaurs destroyed 90 percent of all life on Earth.
Credit: Ron Miller
Surprising Science
While the demise of the dinosaurs gets more attention as far as mass extinctions go, an even more disastrous event called "the Great Dying" or the "End-Permian Extinction" happened on Earth prior to that. Now scientists discovered how this cataclysm, which took place about 250 million years ago, managed to kill off more than 90 percent of all life on the planet.
A new study discovers the "liking gap" — the difference between how we view others we're meeting for the first time, and the way we think they're seeing us.
New acquaintances probably like you more than you think. (Photo by Simone Joyner/Getty Images)
Surprising Science
We tend to be defensive socially. When we meet new people, we're often concerned with how we're coming off. Our anxiety causes us to be so concerned with the impression we're creating that we fail to notice that the same is true of the other person as well. A new study led by Erica J. Boothby, published on September 5 in Psychological Science, reveals how people tend to like us more in first encounters than we'd ever suspect.
Using advanced laser technology, scientists at NASA will track global changes in ice with greater accuracy.
Firing three pairs of laser beams 10,000 times per second, the ICESat-2 satellite will measure how long it takes for faint reflections to bounce back from ground and sea ice, allowing scientists to measure the thickness, elevation and extent of global ice
popular
Leaving from Vandenberg Air Force base in California this coming Saturday, at 8:46 a.m. ET, the Ice, Cloud, and Land Elevation Satellite-2 — or, the "ICESat-2" — is perched atop a United Launch Alliance Delta II rocket, and when it assumes its orbit, it will study ice layers at Earth's poles, using its only payload, the Advance Topographic Laser Altimeter System (ATLAS).
Big think's weekly newsletter.
Get smarter faster from the comfort of your inbox.
See our newsletter privacy policy
here
Most Popular
Most Recent
Big think's weekly newsletter.
Get smarter faster from the comfort of your inbox.
See our newsletter privacy policy
here
© Copyright 2007-2018 & BIG THINK, BIG THINK EDGE,
SMARTER FASTER trademarks owned by The Big Think, Inc. All rights reserved.