New study finds the egg may actually 'choose' the Sperm
Here's the first evidence to challenge the "fastest sperm" narrative.
21 November, 2017
---
If you've attended high school, you can probably remember filling in a Punnett square during a biology class. It was the simple diagram that could not only make you feel like a knowledgeable budding geneticist, but could also help you figure out the probability of your kids having blue eyes in the case the cute classmate you had a crush on agreed to live with you happily ever after.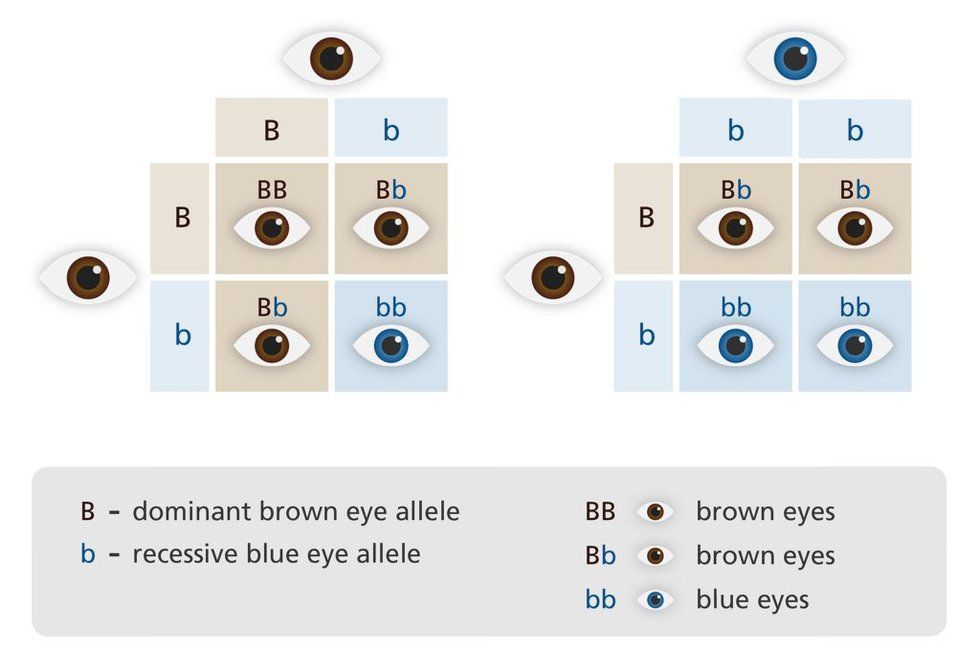 Credit: Flickr / yourgenome
The Punnett Square is a visual representation of Gregor Mendel's laws of inheritance. They are three and they posit that 1) alternative forms of a gene (allele pairs) separate randomly during the production of an egg or sperm (gametes), so that each gamete only carries one form of the gene; 2) each pair of alleles segregates independently of other pairs during the formation of an egg or sperm; 3) the genotype of an individual is made of many alleles (after a random pairing of an egg and a sperm, each of which carries a random form of the gene), and the phenotype of an individual (the visible expression of the genotype) is determined by the dominant alleles and the environment.
What underlies all of Mendel's laws is the idea of randomness. Scientists believe that it is up to chance which sperm will fertilize an egg and which combinations of alleles the offspring would have. That is, of course, after the sperm has proven itself to be the strongest and most enduring swimmer of them all. But the point is, the egg has no say in this. It sits passively waiting to be fertilized.
This whole narrative, including Mendel's laws, may be about to change. Dr. Joseph H. Nadeau, principal scientist at the Pacific Northwest Research Institute, has found evidence that suggests eggs and sperm don't always combine randomly, but in fact the egg may choose which sperm to fertilize it. The findings have been published in Genetics.
the-mystery-of-our-sexual-evolution
Nadeau was tipped off by two experiments from his own lab which were supposed to produce specific predictable ratios of gene combinations in offspring (based on Mendel's laws), but they didn't. It actually turned out that certain pairings of genes are much more likely than others in the cases when the mother carries a particular gene.
Nadeau was exploring how the interactions between two genes (Apobec1 and Dnd1) affected the risks for testicular cancer in mice. He noticed a profound difference between the offspring of the mice in the cases when the mother carried a normal and mutated version of Dnd1 vs. when the father carried a normal and mutated version of the gene, and then the mice were bred with a partner who had a normal and mutated version of Apobec1. (Now is the time to bust out those Punnett chart skills.)
When the mother carried the two versions of Dnd1, the distribution of the genes in the offspring followed Mendel's laws but when the father did, the math went entirely off. Instead of finding the expected 75 percent of offspring to carry at least one of the mutant genes, they found that only 27 percent of the offspring did.
After eliminating other possible explanations for the unlikely ratios, like embryonic death, Nadeau concluded that fertilization must not have been random and there must be a mechanism that allows the egg to choose the sperm with the normal instead of the mutated gene. He calls it genetically biased fertilization.
"It's the gamete equivalent of choosing a partner," Nadeau says for Quanta Magazine. "We've been blinded by our preconceptions. It's a different way to think about fertilization with very different implications about the process of fertilization."

The mechanism of how the egg may decide which sperm to let fertilize it is still unclear. There probably are secreted and cell-surface factors in female reproductive organs that could control access of sperm to eggs based on their genetic content. Nevertheless these findings shed a new light on the female and her reproductive system, which as it turns out, has a much more active role in choosing a partner or a sperm cell and influencing the genetic composition of her offspring.
For more on the topic check out Quanta Magazine.
Big Think
Sponsored by Lumina Foundation
Upvote/downvote each of the videos below!

As you vote, keep in mind that we are looking for a winner with the most engaging social venture pitch - an idea you would want to invest in.
"Earth" features about 30 of the biggest names in entertainment.
Culture & Religion
Lil Dicky is a rapper and comedian who released his debut album in 2015.
His new music video, "Earth," features artists such as Justin Bieber, Ariana Grande, Ed Sheehan, Kevin Hart, and Leonardo DiCaprio.
All proceeds of the music video will go to environmental causes, Dicky said.
Upstreamism advocate Rishi Manchanda calls us to understand health not as a "personal responsibility" but a "common good."
Sponsored by Northwell Health
Upstreamism tasks health care professionals to combat unhealthy social and cultural influences that exist outside — or upstream — of medical facilities.
Patients from low-income neighborhoods are most at risk of negative health impacts.
Thankfully, health care professionals are not alone. Upstreamism is increasingly part of our cultural consciousness.
Image source: Historic Environment Scotland
Surprising Science
A forensic artist in Scotland has made a hyper realistic model of an ancient dog.
It was based on the skull of a dog dug up in Orkney, Scotland, which lived and died 4,000 years ago.
The model gives us a glimpse of some of the first dogs humans befriended.
Big think's weekly newsletter.
Get smarter faster from the comfort of your inbox.
See our newsletter privacy policy
here
Most Popular
Most Recent
Big think's weekly newsletter.
Get smarter faster from the comfort of your inbox.
See our newsletter privacy policy
here
© Copyright 2007-2019 & BIG THINK, BIG THINK EDGE,
SMARTER FASTER trademarks owned by The Big Think, Inc. All rights reserved.