A bionic lens undergoing clinical trials could soon give you superhuman abilities
We're talking Ghost in the Shell type of stuff. 
31 August, 2017
Maybe you watched Ghost in the Shell and maybe afterwards you and your friend had a conversation about whether or not you would opt in for some bionic upgrades if that was possible - like a liver that could let you drink unlimitedly or an eye that could give you superhuman vision. And maybe you had differing opinions but you concluded that it's irrelevant because the time to make such choices is far in the future. Well, it turns out, it's two years away.
---
А Canadian company called Ocumetics Technology Corporation is currently doing clinical testing for their Bionic Lens - a medical device that could make glasses and contact lenses obsolete. If everything goes smoothly, the lens could be in your eye-surgeon's hands and in your eyes in two years. And the capabilities it will give you are truly mind-blowing.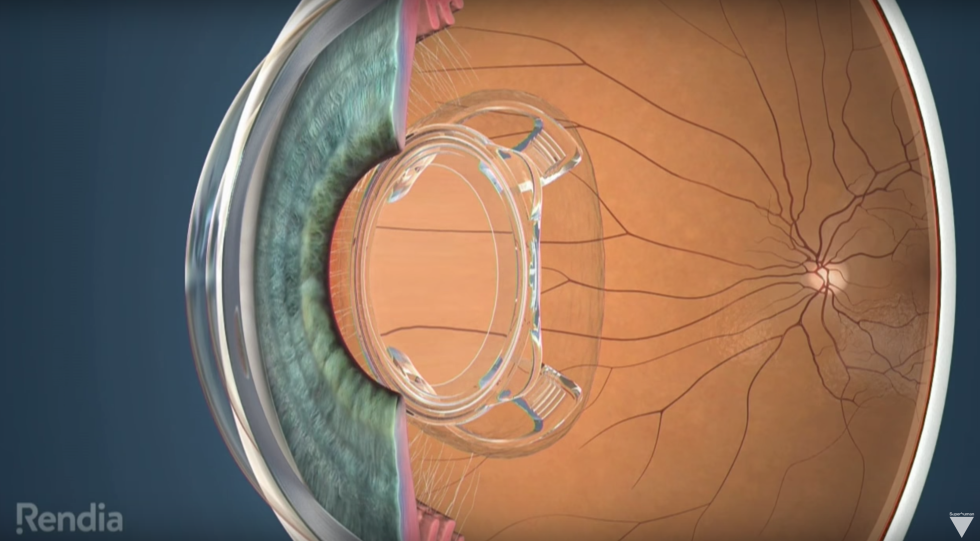 A model of the Bionic Lens in the eye / Ocumetics / Superhuman Summit 2016
The Bionic Lens is a dynamic lens that replaces the natural lens inside the eye via one of the most common and successful procedures in medicine - cataract surgery. Once there, the lens restores clear vision at all distances without any visual quality problems. It can auto-regulate within the eye by connecting to the muscles that change the curvature of our natural lenses, which allows it to focus at different ranges - potentially much wider ranges than our natural sight is capable of. In addition, because the Bionic Lens responds with less than 1/100 the amount of energy of the natural lens, you can also focus on something all day without any strain on the eyes.
The Bionic Lens could improve on the 20/20 vision threefold. Imagine that you can see a clock's dial 10 feet away. With the lens you would be able to see the dial in the same detail when it is 30 feet away. What happens when you combine the super sharp focus and the ability to tune the lens to improve sight well beyond the capabilities of the eye, is that you can see really sharp details at very close distances. If you looked at a tiny sliver of your finger, for example, you would be able to see the cellular detail in it.
What is even more exciting is that the lens is developed with components that allow for further easy access to it and the ability for upgrades and modifications. Like, for example, installing projection systems that will give the user capabilities of projecting their phone screen, or integrating NASA technologies to allow for better focusing resolution than anything seen before, or even installing a system that allows for slow drug delivery inside the eye.
Dr. Garth Webb, the sole innovator behind the Bionic Lens and an optometrist with over 40 years of experience says:
"We have developed the Bionic lens to, in its default mode, make our lives function better in their normal realm and in its augmented capacity to allow for us to integrate seamlessly with the entire digital world. […] My humble perception is, that us human beings will be the center of artificial intelligence activity. So, I believe that we are going to filter and chaperon artificial intelligence that will be either around our head, or on our watch, or maybe both. So, it is, if you will, augmenting the human beyond what we normally anticipate."

Commenting on the dark side of this technology, Webb notes that, in fact, its absence is what will eventually become the problem, as it provides "unfair" advantage to those who have it.
The early adopters will have to pay about $3200 per lens, excluding the cost of the surgery. The company has already started compiling a list of clinics and surgeons, via referrals, that it will work with.
The Bionic Lens will not be a panacea for all types of eye conditions. It can't treat color-blindness, cloudy corneas, severe macular degeneration, severe genetic retinal diseases or torn or damaged optic nerves. It does provide, however, an upgraded version of our own biological lens, which inevitably deteriorates with age.
Below you can watch Dr. Garth Webb's full presentation of this exciting new invention at the Superhuman Summit 2016.
What can 3D printing do for medicine? The "sky is the limit," says Northwell Health researcher Dr. Todd Goldstein.
Northwell Health
Sponsored by Northwell Health
Medical professionals are currently using 3D printers to create prosthetics and patient-specific organ models that doctors can use to prepare for surgery.
Eventually, scientists hope to print patient-specific organs that can be transplanted safely into the human body.
Northwell Health, New York State's largest health care provider, is pioneering 3D printing in medicine in three key ways.
Big Think Edge
Push Past Negative Self-Talk: Give Yourself the Proper Fuel to Attack the World, with David Goggins, Former NAVY SealIf you've ever spent 5 minutes trying to meditate, you know something most people don't realize: that our minds are filled, much of the time, with negative nonsense. Messaging from TV, from the news, from advertising, and from difficult daily interactions pulls us mentally in every direction, insisting that we focus on or worry about this or that. To start from a place of strength and stability, you need to quiet your mind and gain control. For former NAVY Seal David Goggins, this begins with recognizing all the negative self-messaging and committing to quieting the mind. It continues with replacing the negative thoughts with positive ones.
If you don't want to know anything about your death, consider this your spoiler warning.
Culture & Religion
For centuries cultures have personified death to give this terrifying mystery a familiar face.
Modern science has demystified death by divulging its biological processes, yet many questions remain.
Studying death is not meant to be a morbid reminder of a cruel fate, but a way to improve the lives of the living.
Big Think Edge
Master Execution: How to Get from Point A to Point B in 7 Steps, with Rob Roy, Retired Navy SEALUsing the principles of SEAL training to forge better bosses, former Navy SEAL and founder of the Leadership Under Fire series Rob Roy, a self-described "Hammer", makes people's lives miserable in the hopes of teaching them how to be a tougher—and better—manager. "We offer something that you are not going to get from reading a book," says Roy. "Real leaders inspire, guide and give hope."Anybody can make a decision when everything is in their favor, but what happens in turbulent times? Roy teaches leaders, through intense experiences, that they can walk into any situation and come out ahead. In this lesson, he outlines seven SEAL-tested steps for executing any plan—even under extreme conditions or crisis situations.
Big think's weekly newsletter.
Get smarter faster from the comfort of your inbox.
See our newsletter privacy policy
here
Most Popular
Most Recent
Big think's weekly newsletter.
Get smarter faster from the comfort of your inbox.
See our newsletter privacy policy
here
© Copyright 2007-2019 & BIG THINK, BIG THINK EDGE,
SMARTER FASTER trademarks owned by The Big Think, Inc. All rights reserved.