A Bionic Lens Undergoing Clinical Trials Could Give You Superhuman Abilities In Two Years
We're talking Ghost in the Shell type of stuff.
Teodora Zareva
Teodora Zareva is an entrepreneur, writer, board games geek and a curious person at large. Her professional path has taken her from filmmaking and photography to writing, TEDx organizing, teaching, and social entrepreneurship. She has lived and worked in the U.S. and Bulgaria and is currently doing her MBA at Saïd Business School at the University of Oxford. Her biggest passion lies at the intersection of media and youth development. She is the co-founder of WishBOX Foundation, a Bulgarian NGO that helps high school students with their professional orientation by organizing events, courses, summer camps and developing digital media resources.
31 August, 2017
Maybe you watched Ghost in the Shell and maybe afterwards you and your friend had a conversation about whether or not you would opt in for some bionic upgrades if that was possible - like a liver that could let you drink unlimitedly or an eye that could give you superhuman vision. And maybe you had differing opinions but you concluded that it's irrelevant because the time to make such choices is far in the future. Well, it turns out, it's two years away. 
---
А Canadian company called Ocumetics Technology Corporation is currently doing clinical testing for their Bionic Lens - a medical device that could make glasses and contact lenses obsolete. If everything goes smoothly, the lens could be in your eye-surgeon's hands and in your eyes in two years. And the capabilities it will give you are truly mind-blowing.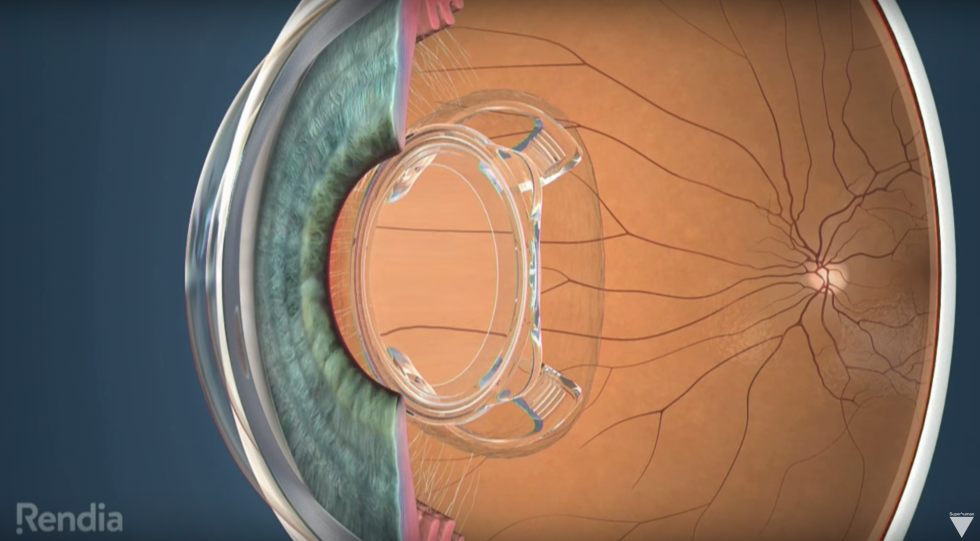 A model of the Bionic Lens in the eye /  Ocumetics / Superhuman Summit 2016
The Bionic Lens is a dynamic lens that replaces the natural lens inside the eye via one of the most common and successful procedures in medicine - cataract surgery. Once there, the lens restores clear vision at all distances without any visual quality problems. It can auto-regulate within the eye by connecting to the muscles that change the curvature of our natural lenses, which allows it to focus at different ranges - potentially much wider ranges than our natural sight is capable of. In addition, because the Bionic Lens responds with less than 1/100 the amount of energy of the natural lens, you can also focus on something all day without any strain on the eyes. 
The Bionic Lens could improve on the 20/20 vision threefold. Imagine that you can see a clock's dial 10 feet away. With the lens you would be able to see the dial in the same detail when it is 30 feet away. What happens when you combine the super sharp focus and the ability to tune the lens to improve sight well beyond the capabilities of the eye, is that you can see really sharp details at very close distances. If you looked at a tiny sliver of your finger, for example, you would be able to see the cellular detail in it. 
What is even more exciting is that the lens is developed with components that allow for further easy access to it and the ability for upgrades and modifications. Like, for example, installing projection systems that will give the user capabilities of projecting their phone screen, or integrating NASA technologies to allow for better focusing resolution than anything seen before, or even installing a system that allows for slow drug delivery inside the eye.
Dr. Garth Webb, the sole innovator behind the Bionic Lens and an optometrist with over 40 years of experience says:
"We have developed the Bionic lens to, in its default mode, make our lives function better in their normal realm and in its augmented capacity to allow for us to integrate seamlessly with the entire digital world. […] My humble perception is, that us human beings will be the center of artificial intelligence activity. So, I believe that we are going to filter and chaperon artificial intelligence that will be either around our head, or on our watch, or maybe both. So, it is, if you will, augmenting the human beyond what we normally anticipate." 
Commenting on the dark side of this technology, Webb notes that, in fact, its absence is what will eventually become the problem, as it provides "unfair" advantage to those who have it.
The early adopters will have to pay about $3200 per lens, excluding the cost of the surgery. The company has already started compiling a list of clinics and surgeons, via referrals, that it will work with.
The Bionic Lens will not be a panacea for all types of eye conditions. It can't treat color-blindness, cloudy corneas, severe macular degeneration, severe genetic retinal diseases or torn or damaged optic nerves. It does provide, however, an upgraded version of our own biological lens, which inevitably deteriorates with age.
Below you can watch Dr. Garth Webb's full presentation of this exciting new invention at the Superhuman Summit 2016. 
A federal judge ruled that the Trump administration likely violated the reporter's Fifth Amendment rights when it stripped his press credentials earlier this month.
WASHINGTON, DC - NOVEMBER 16: CNN chief White House correspondent Jim Acosta (R) returns to the White House with CNN Washington bureau chief Sam Feist after Federal judge Timothy J. Kelly ordered the White House to reinstate his press pass November 16, 2018 in Washington, DC. CNN has filed a lawsuit against the White House after Acosta's press pass was revoked after a dispute involving a news conference last week. (Photo by Alex Wong/Getty Images)
Politics & Current Affairs
Acosta will be allowed to return to the White House on Friday.
The judge described the ruling as narrow, and didn't rule one way or the other on violations of the First Amendment.
The case is still open, and the administration may choose to appeal the ruling.
Progressive America would be half as big, but twice as populated as its conservative twin.
Image: Dicken Schrader
Strange Maps
America's two political tribes have consolidated into 'red' and 'blue' nations, with seemingly irreconcilable differences.
Perhaps the best way to stop the infighting is to go for a divorce and give the two nations a country each
Based on the UN's partition plan for Israel/Palestine, this proposal provides territorial contiguity and sea access to both 'red' and 'blue' America
The definition of a kilogram will now be fixed to Planck's constant, a fundamental part of quantum physics.
Surprising Science
The new definition of a kilogram is based on a physical constant in quantum physics.
Unlike the current definition of a kilogram, this measurement will never change.
Scientists also voted to update the definitions of several other measurements in physics.
Big think's weekly newsletter.
Get smarter faster from the comfort of your inbox.
See our newsletter privacy policy
here
Most Popular
Most Recent
Big think's weekly newsletter.
Get smarter faster from the comfort of your inbox.
See our newsletter privacy policy
here
© Copyright 2007-2018 & BIG THINK, BIG THINK EDGE,
SMARTER FASTER trademarks owned by The Big Think, Inc. All rights reserved.