Big ideas.
Once a week.
Subscribe to our weekly newsletter.
Selfies and the Corrosion of Human Memory
In an attempt to be original, to stand out amongst the almost 300 million other selfies on Instagram, we actually fade into the background. We become mundane. Photos are no longer about remembering an event; they're about displaying. They're about showing the world who we are, who we wish to be. And it's damaging our ability to remember.
29 September, 2015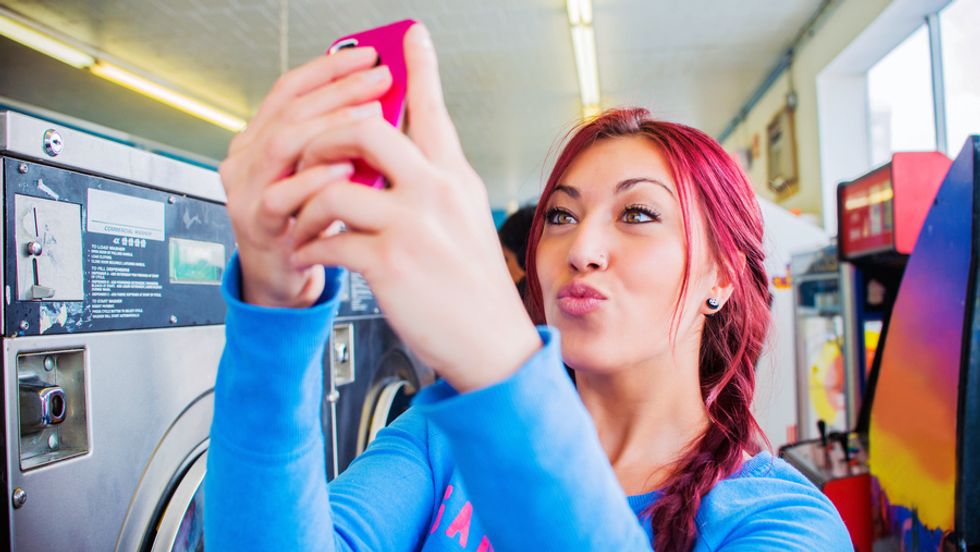 In the third book of the Metamorphoses, Ovid tells the story of Narcissus. The son of the river-god Cephisus and the "loveliest of nymphs" Liriope, Narcissus was blessed with overwhelming good looks. Everyone fell in love with him. One day, while out hunting, Narcissus bends down to take a drink from a fountain. He sees his reflection and immediately falls in love with himself, not unlike the hordes of people who insist the world needs more selfies.
---
Like anything that's indulged too much, taking scores of photos depreciates what we're attempting to capture; the memories don't seem as memorable anymore. In an attempt to be original, to stand out amongst the almost 300 million other selfies on Instagram, we actually fade into the background. We become mundane. Photos are no longer about remembering an event; they're about displaying, showing the world who we are. Or perhaps more accurately, showing the world who we wish to be.
Rhett Allain, an associate professor of physics at Southeastern Louisiana University, recently examined all the pictures he takes. "Just like most humans, I tend to take pictures of tons of things," he says. "Oh look, a water fountain. Now I'm at my kid's soccer match — more pictures. Is that flower near the road? You get the idea, right? We all take a bunch of pictures." Allain estimates he's taken 14,000 photos so far this year. He takes over 65 photos a day.
Mylio, a small company made up of photographers, estimates that 1 trillion photos will be taken in 2015 and they project that number to grow 16.2 percent year over year. If all those photos were printed out as 4 X 6-inch prints and attached to each other, end-to-end, you could make a complete round trip to the sun and back.
Since our technology is really just an extension of ourselves, we don't have to have contempt for its manipulability in the way we might with actual people. It's all one big endless loop. We like the mirror and the mirror likes us.
— Jonathan Franzen
Mary, my friend Mike's grandmother, is almost 99 years old. She lives by herself just outside Washington DC and has a live-in caretaker who helps her manage the challenges of day-to-day living. Doing laundry, cooking dinner, vacuuming. All those things you and I take for granted. But, like many older Americans, she suffers with dementia. She has significant trouble remembering things. Ask her how old she is and she makes up a number. Ask her who the president is and she says Bill Clinton. And most disheartening, when she sees her grandson she doesn't recognize him. Dementia affects nearly 50 million people worldwide, with more than 7 million new cases every year, of which Alzheimer's disease makes up 60-70 percent. It's a horrible thing for anyone to go through.
In a recent visit, Mike took down an old photo album from a dusty shelf and spent the afternoon reminiscing with her about the memories contained within it. As they perused the photographs, Mary began to remember things. She began to put people and places together. Something within those pictures triggered her long-term memory, and she remembered events that heretofore had been forgotten. Sitting together, looking through old photographs, recalling crazy Uncle John and how he used to make hand-farts with his armpits, brought my friend's grandmother into current time, into the here and now. She also eventually remembered Mike, and it was delightful.
Physical photo albums engender feelings. They remind us of things. And more than the photos, the communal viewing of the album, the sharing provoked by flipping its pages creates a special moment, like that between Mike and Mary. I'm not sure that moment would have been possible with digital photos or digital photo albums. 
When was the last time you sat around a computer or your iPad to view old photos? Worse, have you ever been corralled around someone else's iPad to view old albums? It seems almost a violation to do so. There is something cold, sterile, and removed about a communal viewing of past memories stored on Google Photos or in a Facebook album. It's too fleeting, too ephemeral. It's almost as if there's no time to review them. We need to move on to the next batch because there are so many we have to get through.
Photos used to be rare. They were difficult to take, cost money to develop, and, as such, possessed intrinsic value. That's all changed. Not only has technology reduced the cost of producing a photograph, but also, as some scientists believe, the advent of digital photography has fundamentally altered the way we remember.
Psychologist Maryanne Garry of the Victoria University of Wellington in New Zealand claims that taking too many photos can distort memories. They can alter the way we remember what really happened. In 2014, Garry told NPR that "I think that the problem is that people are giving away being in the moment," she says. "Then they've got a thousand photos, and then they just dump the photos somewhere and don't really look at them very much, 'cause it's too difficult to tag them and organize them," she says. "That seems to me to be a kind of loss."
Digital cameras remove us from the present. And afterwards, when we review the thousands of photos we've taken, they are just another thousand photos. They aren't special. Instead of Mary reviewing dozens of photos that captured major parts of her life, imagine she had thousands. They would be meaningless. And the chances of her recalling anything related to those precious times in her life would be near zero. Capturing a colossal number of photos of any event is indirectly proportional to your ability recall the event later on. It cheapens it because you didn't live the moment; you were too busy documenting it.
We've lost the magic of photography and that leaves me wondering about the future. What happens when we reach Mary's age? Will we have some way to reconnect with ourselves, with who we were, if our pictures are no longer memories, but rather simply artifacts too voluminous to process? Or worse, what if our pictures are nothing but selfies? What exactly will we be remembering?
"You dream about these kinds of moments when you're a kid," said lead paleontologist David Schmidt.
Surprising Science
The triceratops skull was first discovered in 2019, but was excavated over the summer of 2020.
It was discovered in the South Dakota Badlands, an area where the Triceratops roamed some 66 million years ago.
Studying dinosaurs helps scientists better understand the evolution of all life on Earth.
The eastern inner core located beneath Indonesia's Banda Sea is growing faster than the western side beneath Brazil.
Surprising Science
More than 5,000 kilometres beneath us, Earth's solid metal inner core wasn't discovered until 1936.
Almost a century later, we're still struggling to answer basic questions about when and how it first formed.
These aren't easy puzzles to solve. We can't directly sample the inner core, so the key to unravelling its mysteries lies in collaboration between seismologists, who indirectly sample it with seismic waves, geodynamicists, who create models of its dynamics, and mineral physicists, who study the behaviour of iron alloys at high pressures and temperatures.
Combining these disciplines, scientists have delivered an important clue about what's happening miles beneath our feet. In a new study, they reveal how Earth's inner core is growing faster on one side than the other, which could help explain how old the inner core is, and the intriguing history of Earth's magnetic field.
Early Earth
Earth's core was formed very early in our planet's 4.5 billion-year history, within the first 200 million years. Gravity pulled the heavier iron to the centre of the young planet, leaving the rocky, silicate minerals to make up the mantle and crust.
Earth's formation captured a lot of heat within the planet. The loss of this heat, and heating by ongoing radioactive decay, have since driven our planet's evolution. Heat loss in Earth's interior drives the vigorous flow in the liquid iron outer core, which creates Earth's magnetic field. Meanwhile, cooling within Earth's deep interior helps power plate tectonics, which shape the surface of our planet.
As Earth cooled over time, the temperature at the centre of the planet eventually dropped below the melting point of iron at extreme pressures, and the inner core started to crystallise. Today, the inner core continues to grow at roughly 1mm in radius each year, which equates to the solidification of 8,000 tonnes of molten iron every second. In billions of years, this cooling will eventually lead to the whole core becoming solid, leaving Earth without its protective magnetic field.
Core issue
One might assume that this solidification creates a homogeneous solid sphere, but this isn't the case. In the 1990s, scientists realised that the speed of seismic waves travelling through the inner core varied unexpectedly. This suggested that something asymmetrical was happening in the inner core.
Specifically, the eastern and western halves of the inner core showed different seismic wavespeed variations. The eastern part of the inner core is beneath Asia, the Indian Ocean and the western Pacific Ocean, and the west lies under the Americas, the Atlantic Ocean and the eastern Pacific.
Sanne Cottaar, Author provided
The new study probed this mystery, using new seismic observations combined with geodynamic modelling and estimates of how iron alloys behave at high pressure. They found that the eastern inner core located beneath Indonesia's Banda Sea is growing faster than the western side beneath Brazil.

You can think of this uneven growth as like trying to make ice cream in a freezer that's only working on one side: ice crystals form only on the side of the ice cream where the cooling is effective. In the Earth, the uneven growth is caused by the rest of the planet sucking heat more quickly from some parts of the inner core than others.
But unlike the ice cream, the solid inner core is subject to gravitational forces which distribute the new growth evenly through a process of creeping interior flow, which maintains the inner core's spherical shape. This means that Earth is in no danger of tipping, though this uneven growth does get recorded in the seismic wavespeeds in our planet's inner core.
Dating the core
So does this approach help us understand how old the inner core might be? When the researchers matched their seismic observations with their flow models, they found that it's likely that the inner core – at the centre of the entire core which formed much earlier – is between 500 million and 1,500 million years old.
The study reports that the younger end of this age range is the better match, although the older end matches an estimate made by measuring changes in the strength of Earth's magnetic field. Whichever number turns out to be correct, it's clear that the inner core is a relative youngster, somewhere between a ninth and a third as old as Earth itself.
This new work presents a powerful new model of the inner core. However, a number of physical assumptions the authors made would have to be true for this to be correct. For example, the model only works if the inner core consists of one specific crystalline phase of iron, about which there is some uncertainty.
And does our uneven inner core make the Earth unusual? It turns out that many planetary bodies have two halves which are somehow different to each other. On Mars, the surface of the northern half is lower-lying while the southern half is more mountainous. The Moon's near-side crust is chemically different to the far-side one. On Mercury and Jupiter it's not the surface which is uneven but the magnetic field, which doesn't form a mirror image between north and south.
So while the causes for all of these asymmetries vary, Earth appears to be in good company as a slightly asymmetrical planet in a solar system of lopsided celestial bodies.
Jessica Irving, Senior Lecturer in Geophysics, University of Bristol and Sanne Cottaar, Lecturer in Global Seismology, University of Cambridge
This article is republished from The Conversation under a Creative Commons license. Read the original article.

In ancient Greece, the Olympics were never solely about the athletes themselves.
Coronavirus
Because of a dramatic rise in COVID-19 cases, the opening and closing ceremonies of the 2021 Olympics will unfold in a stadium absent the eyes, ears and voices of a once-anticipated 68,000 ticket holders from around the world.
Events during the intervening days will likewise occur in silent arenas missing the hundreds of thousands of spectators who paid US$815 million for their now-useless tickets.
After 48 years teaching classics, I can't help but wonder what the Greeks – who invented the Games nearly 3,000 years ago, in 776 B.C. – would make of such a ghostly version of their Olympic festival.
In many ways, they'd view the prospect as absurd.
In ancient Greece, the Olympics were never solely about the athletes themselves; instead, the heart and soul of the festival was the experience shared by all who attended. Every four years, athletes and spectators traveled from far-flung corners of the Greek-speaking world to Olympia, lured by a longing for contact with their compatriots and their gods.
In the shadow of dreams
For the Greeks, during five days in the late-summer heat, two worlds miraculously merged at Olympia: the domain of everyday life, with its human limits, and a supernatural sphere from the days superior beings, gods and heroes populated Earth.
Greek athletics, like today's, plunged participants into performances that pushed the envelope of human ability to its breaking point. But to the Greeks, the cauldron of competition could trigger revelations in which ordinary mortals might briefly intermingle with the extraordinary immortals.
The poet Pindar, famous for the victory songs he composed for winners at Olympia, captured this sort of transcendent moment when he wrote, "Humans are creatures of a day. But what is humankind? What is it not? A human is just the shadow of a dream – but when a flash of light from Zeus comes down, a shining light falls on humans and their lifetime can be sweet as honey."
However, these epiphanies could occur only if witnesses were physically present to immerse themselves – and share in – the spine-tingling flirtation with the divine.
Simply put, Greek athletics and religious experience were inseparable.
At Olympia, both athletes and spectators were making a pilgrimage to a sacred place. A modern Olympics can legitimately take place in any city selected by the International Olympic Committee. But the ancient games could occur in only one location in western Greece. The most profoundly moving events didn't even occur in the stadium that accommodated 40,000 or in the wrestling and boxing arenas.
Instead, they took place in a grove called the Althis, where Hercules is said to have first erected an altar, sacrificed oxen to Zeus and planted a wild olive tree. Easily half the events during the festival engrossed spectators not in feats like discus, javelin, long jump, foot race and wrestling, but in feasts where animals were sacrificed to gods in heaven and long-dead heroes whose spirits still lingered.
On the evening of the second day, thousands gathered in the Althis to reenact the funeral rites of Pelops, a human hero who once raced a chariot to win a local chief's daughter. But the climactic sacrifice was on the morning of the third day at the Great Altar of Zeus, a mound of plastered ashes from previous sacrifices that stood 22 feet tall and 125 feet around. In a ritual called the hecatomb, 100 bulls were slaughtered and their thigh bones, wrapped in fat, burned atop the altar so that the rising smoke and aroma would reach the sky where Zeus could savor it.
No doubt many a spectator shivered at the thought of Zeus hovering above them, smiling and remembering Hercules' first sacrifice.
Just a few yards from the Great Altar another, more visual encounter with the god awaited. In the Temple of Zeus, which was erected around 468 to 456 B.C., stood a colossal image, 40 feet high, of the god on a throne, his skin carved from ivory and his clothing made of gold. In one hand he held the elusive goddess of victory, Nike, and in the other a staff on which his sacred bird, the eagle, perched. The towering statue was reflected in a shimmering pool of olive oil surrounding it.
During events, the athletes performed in the nude, imitating heroic figures like Hercules, Theseus or Achilles, who all crossed the dividing line between human and superhuman and were usually represented nude in painting and sculpture.
The athletes' nudity declared to spectators that in this holy place, contestants hoped to reenact, in the ritual of sport, the shudder of contact with divinity. In the Althis stood a forest of hundreds of nude statues of men and boys, all previous victors whose images set the bar for aspiring newcomers.
"There are a lot of truly marvelous things one can see and hear about in Greece," the Greek travel writer Pausanias noted in the second century B.C., "but there is something unique about how the divine is encountered at … the games at Olympia."
Communion and community
The Greeks lived in roughly 1,500 to 2,000 small-scale states scattered across the Mediterranean and Black Sea regions.
Since sea travel in summertime was the only viable way to cross this fragile geographical web, the Olympics might entice a Greek living in Southern Europe and another residing in modern-day Ukraine to interact briefly in a festival celebrating not only Zeus and Heracles but also the Hellenic language and culture that produced them.
Besides athletes, poets, philosophers and orators came to perform before crowds that included politicians and businessmen, with everyone communing in an "oceanic feeling" of what it meant to be momentarily united as Greeks.
Egisto Sani/flickr, CC BY-NC
Now, there's no way we could explain the miracle of TV to the Greeks and how its electronic eye recruits millions of spectators to the modern games by proxy. But visitors to Olympia engaged in a distinct type of spectating.

The ordinary Greek word for someone who observes – "theatês" – connects not only to "theater" but also to "theôria," a special kind of seeing that requires a journey from home to a place where something wondrous unfolds. Theôria opens a door into the sacred, whether it's visiting an oracle or participating in a religious cult.
Attending an athletic-religious festival like the Olympics transformed an ordinary spectator, a theatês, into a theôros – a witness observing the sacred, an ambassador reporting home the wonders observed abroad.
It's hard to imagine TV images from Tokyo achieving similar ends.
No matter how many world records are broken and unprecedented feats accomplished at the 2020 games, the empty arenas will attract no gods or genuine heroes: The Tokyo games are even less enchanted than previous modern games.
But while medal counts will confer fleeting glory on some nations and disappointing shame on others, perhaps a dramatic moment or two might unite athletes and TV viewers in an oceanic feeling of what it means to be "kosmopolitai," citizens of the world, celebrants of the wonder of what it means to be human – and perhaps, briefly, superhuman as well.
The ancient Greeks wouldn't recognize some aspects of the modern Olympics.
Vincent Farenga, Professor of Classics and Comparative Literature, USC Dornsife College of Letters, Arts and Sciences
This article is republished from The Conversation under a Creative Commons license. Read the original article.

Mind & Brain
A new brain imaging study explored how different levels of the brain's excitatory and inhibitory neurotransmitters are linked to math abilities.
Scroll down to load more…