Vets Say Marijuana Treats PTSD, but Their Doctors Can't Prescribe It
Military veterans nationwide want those diagnosed with PTSD to be able to get a VA doctor's recommendation for medical marijuana.
22 February, 2017
7-8% of the nation's population will have PTSD at some point in their lifetime, estimate researchers from the U.S. Department of Veterans Affairs (VA) National Center for Posttraumatic Stress Disorder.
---
PTSD develops after a person experiences, or is a witness to, a life-threatening or traumatic event — a natural disaster, for example — or is exposed to combat, or sexual or physical abuse. Symptoms can include and range from anxiety, insomnia and hypervigilance, to struggling with disturbing memories, or managing emotions and behaviors.
In a YouTube video, titled, U.S. Vets with PTSD Smoke Weed, military veterans, seated next to one another detail the pain of living with PTSD. The clip has already attracted nearly two million views. Off camera, a man asks the group about PTSD.
With his eyes downcast, one man, wearing an Army t-shirt, weighs in first, "The anxiety is there, and I've come to peace after this many years of dealing with therapy, that it's never going to completely go away," he said. Dan, seated in the middle, offers, "I just kinda check out sometimes," his hands folded, resting on the table. "Posttraumatic stress disorder, is, a fucking thorn in my side," veteran number three finally sums up his experience.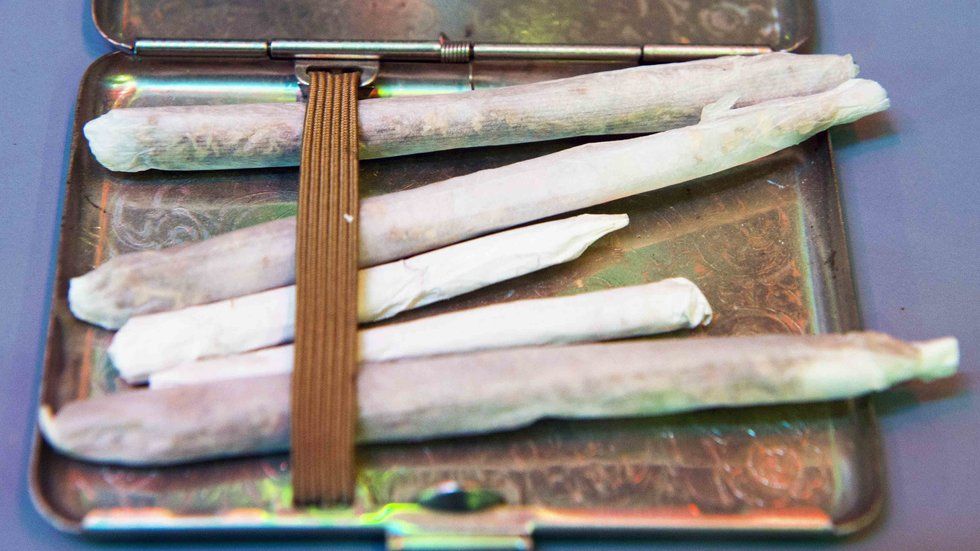 Marijuana cigarettes are on display at the Drug Enforcement Agency Museum (DEA) in Arlington, Virginia. (PAUL J. RICHARDS/AFP/Getty Images)
One sunny afternoon, a year after Air Force veteran Colleen Bushnell told military authorities that she had been sexually assaulted, allegedly by a fellow service member, Bushnell was in southern California to visit a friend. Clouds plucked from a marshmallow bag hung low from the cerulean sky, while the ocean's waves crashed along the shore. The fresh air, cool breeze and the bed of Bushnell's friend beckoned her weary body and mind; it was time to relax.
In 2004, Bushnell, was diagnosed with Posttraumatic Stress Disorder stemming from the attack. A dizzying array of treatments are available for people, diagnosed with PTSD, from cognitive and behavioral therapies to prescription drug treatments, and holistic or alternative remedies, including medical marijuana.  
When Bushnell arrived at her friend's California home, she hadn't slept in more than two days. Her friend, who was also a military veteran, had been severely injured in Afghanistan, and suggested Bushnell use edible cannabis. "I had never used marijuana.  I'm very much against using illegal substances," recalled Bushnell. "I'm a mother and want to set a good example, but for the first time in years, I could sleep and for a moment, there was no [emotional] pain."
There is now a clear majority of states that have comprehensive medical marijuana laws on the books - 28 states, plus the District of Columbia, according to Tom Angell, the founder of Marijuana Majority, a 501c3 public education non-profit, medical marijuana advocacy organization. He says, in many of those states, PTSD is a qualifier to legally obtain medical marijuana, but military veterans diagnosed with PTSD, and whose medical care is provided by the Department of Veterans Affairs (VA), face unique challenges.  
"The VA's policies on medical marijuana are still quite outdated," said Angell. "Doctors at the VA are not able to make recommendations to use medical marijuana. They're not allowed to fill out recommendation forms that would allow veterans to use medical marijuana legally under state law," added Angell.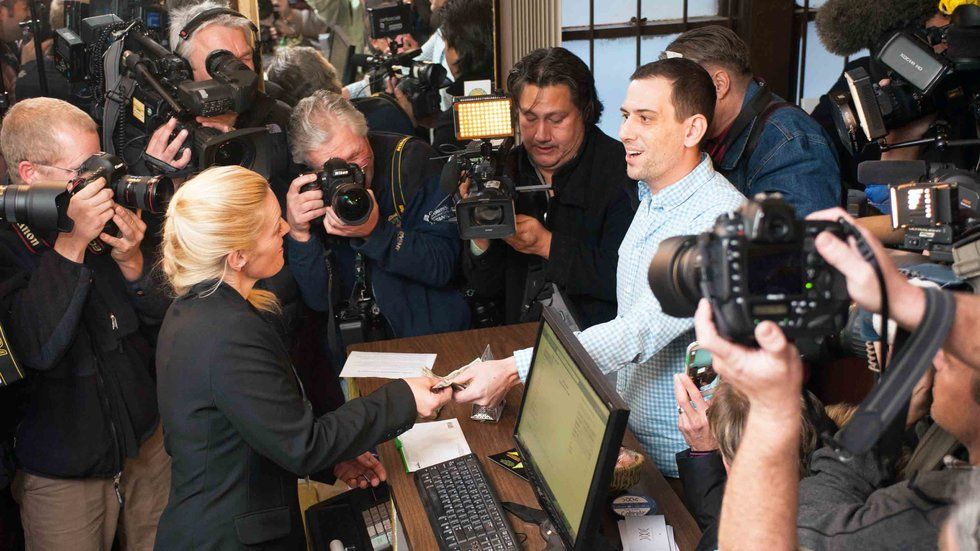 Sean Azzariti, a veteran of the Iraq war, makes the first legal recreational marijuana purchase in Colorado from advocate Betty Aldworth at the 3-D Denver Discrete Dispensary on January 1, 2014 in Denver, Colorado. (Photo by Theo Stroomer/Getty Images)
The last thing TJ Thompson remembered before waking in a hospital emergency room was approaching the ship he did not want to board. One afternoon, in 2001, following an appointment with his psychiatrist, the Navy sailor was set to return to duty, but as he drove closer to the naval station, his thoughts betrayed him. "I tried to swallow all my pills that I had on the ship and slit my wrists a bunch of times." Thompson said from his home, near Virginia Beach, Virginia. At the time of his suicide attempt, he was taking daily doses of Zoloft and Gabapentin, for depression and anxiety.
By 2011, Thompson's medical providers at the VA medical center where he sought mental health treatment had prescribed a half-dozen other medications: Trazadone, Aripriprazole (Abilify), Loreazapam (Ativan), Citalopram (Celexa), Risperidone (Risperdal) and Divalproex (Depakote). Almost ten years after his first suicide attempt, Thompson tried to take his life again.  
While recovering from his second attempt at suicide, clinicians recommended yet another cocktail of prescription drugs, but Thompson found relief elsewhere. "I had some friends, in the restaurant industry, say, look, you need to get off these pills, and this is how you're going to do it," said Thompson. He now uses marijuana multiple times a day.
"My preferred method, [the] way I use it the most, is just smoking it out of a bong," Thompson said. "For me, on an average day with not a lot of stressors involved, probably every two-and-a-half to three hours," he continued. "I might just take a couple of hits off of a bong --- It's probably maybe between a quarter and a half a gram of marijuana."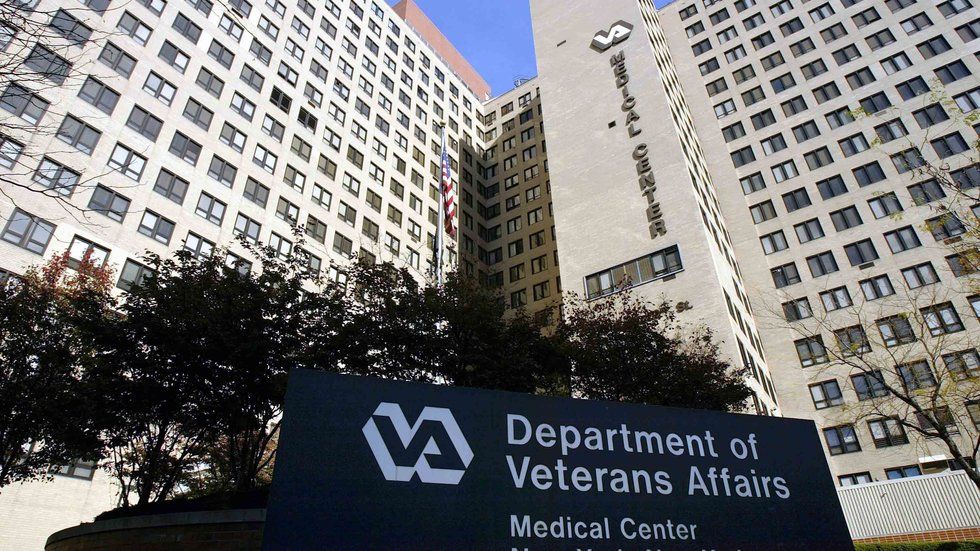 The exterior of the Veterans Affairs Hospital is seen in New York City. (Photo by Spencer Platt/Getty Images)
Dr. Paula Schnurr, the Executive Director of the VA National Center for Posttraumatic Stress Disorder estimates of the nearly twenty-million veterans nationwide, "close to six million" receive their healthcare at VA run medical centers, and approximately 10% of that population are being treated for PTSD. Researchers at the organization have not examined the "overall Veteran population," but among those using VA medical centers, and diagnosed with PTSD, each year cannabis use is steadily rising.  
Despite the growing popularity and marketing of medical marijuana, Dr. Schnurr says the science hasn't caught up with the claims of its supporters.  "I'm extremely surprised that people think that the research is there," said Dr. Schnurr.  "It has been very challenging to do this kind of research on marijuana for any condition, and not just PTSD."  
She suggests more studies are needed to prop up the claims that marijuana effectively treats PTSD. "What we need in order to say a drug works or a type of psychotherapy works is multiple well-done studies in which people are randomized to treatment, and there's an appropriate control," she said. "In drug studies, you need placebo control, and the idea is that in the drug studies that the patients and the clinicians don't know whether a person is getting drug or placebo. So already for marijuana, it's challenging to do that work, because of the euphoric effects of most preparations," added Schnurr.
This summer, Colleen Bushnell, the military sexual assault survivor, who still seeks treatment to address the emotional wounds from the sexual assault, and her fiancée moved from Texas, to Buckeye, Arizona. They wanted to settle in a state where local medical marijuana laws were in their favor. The nation's Drug Enforcement Administration (DEA) considers marijuana a Schedule I drug; it is illegal, even for medical use. "It bothers me, that [I'm] still violating federal law," said Bushnell.
TJ Thompson is advocating for changing the law. "My kids were able to see that progress. They saw me go from being locked in the bedroom all the time, not being able to talk to them without yelling at them," said Thompson, who is now a culinary chef, "to being successful in my education path, being able to work with people, being able to go and stand in front of the Senate press gallery."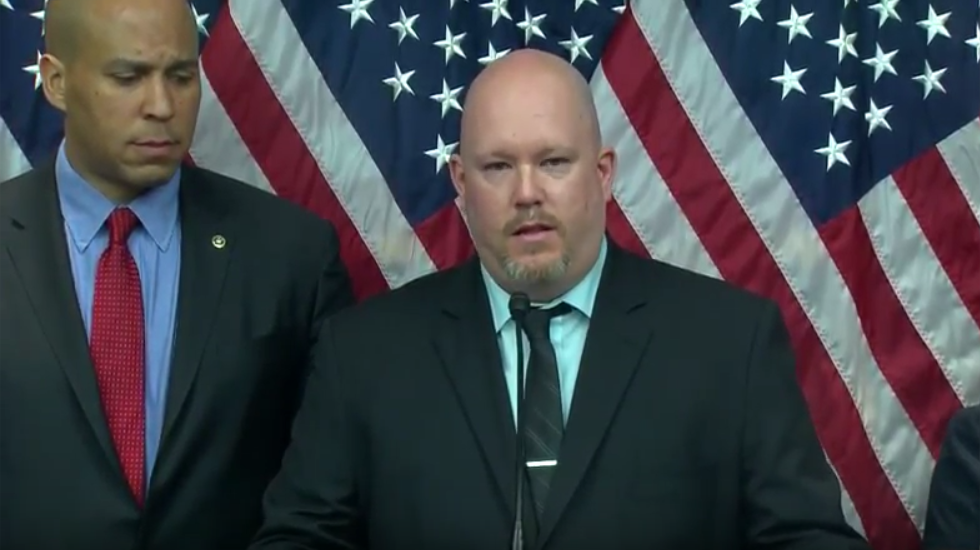 T.J. Thompson, military veteran and advocate for medical cannabis speaks during a press conference with Senator Cory Booker, D-NJ, to support a new medical marijuana bill at the US Capitol on March 10, 2014 in Washington, DC. The Compassionate Access, Research Expansion and Respect States (CARERS) Act would reclassify marijuana from a Schedule I to Schedule II drug and would amend federal law to allow states to set their own medical marijuana policies.
Despite more than a decade of honorable service in the military, every time he seeks escape from the symptoms surrounding his PTSD and utilizes marijuana, Thompson is considered a criminal. For his children's sake, it's a label that carries a heavy burden. "They've seen my healing path, so they understand, and they understand that [for me] it is a medicine."
The DEA announced plans to begin allowing researchers to use marijuana grown outside its facility in Mississippi. Medical marijuana advocates saw it as a step forward, but the federal agency still fell short of supporting a proposal that would remove cannabis from a list of its most dangerous category of narcotics.
"If it treats anxiety and it gives me a moment of peace, I'm all for it," says the veteran, in the U.S. Vets with PTSD Smoke Weed video. Moments later, after a bong is presented to the three men sitting at the table, one of the veterans grabs a lighter, lights the green glass bong, and then inhales. A cough follows, as the bong is passed to another man in the group. A graphic appears, "5 minutes later," and the veteran who initially described his life with PTSD as a "thorn in my side," folds his arms and succinctly details his current state of mind, "I'm happy."
--
Christina Brown Fisher is an independent multimedia journalist, based in New York City. She is an U.S. Air Force Veteran. Christina is also a Traumatic Brain Injury (TBI) survivor, and has been diagnosed with Posttraumatic Stress Disorder.
What can 3D printing do for medicine? The "sky is the limit," says Northwell Health researcher Dr. Todd Goldstein.
Northwell Health
Sponsored by Northwell Health
Medical professionals are currently using 3D printers to create prosthetics and patient-specific organ models that doctors can use to prepare for surgery.
Eventually, scientists hope to print patient-specific organs that can be transplanted safely into the human body.
Northwell Health, New York State's largest health care provider, is pioneering 3D printing in medicine in three key ways.
The 'People Map of the United States' zooms in on America's obsession with celebrity
Strange Maps
Replace city names with those of their most famous residents
And you get a peculiar map of America's obsession with celebrity
If you seek fame, become an actor, musician or athlete rather than a politician, entrepreneur or scientist
Chicagoland is Obamaland
Image: The Pudding
Chicagoland's celebrity constellation: dominated by Barack, but with plenty of room for the Belushis, Brandos and Capones of this world.
Seen from among the satellites, this map of the United States is populated by a remarkably diverse bunch of athletes, entertainers, entrepreneurs and other persons of repute (and disrepute).
The multitalented Dwayne Johnson, boxing legend Muhammad Ali and Apple co-founder Steve Jobs dominate the West Coast. Right down the middle, we find actors Chris Pratt and Jason Momoa, singer Elvis Presley and basketball player Shaquille O'Neal. The East Coast crew include wrestler John Cena, whistle-blower Edward Snowden, mass murderer Ted Bundy… and Dwayne Johnson, again.
The Rock pops up in both Hayward, CA and Southwest Ranches, FL, but he's not the only one to appear twice on the map. Wild West legend Wyatt Earp makes an appearance in both Deadwood, SD and Dodge City, KS.
How is that? This 'People's Map of the United States' replaces the names of cities with those of "their most Wikipedia'ed resident: people born in, lived in, or connected to a place."
'Cincinnati, Birthplace of Charles Manson'
Image: The Pudding
Keys to the city, or lock 'em up and throw away the key? A city's most famous sons and daughters of a city aren't always the most favoured ones.
That definition allows people to appear in more than one locality. Dwayne Johnson was born in Hayward, has one of his houses in Southwest Ranches, and is famous enough to be the 'most Wikipedia'ed resident' for both localities.
Wyatt Earp was born in Monmouth, IL, but his reputation is closely associated with both Deadwood and Dodge City – although he's most famous for the Gunfight at the O.K. Corral, which took place in Tombstone, AZ. And yes, if you zoom in on that town in southern Arizona, there's Mr Earp again.
The data for this map was collected via the Wikipedia API (application programming interface) from the English-language Wikipedia for the period from July 2015 to May 2019.
The thousands of 'Notable People' sections in Wikipedia entries for cities and other places in the U.S. were scrubbed for the person with the most pageviews. No distinction was made between places of birth, residence or death. As the developers note, "people can 'be from' multiple places".
Pageviews are an impartial indicator of interest – it doesn't matter whether your claim to fame is horrific or honorific. As a result, this map provides a non-judgmental overview of America's obsession with celebrity.

Royals and (other) mortals
Image: The Pudding
There's also a UK version of the People Map – filled with last names like Neeson, Sheeran, Darwin and Churchill – and a few first names of monarchs.
Celebrity, it is often argued, is our age's version of the Greek pantheon, populated by dozens of major gods and thousands of minor ones, each an example of behaviours to emulate or avoid. This constellation of stars, famous and infamous, is more than a map of names. It's a window into America's soul.
But don't let that put you off. Zooming in on the map is entertaining enough: celebrities floating around in the ether are suddenly tied down to a pedestrian level, and to real geography. And it's fun to see the famous and the infamous rub shoulders, as it were.

Barack Obama owns Chicago, but the suburbs to the west of the city are dotted with a panoply of personalities, ranging from the criminal (Al Capone, Cicero) and the musical (John Prine, Maywood) to figures literary (Jonathan Franzen, Western Springs) and painterly (Ivan Albright, Warrenville), actorial (Harrison Ford, Park Ridge) and political (Eugene V. Debs, Elmhurst).
Freaks and angels
Image: Dorothy
The People Map of the U.S. was inspired by the U.S.A. Song Map, substituting song titles for place names.
It would be interesting to compare 'the most Wikipedia'ed' sons and daughters of America's cities with the ones advertised at the city limits. When you're entering Aberdeen, WA, a sign invites you to 'come as you are', in homage to its most famous son, Kurt Cobain. It's a safe bet that Indian Hill, OH will make sure you know Neil Armstrong, first man on the moon, was one of theirs. But it's highly unlikely that Cincinnati, a bit further south, will make any noise about Charles Manson, local boy done bad.
Inevitably, the map also reveals some bitterly ironic neighbours, such as Ishi, the last of the Yahi tribe, captured near Oroville, CA. He died in 1916 as "the last wild Indian in North America". The most 'pageviewed' resident of nearby Colusa, CA is Byron de la Beckwith, Jr., the white supremacist convicted for the murder of Civil Rights activist Medgar Evers.
As a sampling of America's interests, this map teaches that those aiming for fame would do better to become actors, musicians or athletes rather than politicians, entrepreneurs or scientists. But also that celebrity is not limited to the big city lights of LA or New York. Even in deepest Dakota or flattest Kansas, the footlights of fame will find you. Whether that's good or bad? The pageviews don't judge...
Average waiting time for hitchhikers in Ireland: Less than 30 minutes. In southern Spain: More than 90 minutes.
Image: Abel Suyok
Strange Maps
A popular means of transportation from the 1920s to the 1980s, hitchhiking has since fallen in disrepute.
However, as this map shows, thumbing a ride still occupies a thriving niche – if at great geographic variance.
In some countries and areas, you'll be off the street in no time. In other places, it's much harder to thumb your way from A to B.
Technology may soon grant us immortality, in a sense. Here's how.
Videos
Through the Connectome Project we may soon be able to map the pathways of the entire human brain, including memories, and create computer programs that evoke the person the digitization is stemmed from.
We age because errors build up in our cells — mitochondria to be exact.
With CRISPR technology we may soon be able to edit out errors that build up as we age, and extend the human lifespan.
Big think's weekly newsletter.
Get smarter faster from the comfort of your inbox.
See our newsletter privacy policy
here
Most Popular
Most Recent
Big think's weekly newsletter.
Get smarter faster from the comfort of your inbox.
See our newsletter privacy policy
here
© Copyright 2007-2019 & BIG THINK, BIG THINK EDGE,
SMARTER FASTER trademarks owned by The Big Think, Inc. All rights reserved.