Microsoft detects and disables 6 new Russian attacks ahead of U.S. midterm elections
A group affiliated with the Russian government has been found by Microsoft to have created at least six 'spear phishing' websites targeting U.S elections, and it's certain there there will be more before November.
21 August, 2018
A group affiliated with the Russian government has been found by Microsoft to have created at least six websites that appear to be legitimate entities like the U.S. Senate, as well as fake versions of some conservative sites the Hudson Institute and the International Republican Institute, and even one that attempted to spoof Microsoft's own products. 
---
The goal? To trick people into coming to the sites in order to install malicious software on target computers (like those of political members), or fool people into giving up confidential information.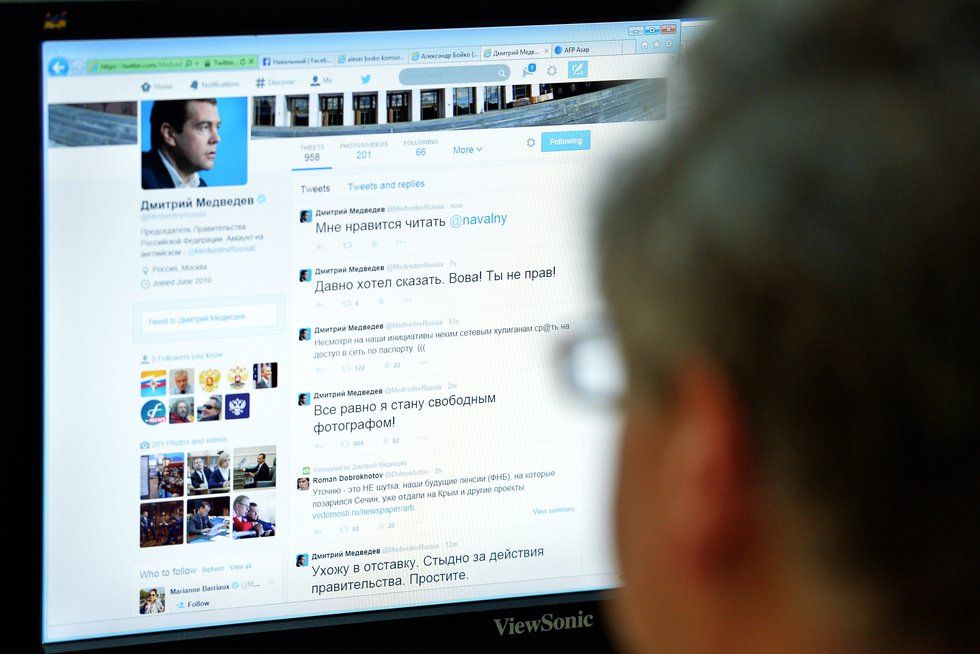 A man looks at the computer screen with a page of Russian Prime Minister Dmitry Medvedev in Twitter in Moscow on August 14, 2014.  (Photo credit YURI KADOBNOV/AFP/Getty Images)
While the same kinds of attacks were used in 2016 to influence the outcome of the U.S. presidential election via spear phishing—which is used to steal confidential information—this time, it's apparently an attempt to disrupt democracy and sow discord and hatred between our citizens. 
"This activity is most fundamentally focused on disrupting democracy," Brad Smith, Microsoft's president and chief legal officer, said in an interview this week.
Known by various names around the world such as Strontium, Fancy Bear, and APT28, the group responsible is tied to the GRU, Russia's primary military intelligence agency.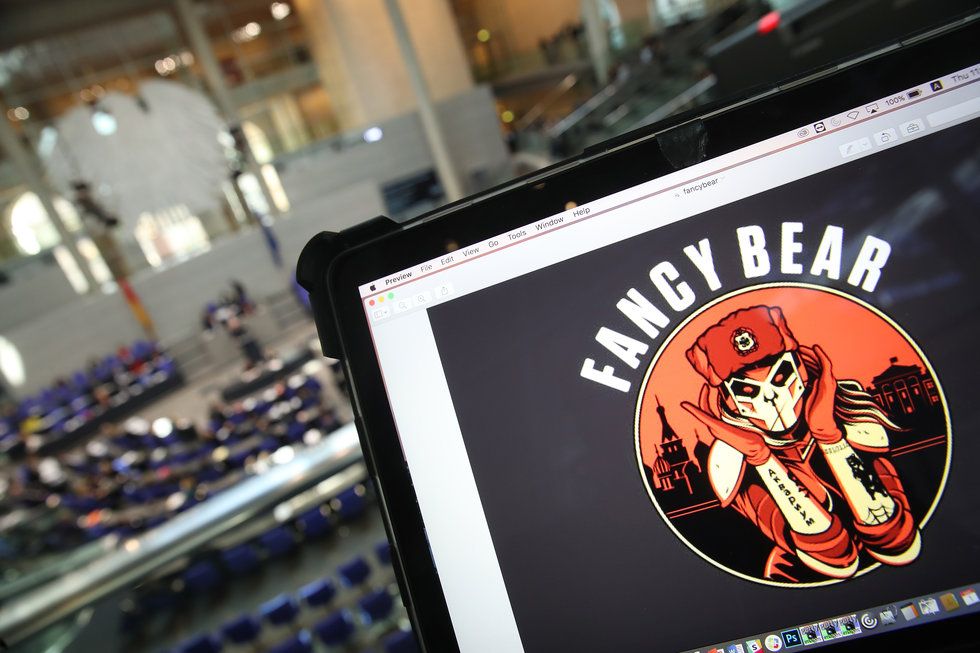 In this photo illustration artwork found on the Internet showing Fancy Bear is seen on the computer of the photographer during a session in the plenary hall of the Bundestag, the German parliament, on March 1, 2018 in Berlin, Germany. (Photo by Sean Gallup/Getty Images)
Immediately after discovering the fake websites with malware, Microsoft disabled the domains and pages; however, the company says the sites were not fully completed yet, so they did not affect anyone. 
If they had, then emails, documents, contact lists, and even financial records could have been compromised. 
"This apparent spear-phishing attempt against the International Republican Institute and other organizations is consistent with the campaign of meddling that the Kremlin has waged against organizations that support democracy and human rights," said Daniel Twining, International Republican Institute's president, who blamed Russian President Vladi­mir Putin.
"It is clearly designed to sow confusion, conflict and fear among those who criticize Mr. Putin's authoritarian regime."
Microsoft has disabled 84 similar websites since 2016 that were created by APT28, using a legal technique to transfer the domains where they were housed to its own servers. It has done the same to some other malicious sites and so-called "botnet" automated social media accounts since 2010.
"Taken together, this pattern mirrors the type of activity we saw prior to the 2016 election in the United States and the 2017 election in France," said Microsoft president and chief legal officer Brad Smith.
Former president of the ACLU Nadine Strossen discusses whether our society should always defend free speech rights, even for groups who would oppose such rights.
Sponsored by Charles Koch Foundation
Former ACLU president Nadine Strossen understands that protecting free speech rights isn't always a straightforward proposition.
In this video, Strossen describes the reasoning behind why the ACLU defended the free speech rights of neo-Nazis in Skokie, Illinois, 1977.
The opinions expressed in this video do not necessarily reflect the views of the Charles Koch Foundation, which encourages the expression of diverse viewpoints within a culture of civil discourse and mutual respect.
Going back to the moon will give us fresh insights about the creation of our solar system.
Videos
July 2019 marks the 50th anniversary of the moon landing — Apollo 11.
Today, we have a strong scientific case for returning to the moon: the original rock samples that we took from the moon revolutionized our view of how Earth and the solar system formed. We could now glean even more insights with fresh, nonchemically-altered samples.
NASA plans to send humans to a crater in the South Pole of the moon because it's safer there, and would allow for better communications with people back on Earth.
Pugs and bulldogs are incredibly trendy, but experts have massive animal welfare concerns about these genetically manipulated breeds. 
Photo by terriermandotcom.blogspot.com
popular
Pugs, Frenchies, boxers, shih-tzus and other flat-faced dog breeds have been trending for at least the last decade.
Higher visibility (usually in a celebrity's handbag), an increase in city living (smaller dogs for smaller homes), and possibly even the fine acting of Frank the Pug in 1997's Men in Black may be the cause.
These small, specialty pure breeds are seen as the pinnacle of cuteness – they have friendly personalities, endearing odd looks, and are perfect for Stranger Things video montages.
Jokesters and serious Area 51 raiders would be met with military force.
Politics & Current Affairs
Facebook joke event to "raid Area 51" has already gained 1,000,000 "going" attendees.
The U.S. Air Force has issued an official warning to potential "raiders."
If anyone actually tries to storm an American military base, the use of deadly force is authorized.