Supreme Court ruling upholds Trump's travel ban
"We express no view on the soundness of the policy," Justice Roberts wrote in the Trump v. Hawaii Supreme Court ruling.
26 June, 2018
The Trump-Pence ban on travel from select countries, mostly majority-Muslim ones, has been ruled as constitutional by the United States Supreme Court today, in Hawaii V. Trump. It was a 5-4 vote by the conservative majority.

What was the case about?
---
It starts with the First Amendment of the United States Constitution, the clause known as the Establishment Clause, which reads in part:
"Congress shall make no law respecting an establishment of religion, or prohibiting the free exercise thereof."
Previous cases have established that it means one religious denomination cannot be officially preferred over another.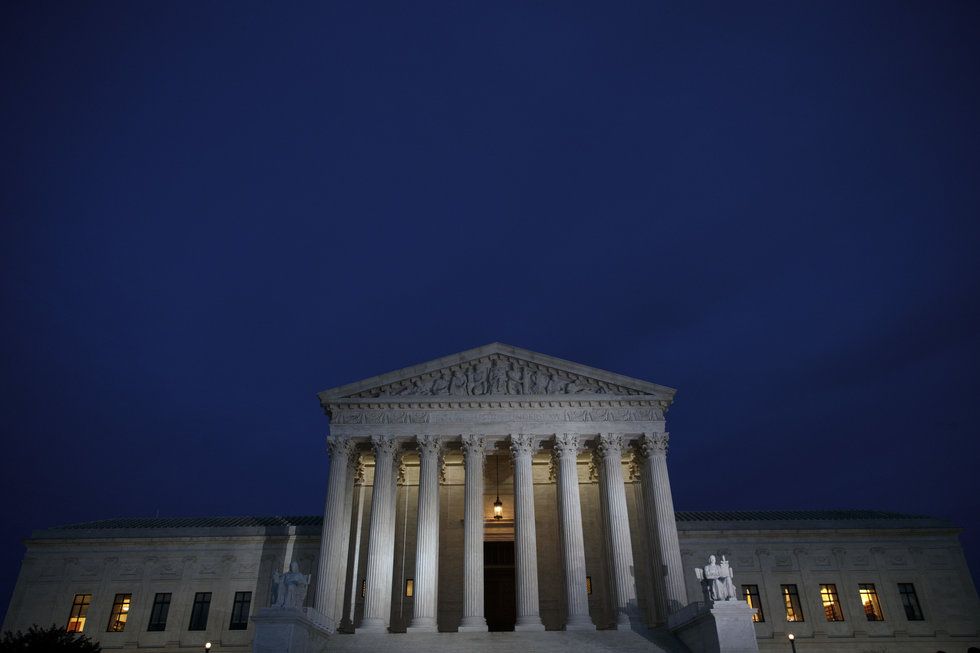 A view of the Supreme Court at dusk, January 31, 2017 in Washington, DC. (Photo by Drew Angerer/Getty Images)
That kind of goes to the heart of the ruling today; the plaintiffs in this case stated that President Trump's travel ban, as first made clear in his campaign material, strongly indicates a preferred religion over another. That is, a strong anti-Muslim bias. 
In fact, Trump called for a "total and complete shutdown of Muslims entering the United States until our country's representatives can figure out what's going on." 
As we all know, what followed almost immediately after he was elected is a ban on travel from seven predominately Muslim countries. The list has changed after the first permutation of the travel ban happened, and it now includes Yemen, Syria, Iran, Somalia, Libya, North Korea, Chad and Venezuela.
However, in classic fashion, Trump changed his words when drafting the proclamation to focus on "danger" rather than religion, claiming the ban was to prevent terrorists from entering our country.
What created the 5-4 decision today was that the plaintiffs sought to "invalidate the national security directive regulating the entry of aliens abroad."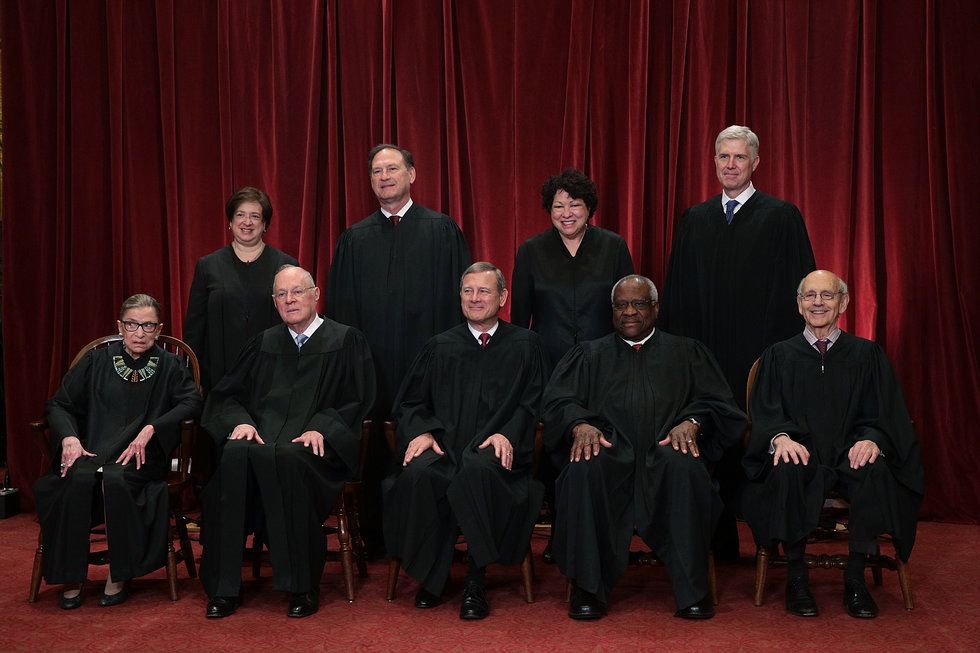 Front row from left, U.S. Supreme Court Associate Justice Ruth Bader Ginsburg, Associate Justice Anthony M. Kennedy, Chief Justice John G. Roberts, Associate Justice Clarence Thomas, and Associate Justice Stephen Breyer, back row from left, Associate Justice Elena Kagan, Associate Justice Samuel Alito Jr., Associate Justice Sonia Sotomayor, and Associate Justice Neil Gorsuch (Photo by Alex Wong/Getty Images)
In other words, plaintiffs claimed that the ban violates the free expression of religion, and that the national security component of the ban was a facade.
But the Supremes disagreed. "National security" instead of "ban all Muslims" as a basis for the proclamation worked, at least in this case.  
A statement from the Human Rights Campaign was issued in response. It reads "Make no mistake: this is an unnecessary and dangerous ban against Muslims that recklessly puts lives in danger and undermines civil liberties in this country," said HRC Legal Director Sarah Warbelow. "We are disappointed that the Supreme Court has chosen to uphold what is clearly a xenophobic effort that scapegoats persons of a particular faith, threatens the safety of human beings seeking refuge, encourages violence and discrimination against Muslim Americans, and does nothing to keep all Americans safer."
Justice Sonia Sotomayor wrote in the dissent, joined by Justices Ruth Bader Ginsburg, Stephen Breyer, and Elena Kagan (who wrote their own, separate dissent): 
"The United States of America is a Nation built upon the promise of religious liberty. Our Founders honored that core promise by embedding the principle of religious neutrality in the First Amendment. The Court's decision today fails to safeguard that fundamental principle."
She continued, "a reasonable observer would conclude that the Proclamation was motivated by anti-Muslim animus." 
The American Civil Liberties Union weighed in as well, with a Tweet:
BREAKING: SCOTUS has upheld Trump's Muslim ban. This is not the first time the Court has been wrong, or has allowed official racism and xenophobia to continue rather than standing up to it.

History has its eyes on us — and will judge today's decision harshly. #NoMuslimBanEver

— ACLU (@ACLU) June 26, 2018
Big Think
Sponsored by Lumina Foundation
Upvote/downvote each of the videos below!

As you vote, keep in mind that we are looking for a winner with the most engaging social venture pitch - an idea you would want to invest in.
Lumina Foundation and Big Think have partnered to bring this entrepreneurial competition to life, and we hope you'll participate! We have narrowed down the competition to four finalists and will be announcing an audience's choice award and a judges' choice award in May.
The creator of the winning video — chosen by Big Think's audience, the Lumina Foundation, and an independent panel of experts (bios below) — will be flown to New York for a taping in the Big Think studio as a way to further promote their vision for a new, disruptive idea in post-secondary education.
Thank you to all of the contestants who spent time submitting applications, and best of luck to our final four competitors.
Finalist: Greater Commons - Todd McLeod
Greater Commons, founded by Todd McLeod and Andrew Cull, is an organization that helps people live happier, more successful and fulfilling lives through agile learning. The current education system is inefficient and exclusionary, in which many students who end up earning a degree, if at all, enter a career not related to their field of study. Greater Commons solves this problem and gap in post-high school secondary education in a variety of ways. Passionately and diligently, Great Commons helps others obtain skills, knowledge, wisdom, motivation, and inspiration so that they may live better lives.
Finalist: PeerFoward - Keith Frome
PeerForward is an organization dedicated to increasing the education and career success rates of students in low-income schools and communities by mobilizing the power of positive peer influence. PeerForward works with partner schools to select influential students as a part of a team, systemizing the "peer effect." Research in the fields of sociology of schools, social-emotional learning, adult-youth partnerships, and civic education demonstrates that students can have a positive effect on the academic outcomes of their peers. PeerForward is unique through its systemic solutions to post-secondary education.
Finalist: Cogniss - Leon Young
Cogniss combines technology and best practice knowledge to enable anyone to innovate and share solutions that advance lifelong learning. Cogniss is the only platform to integrate neuroscience, through which it solves the problem of access by providing a low-code platform that enables both developers and non-developers to build sophisticated education apps fast, and at a much lower cost. It addresses the uneven quality of edtech solutions by embedding research-based learning design into its software. App creators can choose from a rich set of artificial intelligence, game, social and data analytics, and gamification to build their perfect customized solution.
Finalist: Practera - Nikki James
Practera's mission is to create a world where everyone can learn through experience. Today's workplaces are increasingly dynamic and diverse, however, costly and time-consuming experiential learning is not always able to offer the right opportunities at scale. Many students graduate without developing the essential skills for their chosen career. Practera's team of educators and technologists see this problem as an opportunity to transform the educational experience landscape, through a CPL pedagogical framework and opportunities to apply students' strengths through active feedback.
Thank you to our judges!
Our expert judges are Lorna Davis, Dan Rosensweig, and Stuart Yasgur.
Lorna Davis is the Senior Advisor to Danone CEO and is a Global Ambassador for the B Corp movement. Lorna has now joined B-Lab, the non-for-profit that supports the B Corporation movement on an assignment to support the journey of large multi nationals on the path to using business as a force of good.
Dan Rosensweig joined Chegg in 2010 with a vision for transforming the popular textbook rental service into a leading provider of digital learning services for high school and college students. As Chairman and CEO of Chegg, Dan commits the company to fulfilling its mission of putting students first and helping them save time, save money and get smarter.

Stuart Yasgur leads Ashoka's Social Financial Services globally. At Ashoka, Stuart works with others to initiate efforts that have mobilized more than $500 million in funding for social entrepreneurs, engaged the G20 through the Toronto, Seoul and Los Cabos summits and helped form partnerships with leading financial institutions and corporations.
Again, thank you to our incredible expert judges.
Upstreamism advocate Rishi Manchanda calls us to understand health not as a "personal responsibility" but a "common good."
Sponsored by Northwell Health
Upstreamism tasks health care professionals to combat unhealthy social and cultural influences that exist outside — or upstream — of medical facilities.
Patients from low-income neighborhoods are most at risk of negative health impacts.
Thankfully, health care professionals are not alone. Upstreamism is increasingly part of our cultural consciousness.
The Bajau people's nomadic lifestyle has given them remarkable adaptions, enabling them to stay underwater for unbelievable periods of time. Their lifestyle, however, is quickly disappearing.
Wikimedia Commons
Culture & Religion
The Bajau people travel in small flotillas throughout the Phillipines, Malaysia, and Indonesia, hunting fish underwater for food.
Over the years, practicing this lifestyle has given the Bajau unique adaptations to swimming underwater. Many find it straightforward to dive up to 13 minutes 200 feet below the surface of the ocean.
Unfortunately, many disparate factors are erasing the traditional Bajau way of life.
Big think's weekly newsletter.
Get smarter faster from the comfort of your inbox.
See our newsletter privacy policy
here
Most Popular
Most Recent
Big think's weekly newsletter.
Get smarter faster from the comfort of your inbox.
See our newsletter privacy policy
here
© Copyright 2007-2019 & BIG THINK, BIG THINK EDGE,
SMARTER FASTER trademarks owned by The Big Think, Inc. All rights reserved.