One big reason why McDonald's is adding self-serve kiosks in a hurry
No, these kiosks at McDonald's are not because of the Fight For $15.
06 June, 2018
If you had to guess why McDonald's is adding self-serve kiosks to 1,000 stores every quarter for the next two years, what would you say? 
---
Yes, that's at least 8,000 to 9,000 stores with touch screens.
You might think having to pay fewer employees—and at the same time, pay them a sub-living wage—is one, but the reality is this: You and I buy more stuff when presented with such devices. It's all about the psychology.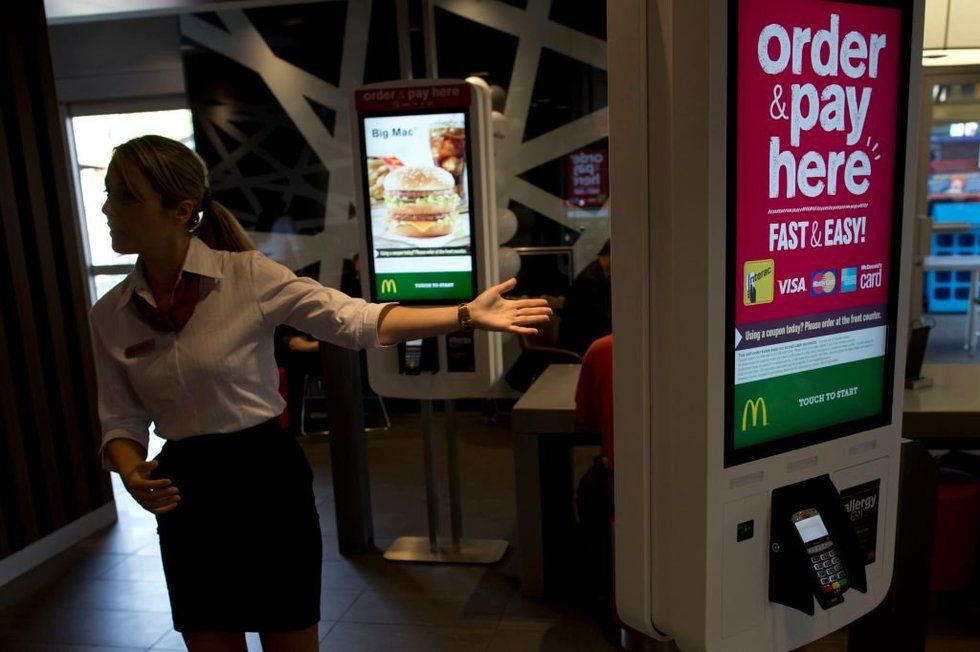 McDonald's unveils its new concept in Toronto. You can now order at a kiosk, build your own burger and receive table service. (Lucas Oleniuk/Toronto Star via Getty Images)
The kiosks allow people who order something to easily customize what they want (as opposed to the usual one-burger-fits-all method) as well as asking for what it calls "table service"—having workers bring the food to their table as they sit and wait. In this way, the company claims that there will be no job losses. The Panera chain has done exactly this; jobs there include delivering to the tables, cleaning after diners leave, and creating fancy coffee drinks as well as preparing a variety of foods. 
In fact, McDonald's CEO Steve Easterbrook explained the real reason why they're doing this: "What we're finding is when people dwell more, they select more. So there's a little bit of an average check boost." That could be as much as 5-6% the first year.
A 2017 study compared spending attitudes on desktop versus touch screens and found that the physical experience of touching products—even on screen—increased the likelihood that a consumer would make a "hedonic" purchase. "When a consumer uses a touchscreen device, the novelty and fun generated by finger movements create experiential and affective feelings, in alignment with the playfulness and emotional nature of hedonic products," the study authors wrote.
The McDonald's kiosks have been in testing since 2003 in the United States. In Canada, the U.K, and Australia, the systems have already been installed in most franchises of the chain.
Easterbrook claims, "We can't get there quick enough in the U.S."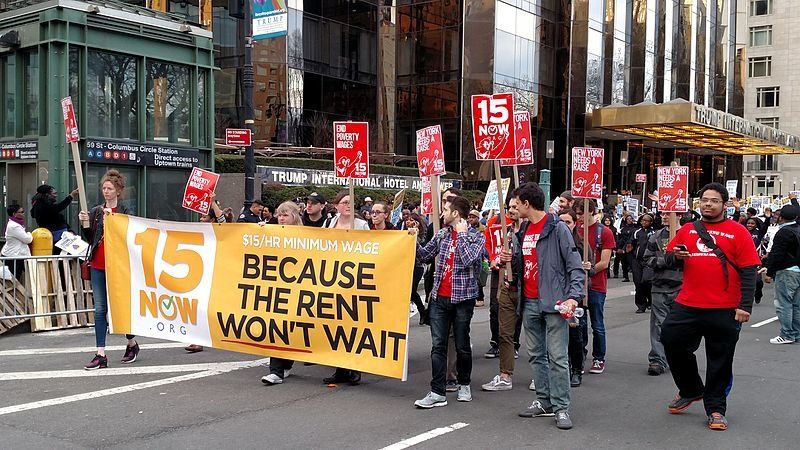 Image via Wikimedia Commons License.
This should not affect the fight to increase the minimum wage—especially if, in the end, it actually means a boost in staff at the restaurants; that simply means more workers can join the fight.
So, any bets on how quickly the systems are hacked? Perhaps similar to the way folks in the U.K. have with automated, worker-free checkouts at grocery stores, where they ring it all up as carrots? 
We shall see.
What can 3D printing do for medicine? The "sky is the limit," says Northwell Health researcher Dr. Todd Goldstein.
Northwell Health
Sponsored by Northwell Health
Medical professionals are currently using 3D printers to create prosthetics and patient-specific organ models that doctors can use to prepare for surgery.
Eventually, scientists hope to print patient-specific organs that can be transplanted safely into the human body.
Northwell Health, New York State's largest health care provider, is pioneering 3D printing in medicine in three key ways.
New computing theory allows artificial intelligences to store memories.
Credit: Perception and Robotics Group, University of Maryland.
Technology & Innovation
To become autonomous, robots need to perceive the world around them and move at the same time.
Researchers create a theory of hyperdimensional computing to help store robot movement in high-dimensional vectors.
This improvement in perception will allow artificial intelligences to create memories.
If you don't want to know anything about your death, consider this your spoiler warning.
Culture & Religion
For centuries cultures have personified death to give this terrifying mystery a familiar face.
Modern science has demystified death by divulging its biological processes, yet many questions remain.
Studying death is not meant to be a morbid reminder of a cruel fate, but a way to improve the lives of the living.
Riots may ensue as more poor Americans recognize their "miserable" long-term prospects.
Videos
How bad is wealth inequality in the United States? About 1 percent of Americans hold 80 percent of the money.
In the United States, the correlation between the income of parents and the income of their children when they grow up is higher than in any other country in the world.
One of the big underlying reasons for poverty is receiving a crummy education, which in turn leads to crummy jobs. When people recognize their miserable long-term prospects, they are more likely to partake in riots.
Big think's weekly newsletter.
Get smarter faster from the comfort of your inbox.
See our newsletter privacy policy
here
Most Popular
Most Recent
Big think's weekly newsletter.
Get smarter faster from the comfort of your inbox.
See our newsletter privacy policy
here
© Copyright 2007-2019 & BIG THINK, BIG THINK EDGE,
SMARTER FASTER trademarks owned by The Big Think, Inc. All rights reserved.